Tables Data loading when Cookies Accepted ....
Results Data loading when Cookies Accepted ...
The league advises that you check with individual clubs for postponement of a match before travelling especially if the weather is poor. We will update Full-Time as soon as possible on match days, however this is dependant on availability of league officers.
Fixtures Data loading when Cookies Accepted ....
24th September 2016 - Southmead CS Athletic
The club would like to confirm that a new Management Team have been appointed to manage the side in the Gloucestershire County League, current Player Manager Chris Williams has agreed to step aside to concentrate on playing, allowing Trevor Richards and Jason Tarr to take over as Co -Managers and Matty King has been asked to assist in all areas on matchdays and continue his work behind the scenes with Danny Daly.
Thanks must go to Chris for the passion he has shown to take on the managing during the summer, to get the local players back together, and to create a great spirit. We all agree results not been great but the team have been competitive in most games.
We are all confident that both Trevor and Jason will bring vast experience to Southmead after many years together at Bristol Manor Farm with the U18s and Reserves more recently, and with a few signings the team can start to climb the table.
11th September 2016 - Marcliff Plumbing Supplies Sponsorship
The signing of a new 2 Year sponsorship deal between Marcliff and the league took place at Little Stoke before the game.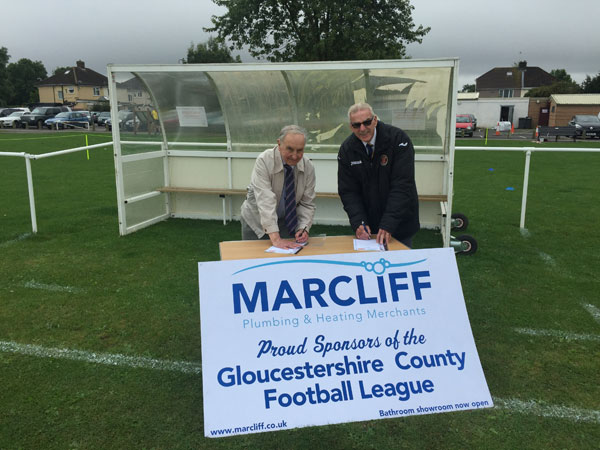 Cliff Orchard (Managing Director Marcliff) - Bob Stewart (Chairman League)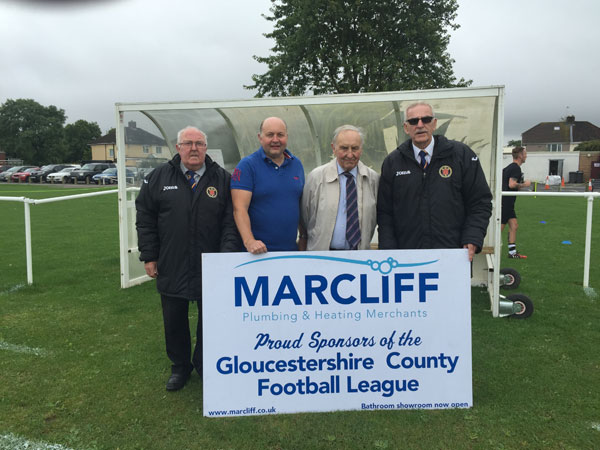 Ron Holpin General Secretary League – Rob Orchard (Director Marcliff) Cliff Orchard (Managing Director Marcliff) Bob Stewart (Chairman League)
Ron's Match Reports
24th September 2016 - Thornbury see off nine man Henbury
Stonehouse Town increase their lead to six points with a win at Rockleaze Rangers Southmead CS Athletic gain there first point of the season at AEK Boco.
Thornbury Town took the spoils at home to Henbury with a 3-1 win. It was Henbury who might have scored first after 2 minutes from a long free kick into the box that Adam Rosser rose well to but the ball skimmed off his head and out for a goal kick. A couple of minutes later Rob Wilks was on Target but he hit it straight at the town keeper Lee Mason. In the 6th minute Thornbury were fortunate to take the lead when a cross from the right was headed into his own net by Rob Wilks. Henbury levelled the score on the half hour mark with a cracking goal from Jack Mills who struck a 30 yard free kick past Mason. On 37 minutes a Danny Thompson header from A Marcus Wormwell cross went straight to the Henbury keeper Callum Flint. Thornbury were unlucky in the 39th minute when a long corner to the far post from Wormwell was headed back across goal but Nathan Irwin's header was brilliantly cleared off the line by Adam Rosser. At the other end Mason managed to palm the ball away from a free kick and Jack Mills hit a second free kick over the top. In time added at the end of the half Danny Thompson put Irwin clear on goal but he shot wide.
2 minutes into the second half the home side went ahead again and it was Marcus Wormwell's shot that was blocked but rebounded to Luke Franklin to smash the ball home. Irwin had a good chance to increase the lead 66 minutes but with a clear shot on goal he hit it wide. Henbury broke down the right and the cross into the six yard box was neatly grabbed by Mason before it could reach the unmarked Aaron Anglin. Mason then brought off a good save to deny Anglin from a tight angle. On 73 minutes the visitors were reduced to ten men when Reece Purnell picked up a second yellow card. To make things even worse for Henbury they went down to nine men on 84 minutes when Jack Mills also picked up a second yellow and was dismissed. In the 86th minute Henbury almost got a second when Scott Thomas's header from a corner was cleared off the line. With just 2 minutes left of normal time Town scored a third goal from a long corner to the far post from Danny Thompson and Nathan Irwin headed it home.
Stonehouse Town continue to lead the table picking up yet another 3 points at Rockleaze Rangers. Andy Maryon gave Town the lead on 40 minutes with a flicked header from a corner. Marcus Williams levelled the score when he drifted past several defenders before driving the ball home. Alex Kibble restored the lead for the visitors heading home from a cross from Matt Jones. Liam gale then increased the lead when he was put clear on goal. Town made it 4-1 when Lee Keveren slid the ball home from close range.
Southmead CS Athletics' trip to AEK Boco produced their first point of the season after going behind to a Jordan Scott goal on 23 minutes Rob Sivers levelled with a shot from 25 yards. Luke Nash restored the lead for the home side when he chipped the visitors' keeper on 80 minutes, but with 2 minutes to go Kye Perks scored to give Athletic their first point.
Bishops Cleeve Reserves came back from a goal down to win 2-1 at home to Kingswood. Ryan Mudd had put the visitors ahead on 40 minutes when he chested home from a corner. Matt Magee levelled for the home side in the 60th minute finishing off a Jamie Lock cross. Cleeve grabbed the winner in the 75th minute when Mike Davis put Elliot Pulley clear to fire home.
Hardwicke bounced back from their heavy defeat last week with a 3-2 win over Gala Wilton. It started badly for the home side when Dan Creed hammered the ball home for Gala Wilton in the very first minute from a free kick. On 20 minutes the home side were on level terms when Craig Harris lobbed the Gala keeper from 20 yards. Right on half time home keeper Kenny Edwards made a brilliant save to deny Mark Mason scoring. However 2 minutes into the second half the visitors went ahead again Kyle Bakewell volleying home from a cross into the box. On 64 minutes the home side levelled again when a ball over the visitors defence found Will Matthews to head the ball over the advancing keeper. It was Matthews who then scored the winner for Hardwicke when he powered home a Craig Harris cross at the far post.
A 2-2 score-line at Bristol Telephones where Frampton United were the visitors. Frampton were awarded a penalty after 5 minutes but keeper Osborne brought off a great save. Kyran Hunt's shot was just off target on 10 minutes for the home side. But it was Frampton who went ahead on 30 minutes when Joe Wilton cut in before firing across Osborne into the far corner. Telephones equalised on 60 minutes from a deep cross from Dhani Golding that was headed home by Mike Alvis. On 64 minutes the home side got their noses in front when Ben Griffiths broke into the box and a mistake by the Frampton keeper allowed Dhani Golding the chance to flick the ball home. In time added at the end of 90 minutes Frampton secured a point from a crisp shot from Jonathan Lewis from just on the edge of the box.
Hanham suffered a 5-1 defeat at home to Lebeq United. Will De-Wet gave the visitors the lead on 25 minutes picking up a rebound from a previous shot. Cory Wilson then made it 2-0 on 36 minutes heading home in the six yard box. Cory Wilson scored again on 70 minutes this time a tap in from close range. On 85 minutes Hanham's Adam Grinter netted with a 25 yard free kick. Right on time Abdurahman Wayd made it 4-1 and Clinton Wilson netted from the spot for the fifth goal.
Little Stoke recorded their second win of the season with 2-0 success over Broadwell Amateurs. An early Keiran Williams shot was pushed around the post for a corner before Dan Cockram gave Stoke the lead. A second goal for Stoke from John Rugman before the break put them in a comfortable position. Stoke have a very tight defence and that held firm for the second 45 minutes.
Cheltenham Civil Service and Patchway Town had to be satisfied with a 1-1 draw at Tewksbury Road. Both goals came late in the game with the home side taking the lead on 71 minutes through Sean McKeon. Patchway levelled on 78 minutes from a long throw that was eventually headed home by Luke Garbacz