Tables Data loading when Cookies Accepted ....
Results Data loading when Cookies Accepted ...
The league advises that you check with individual clubs for postponement of a match before travelling especially if the weather is poor. We will update Full-Time as soon as possible on match days, however this is dependant on availability of league officers.
Fixtures Data loading when Cookies Accepted ....
22nd June 2014 - Thornbury Town FC - Physiotherapist.
Thornbury Town FC are looking for a new Physiotherapist to work alongside 1st team manager Andy Davies, the person will be required to be available at the majority of 1st team matches during the season, which commences with the first friendly game against Bristol Rovers on Friday 11th July. Experience in this type of role would be beneficial along with general sports injury and first aid knowledge. Anyone interested in taking up this important role within the club should in the first instance contact Terry Payton Vice Chairman on 01454 887436.
6th June 2014
Myland confident Tyers can produce momentum to take Rockleaze forward
ROCKLEAZE Rangers chairman Andy Myland insists the appointment of new boss Alan Tyers fills him with confidence that better days are in store for the Coombe Dingle club, writes Simon Parkinson.
Gloucestershire FA News revealed a few days ago that the University of Bristol's first team coach, and recent assistant manager at Bristol Academy, had been given the nod to replace Dave Johnson in the Rangers hot seat.
Rockleaze, who have played under several names since their formation as Sunday side Nat West Court in 1976, have become an established Gloucestershire County League club since their promotion from the Suburban League six years ago under Carlo Micciche's stewardship.
Last season they finished ninth in the table and Myland, who has managed the first team himself down the years, feels they have a man at the helm capable of turning them into a genuine force at the level, although the absence of floodlights means a crack at promotion is not on the agenda for the foreseeable future.
Myland said: "Alan is a very knowledgeable coach with a UEFA B licence to his name and he's a lecturer in sports science at Filton Academy.
"We as a club enjoy strong links with University of Bristol in that we share facilities with them at Coombe Dingle and something like ten to 12 of their lads play for one of our four teams.
"Some of those 18 to 21-year-olds made it through to our first team last year, Iggy Garcia and Josh Adejokun among them."
Asked how quickly Tyers' appointment had come about following Johnson's recent departure, Myland said: "Alan put his name in the hat before we even advertised. We had three or four responses when we did advertise but from the moment we met him we felt he was the right man for the job.
"He likes to see players getting the ball down and playing it and he wants to develop younger players.
"We're delighted to have him aboard and we're looking forward to meeting up with him shortly to discuss player targets, with a view to establishing ourselves in the top eight of the table initially next season.
"Ultimately we'd like to go even further, possibly Western League, in years to come but we don't have the necessary facilities right now, not least floodlights and there are no plans for that in the immediate future."
Tyers has played for various clubs down the years, including Ossett Albion in the Northern Premier League and Gloucestershire County Leaguers Patchway Town.
4thJune 2014 - League Constitution 2014/15
AEK Boco
Berkeley Town
Bishops Cleeve Reserves
Bristol Telephones
Cheltenham Civil Service
Chipping Sodbury Town
Ellwood
Frampton United
Gala Wilton
Hanham Athletic
Henbury
Kings Stanley
Kingswood
Patchway Town
Rockleaze Rangers
Southmead CS Athletic
Thornbury Town
Yate Town Reserves
Longlevens promoted to the Hellenic League. Bristol Academy have resigned from the league. AEK Boco (Bristol Premier Combination) and Cheltenham Civil Service (Gloucestershire Northern Senior League) promoted to the league.
19th May 2014 - Respect Award
Congratulations to Bristol Acdemy who win £70 for the sixth Respect Award of the season for being the best marked club by referees in that set set of five games. Ellwood win £40 for second Place. Details of how well your club did are on the respect pages Here.
13th May 2014 - Programmes for Sale
Gloucestershire County Football League Match-day Programmes from season 2013-14 are available in Packs of 18 (1 from each Club) at £6.50 including Packaging and Postage.
Please send a Cheque made payable to the Gloucestershire County Football League. To:
Ron Holpin
27, Brockley Close
Little Stoke
Bristol
BS34 6HA

Please make sure that you include your Postal Address clearly indicated with your request.
3rd May 2014 - Longlevens County League Champions 2013-14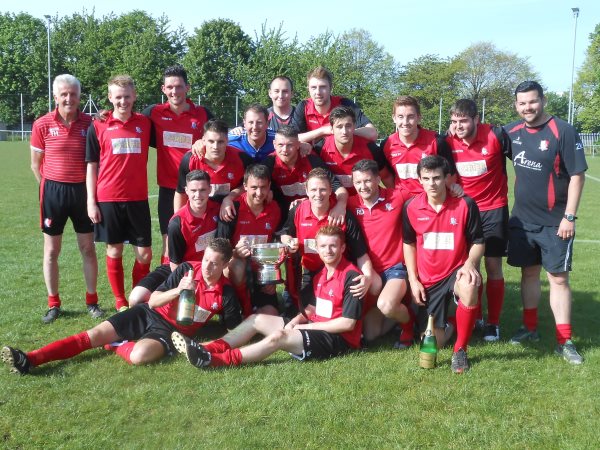 Longlevens with the Dennis Barrett Championship Trophy

2nd January 2014 - Bishops Cleeve Reserves seek manager
After the previous manager, Simon Goodwin, was promoted to the 1st team as assistant to manager John Brough, Bishops Cleeve Reserves are seeking a fresh face to take on the role of Reserve Team Manager.
The reserve team play in the Gloucestershire County League, currently lying in mid-table. The successful applicant should have experience of local football at a similar level. There is a close working relationship between all managers at the club, 1st team, reserves and 3rd team, and many players have played for the different teams over the course of a season. Coaching qualifications would be desirable, but not essential.
Bishops Cleeve FC have excellent facilities available to all teams, and the reserve team have use of the main pitch, clubhouse and changing rooms for match days.
This is a fantastic opportunity for the right individual to get involved in one of Gloucestershire's Premier Non-League football clubs.
For more information, or to apply for the position, please contact the club or club Chairman, Dave Walker on 01242 676166, 07977 150105 or via the clubs website, twitter or facebook pages.
20th December 2013 - Twitter
The league now has a twitter account @GlosCounty which will be updated with news periodically. Phone signal and strikers permitting there might even be goal updates live from some games.
2nd August 2013 - League Handbook
A version of the leagues handbook is available as a PDF file
here
7th July 2013 - Vacant Position
The Gloucestershire County Football League invites applications for the vacant position of Minute Secretary for the Competition.
Job Description
A successful candidate would be required to take Minutes at each league meeting (approximately 10 meetings per season) and draft up each set of minutes for presentation to the Management Committee.
The position is open to Male or Female candidates
Please apply by to General Secretary Ron Holpin: Email sec.gloscountyleague@btinternet.com
Phone : 01454 612842
Ron's Match Reports
11th May 2014 - Les James Cup Final sponsored by Braley Business Systems
Report by Jon Palmer, Gloucester Citizen
LONGLEVENS signed off from the Gloucestershire County League in style with a 3-0 Les James Cup final victory over Rockleaze Rangers.
It completed a trophy double for James French's champions, who can now look forward to Hellenic League football next season.
It also banished the demons of their 5-0 drubbing by Cribbs Friends Life in the final two years ago on the same ground.
Skipper Craig Martin was influential in their success at Kingswood on this occasion, scoring the first in the 12th minute and setting up the second with 10 minutes left after Rockleaze had pressed for an equaliser.
Longlevens made the stronger start, with Brad Barnard racing onto a long kick from goalkeeper Mark Harris in the fifth minute before shooting just wide of the left post in the fifth minute.
Shaun O'Connor shot straight at Sam Burgess, but the deadlock was broken when Martin received the ball inside the penalty area, evaded the lunge of goalkeeper Burgess and applied a calm finish into the empty net.
But Rockleaze did not let favourites Longlevens have it all their own way and 40-year-old Harris parried Richard Bray's free-kick from the edge of the box in the 19th minute, with Arron Day following up and crashing a shot against the near post.
The Bristol side threatened again in the 23rd minute when Bray nodded down to Edward Freeman in the box, but Harris made an excellent diving save.
Rockleaze pressed after half-time and only some more fine goalkeeping from Harris and some last-ditch defending kept them out.
Sam Andrews went close with a free-kick and Ben Lear's drifting cross almost crept under the bar, but Harris grabbed it on the line.
Liam Jenkins saw a shot saved by Harris and Longlevens somehow survived an almighty scramble in the box in the 63rd minute, when Rockleaze will wonder how they failed to score.
They were made to pay in the 80th minute when Martin set up substitute Adam Phillips for Longlevens' second.
Rockleaze committed men forward and only a good block by Burgess' legs denied Dave Rich a third.
But full-back Luke Kavanagh rounded off the scoring in the fourth minute of time added on, crashing a shot into the top right corner.
The final scoreline was harsh on Rockleaze, but ruthless Longlevens celebrated another piece of silverware as their three-year spell of County League football draws to a close.
LONGLEVENS: M Harris, L Kavanagh, S Goodhall, D Merrick, E Smyllie, E Sausman, C Martin (L Blackmore 86), D Rich, S O'Connor (J Underwood 89), B Martin, B Barnard (A Phillips 66).
ROCKLEAZE RANGERS: S Burgess, S Frangoullis, B Lear, T Coombes, A Day, S Andrews, N Dyer, E Freeman, J Adejokun, L Jenkins (O West 74, O Wilson 85), R Bray (A Hawkins 66).
REFEREE: S Fearnley.
ATTENDANCE: 136.
STAR MAN: Craig Martin.
3rd May 2014 - Champions Longlevens thrash Southmead
The end of the season is fast approaching with the league having just two league fixtures to play on Bank Holiday Monday.
The Champions were presented with the winners Cup and their momentoes by the League Chairman Bob Stewart after the game. Prior to the kick off Brad Martin received the Golden Boot award for finishing leading goal-scorer in the league - from League Chairman Bob Stewart
Longlevens finished their home fixtures with a resounding eight – one slaughter of a much depleted Southmead CS Athletic side. The visitors only fielded three of their recognised first team squad and against a side like the Champions it was always going to be a struggle. The home side raced into a three goal lead in the first thirteen minutes the opening goal was put away by Shaun O'Connor for the first of his three for the afternoon after four minutes. They struck the crossbar a few minutes later and went two–nil up on seven minutes with a strike from leading goal-scorer Brad Martin. Sean O'Connor simply passed the ball into the net for the third following a corner and by this time they had full control of the game. O'Connor completed his hat-trick on twenty three minutes when he challenged the visitor's keeper Mark Quinn for a long ball hit long over their defence and won the challenge to run the ball into an empty net. Southmead's first chance of a shot on goal came in the thirtieth minute when they were given a free kick just outside the box. The resulting kick was a poor effort that was hit straight into the home wall and was cleared. Southmead had their keeper Mark Quinn to thank for keeping the score to four at the break pulling off great saves from Ed Smyllie and Shaun O'Connor.
With the home side comfortable with their lead they sat back until the sixty third minute when Quinn pulled of a good save to deny Craig Martin. Just a minute later the home side made it five – nil with a goal from Dave Merrick. Then came the first of many efforts on goal by Craig Martin. Seventy five minutes into the game with the home side totally in control Substitute Nick Humphreys netted number six. Then came the first real shot on target from Southmead a Luke Bayford shot that was easily fielded by home keeper Mark Harris. The home side just kept attacking and Craig Martin had three glorious chances but missed them all. Brother Brad Martin thought he had done enough to warrant a seventh goal but his chip over the keeper bounced over the bar. In a rare attack by the visitors a shot on goal was handled and the assistant referee signalled a penalty. Jordan Thaws dispatched the spot kick to give the visitors what would be their only goal of the game. In the last few minutes of the game the home side scored twice more. Ed Smyllie netted number seven and right on time Craig Martin eventually got the goal he had been trying for all afternoon.
Kings Stanley's visit to Thornbury Town meant the visitors had to win to keep alive their hopes of finishing runners-up in the league. They found themselves trailing two – nil after fifty five minutes. Thornbury had taken the lead on fifteen minutes when a chipped ball over the Stanley defence was pounced upon by Josh Pirie to outstrip the defender to slot the ball home. It was another long ball that caught Stanley out a second time, when the defender failed to control the ball Josh Pirie was in like a flash to put the home side two up. Stanley never gave up and hit back in the sixty seventh minute when Lee Pritchard turned a cross into the Thornbury net. Just four minutes later Stanley drew level from a corner headed home at the near post by Matt Buckland. It is going to be difficult for Stanley to get that second spot because the goal difference is probably too great.
Henbury compounded Bishops Cleeve's misery after heavy defeats in their last few games with another five one defeat today. Henbury went one up on thirty minutes when Harry Bartlett headed home a Luke Cox's cross. Jack Mills made it two – nil on thirty nine minutes with a twenty yard drive. Cleeve hit back in the fifty second minute when a fifty-fifty ball with goalkeeper Cameron Tarr failing to clear and Nick Hill running the ball home. Henbury regained their two goal lead in the sixty ninth minute when a Jack Mills surged into the box was brought down and Dale Simpson netted from the spot. Mills was involved in the fourth goal sending a cross into the box for Danny Simpson to slide home. A fifth goal for the home side came in the very last move of the game from a Gary Clark header.
Berkeley Town signed their season off with a three – one win at Ellwood. The home side went ahead on fifteen minutes from a Mike Nelson strike. The visitors hit back after the break with a Sam Strickland hat-trick. His first on fifty minutes came from the penalty spot. He netted a second ten minutes later and then rounded it off with a third in the eighty fifth minute. This win was not enough to lift them off the bottom although they have the same number of points as Yate Town Reserves they have an inferior goal difference.
Patchway Town concluded their season with a two – one win at home to Hanham Athletic, although it was the visitors who took the lead on fifteen minutes when Craig Stone was put clear and fired a low shot under the keeper. Sam Davies netted his first goal of the season in the very last game when he headed home a cross on thirty five minutes. Matt Davies netted the winner for the home side in the fifty second minute, his first attempt was blocked but he made sure from the rebound.