Tables Data loading when Cookies Accepted ....
Results Data loading when Cookies Accepted ...
The league advises that you check with individual clubs for postponement of a match before travelling especially if the weather is poor. We will update Full-Time as soon as possible on match days, however this is dependant on availability of league officers.
Fixtures Data loading when Cookies Accepted ....
20th April 2014 - Rockleaze Rangers seek manager
Rockleaze Rangers Football Club are looking for a manager to run our Gloucestershire County Football League side for the 2014/15 season.
The club run 4 Saturday adult sides, a Veterans side and youth football from Under 6's through to Under 18's. The right candidate should have experience of local football at a similar level. All of our adult sides have a close working relationship and the successful applicant will be expected to work within this existing structure. Coaching qualifications would be desirable, but not essential.
This role will provide a fantastic opportunity to work within a vibrant club with excellent facilities at The University of Bristol's Coombe Dingle Sports Centre and to be an integral part of the future growth of Rockleaze Rangers Football club as first team manager.
For more information or to apply for the position, please contact the club Chairman; Andrew Myland on 07834 505786
20th April 2014 - Respect Award
Congratulations to Kingswood who win £70 for the fourth Respect Award of the season for being the best marked club by referees in that set set of five games. Longlevens win £40 for second Place. Details of how well your club did are on the respect pages Here. There is also an updated version of the technical area marks.
13th April 2014 - FA Vase
The FA Carlsberg Vase Final
Sholing –v- West Auckland Town
Saturday 10 May 2014
At Wembley Stadium, Kick-off 3pm
Ticket information : Here
5th April 2014 - League Cup final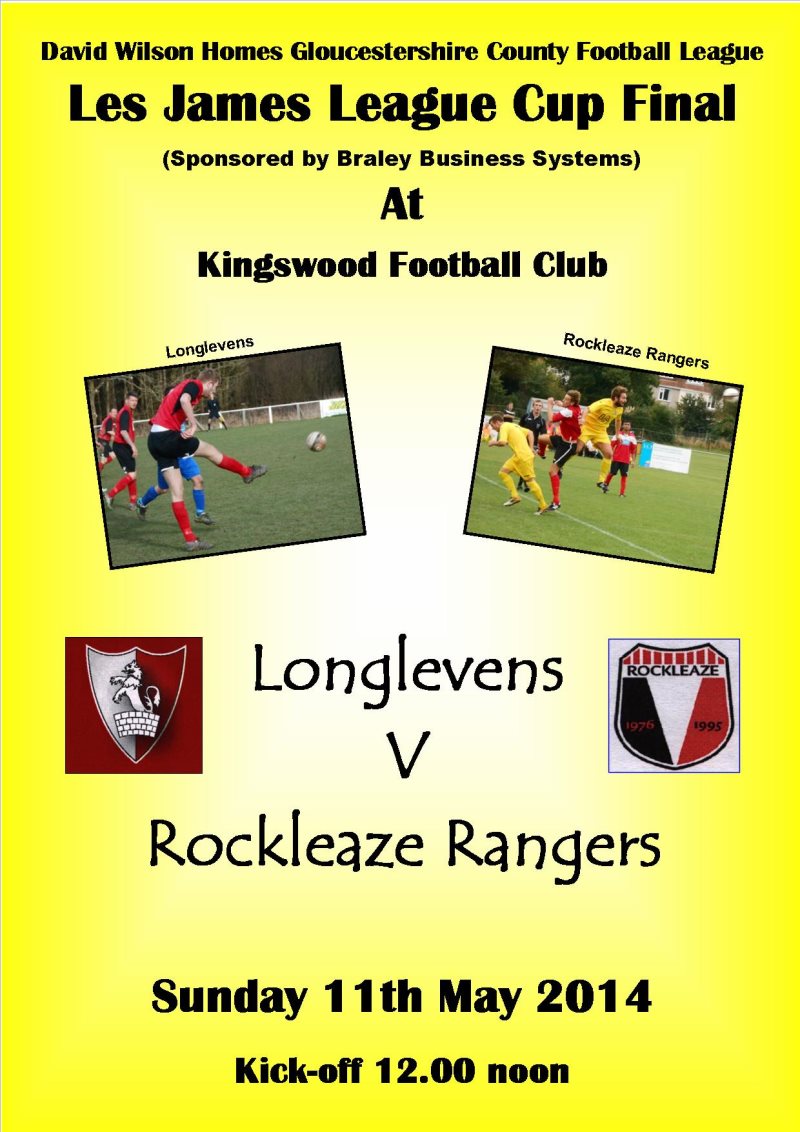 9th February 2014 - Respect Award
Details of how well your club is doing at the Start of February are now available on the respect pages Here
9th January 2014 - Applicants for 2014/15 season
The following clubs have applied to join the league for season 2014/15.
South of County
A.E.K. Boco – Bristol Premier Combination
Lebeq - Bristol Premier Combination
Ridings High – Bristol Suburban League
North of County - All Gloucestershire Northern Senior League
Cam Bulldogs
Cheltenham Civil Service
Ruardean Hill Rangers
Taverners
2nd January 2014 - Bishops Cleeve Reserves seek manager
After the previous manager, Simon Goodwin, was promoted to the 1st team as assistant to manager John Brough, Bishops Cleeve Reserves are seeking a fresh face to take on the role of Reserve Team Manager.
The reserve team play in the Gloucestershire County League, currently lying in mid-table. The successful applicant should have experience of local football at a similar level. There is a close working relationship between all managers at the club, 1st team, reserves and 3rd team, and many players have played for the different teams over the course of a season. Coaching qualifications would be desirable, but not essential.
Bishops Cleeve FC have excellent facilities available to all teams, and the reserve team have use of the main pitch, clubhouse and changing rooms for match days.
This is a fantastic opportunity for the right individual to get involved in one of Gloucestershire's Premier Non-League football clubs.
For more information, or to apply for the position, please contact the club or club Chairman, Dave Walker on 01242 676166, 07977 150105 or via the clubs website, twitter or facebook pages.
20th December 2013 - Twitter
The league now has a twitter account @GlosCounty which will be updated with news periodically. Phone signal and strikers permitting there might even be goal updates live from some games.
2nd August 2013 - League Handbook
A version of the leagues handbook is available as a PDF file
here
7th July 2013 - Vacant Position
The Gloucestershire County Football League invites applications for the vacant position of Minute Secretary for the Competition.
Job Description
A successful candidate would be required to take Minutes at each league meeting (approximately 10 meetings per season) and draft up each set of minutes for presentation to the Management Committee.
The position is open to Male or Female candidates
Please apply by to General Secretary Ron Holpin: Email sec.gloscountyleague@btinternet.com
Phone : 01454 612842
Ron's Match Reports
19th April 2014 - Chipping Sodbury hit nine against Bishops Cleeve
Longlevens retain the Championship for a second season with a win at Hanham Athletic on Wednesday and a further win today.
Chipping Sodbury Town ran riot defeating Bishops Cleeve Reserves by nine goals to three. The visitors fielded a weakened side and had no substitutes. They did however create the first attempt on goal after eight minutes a shot from Gareth Davies that was well saved by keeper Cameron Currin. Sodbury opened the scoring on twelve minutes a twenty yard volley from Justin Cattle that gave Dan Greenhouse no chance. At this point Cleeve lost James Pickup and were down to ten men. A second goal on sixteen minutes was a close range shot from James Mackie that Greenhouse got his hands to but could not prevent it crossing the line. A Cleeve defensive blunder on twenty five minutes allowed James Mackie a free shot on goal for the third. Louis Speddings shot into the roof of the net from just inside the box on twenty nine minutes made it four – nil. Justin Cattle netted his second from a cross in from the left on thirty two minutes. Dan Bendall almost made it five but for a great save from Greenhouse. Cattle completed his hattrick in the forty first minute with a superb low drive that gave the keeper no chance. Just before the break Cleeve pulled a goal back when the Sodbury keeper gave away a free kick when he picked up a back pass fourteen yards out, Neil Goodwin's free kick took a deflection on its way into the net.
Five minutes into the second half James Mackie headed home to complete his hattrick. Cleeves Nick Hill was unlucky when his forty yard free kick struck the crossbar in the sixty first minute. Cleeve got a second on sixty four minutes when Nick Hill broke clear and chipped the ball into the net. Cleeve went down to nine men in the sixty fifth minute when Chris Parsons went off injured. Sodbury scored an eighth goal on seventy minutes when substitute Luke Meacham raced clear before sliding the ball across to James Mackie to net his fourth. Four minutes later Dan Bendall broke down the right to smash home number nine. Gareth Davies netted a third for Cleeve in the seventy ninth minute. Cleeves woes continued as the game was held up for fifteen minutes with just six minutes left when Gareth Davies had to be taken to hospital with a badly damaged arm.
Longlevens have shown why they deserve to be the champions for a second time with a four - two win over Berkeley Town. It was Town who took the lead on ten minutes from a Sam Strickland shot that took a deflection and looped over the home keeper Mark Harris. The home side were level four minutes later when Craig Beaton volleyed home a Luke Kavanaugh cross. Brad Martin then provided the chance for Brother Craig Martin to put the home side in front on twenty five minutes. Berkeley levelled on the hour with Paul Brooks turning in a Chris Andrews cross. Two goal in the last fifteen minutes saw the home side home Dave Merrick back healing into the net on eighty minutes and Brad Martin netting the forth on eighty four minutes.
Ellwood must have the end of season Blues as they went down five-nil at home to Kings Stanley. Ben Newman gave Stanley the lead on twelve minutes and Sam Prior made it two–nil on twenty eight minutes. Two goals from Liam Gale and a fifth from Dan Chandler in the second half made it a very convincing win for Stanley.
Kingswood came away with the three points from Hanham with a two-one success over the home side. Adam Eldridge headed the visitors into the lead on thirty minutes, but good individual play from Adam Grinter levelled the score for Athletic five minutes before the break. A Frank Hitchings shot into the bottom corner on seventy minutes was enough for Kingswood to go away with the three points.
Henbury and Patchway Town shared a point each in a two–two draw. Patchway went ahead on nineteen minutes from a long ball over the home defence that was latched onto by Matt Tovey to chip the ball into the net. Henbury levelled on twenty one minutes with a screamer of a shot from Jack Mills. The home side then gave away a penalty in the very first minute of the second half keeper Cameron Tarr bringing Tovey down in the box. He dragged himself of the ground to hammer the ball home to give them a two – one lead. Henbury drew level on the hour from an in-swinging corner that caught the visitor's keeper out and he only managed to punch the ball into his own net.
Bristol Academy thought they had done enough to win the game when they went into a three – one lead after seventy minutes, but Telephones hit back with two late goals to finish the game level on three – three. Toby Waterman put the home side in front on nineteen minutes, but the visitors levelled with a goal from Dhani Golding on twenty four minutes. Waterman then headed home a Sam Johnson cross to put the home side back in front on fifty six minutes and then Sam Johnson turned in an Alex Bisp cross to make it three – one. Kyran Hunt headed a goal back for Telephones on eighty minutes and in the very last minute of the game Mike Grist scored from the penalty spot to earn a point.
Thornbury Town v Southmead CS Athletic failed to produce a goal throughout the ninety minutes.