Tables Data loading when Cookies Accepted ....
Results Data loading when Cookies Accepted ...
The league advises that you check with individual clubs for postponement of a match before travelling especially if the weather is poor. We will update Full-Time as soon as possible on match days, however this is dependant on availability of league officers.
Fixtures Data loading when Cookies Accepted ....
21st June 2015 - Rockleaze Rangers Managerial Vacancy
Rockleaze Rangers Football Club are looking for a manager to run our Gloucestershire County Football League side for the 2015/16 season. Following the unexpected resignation of our manager, we have an Interim manager in place who has arranged a full programme of friendlies and a pre-season training programme. Whilst the club are in no hurry to make an appointment it would be desirable to have a new manager in place prior to the start of the County League season.
The club run 4 Saturday adult sides, a Veterans side and youth football from Under 6's through to Under 18's. The right candidate should have experience of local football at a similar level. All of our adult sides have a close working relationship and the successful applicant will be expected to work within this existing structure. Coaching qualifications would be desirable, but not essential.
This role will provide a fantastic opportunity to work within a vibrant club with excellent facilities at The University of Bristol's Coombe Dingle Sports Centre and to be an integral part of the future growth of Rockleaze Rangers Football club as first team manager.
For more information or to apply for the position, please contact the club Chairman; Andrew Myland on 07834 505786 or Neil Simons on 07736 304863.
16th June 2015 - Cheltenham Civil Service open training
Cheltenham Civil Service AFC will be opening the doors to new players by holding an open training session on Friday 26th at 7pm at the football club. Any new players are welcome to come along, but we would be grateful if you could confirm your attendance by adding yourself to the Facebook event here: https://www.facebook.com/events/1591708241095819/ Full changing facilities are available, and we invite you to join us in the bar afterwards for an informal drink.
10th June 2015 - Thornbury Town (Reserves) Managerial Vacancy
Thornbury Town FC, invite applications for the vacant position of Reserve Team Manager. Thornbury Town play in the Stroud & District League Division 3 and are looking for an experienced manager at this level to fill this important role within the club. The role will involve working in tandem with the current Assistant Manager with full responsibility for the development of their team strategy along with training and will involve close communication with the 1st Team and U18's managers in order to ensure future development of all players. In the first instance written applications should be sent to:
Terry Payton - Vice Chairman.
3 Willoughby Close,
Alveston,
Bristol BS35 3RW.
terrypayton@hotmail.com

if any further information is required contact him on 01454 887436.
Closing date for applications is Monday 22nd June 2015.
18th May 2015 - Programme Sale
The league has packs of Match-day Programmes for sale from season 2014-15
There is one programme form each Club 18 plus 1 from the FA Inter-leagues Preliminary Rd fixture against the Dorset Football League
I managed to keep the same price for 2 seasons of £6.50 per pack but I am afraid that the postage has risen again this season so there is an increase in the cost.
The cost will be £7.00 per pack this will include packaging and postage.
Cheques should be made payable to the GLOUCESTERSHIRE COUNTY FOOTBALL LEAGUE and sent to – Ron Holpin, 27 Brockley Close, Little Stoke, Bristol. BS34 6HA
11th May 2015 - Bobby George Memorial Tournament and Fun Day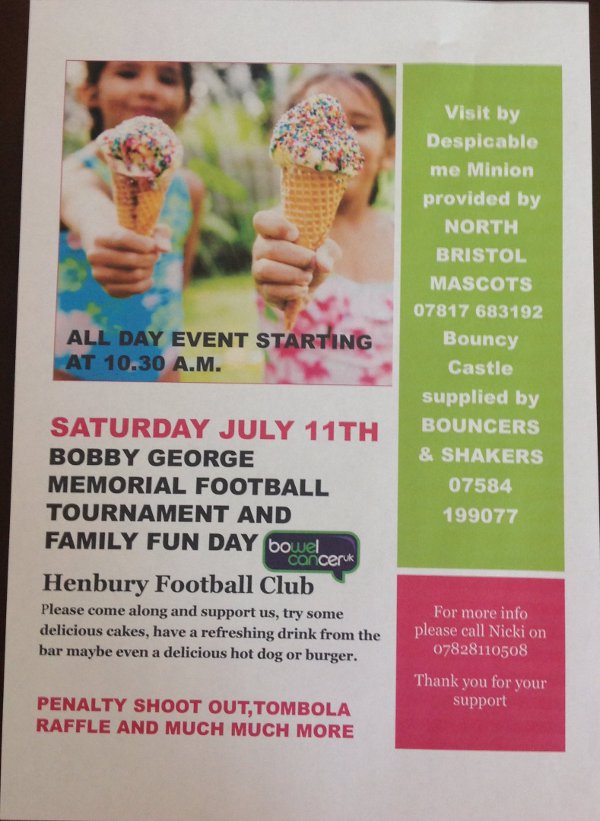 18th April 2015 - Cheltenham Civil Service Champions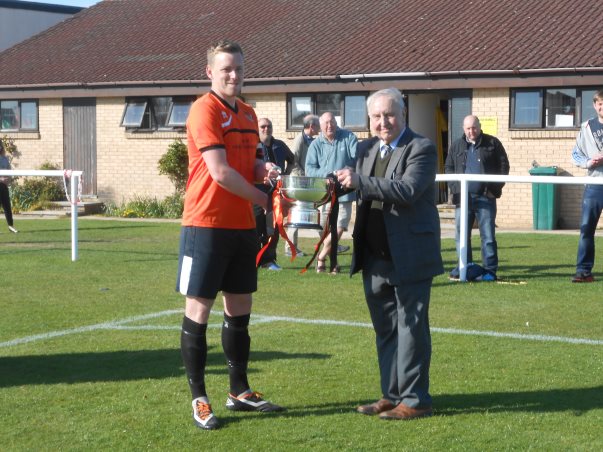 Cliff Orchard, Managing Director of Marcliff presents the trophy to Teejay Bick, Captain of Cheltenham Civil Service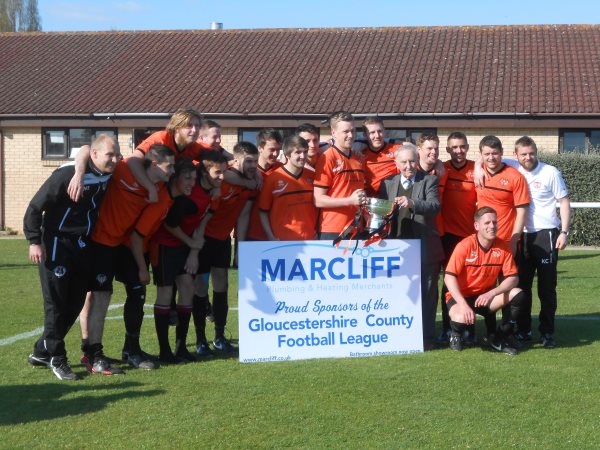 Cliff Orchard, Managing Director of Marcliff With Cheltenham Civil Service
15th April 2015 - Respect Awards
Fifth Respect awards of the season go to Rockleaze Rangers and Yate Town Reserves for the best marks from the referees in the fifth 5 games.
Henbury win a football for having the best behaved technical area in the same period.
Details on the respect pages along with teh latest standings in the overall competition
9th December 2014 - #footballremembers
19th September 2014 - Ron meets the sponsors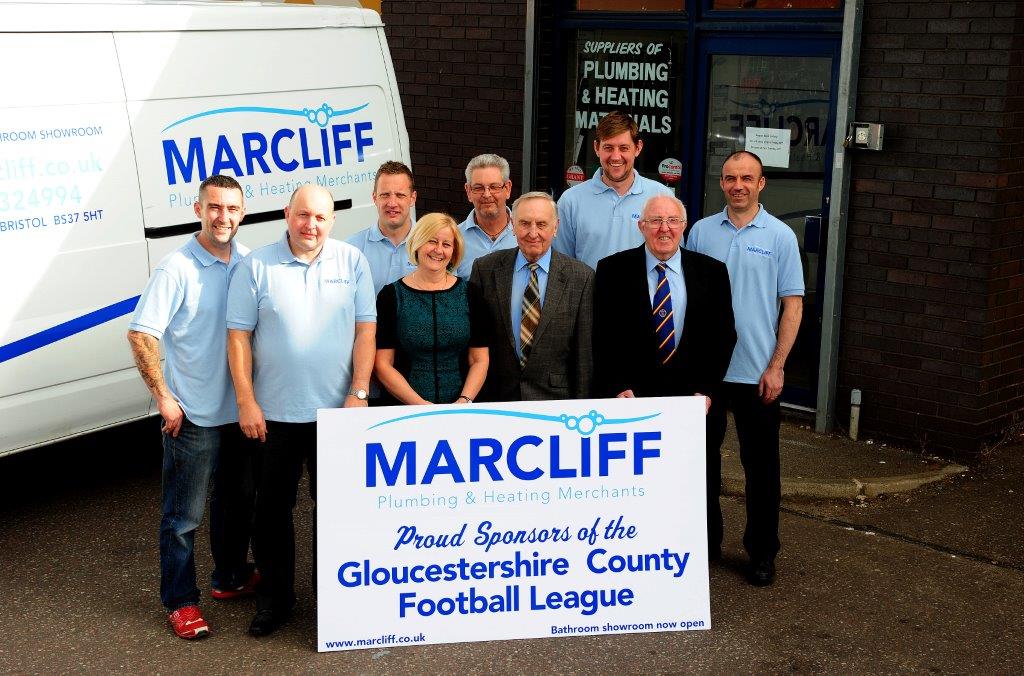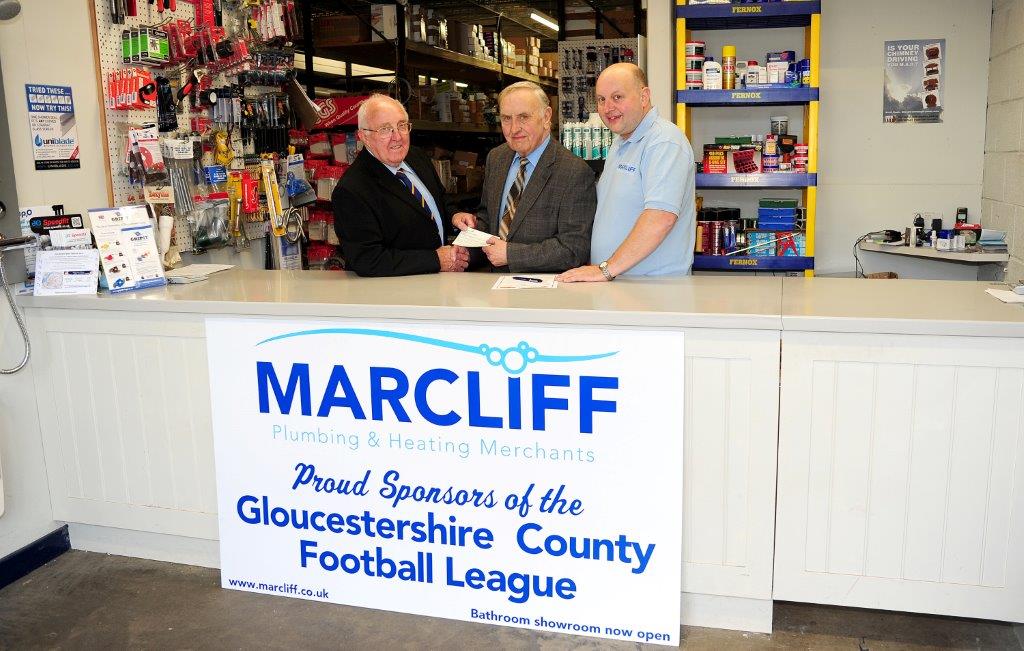 Ron's Match Reports
10th May 2015 - Thornbury claim Les James League cup
Report by Jon Palmer
Nick Locke was denied a triumphant send off as Cheltenham Civil Service boss as his side were beaten by Thornbury Town in the final of the Les James League Cup.
Locke has guided Service to the Gloucestershire County League title at the first time of asking by an eight point margin.
Having agreed to take charge of Hellenic League Division One West club Cheltenham Saracens next term, this was his final game at the helm.
The Tewkesbury Road team were favourites to complete a league and cup double, but Pete Fowler's goal in the final minute of the first half was enough to secure the silverware for Thornbury, who were runners-up in 2011.
Missing one of their key men in Teejay Bick, Service were out of sorts at Slimbridge's Wisloe Road ground, rarely troubling Thornbury goalkeeper Alex Lippiatt.
Paul Holmes and leading marksman Jack Sklenar both tried their luck early on for Service, but Thornbury hit the woodwork in the 35th minute.
A mistake by the otherwise excellent skipper Chris Pates allowed Rob Wilks to race through on goal and his shot beat Tim Griffiths, but cannoned back off the post.
Left-back Jamie Gowers was cautioned for a late challenge three minutes later and Service fell behind at the break after switching off as they tried to deal with a corner.
Luke Frankin's delivery from the left was nodded in by centre-half Fowler, who had lost his marker and only a smart save from Griffiths prevented Dan Rees adding a second in time added on.
Free-scoring Service fired more than 100 goals during their County League campaign, but an impressive defensive display from Thornbury, with Nathan Sage outstanding, kept them out.
John Evans went closest to breaking through when he saw a low shot brilliantly turned up onto the bar by Lippiatt as it bounced in front of him.
Ryan Smith was tripped right on the edge of the box with referee Andrew Sheppard correctly awarding a free-kick rather than a penalty, but the set piece was wasted and Service had Connor Hart sent off for a lunge at Scott Macleod in the 74th minute.
Thornbury were also reduced to 10 men in the 84th minute when Toby Bennett received a second yellow card for a foul on Cameron Smith.
Pates nodded a free-kick just wide and Service launched a late push for a leveller which would have taken the final to penalties.
Sage challenged Mark Jones in the penalty area in the dying seconds, but nothing was given and Thornbury, who finished fourth in the league, celebrated their deserved triumph.
Cheltenham Civil Service: T Griffiths, R Smith, J Gowers (M Jones 78), T Hoskins, C Pates, C Hart, S Midwinter, C Smith, P Holmes, J Sklenar, J Evans. Subs not used: J Bish, S Mitchinson, J Goodhall.
Thornbury Town: A Lippiatt, J Guest, T Webb, N Sage, P Fowler, T Bennett, S Macleod (D Thompson 79), N Irwin, R Wilks, D Rees (J Pirie 82), L Franklin. Subs not used: J Davies, J Lewis.
Referee: A Sheppard.
Attendance: 178.
2nd May 2015 - Ellwood round off season with victory over champions
The last three league fixtures were completed today. The two new Clubs who entered the league at the start of the season have done remarkably well. Cheltenham Civil Service have finished as Champions with AEK Boco taking the Runners-up spot. At the other end of the table Berkeley Town have finished bottom with Patchway Town finishing one place above.
It was the final game of the season for the Champions a visit to in form Ellwood in the Forest of Dean with the home side inflicting only their second defeat of the season.
This was a cracking match to watch and although the visitors were the better footballing side you had to admire the determination and effort put in by the home side. Ellwood created the first chance after 3 minutes from a free kick on the left that was pumped over to the far post where Darryl Addis rose above the Cheltenham defence to head goalwards but it struck the top of the crossbar. It took the Champions until the 13th minute to muster a shot on goal that was taken easily by home keeper Derek Roberts. A minute later Darryl Addis was on target from the edge of the box but keeper Tim Griffiths had it well covered. Cheltenham had a great chance to open the scoring on 21 minutes as Ryan Smiths cross from the right found the head of Jonny Evans but it went straight into the arms of Roberts. Ellwood grabbed the lead on 31 minute as Gary Wildin got clear down the right and sent a low cross into the six yard box that deceived everyone and crept in at the far post. The Champions had a great chance to level just 3 minutes later when Cameron Smith was upended in the box. Captain Teejay Bick chose to take the spot kick and decided to hit it straight down the middle but with Roberts moving to his left the keeper managed to get his legs to the ball and prevent it going in. A second goal on 39 minutes from the home side shook the visitors but it was really well executed by brothers Matt and Darryl Addis with Matt creating space down the right flank to pull the ball back for Darryl who was lurking just inside the box and although he did not get a clean strike on the ball it was enough to beat Griffiths at the far post. 3 minutes before the break Cheltenham pulled a goal back with some excellent passing culminating in Cameron Smith driving a fierce shot past Roberts.
The second 45 minutes failed to live up to the first half with Cheltenham having lots of possession and created several chance whilst the home side failed to get a shot on target but defended well with sheer determination to keep the visitors from scoring. Mark Jones went close for the champions in the 48th minute a shot that had Roberts scurrying across goal but it went just wide of the post. Cameron Smith saw his 20 yard drive pushed around the post by Roberts on 56 minutes. Substitute Jamie Gower then turned on the edge of the box but his shot was just off target. Disappointment for the home in the first minute of added time as Substitute Ryan Pendry was sent off. After the game the Champions received their trophies from League Chairman Bob Stewart with the Ellwood players and Match Officials watching on.
Berkeley Town have had a dreadful season and have finished bottom of the table well behind in points to next from bottom Patchway Town. It was the same old story in their final game going down 1-0 at home to League Runners-up AEK Boco. The best chance for the home side fell to Jake Stevenson who saw his tremendous goal-bound shot tipped over the bar by Boco's keeper in the first half. The home keeper Dan Gillison kept them in the game with some great saves until the 63rd minute when a cross into the box was turned in by Boco's Bradley Wheadon to score the only goal of the game. After the game had finished the Runners-up trophies were presented to the AEK Boco players by Dave Herbert Development Manager of the league.
Henbury's final game ended all square at 1-1 but they got out of jail with a goal in the very last minute Aaron Anglin firing home the rebound from Kane Simpson's shot that had struck the post. Gala must be disappointed to have only taken 1 point from this game after taking the lead on 3 minutes with a good shot from Jake Taylor.