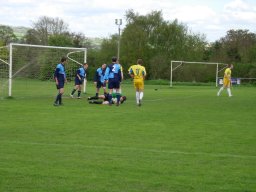 About Us
The League has a maximum size of 20 member clubs, who have to be affiliated to the Gloucestershire Football Association.
The club's ground or headquarters have to be located within the County of Gloucestershire or in those parts of the City of Bristol that was within the 1908 city boundaries.
The league is part of the National League system and clubs may apply for promotion to or from the League.
The Joint Liaison Committee, at the end of each season, shall confirm promotion and relegation of clubs between the leagues and be responsible for the boundary adjustments between the leagues where appropriate. The Committee is drawn from the Western Football League, Devon County League, Gloucestershire County League, Somerset County League, South Western League and the Wiltshire League.
See the Gloucestershire County League handbook for full details. Applications for information should be through the General Secretary.
History
The league was originally formed in 1968. It's first Chairman was F.Dowling, who was ably assisted by the Hon. Secretary, L.V. James. Les James has the Leagues' Cup Competition named after him in recognition of his service to football and the league within Gloucestershire.
Chairman, Mr F. Dowling, presented the championship trophy to Stonehouse FC, who were the first winners of the County League.
In 1972, a motion from Bristol St. George that a league tie be produced did not gain support from member clubs, but a decision was taken to introduce player's numbers ideally on shirts but could also be placed on shorts or stocking tabs to aid in identifying players, especially where programmes were produced. Many such other committee / general meeting decisions are recorded in the History of the County League, written by Les James with help from many including County Historian Colin Timbrell. As always such matter make fascinating reading many years later when debate has moved on in so many ways.
The history document, yet to be updated, records that in 1989 Hanham Athletic were the only team with 21 years unbroken membership. Of the original 16 member clubs only Brimscombe & Thrupp, Cadbury Heath, Cinderford Town, Patchway and the aforementioned Hanham Athletic were still in the League. Such is the effect of promotion and relegation. The only teams to go through a season undefeated at that stage were Stonehouse (1968/9) and Bristol St. George (1969/70). At the end of the 1988/89 season Hanham Athletic were relegated and only regained their status for the 2006/07 season.
Another interesting record held by Bristol St. George is that they drew 11 consecutive matches in season 1986/7.