Tables Data loading when Cookies Accepted ....
Results Data loading when Cookies Accepted ...
The league advises that you check with individual clubs for postponement of a match before travelling especially if the weather is poor. We will update Full-Time as soon as possible on match days, however this is dependant on availability of league officers.
Fixtures Data loading when Cookies Accepted ....
2nd July 2017 - Respect 2017/18
Increase Respect in the League.
The aim is to decrease dissent and improve match participation.
All clubs will start with 100 points. Clubs must not fall below 65 points.
The criteria for losing points: -
Yellow card for Dissent

5 points

deducted.
2 Yellow Cards for Dissent (Sent off)

15 points

deducted.
Red card shown for Language

20 points

deducted.
Technical Area
Any person reported in the Technical Area for Language or Dissent

20 points

deducted.
Any Club Official, Player reported after the Match

25 points

deducted.
Prize Money for clubs remaining above the target of 65 points will be shared on a sliding scale.
6th June 2017 - Constitution 2017/18
AEK Boco
Broadwell Amateurs
Frampton United
Gala Wilton
Hanham Athletic
Hardwicke
Henbury
Kingswood
Lebeq United
Little Stoke
Patchway Town
Rockleaze Rangers
Ruardean Hill Rangers (Promoted from Gloucestershire Northern Senior)
Southmead CS Athletic
Stonehouse Town
Thornbury Town
Wick (Promoted from Bristol Premier Combination)
Bristol Telephones promoted to the Toolstation Western League
Bishops Cleeve Reserves have resigned from the league.
27th May 2017 - Respect Marks
The final Respect Marks are on the respect pages now. Congratulations to Rockleaze Rangers, Broadwell Amateurs and Frampton United who will be getting the prizes.
17th May 2017 - Programme Sale
2016-17 Match-day programmes for sale.
A pack of 17 programmes will cost £5.50 including Packaging & Postage.
Please make Cheques payable to Gloucestershire County Football League
Please send to:
Ron Holpin
27, Brockley Close
Little Stoke
Bristol.
BS34 6HA.

MAKE SURE THAT YOU INCLUDE YOUR NAME AND ADDRESS
If you wish to contact me by email: sec.gloscountyleague@btinternet.com
Tel: 01454 612842
22nd April 2017 - Bristol Telephones Champions 2016/17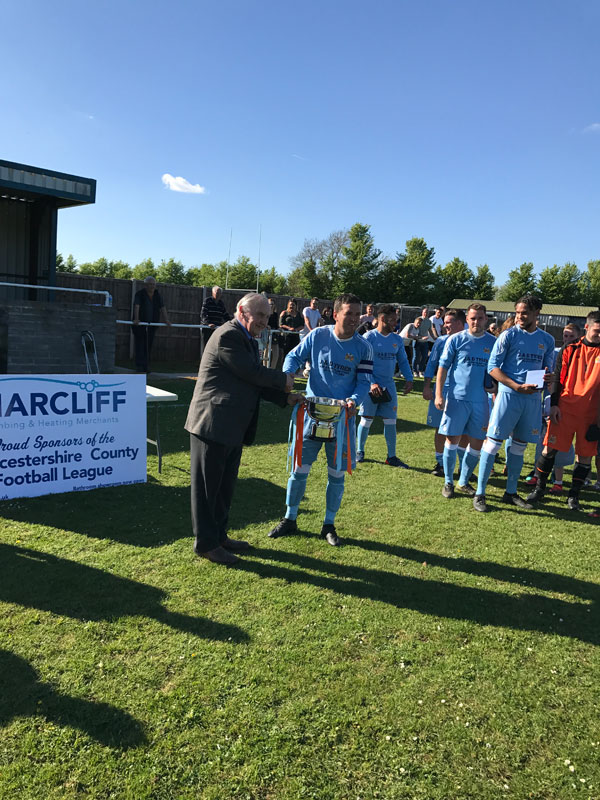 Cliff Orchard (Managing Director Marcliff) - Presents the Trophy to Martin Blacker (Captain, Bristol Telephones)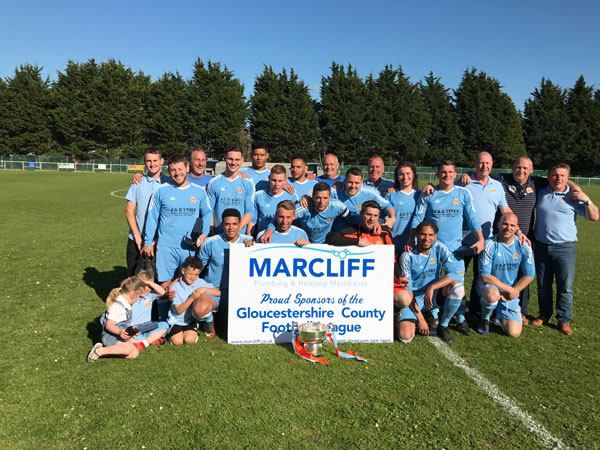 Bristol Telephones - Champions Marcliff Gloucestershire County Football League 2016/17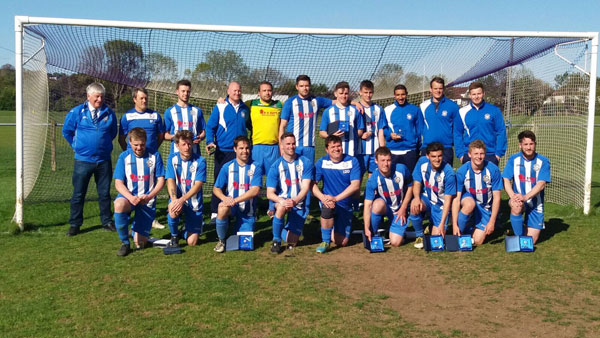 Frampton United - Runners-up Marcliff Gloucestershire County Football League 2016/17
11th September 2016 - Marcliff Plumbing Supplies Sponsorship
The signing of a new 2 Year sponsorship deal between Marcliff and the league took place at Little Stoke before the game.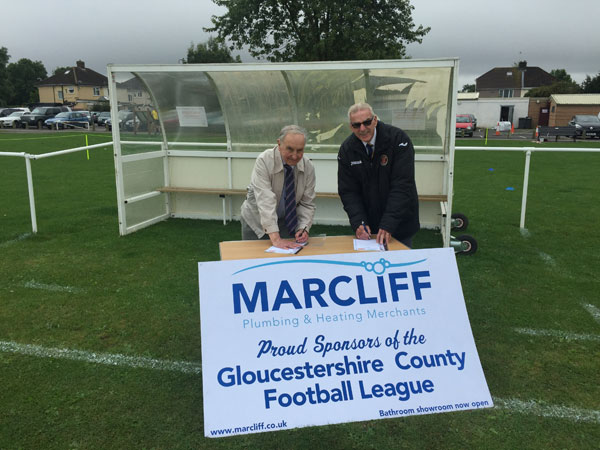 Cliff Orchard (Managing Director Marcliff) - Bob Stewart (Chairman League)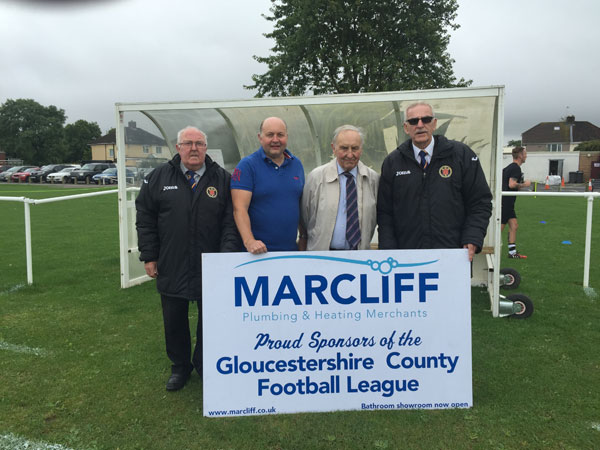 Ron Holpin General Secretary League – Rob Orchard (Director Marcliff) Cliff Orchard (Managing Director Marcliff) Bob Stewart (Chairman League)
Ron's Match Reports
12th August 2017 - Henbury and Little Stoke share spoils
Lebeq United lead the table after two games with six points and a goal difference of nine. Thornbury Town and Hardwicke also have six points from their opening two games. At the bottom Kingswood have got of to dreadful start and have conceded ten goals in their opening two games.
For the first twenty five minutes of our visit to Henbury to watch their fixture with Little Stoke was a disappointment to say the least. Plenty of effort from both sides but no end result. In fact the first effort on goal came from Little Stokes Kieran Williams in the twenty sixth minute that he blasted over the bar. Then ten minutes later Jacob Hicks did the same thing at the other end for Henbury. The last effort on goal before the break was a thirty yard shot from Blaine Mitchell that failed to trouble the Henbury keeper Dan O'Brien.
There was a little more action in the second period and in the sixty fifth minute the home side took the lead from a corner headed home by Jack Bebbington. Stoke replied in the seventy ninth minute with a well taken goal from Dean Patterson stroking home Kieran Williams cross from the right. Henbury's Dan Dodimead might have got a winner for the home side but Stoke keeper Amin Jones got to the ball just in time.
Rockleaze Rangers got off to a good start to the season at their new shared home at Southmead with a three – nil win over Hanham Athletic. From the report I received it was the Boyer Webb show as Danny Webb gave them the lead on twelve minutes when he chipped the ball over the Hanham Keeper from a neat flick on from Ali Boyer. On twenty one minutes the Hanham keeper made a terrible mistake rolling the ball straight to Ali Boyer who had a simple task of knocking straight back into the visitors net. On thirty minutes Henry Jones broke clear and hit a twenty yard drive past the visitor's keeper but it was ruled out for offside. Rangers wrapped the game up on sixty five minutes when Boyer volleyed home from ten yards after Webb had set him up. The visitors were right off song today only managing one shot on target the whole of ninety minutes.
Lebeq United followed on from their six – nil win in the week with another good result at Stonehouse Town. They went in front on six minutes from a corner the ball ran loose to Hassankafi Ibraham to strike home. The visitors went further ahead on twenty five minutes after home keeper Peter Davis brought of a great save but unfortunately the ball ran loose to Marcel Smith to drive home. Lebeq went three up in the thirty eighth minute when Rick Davis turned in a cross. Brad Bird had a great chance just before the break to pull a goal back but shot over. Stonehouse pulled a goal back on fifty five minutes when Elliott King laid the ball back for Brad Bird to score. The home keeper gifted the visitors their forth goal kicking the ball straight to Ibrahim Sarr to neatly tuck it away.
Thornbury Town continued their good start with an excellent win at Frampton United. A Kris Bulley cross on six minutes should have put the home side in front but Matt Cook headed straight at the keeper. They did however take the lead on twenty minutes from a corner that found Ryan Vincent whose shot hit the crossbar and Jack Bartman put away the rebound. Thornbury's Craig Lancastle made it one- one on fifty two minutes and then on sixty four minutes Joe Guest broke into the Frampton box was brought down by Nathan Dennis and Lancastle scored from the spot. On eighty two minute Ryan Vincent got what everyone thought was the equaliser but it was ruled out for offside.
Ruardean Hill Rangers first outing in the County League brought them three points at Gala Wilton. Rangers took the lead on thirty five minutes when Luke Brown burst into the box hit a shot that stuck the upright and Luke Johnson following up struck the ball home. Gala got back in the game early in the second half when Peter Boyle scrambled the ball home following a corner. Rangers regained the lead on the hour from a long ball up field that was misjudged by the home keeper Aaron Taylor and Johnson netted his second. Taylor was in action again in the sixty seventh minute saving well but unable to hold the ball and Sean Tingle headed home. On seventy three minutes John Antonio wriggled his way through the Rangers defence before unleashing a shot that took a deflection on its way in to the Rangers net.
Not a lot happened until the thirty forth minute in this game between Hardwicke and Patchway Town but a superb cross from Niall Morgan found Tobi Webb to volley home. A second for Hardwicke on sixty three minutes also involved Webb to set up substitute Sean Smith to drive the ball home in off the underside of the bar. A third five minutes later made the game safe and it was Smith involved this time setting up Craig Harris to score. It could well have been four on eighty minutes but Gittins blasted over the bar.
Wick who commenced their season last Saturday travelled to Kingswood today and will be well pleased with the result. Kingswood who were hammered six – nil in the week by Lebeq United must be wondering what has gone wrong as they conceded a further four goals today without reply. James Hubbard is the star of the day for Wick netting a hattrick for their convincing win. He netted his first on twenty eight minutes when he out jumped the Kingswood keeper to head home. Just six minutes later he was at it again this time heading home at the far post. On fifty two minutes Sean Morris made it three – nil when he was put clear on goal and slotted into the net. Hubbard completed his hattrick on the hour after nipping behind the home defence before slipping the ball past the hapless keeper.
AEK Boco's first game of the season ended in a two – two draw against today's visitors Broadwell Amateurs. Jordan Scott gave the home side the lead on twenty minutes but Broadwell hit back ten minutes later with the first of a double from Harry Williams. The visitors then took the lead on fifty seven minutes with a second from Williams but a Jacob Saunders goal three minutes from the end salvaged a point.