Tables Data loading when Cookies Accepted ....
Results Data loading when Cookies Accepted ...
The league advises that you check with individual clubs for postponement of a match before travelling especially if the weather is poor. We will update Full-Time as soon as possible on match days, however this is dependant on availability of league officers.
Fixtures Data loading when Cookies Accepted ....
2nd July 2017 - Respect 2017/18
Increase Respect in the League.
The aim is to decrease dissent and improve match participation.
All clubs will start with 100 points. Clubs must not fall below 65 points.
The criteria for losing points: -
Yellow card for Dissent

5 points

deducted.
2 Yellow Cards for Dissent (Sent off)

15 points

deducted.
Red card shown for Language

20 points

deducted.
Technical Area
Any person reported in the Technical Area for Language or Dissent

20 points

deducted.
Any Club Official, Player reported after the Match

25 points

deducted.
Prize Money for clubs remaining above the target of 65 points will be shared on a sliding scale.
6th June 2017 - Constitution 2017/18
AEK Boco
Broadwell Amateurs
Frampton United
Gala Wilton
Hanham Athletic
Hardwicke
Henbury
Kingswood
Lebeq United
Little Stoke
Patchway Town
Rockleaze Rangers
Ruardean Hill Rangers (Promoted from Gloucestershire Northern Senior)
Southmead CS Athletic
Stonehouse Town
Thornbury Town
Wick (Promoted from Bristol Premier Combination)
Bristol Telephones promoted to the Toolstation Western League
Bishops Cleeve Reserves have resigned from the league.
1st June 2017 - Henbury First Team Manager Vacancy
Henbury FC are currently recruiting for a first team manager, applications are welcomed by all interested individuals. For more information please contact:
Ed Wright - 07487880213
e:Mail:hfcsec@outlook.com
27th May 2017 - Respect Marks
The final Respect Marks are on the respect pages now. Congratulations to Rockleaze Rangers, Broadwell Amateurs and Frampton United who will be getting the prizes.
17th May 2017 - Programme Sale
2016-17 Match-day programmes for sale.
A pack of 17 programmes will cost £5.50 including Packaging & Postage.
Please make Cheques payable to Gloucestershire County Football League
Please send to:
Ron Holpin
27, Brockley Close
Little Stoke
Bristol.
BS34 6HA.

MAKE SURE THAT YOU INCLUDE YOUR NAME AND ADDRESS
If you wish to contact me by email: sec.gloscountyleague@btinternet.com
Tel: 01454 612842
22nd April 2017 - Bristol Telephones Champions 2016/17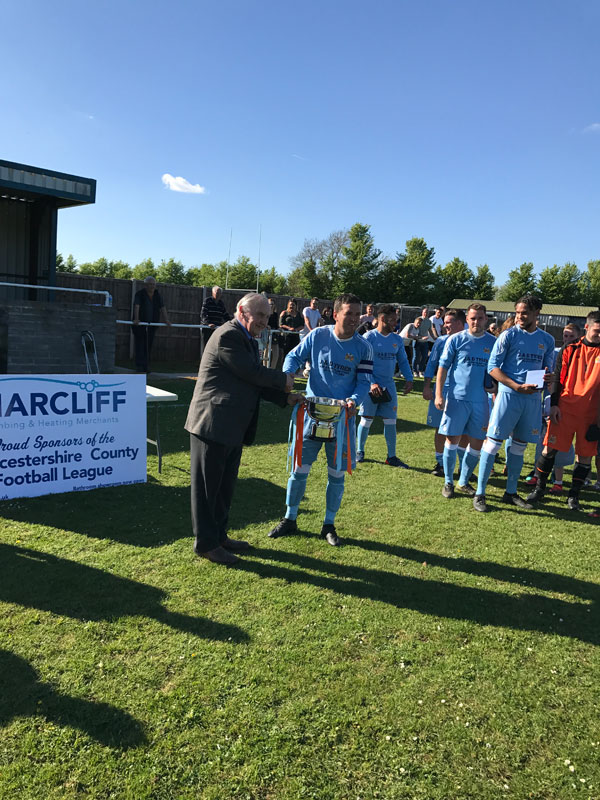 Cliff Orchard (Managing Director Marcliff) - Presents the Trophy to Martin Blacker (Captain, Bristol Telephones)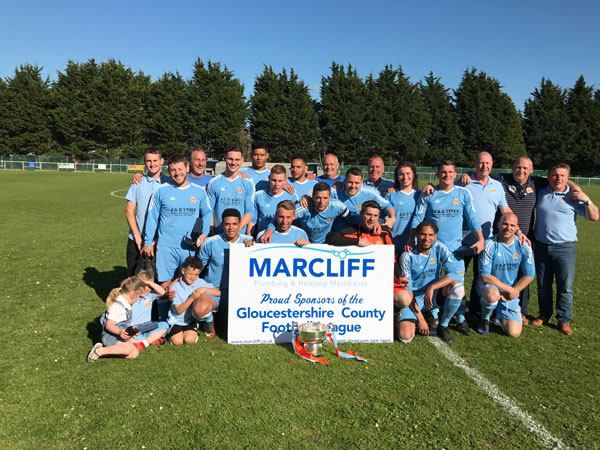 Bristol Telephones - Champions Marcliff Gloucestershire County Football League 2016/17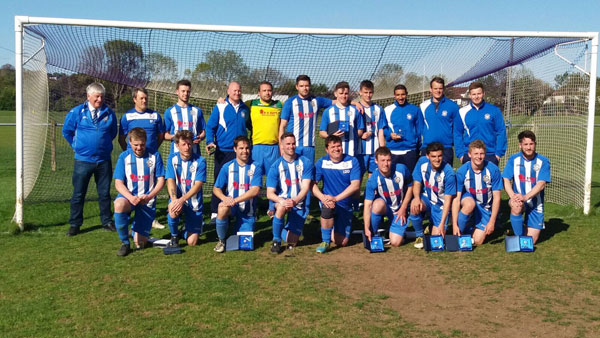 Frampton United - Runners-up Marcliff Gloucestershire County Football League 2016/17
11th September 2016 - Marcliff Plumbing Supplies Sponsorship
The signing of a new 2 Year sponsorship deal between Marcliff and the league took place at Little Stoke before the game.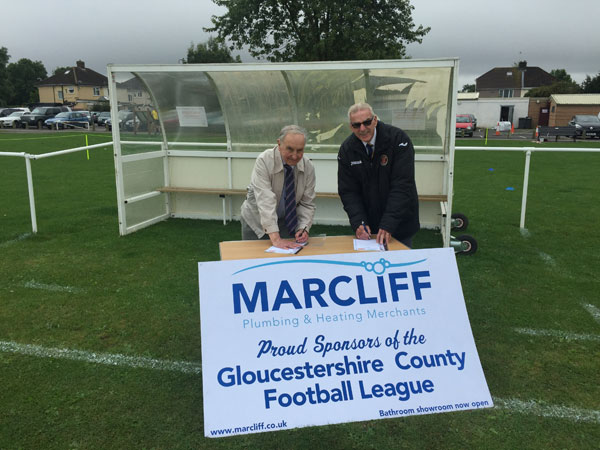 Cliff Orchard (Managing Director Marcliff) - Bob Stewart (Chairman League)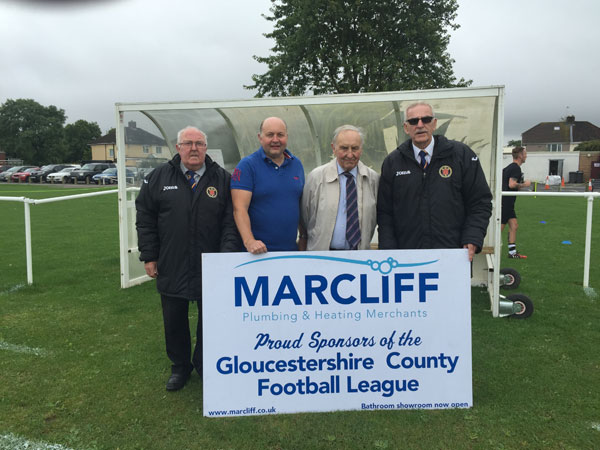 Ron Holpin General Secretary League – Rob Orchard (Director Marcliff) Cliff Orchard (Managing Director Marcliff) Bob Stewart (Chairman League)
Ron's Match Reports
13th May 2017 - AEK Boco Seal League Cup Win
Report courtesy Jon Palmer
AEK Boco 3 Broadwell Amateurs 0
AEK Boco won the Les James County League Cup for the first time with a 3-0 win over Broadwell Amateurs at Stonehouse Town's Oldends Lane.
A competition record crowd of 350 saw AEK forced to play for more than half an hour with 10 men after the sending off of Callum Ball.
Ball had put Boco in front from the penalty spot in the fourth minute after a trip by Sam Keetch on Liam Jenkins in the box.
Jenkins was close to making it 2-0 in the 35th minute with a curling effort from 20 yards, but he was denied by Jamie Merry's flying save.
Broadwell enjoyed their best period of the game late in the first period, but Danny Latham's effort was well saved by 19-year-old third choice stopper Jack Madge and crucially Boco added a second before the break.
Harrison Kyte's cross was headed in by Joe Reeves in the final minute of the half to put the Hanham-based side a strong position.
Broadwell's chances of forcing their way back into the game were lifted in the 53rd minute when Ball brought down Kristian Burnard near the halfway line and then shoved his opponent, resulting in a straight red card.
But AEK were 3-0 up five minutes later when a low cross from Jordan Scott was turned into his own net by Blaine Smith.
A comeback was never on the cards thereafter, with central defender Richard Sperring forced to head clear from almost on the line in the 83rd minute to deny Broadwell a consolation goal.
Last year's Gloucestershire County League champions Boco nearly added a fourth with five minutes remaining after a quick counter attack involving substitutes Jack Green and Jacob Saunders, but Merry blocked well.
Burnard fired an attempt over the bar in the final seconds for Broadwell, who knew it was not their day.
AEK Boco: J Madge; A Shopland, C Ball, B Wheadon, R Sperring, J Reeves, L Jenkins (J Green 76), J Scott, H Kyte (J Saunders 76), L Crewe (S Abraham 68), D Werrett.
Broadwell Amateurs: J Merry, S Keetch (S Taylor 65), B Smith, S Albon, G Lewis, B Fishwick, K Burnard, P Manns, R Gabriel, J Sheen, D Latham. Sub not used: L Williams.
Referee: Jack Bonnick
Attendance: 350.