Tables Data loading when Cookies Accepted ....
Results Data loading when Cookies Accepted ...
The league advises that you check with individual clubs for postponement of a match before travelling especially if the weather is poor. We will update Full-Time as soon as possible on match days, however this is dependant on availability of league officers.
Fixtures Data loading when Cookies Accepted ....
11th September 2017 - Respect Table 2017/18
Table as at 11th September
Dissent
Reported
Start 100
Pos
Team
Played
Yellow
Red
After Match
Points
1
Broadwell Amateurs
4
0
0
0
100
2
Frampton United
4
0
0
0
100
3
Thornbury Town
4
0
0
0
100
4
Wick
4
0
0
0
100
5
Patchway Town
4
0
0
0
100
6
Southmead CS Athletic
3
0
0
0
100
7
Ruardean Hill Rangers
2
0
0
0
100
8
Hardwicke
5
1
0
0
95
9
AEK Boco
4
1
0
0
95
10
Lebeq United
4
1
0
0
95
11
Little Stoke
4
1
0
0
95
12
Rockleaze Rangers
4
1
0
0
95
13
Henbury
5
2
0
0
90
14
Gala Wilton
4
2
0
0
90
15
Kingswood
4
2
0
0
90
16
Stonehouse Town
4
3
0
0
85
17
Hanham Athletic
4
3
0
1
60
Totals
17
0
1
2nd July 2017 - Respect 2017/18
Increase Respect in the League.
The aim is to decrease dissent and improve match participation.
All clubs will start with 100 points. Clubs must not fall below 65 points.
The criteria for losing points: -
Yellow card for Dissent

5 points

deducted.
2 Yellow Cards for Dissent (Sent off)

15 points

deducted.
Red card shown for Language

20 points

deducted.
Technical Area
Any person reported in the Technical Area for Language or Dissent

20 points

deducted.
Any Club Official, Player reported after the Match

25 points

deducted.
Prize Money for clubs remaining above the target of 65 points will be shared on a sliding scale.
22nd April 2017 - Bristol Telephones Champions 2016/17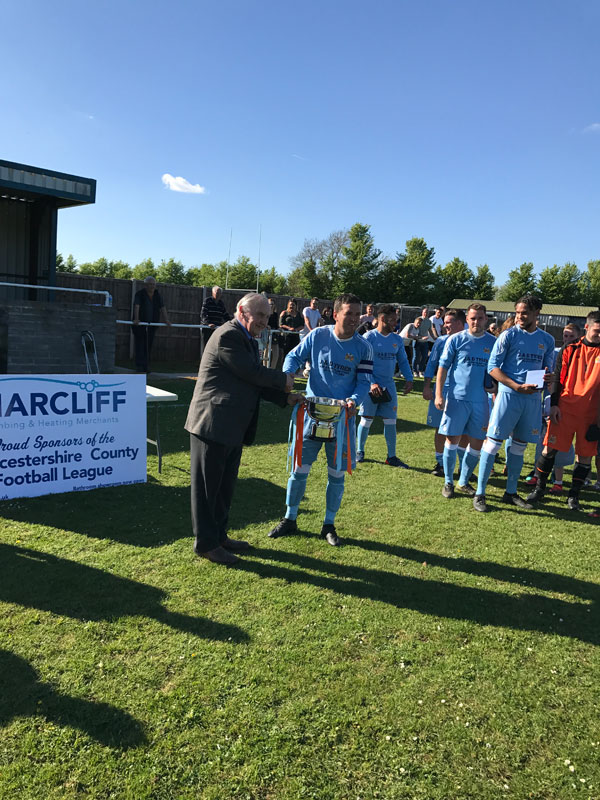 Cliff Orchard (Managing Director Marcliff) - Presents the Trophy to Martin Blacker (Captain, Bristol Telephones)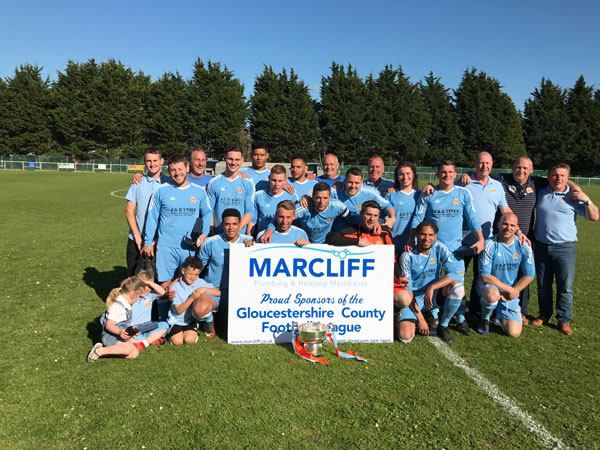 Bristol Telephones - Champions Marcliff Gloucestershire County Football League 2016/17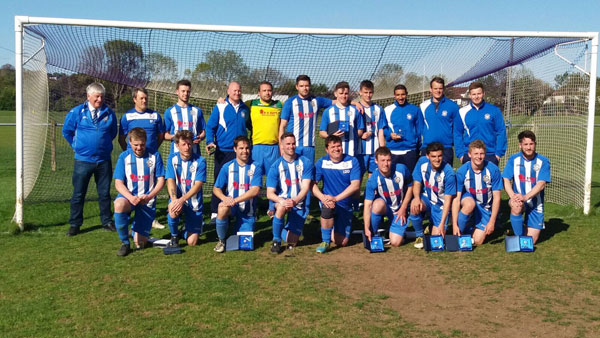 Frampton United - Runners-up Marcliff Gloucestershire County Football League 2016/17
11th September 2016 - Marcliff Plumbing Supplies Sponsorship
The signing of a new 2 Year sponsorship deal between Marcliff and the league took place at Little Stoke before the game.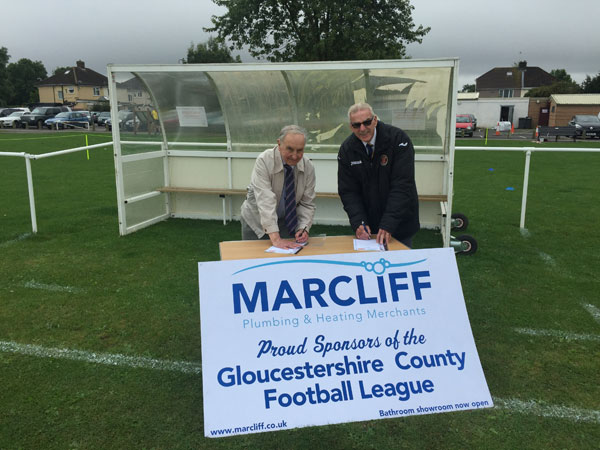 Cliff Orchard (Managing Director Marcliff) - Bob Stewart (Chairman League)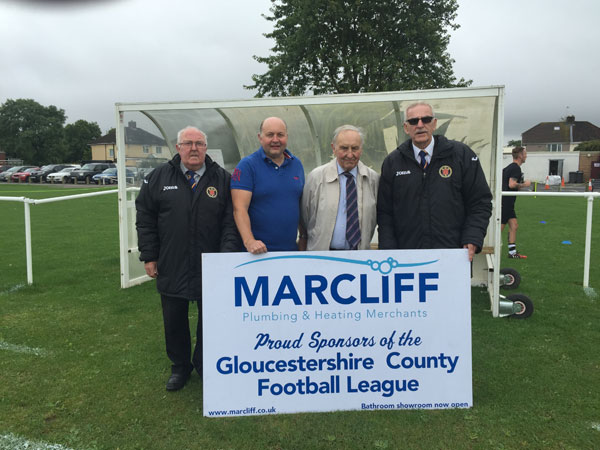 Ron Holpin General Secretary League – Rob Orchard (Director Marcliff) Cliff Orchard (Managing Director Marcliff) Bob Stewart (Chairman League)
Ron's Match Reports
16th September 2017 - Lebeq edge out Wick in thriller
Lebeq United 3 Wick 2
Our visit today was to Oakland's Park where Lebeq United league leaders were hosting second in the table Wick. Both Clubs have got off to a tremendous start to the season and going into this match they were level on points but the visitors have played a game more.
The home side went hammer and tongs right from the off and a break down the right by Rick Davis cutting in to bring a fine save from the Wick keeper Tyler Edmunds. Wicks first attempt on goal after six minutes was a break by Sam Thomas down the left and a fine cross into the six yard box that was hooked away by Lebeq. A few minutes later a Dan Sheldon shot from the edge of the box went over the top. A minute later the Lebeq defence cleared off the line again from a Sheldon shot. At the other end Elan Plummer cut in from the flank but then shot straight at Edmunds. Wick's Sam Thomas had another great chance to give Wick the lead cutting in from the right flank his powerful shot was stifled by the home keeper Maciej Janakowski. Then Lebeq's Rick Davis had a chance but lifted the ball over Edmunds but it drifted wide of the target. It was Davis again a few minutes later that brought another good save from keeper Edmunds to keep the score at nil – nil. On twenty six minutes Shah Bhakerd saw his shot fly off the shins of Edmunds. Wicks Sam Thomas got away down the right flank again but his final shot was blocked and out for a corner. A great save from home keeper Janakowaski pushing Joe Thomas's 30 yard drive around the post on forty minutes kept the score goalless. The visitors were hit with two goals in two minutes from Twaine Plummer the first on forty three minutes when the Wick defence all hesitated and Plummer ran clear to score. The second right on half time came from some intricate passing from Lebeq with Plummer again allowed to run clear and hit the ball past Edmunds.
The second period started at a much slower pace with the home side looking to be content with the two goal lead that they had secured just before the break. Then midway through the half Wick gave the home side a warning that they were not giving up and a break down the right by Sam Thomas went just out of the reach of Alex Whale who had come on as substitute. Wick were back in the game on seventy two minutes when Sam Thomas cut in from the left and squeezed the ball past Janakowski to make it two – one. Then on seventy nine minutes the score was level at two – two as across from the left to the far post was headed back across the keeper by Alex Whale. Wick could well have won this game in the eighty fifth minute when Alex Whale had a great chance to score but hit the ball wide. The home side woke up again in the last few minutes of the game and snatched the three points on ninety minutes when Davis cut in from the right unleashed a shot that Edmunds parried but Marcel Smith was on hand to knock it home. There were six more minutes to play but Wick were unable to find another goal. An excellent game of football with both sides giving their all and the home side maintain their one hundred percent record.
AEK Boco 2 Southmead CS Athletic 1
Southmead CS Athletic took a first half lead on thirty eight minutes from a long ball up field that was completely misjudged by the home keeper Ross Britton leaving Aaron Pope a simple job of tapping the ball into an empty net. The home side trailing by that goal at the break hit back to equalise from a cross into the box by Jordan Scott that deflected off a Southmead defender into the path of Jack Winter to stab the ball home. Boco got the winner on seventy three minutes when Jack Winter passed the ball to Liam Jenkins to drive into the far corner. Boco hit the post later in the game and the visitors missed a good chance just three minutes from the end.
Rockleaze Rangers 0 Broadwell Amateurs 1
Rockleaze Rangers came back down to earth with a bump after scoring five last time out they failed to find the back of the Broadwell Amateurs net today. The only real chance in the first forty five minutes fell to Broadwell on twenty minutes from a Jamie Powell free kick that was met by Kristian Burnard but his effort flew over the bar. Rangers Marcus Williams struck the crossbar with a cracking twenty five yard shot early in the second half. The only goal of the game and what turned out to be the winner for Broadwell came from the foot of Ryan Wilks who curled the ball into the net from the edge of the box. Although Rangers tried there upmost to get on level terms the visitors defence stood firm and they went away with the three points.
Kingswood 1 Little Stoke 3
Kingswood suffered another home defeat this time at the hands of Little Stoke. Although the home side went ahead on twenty four minutes from the penalty spot put away by Nathan Croot after a Little Stoke player handled in the box they found themselves on level terms two minutes before the break when the ball was bobbling around in the box and Sam Thomas made space for himself to drive the ball home. A minute into the second half the home side were trailing two – one when the ball was squared back across the box for Nick Rugman to finish off. Stoke netted a third on eighty eight minutes from a counter attack again the ball was squared back across goal and Sam Hill was there to knock it in.
Stonehouse Town 0 Thornbury Town 4
After their exit from the GFA Cup last Wednesday against Roman Glass St George four – three with an excellent performance against higher placed opposition they travelled to Stonehouse Town and came away with a the three points with a four – nil score line. They took the lead as early as the sixth minute from a Toby Bennett pass that split the home defence allowing Craig Lancastle in to score. Stonehouse were stunned again in the eighteenth minute when Scott McLeod picked the ball up in his own half pushed forward and from thirty yards out struck an unstoppable shot that struck the upright on its way in. The home side had a chance a minute later when Ben Jones gave Lance Rennolds a chance but he headed wide. Rennolds had another chance to pull a goal back on twenty five minutes but the visitor's keeper pulled off a great save. A great opportunity for the home side to get a goal back on thirty minutes when Lance Reynolds was brought down in the box for a penalty. It was left to Lee Keveren to take the penalty but he failed to beat the Thornbury keeper as again he pulled off a good save. Jonny Brodie had his header saved by the Thornbury keeper in the sixtieth minute and a couple of minutes later Barny Jones hit the crossbar. Even though the home side were having a good amount of the play but Thornbury stung them again on sixty five minutes with a third goal turned in by Asher Budd. The visitors keeper was obviously having a very good afternoon as brought off another good save to deny Lee Keveren and then kept Elliot King's effort out of his net a few minutes later. Thornbury rounded the scoring off in the eighty ninth minute from a breakaway attack that Craig Lancastle finished off to make the final score four – nil.
Frampton United 1 Ruardean Hill Rangers 3
Ruardean Hill Rangers who were promoted to this league this season have also got off to a great start. They may have only played three games so far but have a one hundred percent record. This win today was an excellent result against last season's runners up. It took twenty minutes to open the scoring and it went to Rangers with the Frampton players appealing for offside it was not given and Luke Johnson ran clear to score. Three minutes before the break United levelled the score from a corner headed on by Ryan Vincent for Lewis Wilton to knock it home. Frampton thought they had taken the lead in the fifty sixth minute when Stuart Maule's effort came down of the crossbar but it had not crossed the line. The home side who had made all their substitutions were reduced to ten men in the seventy fifth minute after Michael Attwooll-Smart picked up a serious injury and had to leave the field. Rangers capitalised on this and went ahead in the eighty sixth minute Shaun Tingle tapping the ball in from a corner. Then three minutes later rangers netted a third from a cross from the right that was tapped home from eight yards by Luke Johnson.
Hanham Athletic 0 Patchway Town 0
A goalless encounter at Hanham Athletic where today's visitors were Patchway Town. The home side had two great chances in the first five minutes but Giovanni Fisher was guilty of missing both. Just on the half hour towns' Mike Hodge saw his free kick fly just the wrong side of the upright. Luke Simmons rasping drive was well saved by the Patchway keeper on sixty five minutes and then on eighty minutes the best chance of the afternoon fell to Patchway's Matt Davis who was clear on goal with only the keeper to beat but shot wide. In the eighty eighth minute Hanham had George Latham sent off for an off the ball incident.