Tables Data loading when Cookies Accepted ....
Results Data loading when Cookies Accepted ...
The league advises that you check with individual clubs for postponement of a match before travelling especially if the weather is poor. We will update Full-Time as soon as possible on match days, however this is dependant on availability of league officers.
Fixtures Data loading when Cookies Accepted ....
18th March 2018 - Respect Table 2017/18
Table as at 14th March 2018
Dissent
Reported
Start 100
Pos
Team
Played
Yellow
Red
Technical Area
After Match
Points
1
Broadwell Amateurs
19
0
0
0
0
100
2
Frampton United
19
0
0
0
0
100
3
Southmead CS Athletic
20
1
0
0
0
95
4
Rockleaze Rangers
21
3
0
0
0
85
5
Stonehouse Town
23
3
0
0
0
85
6
Wick
24
4
0
0
0
80
7
AEK Boco
20
4
0
0
0
80
8
Kingswood
21
4
0
0
0
80
9
Henbury
22
1
1
0
0
75
10
Patchway Town
21
5
0
0
0
75
11
Thornbury Town
23
5
0
0
0
75
12
Ruardean Hill Rangers
19
6
0
0
0
70
13
Little Stoke
22
6
0
0
0
70
14
Hardwicke
20
7
0
0
0
65
15
Gala Wilton
20
8
0
0
0
60
16
Lebeq United
22
8
0
1
0
40
17
Hanham Athletic
22
10
1
0
1
5
Totals
75
2
1
1
11th October 2017 - FA Discipline Handbook
The FA Discipline Handbook 2017-2018 can be found on the following link - FA Discipline Handbook clubs please share with managers and players.
2nd July 2017 - Respect 2017/18
Increase Respect in the League.
The aim is to decrease dissent and improve match participation.
All clubs will start with 100 points. Clubs must not fall below 65 points.
The criteria for losing points: -
Yellow card for Dissent

5 points

deducted.
2 Yellow Cards for Dissent (Sent off)

15 points

deducted.
Red card shown for Language

20 points

deducted.
Technical Area
Any person reported in the Technical Area for Language or Dissent

20 points

deducted.
Any Club Official, Player reported after the Match

25 points

deducted.
Prize Money for clubs remaining above the target of 65 points will be shared on a sliding scale.
22nd April 2017 - Bristol Telephones Champions 2016/17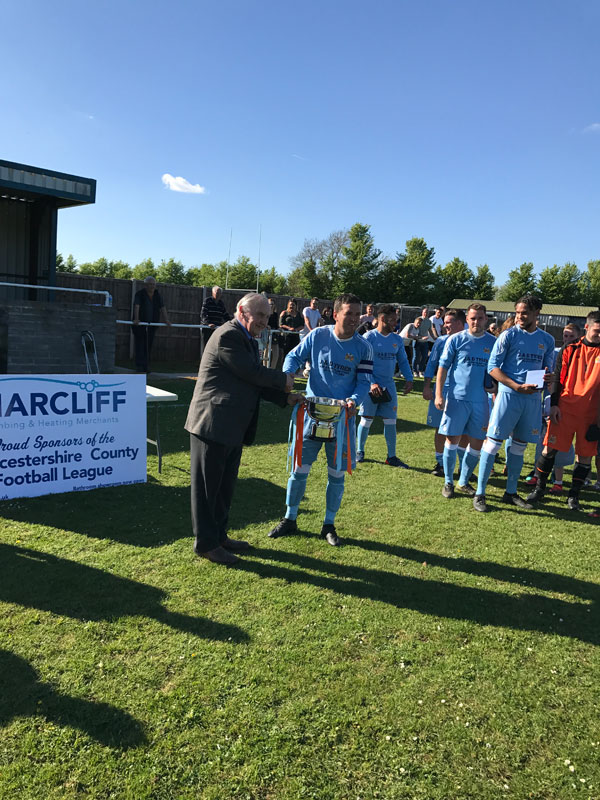 Cliff Orchard (Managing Director Marcliff) - Presents the Trophy to Martin Blacker (Captain, Bristol Telephones)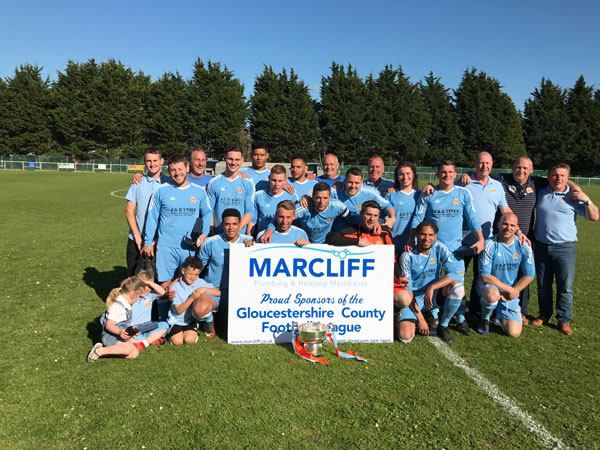 Bristol Telephones - Champions Marcliff Gloucestershire County Football League 2016/17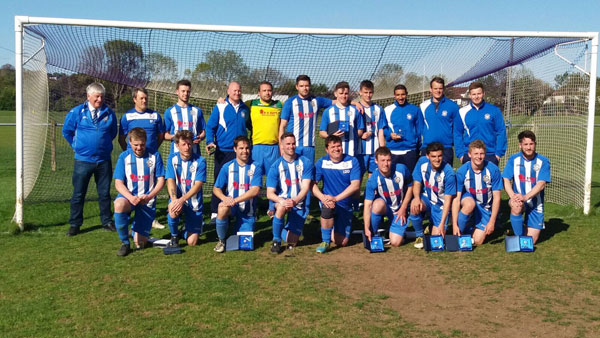 Frampton United - Runners-up Marcliff Gloucestershire County Football League 2016/17
11th September 2016 - Marcliff Plumbing Supplies Sponsorship
The signing of a new 2 Year sponsorship deal between Marcliff and the league took place at Little Stoke before the game.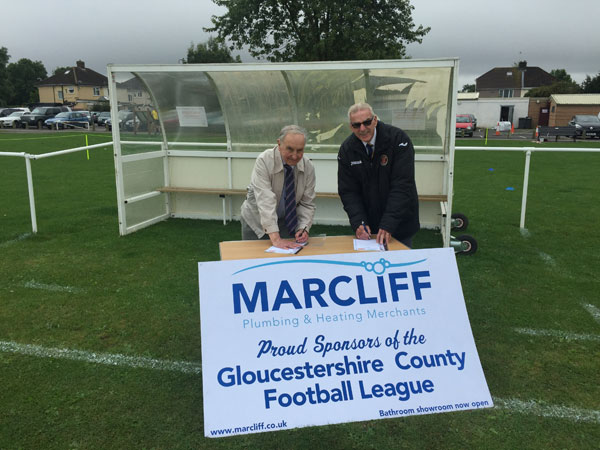 Cliff Orchard (Managing Director Marcliff) - Bob Stewart (Chairman League)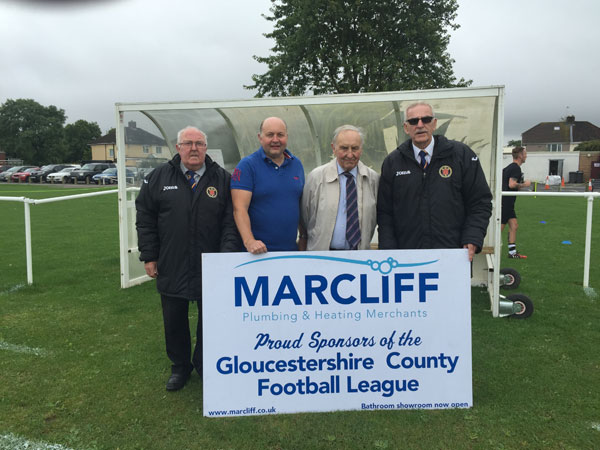 Ron Holpin General Secretary League – Rob Orchard (Director Marcliff) Cliff Orchard (Managing Director Marcliff) Bob Stewart (Chairman League)
Ron's Match Reports
17th March 2018 - Patchway hit eight at Southmead
An outstanding result for bottom Club Patchway Town who travelled the short distance to take on fellow strugglers Southmead CS Athletic and coming away with a resounding 8-1 win. Patchway went into the lead in the 1st minute as a Dan Rees's cross from the left to the far post was driven home by Shuah Okonmah the ball hitting the inside of the post on its way in. The visitors went 2-0 up on 22 minutes from a Matt Webb corner from the right that was headed home by Phil Vice. Patchway might have scored again on 28 minutes as Okonmah's cross from the right just evaded the incoming forwards. In their first real attack Southmead pulled a goal back on 29 minutes through Reece Provis. They almost got a second on 32 minutes but the visitor's keeper Connor Walsh saved well from Toby Werrett.
From the 50th minute on it was all Patchway Town as they hit another six goals. Home keeper Shaun O'Keefe spilled the ball and Dan Dunt was on hand to tap it home. Ten minutes later Dan Rees scored the first of his three goals from the penalty spot. 77 minutes saw a second from Dan Rees from the edge of the box and then on 85 minutes Reece Buss who had come on as substitute made it 6 -1. Dan Rees completed his hattrick on 87 minutes and David Ishi completed the scoring in the 90th minute. Town will be well please with this result as it lifts them off the bottom of the table.
After a few indifferent results recently Ruardean Hill Rangers got back to winning ways with a 3-0 success over Wick. The visitors started well but never really hurt the home defence. In fact the first real chance fell to Rangers Shaun Tingle whose shot from a tight angle went just wide. On 15 minutes home keeper Steve Bowles pulled of a great save to deny Wicks Dave Patterson and 5 minutes later Bowles was in action again this time keeping out Jake Robertson. The home side took the lead 5 minutes before the break the ball falling just right in the box for Luke Johnson to give the home side the lead. Edmunds in the visitor's goal pulled off a great save from a Kane Fellows header after Dan Mason had crossed the ball on the hour mark. On 65 minutes it was 2-0 to Rangers after Edmonds could only palm the ball away from a Fellows shot and Johnson was on hand to finish. Shaun Tingle then missed a good chance 10 minute later and just after that Johnson missed a glorious chance to complete a hattrick. Ricky Tingle then hit the crossbar before Luke Brown who had been out injured for some time made it 3-0 after being set up by Luke Johnson.
Stonehouse Town hit back from losing an early goal to home side Hardwicke. It was Steve Bick who gave the home side the lead on 6 minutes when he headed home. The visitors levelled on 34 minutes when Luke Soule got the first of his three for the afternoon with a shot from just inside the box. Then a minute before half time Stonehouse took the lead with a well struck shot from just on the edge of the box from Will Hayward. In the 47th minute Hardwicke's Will Higgins handled on the line and was shown a red card and Liam Wright netted from the penalty spot to give the visitors a 3-1 lead. Luke Soule then netted twice more to complete his hattrick by the 56th minute and then in the very last minute a free kick from Hardwicke's Luke Payne struck the crossbar and Rob Hine was on hand to tap in the rebound.
Frampton United gained another 3 points with a 2-0 win at home to Hanham Athletic. Ryan Vincent had an early chance for the home side but his shot was well saved. On 20 minutes the home side opened the scoring when Manolo Espada set up Kris Bulley to fire home. Just before the break Hanham's Jamie Fry went close but the ball went just over the bar. Hanham keeper Ross Britton pulled off a great save to deny Jake Lowe on 52 minutes and on 75 minutes Jack Fry missed a great chance to level the score for Hanham. Frampton sealed the points in the 80th minute when Manolo Espada's cross was headed home by Matt Cook.
Gala Wilton conceded two goals to Broadwell Amateurs in the second half after a fruitless first half from both sides. Gala did get the ball in the Broadwell net direct from a corner on 28 minutes but it was ruled out for an infringement on the keeper. Broadwell launched an attack down the right in the 64th minute and the home keeper came rushing out of goal brought the Broadwell forward down and the referee pointed to the penalty spot, Paul Manns took the spot kick and scored to give them the lead. The home side were unlucky a little later when Kyle Bakewell had his header cleared off the line and that would have made it 1-1. When Liam Thomas chipped the ball over Gala's keeper on 82 minutes that gave Broadwell a 2-0 lead and the three points.
Henbury's 1-1 draw at home to Lebeq United meant that they had taken 4 points from the title challengers this season. Not a very inspiring first 45 minutes although the home side did have a couple of chances to go ahead. The first on 18 minutes was a chance that Andrew Dickinson might have done better if he had laid the ball off instead of loosing control and allowing the Lebeq keeper to smother his effort. Henbury then got the ball in the visitors net with a great header from Ross Johnson after Adam Rosser had sent over the cross from the right but it was ruled out for offside. In the 60th minute Henbury took the lead and again it was the same combination with Rosser sending in a great cross for Johnson to rise above the united defence to head them into the lead. Not to be outdone the visitors hit back in the 75th minute when Ed Wright was adjudged to have pushed a united player in the back in the penalty area with a penalty being awarded. Cameron Brown made no mistake from the spot. A fair result on the day was the comment I received from the reporter.