Tables Data loading when Cookies Accepted ....
Results Data loading when Cookies Accepted ...
The league advises that you check with individual clubs for postponement of a match before travelling especially if the weather is poor. We will update Full-Time as soon as possible on match days, however this is dependant on availability of league officers.
Fixtures Data loading when Cookies Accepted ....
11th December 2017 - Technical Area Marks Games 6-10
Broadwell Amateurs and Wick each win a Football for being the best marked club in the second set of 5 games
| | | | | | |
| --- | --- | --- | --- | --- | --- |
| Team | Excellent | Good | Satisfactory | Poor | Points |
| Broadwell Amateurs | 5 | 0 | 0 | 0 | 15 |
| Wick | 5 | 0 | 0 | 0 | 15 |
| Kingswood | 4 | 1 | 0 | 0 | 14 |
| Rockleaze Rangers | 3 | 2 | 0 | 0 | 13 |
| Stonehouse Town | 3 | 2 | 0 | 0 | 13 |
| Ruardean Hill Rangers | 3 | 2 | 0 | 0 | 13 |
| Frampton United | 3 | 2 | 0 | 0 | 13 |
| Henbury | 3 | 1 | 1 | 0 | 12 |
| Thornbury Town | 2 | 3 | 0 | 0 | 12 |
| AEK Boco | 3 | 1 | 1 | 0 | 12 |
| Southmead CS Athletic | 3 | 1 | 1 | 0 | 12 |
| Gala Wilton | 2 | 2 | 1 | 0 | 11 |
| Little Stoke | 2 | 2 | 1 | 0 | 11 |
| Hardwicke | 2 | 2 | 1 | 0 | 11 |
| Patchway Town | 2 | 2 | 1 | 0 | 11 |
| Lebeq United | 2 | 1 | 2 | 0 | 10 |
| Hanham Athletic | 2 | 2 | 0 | 1 | 9 |
Excellent = 3 pts
Good = 2 pts
Satisfactory = 1 pt
Excellent = -1 pts
12th November 2017 - Respect Table 2017/18
Table as at 04th November
Dissent
Reported
Start 100
Pos
Team
Played
Yellow
Red
After Match
Points
1
Wick
11
0
0
0
100
2
Southmead CS Athletic
10
0
0
0
100
3
Broadwell Amateurs
9
0
0
0
100
4
Frampton United
9
0
0
0
100
5
Henbury
9
1
0
0
95
6
Kingswood
11
2
0
0
90
7
AEK Boco
10
2
0
0
90
8
Hardwicke
10
2
0
0
90
9
Ruardean Hill Rangers
9
2
0
0
90
10
Thornbury Town
12
3
0
0
85
11
Little Stoke
11
3
0
0
85
12
Patchway Town
11
2
0
0
85
13
Rockleaze Rangers
11
3
0
0
85
14
Stonehouse Town
11
3
0
0
85
15
Lebeq United
10
3
0
0
85
16
Gala Wilton
11
5
0
0
70
17
Hanham Athletic
10
5
0
1
50
Totals
37
0
1
5th November 2017 - Representative Game
The league will be playing a representative game against the Somerset County League on Wednesday 13th December 2017 kick-off 7.30pm at Oaklands Park
19th October 2017 - Henbury seek First Team Manager
Henbury FC who are currently playing in the Gloucestershire County League are looking to recruit a first team manager, applications are welcomed from all individuals.
To submit an application or enquire further about this role please contact Ed Wright. Email: hfcsec@outlook.com
11th October 2017 - FA Discipline Handbook
The FA Discipline Handbook 2017-2018 can be found on the following link - FA Discipline Handbook clubs please share with managers and players.
2nd July 2017 - Respect 2017/18
Increase Respect in the League.
The aim is to decrease dissent and improve match participation.
All clubs will start with 100 points. Clubs must not fall below 65 points.
The criteria for losing points: -
Yellow card for Dissent

5 points

deducted.
2 Yellow Cards for Dissent (Sent off)

15 points

deducted.
Red card shown for Language

20 points

deducted.
Technical Area
Any person reported in the Technical Area for Language or Dissent

20 points

deducted.
Any Club Official, Player reported after the Match

25 points

deducted.
Prize Money for clubs remaining above the target of 65 points will be shared on a sliding scale.
22nd April 2017 - Bristol Telephones Champions 2016/17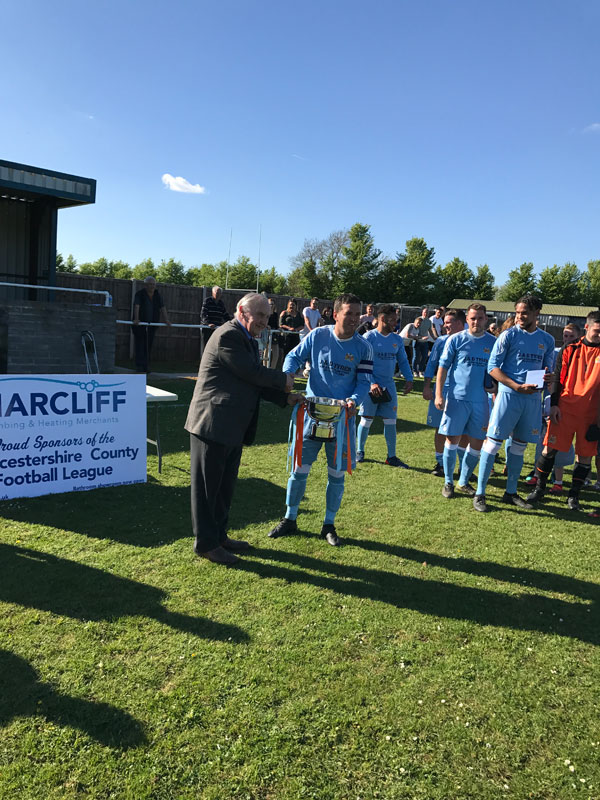 Cliff Orchard (Managing Director Marcliff) - Presents the Trophy to Martin Blacker (Captain, Bristol Telephones)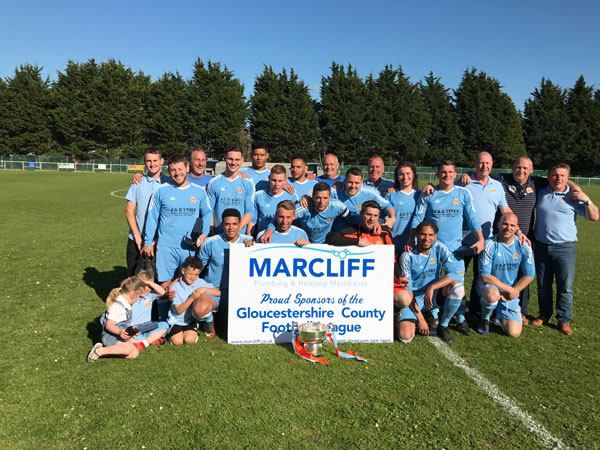 Bristol Telephones - Champions Marcliff Gloucestershire County Football League 2016/17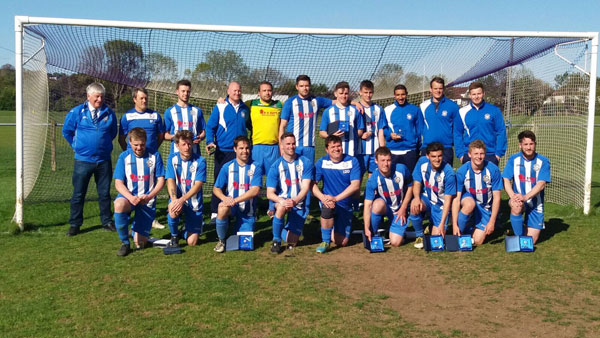 Frampton United - Runners-up Marcliff Gloucestershire County Football League 2016/17
11th September 2016 - Marcliff Plumbing Supplies Sponsorship
The signing of a new 2 Year sponsorship deal between Marcliff and the league took place at Little Stoke before the game.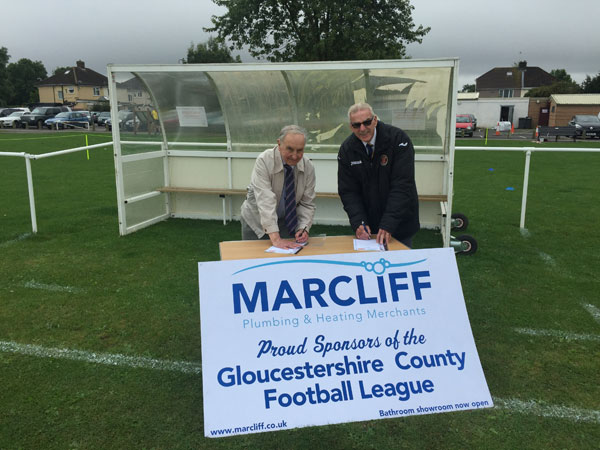 Cliff Orchard (Managing Director Marcliff) - Bob Stewart (Chairman League)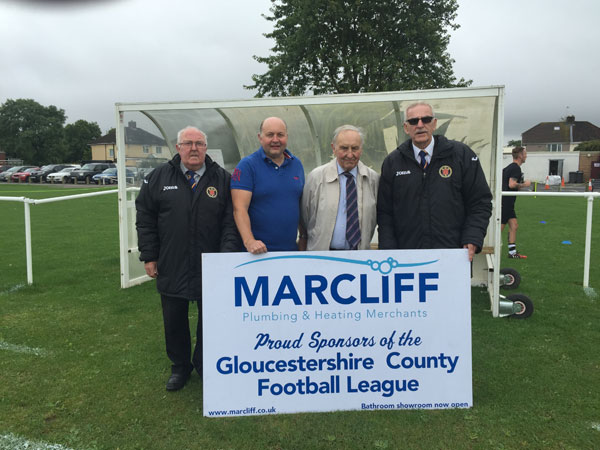 Ron Holpin General Secretary League – Rob Orchard (Director Marcliff) Cliff Orchard (Managing Director Marcliff) Bob Stewart (Chairman League)
Ron's Match Reports
16th December 2017 - Broadwell quick off the mark to win at Frampton
Lebeq United close the gap at the top with a win at Kingswood as Thornbury town are held to a draw at Henbury.
Broadwell Amateurs stunned Frampton United with two goals in the first 13 minutes of this game at the Bell Field. The home side were unable to contain the constant attacking as the visitors went into the lead after just 2 minutes as a cross from the left by Jordi Sheen was headed past keeper James Marklove by Billy Guest. The home side were caught again on 7 minutes from a long free kick to the edge of the Frampton box that Liam O'Neil tried to hook over the bar but only succeeding looping the ball over his own keeper. A low free kick from the edge of the box by Broadwell's Liam Thomas only just went past the outside of the post and a minute later Jordi Sheen's shot just dipped over the bar. The home side did manage to get a shot on goal in the 13th minute when Manolo Marquez Espada was just wide with a shot from the edge of the box. Kris Bulley then lifted a fair chance over the bar. At the other end a cracking 25 yard shot from Kristian Burnard was pushed over the bar by Marklove. Liam Thomas broke down the left and sent over a graet cross into the box but Marklove was able to collect.
Frampton pulled a goal back on 59th minute from a long free kick from their own half that bounced awkwardly for the Broadwell defence and Ryan Vincent got behind them and scored with a brilliant shot from a very tight angle. The home side were having a fair share of the ball at this stage and several attacks looked promising but good defending and some excellent goalkeeping from Jamie Merry kept the home side at bay. A third goal on 74 minutes from Broadwell made it tough for the home side to get anything from the game, Kristian Burnard got the ball wide on the left sent over a cross to the far post where Harry Williams was waiting to head past Marklove. The visitors were lucky when a shot from the home side was hammered into the box it was cleared but hit another Broadwell defender it cannoned goal-wards but Merry got down well to save. Danny Latham had a good chance to make it 4-1 on 81 minutes but his shot was just wide of the target. The last action of the afternoon was a good shot from Frampton's Jake Lowe but Merry was their again.
AEK Boco have jumped to third in the table after thrashing Patchway Town 10-0. The home side dominated the game and restricted the visitors to just one chance that came in the first half a tremendous 30 yard shot from Tom Potterill that went over the bar. The onslaught start on the 14th minute when Jack Green's shot was saved by the keeper by Harrison Kyte hammered home the rebound. It was Luke Basseng's chance next to score two quick goals the first he hammered into the bottom corner followed by a header from a Liam Crewe cross. Boco made it 4-0 by the break with a ten pass movement ending with Liam Crewe sending over a cross to the far post for Harrison Kyte to volley home. The fifth on 55 minutes came from centre back Luke Nash who had sauntered forward for a corner saw the ball half cleared to Harrison Kyte and his cross into the six yard box found Nash to stab the ball in. Jack Winter then cruised past several defenders and curled the ball around the keeper and following that Jordan Scott then scrambled the ball home. Darren Werrett's cross was finished off by Jack Green shooting under the keeper. Jordan Scott then grabbed his second when he was put clear by Kyte. The final goal was knocked in by Jack Green after another scramble in the goalmouth. But for the visitors keeper making at least half a dozen great saves this could well have been a much worse result for Patchway.
Lebeq United came away from Kingswood with a 5-1 win that closed the gap at the top to 6 points and they have two games in hand. The visitors took the lead on 10 minutes from a break down the right and a cross into the near post that was turned in by Nathan Hall. United went two up on 21 minutes another break this time down the left and the cross being turned in by Shah Bhakerd. Then Lebeq missed a penalty just 5 minutes later. Kingswood scored in the 41st minute from a free kick knocked into the box where it bobbled about before Levi Morris lashed it into the net. Elan Plummer then chipped the keeper on 71 minutes for a 3-1 lead and 5 minutes later Plummer cut in from the flank and unleashed a shot that rattled into the bottom corner. The final goal on 83 minute came from the penalty spot put away by Mohamed Eljadei.
Thornbury got out of jail late in their game at Henbury. The home side created the better chances after a very tight first 35 minutes the first opportunity arose on 40 minutes when full-back Tom Palmer broke clear on goal but then failed to get the ball past keeper Tom Sheppard. A minute later George Loud cut in from the flank but then fired the wrong side of the post. Then right on half time Jacob Hicks who was well placed fired over the bar. Henbury took the lead on 53 minutes from a great cross from George Loud that found Andy Dickinson to send a bullet header past Sheppard. Sheppard then saved from Loud pushing the ball around the post for a corner. Thornbury were unlucky in the 65th minute and could have levelled after Dan Rees made a good recovery from his collision with home keeper Dan O'Brien to get his shot on target only to see Aaron Rosser clears the ball off the line. Thornbury did however manage to get the equalising goal on 85 minutes after piling pressure on the home defence Henbury failed to clear and Brandon Benjamin's low cross was swept in by Substitute Nathan Irwin.
Hardwicke suffered a 2-1 home defeat at the hands of Wick who by all accounts were the better side on the day. Wick went ahead on 15 minutes after Harwicke keeper Chris Perks saved well from Jake Robertson only for Joe Thomas to stab the ball home from the rebound. On 26 minutes Wicks's Shaun Morris picked the ball up and let fly from 25 yards with his shot being well saved by Perks. Perk was in action again a few minutes later this time denying Jake Robertson trying to convert a Danny Sheldon cross. A great 18 yard shot from Hardwicke's Paul Carter saw Wick keeper Tyler Edmunds pushing the ball over the bar. In the 65th minute Paul Carter sent Will Matthews clear to fire past Edmunds to make it 1-1. Wick grabbed all three points in the 83 minute when Danny Sheldon broke down the right sent in a cross for Alan Williams to slot past Perks.
Stonehouse Town continue to climb the table with another home win this time against bottom Club Hanham Athletic. Andy Maryon gave the home side the lead on 14 minutes with a low shot that the keeper could only help into the net. Maryon was involved in the second goal on 25 minutes setting up Luke Soule to find the back of the visitor's net. In the 56th minute Tim Williams set off on a mazy run before finding Luke Soule to make it 3-0. Within a minute Hanham had pulled a goal back when Tom Bircham's through ball set up Jamie Fry to hammer the ball home. Liam Gale's corner found Dan Stephens to power the ball home in the 66th minute and Jamie Fry was unlucky not to get a second for the visitors but his shot struck the bar.