Tables Data loading when Cookies Accepted ....
Results Data loading when Cookies Accepted ...
The league advises that you check with individual clubs for postponement of a match before travelling especially if the weather is poor. We will update Full-Time as soon as possible on match days, however this is dependant on availability of league officers.
Fixtures Data loading when Cookies Accepted ....
18th March 2018 - Respect Table 2017/18
Table as at 14th March 2018
Dissent
Reported
Start 100
Pos
Team
Played
Yellow
Red
Technical Area
After Match
Points
1
Broadwell Amateurs
19
0
0
0
0
100
2
Frampton United
19
0
0
0
0
100
3
Southmead CS Athletic
20
1
0
0
0
95
4
Rockleaze Rangers
21
3
0
0
0
85
5
Stonehouse Town
23
3
0
0
0
85
6
Wick
24
4
0
0
0
80
7
AEK Boco
20
4
0
0
0
80
8
Kingswood
21
4
0
0
0
80
9
Henbury
22
1
1
0
0
75
10
Patchway Town
21
5
0
0
0
75
11
Thornbury Town
23
5
0
0
0
75
12
Ruardean Hill Rangers
19
6
0
0
0
70
13
Little Stoke
22
6
0
0
0
70
14
Hardwicke
20
7
0
0
0
65
15
Gala Wilton
20
8
0
0
0
60
16
Lebeq United
22
8
0
1
0
40
17
Hanham Athletic
22
10
1
0
1
5
Totals
75
2
1
1
11th October 2017 - FA Discipline Handbook
The FA Discipline Handbook 2017-2018 can be found on the following link - FA Discipline Handbook clubs please share with managers and players.
2nd July 2017 - Respect 2017/18
Increase Respect in the League.
The aim is to decrease dissent and improve match participation.
All clubs will start with 100 points. Clubs must not fall below 65 points.
The criteria for losing points: -
Yellow card for Dissent

5 points

deducted.
2 Yellow Cards for Dissent (Sent off)

15 points

deducted.
Red card shown for Language

20 points

deducted.
Technical Area
Any person reported in the Technical Area for Language or Dissent

20 points

deducted.
Any Club Official, Player reported after the Match

25 points

deducted.
Prize Money for clubs remaining above the target of 65 points will be shared on a sliding scale.
22nd April 2017 - Bristol Telephones Champions 2016/17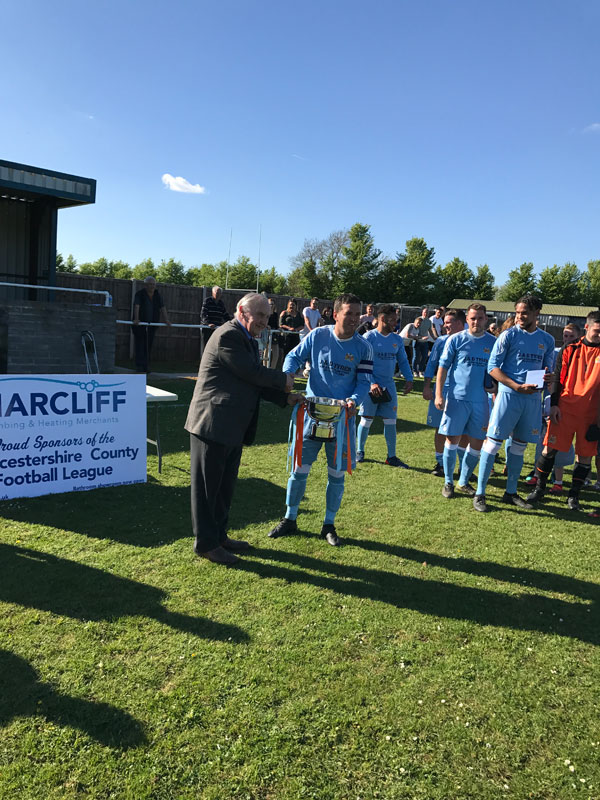 Cliff Orchard (Managing Director Marcliff) - Presents the Trophy to Martin Blacker (Captain, Bristol Telephones)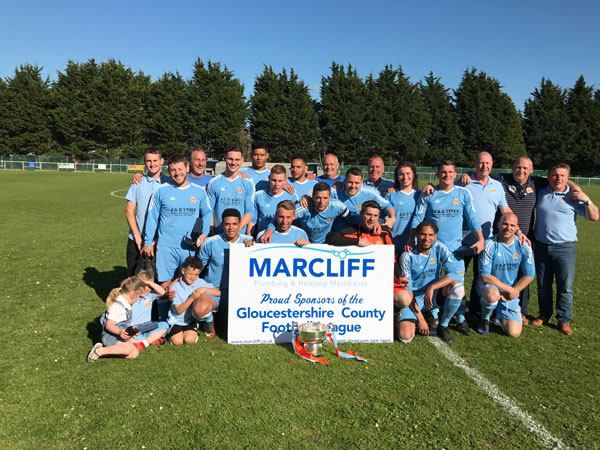 Bristol Telephones - Champions Marcliff Gloucestershire County Football League 2016/17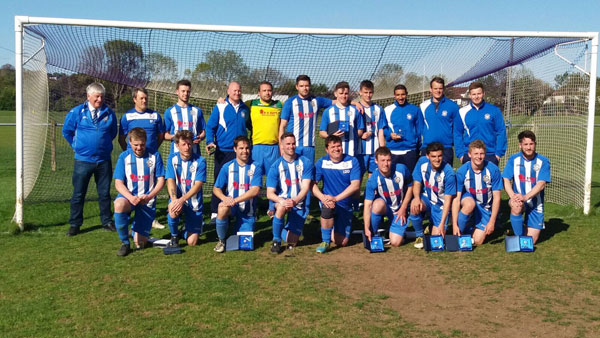 Frampton United - Runners-up Marcliff Gloucestershire County Football League 2016/17
11th September 2016 - Marcliff Plumbing Supplies Sponsorship
The signing of a new 2 Year sponsorship deal between Marcliff and the league took place at Little Stoke before the game.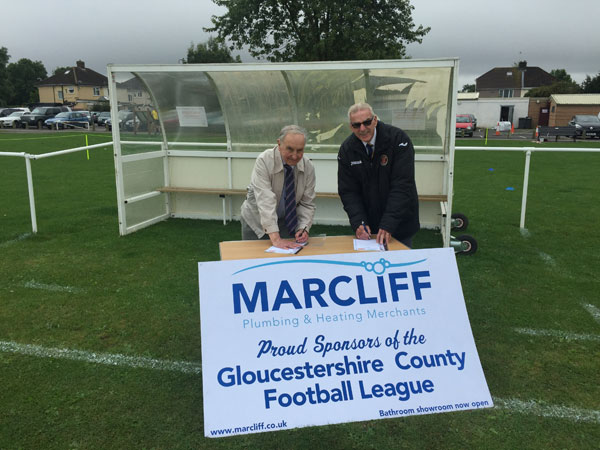 Cliff Orchard (Managing Director Marcliff) - Bob Stewart (Chairman League)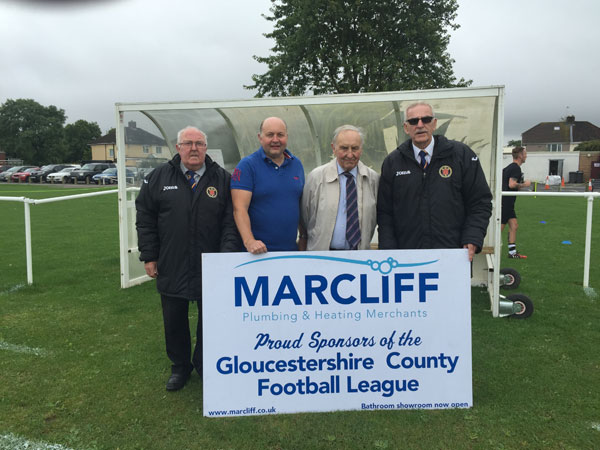 Ron Holpin General Secretary League – Rob Orchard (Director Marcliff) Cliff Orchard (Managing Director Marcliff) Bob Stewart (Chairman League)
Ron's Match Reports
14th April 2018 - Thornbury keep title chase on track at Rockleaze
Thornbury Town increased their lead at the top with a slender 1-0 win at Rockleaze Rangers. On a very difficult pitch for both sides a good proportion of the play was in midfield with both sides struggling to create chances. The home side battled well against the leaders and it was them that created the first half chance a shot on target from Dan Webb that went straight to keeper Tom Sheppard after 14 minutes. At the other end Towns first effort on goal came from a Toby Webb free kick but that went straight to home keeper Will Stabb. Thornbury got the only goal of the game on 29 minutes after the home side failed to clear and gave away a penalty trying to do so. Craig Lancastle stepped up and fired the ball home. The visitors had several half chances to increase their lead but failed to hit the target. Right on half time Stabb was called into action tipping the ball over the bar. A Dan Webb free kick in the 1st minute of the second half went straight to Sheppard. The nearest the visitors came to scoring a second goal was a brilliant header from Brandon Benjamin in the 48th minute that beat Stabb but hit the crossbar.
Lebeq United who hammered seven past a Frampton United side a few weeks ago at Oakland's Park were brought back down to earth today after going down by a solitary goal at the Bell Field. The home side went ahead on 12 minutes when a ball into the box found Matt Cook who turned and fired the ball home. The home side almost got a second on 23 minutes from a Manolo Espada free kick to the far post where Steve Jackson was only just wide with his header. Lebeq had a free kick just out side the box but Danny Wring fired it over the bar. On 34 minutes a cracking shot from Lebeq's Leroy Swaby was well saved by keeper James Marklove. The visitors made it hard for themselves when Danny Wring was sent off in the 40th minute for a bad tackle. On 63 minutes Espada's free kick was really well saved by the visitor's keeper then with 5 minutes to go Kris Bulley was through on goal his shot was well saved by the keeper and Sean Lawson following up missed the target from the rebound.
Little Stoke and AEK Boco had to be satisfied with a point each after a 1-1 draw today. The home side took the lead on 10 minutes from a move that involved Jazz Bright – Alex Hill with Russ Church hitting the target only to see Boco Keeper Mason Hawkins parry it away but Rich Homer picked it up and fired it into the Boco net. Jack Burgess then hit the crossbar for the home side on 15 minutes and Tucker was just over after Church had slipped the ball in his path. Boco's Luke Basseng had his shot well save by Amin Jones on 25 minutes and minutes later Jones pulled of another good save to deny Jason Thatcher. Boco levelled the score 5 minutes before the break when Liam Crewe set up Luke Basseng to chip the ball over Jones as he rushed off his line. Boco's Jack Winters had his shot well saved by keeper Jones on the hour but 5 minute later Boco were down to 10 men when Callum Ball was sent off for an off the ball incident. On 80 minutes Boco were down to 9 men when Dan Reeves handled Rich Homer's shot on the line and was sent off. Homer took the penalty but failed to get it past the Boco keeper Hawkins.
Stonehouse Town were comfortable 5-0 winners at home to Southmead CS Athletic. Good work by Will Hayward set up Luke Soule to give the home side a 1-0 lead. Southmead had Abdi Gure sent off just before the break which made it much harder for the visitors in the second half and on 55th minute Dawid Regula made it 2-0 from a corner. Liam Wright turned in a cross on 78 minutes and substitute Ben Langworth made it 4-0 just after he had been introduced. Liam Wright wrapped up the scoring with his second near the end.
Hardwicke are having a tough time at present losing their 3rd successive game 2-0 at home to Kingswood. The visitors took and early lead after just 2 minutes when a poor clearance sent the ball straight to Charlie Read to knock home. There followed lots of midfield play without any chances being created by either side until the 65th minutes when Jordan Simms broke down the right cut in and from 25 yards fired his shot past Chris Perks in the home goal. The home side felt that they should have had a couple of penalties in the second half then near the end they were awarded a penalty when Will Matthews was brought down in the box and then proceeded to take the penalty and hit it straight at Chris Fox - who had had an out standing game for the visitors throughout.
Henbury took on Hanham Athletic at Arnell Drive today and won the game 3-2 but according to the report the home side missed a catalogue of chances in the first 45 minutes and the guilty parties were Reece Purnell – Luke Cox - Adam Rosser and Jay Spicer. In fact it was the visitors who went into the lead in the 44th minute when Adam Grinter headed home from a corner. The home side drew level 3 minutes into the second half with a headed goal from Reece Purnell after Adam Rosser had sent the ball over from the flank. It was another cross from Adam Rosser on 60 minutes that was headed in by Keiron Cooper that gave Henbury the lead. Purnell got his second on 75 minutes from a cross into the box that found the striker completely unmarked to make it 3-1. With just 2 minutes left Hanham got a second and it came from a long ball up field that Sam Brown latched onto and fired the ball past keeper Dan Parsons from outside the box.
Ruardean Hill Rangers had a convincing 5-2 win at home to Patchway Town and although the home team had an early chance through Kane Fellows from a Luke Johnson cross it was the visitors who almost scored when Underwood saved well from a Sam Finn shot. They did however go in front on 10 minutes when Dan Rees scored from the edge of the area. Patchway keeper Bragg then saved well from Luke Johnson but a couple of minutes later Matt Barnard beat him to score the first of his three for the afternoon. Just 2 minutes later the home side went ahead when Shaun Tingle netted from a Luke Johnson pull back. Patchway were only behind for 3 minutes when Joe Dalby scored from a 25 yard free kick. The home side had several more near misses before the break but it remained 2-2. Rangers went 3-2 up on 57 minutes when Barnard was pulled down in the box and Luke Johnson scored from the spot. Barnard made it 4-2 on 59 minutes when he picked up the rebound from a Luke Johnson shot. Patchway's Joe Leslie struck the post on 70 minutes. Barnard completed his hat-trick on 81 minutes after Bragg spilled a previous shot on goal.
In today's early kick off Wick and Broadwell Amateurs played out a 0-0 draw with very few chances being created throughout the game.