Tables Data loading when Cookies Accepted ....
Results Data loading when Cookies Accepted ...
The league advises that you check with individual clubs for postponement of a match before travelling especially if the weather is poor. We will update Full-Time as soon as possible on match days, however this is dependant on availability of league officers.
Fixtures Data loading when Cookies Accepted ....
19th October 2017 - Henbury seek First Team Manager
Henbury FC who are currently playing in the Gloucestershire County League are looking to recruit a first team manager, applications are welcomed from all individuals.
To submit an application or enquire further about this role please contact Ed Wright. Email: hfcsec@outlook.com
19th October 2017 - Respect Table 2017/18
Table as at 16th October
Dissent
Reported
Start 100
Pos
Team
Played
Yellow
Red
After Match
Points
1
Wick
8
0
0
0
100
2
Broadwell Amateurs
7
0
0
0
100
3
Southmead CS Athletic
7
0
0
0
100
4
Frampton United
6
0
0
0
100
5
Henbury
6
1
0
0
95
6
Kingswood
9
2
0
0
90
7
AEK Boco
8
2
0
0
90
8
Hardwicke
8
2
0
0
90
9
Little Stoke
8
2
0
0
90
10
Rockleaze Rangers
8
2
0
0
90
11
Patchway Town
7
2
0
0
90
12
Ruardean Hill Rangers
6
2
0
0
90
13
Thornbury Town
9
3
0
0
85
14
Stonehouse Town
8
3
0
0
85
15
Lebeq United
7
3
0
0
85
16
Gala Wilton
8
4
0
0
80
17
Hanham Athletic
8
4
0
1
55
Totals
32
0
1
15th October 2017 - Patchway Town seek First Team Manager
Patchway Town are seeking a First Team Manager, in the first instance Contact Secretary Richard Ashley via e-mail or phone 07914 842777
11th October 2017 - Technical Area Marks Games 1-5
Frampton United win a Football for being the best marked club in the first 5 games
| | | | | | |
| --- | --- | --- | --- | --- | --- |
| Team | Excellent | Good | Satisfactory | Poor | Points |
| Frampton United | 5 | 0 | 0 | 0 | 15 |
| Broadwell Amateurs | 4 | 1 | 0 | 0 | 14 |
| Henbury | 4 | 1 | 0 | 0 | 14 |
| Kingswood | 4 | 1 | 0 | 0 | 14 |
| Thornbury Town | 3 | 2 | 0 | 0 | 13 |
| Lebeq United | 3 | 2 | 0 | 0 | 13 |
| Gala Wilton | 3 | 2 | 0 | 0 | 13 |
| Rockleaze Rangers | 3 | 2 | 0 | 0 | 13 |
| Little Stoke | 4 | 0 | 1 | 0 | 13 |
| Wick | 3 | 2 | 0 | 0 | 13 |
| Stonehouse Town | 2 | 3 | 0 | 0 | 12 |
| Ruardean Hill Rangers | 3 | 1 | 1 | 0 | 12 |
| AEK Boco | 3 | 1 | 1 | 0 | 12 |
| Hanham Athletic | 1 | 3 | 1 | 1 | 10 |
| Southmead CS Athletic | 1 | 3 | 1 | 0 | 10 |
| Hardwicke | 2 | 2 | 0 | 1 | 9 |
| Patchway Town | 2 | 0 | 2 | 1 | 7 |
Excellent = 3 pts
Good = 2 pts
Satisfactory = 1 pt
Excellent = -1 pts
11th October 2017 - FA Discipline Handbook
The FA Discipline Handbook 2017-2018 can be found on the following link - FA Discipline Handbook clubs please share with managers and players.
2nd July 2017 - Respect 2017/18
Increase Respect in the League.
The aim is to decrease dissent and improve match participation.
All clubs will start with 100 points. Clubs must not fall below 65 points.
The criteria for losing points: -
Yellow card for Dissent

5 points

deducted.
2 Yellow Cards for Dissent (Sent off)

15 points

deducted.
Red card shown for Language

20 points

deducted.
Technical Area
Any person reported in the Technical Area for Language or Dissent

20 points

deducted.
Any Club Official, Player reported after the Match

25 points

deducted.
Prize Money for clubs remaining above the target of 65 points will be shared on a sliding scale.
22nd April 2017 - Bristol Telephones Champions 2016/17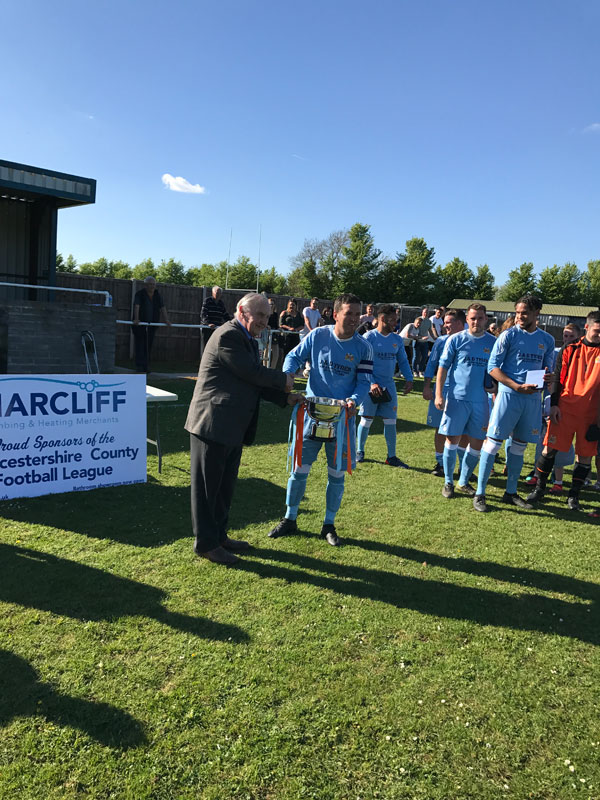 Cliff Orchard (Managing Director Marcliff) - Presents the Trophy to Martin Blacker (Captain, Bristol Telephones)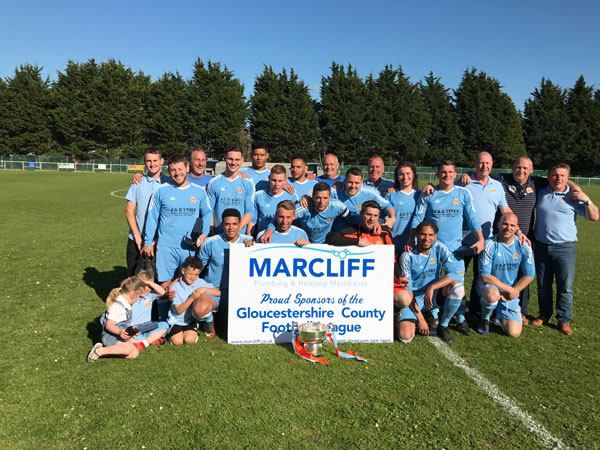 Bristol Telephones - Champions Marcliff Gloucestershire County Football League 2016/17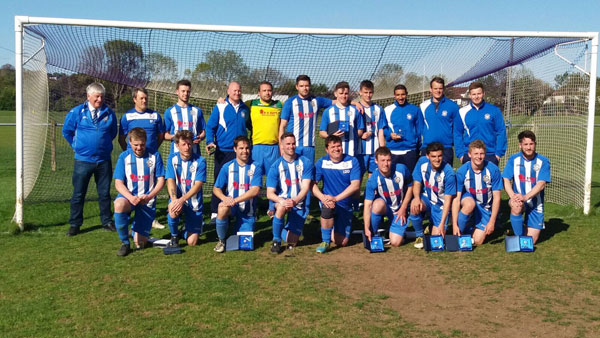 Frampton United - Runners-up Marcliff Gloucestershire County Football League 2016/17
11th September 2016 - Marcliff Plumbing Supplies Sponsorship
The signing of a new 2 Year sponsorship deal between Marcliff and the league took place at Little Stoke before the game.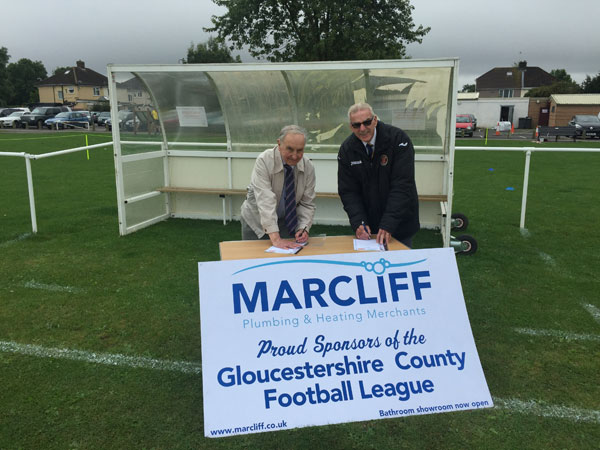 Cliff Orchard (Managing Director Marcliff) - Bob Stewart (Chairman League)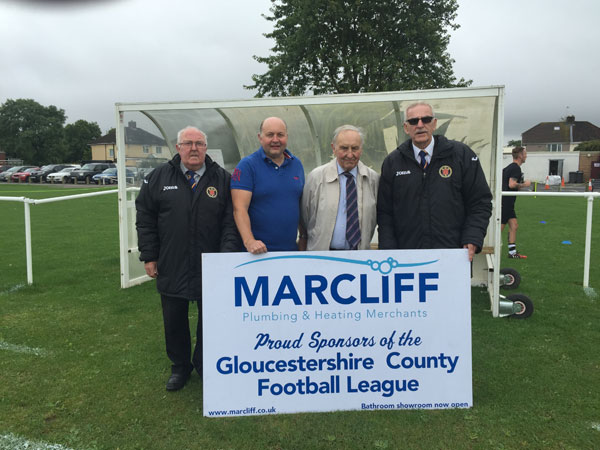 Ron Holpin General Secretary League – Rob Orchard (Director Marcliff) Cliff Orchard (Managing Director Marcliff) Bob Stewart (Chairman League)
Ron's Match Reports
21st October 2017 - Kingswood and Henbury share the points
On the worst day of the season weather wise the leaders Thornbury Town were held to a draw by Wick.
At the bottom of the table Hanham Athletic swap places with Patchway Town who now find themselves on the bottom of the table.
The game between Kingswood and Henbury finished 2-2 with all the goals coming in the first 45 minutes. Henbury flew out of the starting blocks and pinned the home side back right from the off. Jack Mills attempt on goal after 4 minutes had keeper Chris Fox pushing the ball away. The home side were struggling to settle down and could not get out of their own half and this pressure by Henbury paid off after 8 minutes following a corner a low cross into the Kingswood box was turned in by Ross Johnson. The visitors continued to press and it took the home side until the 28th minute to muster an attack on the visitor's goal a shot that was easily taken by Henbury Keeper Dan O'Brien. Fox was in action again and did well to save but from that a move through the middle and a long ball out to the left found Andrew Elcock who pulled the ball back from the by-line and Nick Bishop drove the ball home. 3 minutes later Kingswood were in front a long ball knocked into the centre just outside the box was misjudged by the Henbury defence and Mason Lewis coolly chipped the ball over O'Brien. On 41 minutes Henbury were reduced to 10 men when Dan Dodimead was sent off. Kingswood's Reece Provis had a great chance to increase the lead but with a clear shot on goal pulled it wide. Henbury levelled the score right on half time from a quickly taken free kick on the half way line that was played into Adam Rosser who controlled the ball and then hit a tremendous 25 yard shot across Fox into the far corner.
Even though Henbury were down to 10 men they pushed the home side really hard right from the start of the second half and Kingswood found themselves on the back foot again. Henbury almost took the lead on 56 minutes when Jack Mills hit a rasping dipping shot at the home goal and only a brilliant save from Fox prevented it going in. Fox saved again from another hard shot from Jack Mills on 67 minutes. An Adam Rosser free kick got through the wall but Fox was there to tidy up. In the 77th minute the home side got their first shot on target in the second had a low drive from the left side of the box from Elcock that was well saved by O'Brien. Kingswood almost stole the three points right on time as the ball came into the box Mason Lewis got his shot away but it hit the upright.
Hanham Athletic recorded their first win of the season with a 5-0 victory over Gala Wilton. Unfortunately Hanham's Liam Robson broke his leg on 73 minutes and the game was held up for some time until the ambulance arrived. Earlier Robson had gone close on 10 minutes but the attempt went just over. Just 3 minutes later the home side took the lead from the penalty spot after Giovanni Fisher had been upended in the box and Craig Sperring sent the Gala keeper the wrong way. On 55 minutes Tom Welling went close and then 5 minutes later a great solo effort from Liam Robson made it 2-0. On 67 minutes the home side went 3-0 up after a Gala defender handled in the box and Craig Sperring netted his second penalty of the afternoon. Then came the incident that left Robson with a broken leg a fair tackle an unfortunate ending. The game was then held up for some time and at the restart Ben Francis score from close range to make it 4-0. Francis then netted a second after Adam Grinters shot came back off the bar.
Hardwicke have moved into second place after beating local rivals Frampton United. Only one real scoring chance in the first 45 minutes and that fell to Frampton's Nathan Dennis who struck the upright from a free kick. Paul Carter did hit the crossbar for the home side on 55 minutes and at the other end Matt Cook hit the bar for Frampton. Tobie Webb put the home side in front with a 25 yard shot and a few minutes later Will Matthews shot was saved by keeper with Webb picking up the rebound and was then brought down in the box by keeper Marklove for a penalty that was slotted home by Paul Carter. Hardwicke brought on Craig Harris in the 77th minute and he had an immediate impact when Glen Gittins sent Harris clear down the flank he cut in rounded the keeper and slotted the ball in for a 3-0 lead. Jamie Reid almost made it four but his 30 yard drive went just the wrong side of the post.
A 2-1 victory for Stonehouse Town over Ruardean Hill Rangers helped move them a little further up the table. The home side had much the better of the first 45 minutes and led 2-0 at the break. New signing Lewis Fogg hit the crossbar mid-way through the half and a couple of minutes later his shot across goal was pushed away for a corner. Barney Jones took the corner and with the help of the wind caught the keeper out and the ball went straight in to put them 1-0 up. Tim Williams then had a couple of shots saved then in the 32nd minute Adam Ireland was felled in the box and then got up and coolly slotted the spot kick home. Further attempts by Andy Maryon and Lee Keveren might well have increased the lead but were saved by the visitor's keeper. The visitors limited the home side to a couple of chances in the second period with Keveren hitting the bar. Ruardean pulled a goal back late in the game their captain Luke Brown on target.
Rockleaze Rangers v Southmead CS Athletic who both play on the same pitch for their home games met for the first time today and Southmead who were the away team on this occasion ran out 2-0 winners. Rangers might have taken the lead on 8 minutes after a Marcus Williams free kick found Cameron Love on the far post but his effort hit the bar. At the other end Frank Stallard's shot was just over. Williams had another chance for Rangers on 40 minutes but shot wide. Southmead went ahead on 50 minutes from a through ball to Ernesto Correia whose shot was saved by Ashley Newman but Frank Stallard following in drove the ball home. Southmead got a second on 75 minutes from a Gary Booth free kick that became a scramble in the box with Stallard coolly knocking in his second.
Patchway Town drop to bottom of the table after going down 4-0 at home to Broadwell Amateurs. On 29 minutes Broadwell's Liam Thomas missed an absolute sitter but within a minute scored a cracking goal to put the Amateurs 1-0 up. It remained that way until the 52nd minute when Paul Mann's scored from the penalty spot. Patchway's David Ishi was just wide with a header on 60 minutes. The visitors went 3-0 up on 77 minutes with a strike from Harry Williams and Liam Thomas got his second on 84 minutes with a shot from the edge of the box.
Thornbury Town travelled to Wick for what was always going to be a very close encounter and that is what it turned out to be. Both teams failing to find the back of the net. From the report the home side created most of the chances whilst Thornbury did most of the defending with the town keeper pulling off some great saves. Hardiman had several good chances for the home side and had a late effort cleared off the line by the Thornbury defence.