Tables Data loading when Cookies Accepted ....
Results Data loading when Cookies Accepted ...
The league advises that you check with individual clubs for postponement of a match before travelling especially if the weather is poor. We will update Full-Time as soon as possible on match days, however this is dependant on availability of league officers.
Fixtures Data loading when Cookies Accepted ....
26th January 2018 - Respect Table 2017/18
Table as at 26th January
Dissent
Reported
Start 100
Pos
Team
Played
Yellow
Red
Technical Area
After Match
Points
1
Broadwell Amateurs
16
0
0
0
0
100
2
Frampton United
16
0
0
0
0
100
3
Southmead CS Athletic
16
1
0
0
0
95
4
Henbury
18
1
0
0
0
95
5
Wick
21
3
0
0
0
85
6
Ruardean Hill Rangers
15
3
0
0
0
85
7
AEK Boco
17
3
0
0
0
85
8
Patchway Town
16
3
0
0
0
85
9
Rockleaze Rangers
17
3
0
0
0
85
10
Stonehouse Town
19
3
0
0
0
85
11
Kingswood
18
4
0
0
0
80
12
Thornbury Town
19
4
0
0
0
80
13
Hardwicke
16
4
0
0
0
80
14
Little Stoke
17
5
0
0
0
75
15
Gala Wilton
17
7
0
0
0
65
16
Lebeq United
17
4
0
1
0
60
17
Hanham Athletic
19
9
1
0
1
10
Totals
57
1
1
1
19th October 2017 - Henbury seek First Team Manager
Henbury FC who are currently playing in the Gloucestershire County League are looking to recruit a first team manager, applications are welcomed from all individuals.
To submit an application or enquire further about this role please contact Ed Wright. Email: hfcsec@outlook.com
11th October 2017 - FA Discipline Handbook
The FA Discipline Handbook 2017-2018 can be found on the following link - FA Discipline Handbook clubs please share with managers and players.
2nd July 2017 - Respect 2017/18
Increase Respect in the League.
The aim is to decrease dissent and improve match participation.
All clubs will start with 100 points. Clubs must not fall below 65 points.
The criteria for losing points: -
Yellow card for Dissent

5 points

deducted.
2 Yellow Cards for Dissent (Sent off)

15 points

deducted.
Red card shown for Language

20 points

deducted.
Technical Area
Any person reported in the Technical Area for Language or Dissent

20 points

deducted.
Any Club Official, Player reported after the Match

25 points

deducted.
Prize Money for clubs remaining above the target of 65 points will be shared on a sliding scale.
22nd April 2017 - Bristol Telephones Champions 2016/17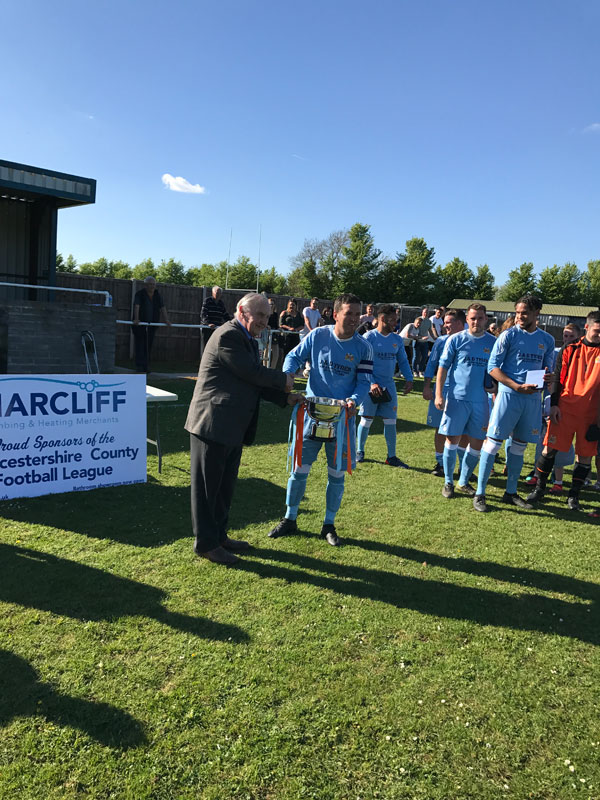 Cliff Orchard (Managing Director Marcliff) - Presents the Trophy to Martin Blacker (Captain, Bristol Telephones)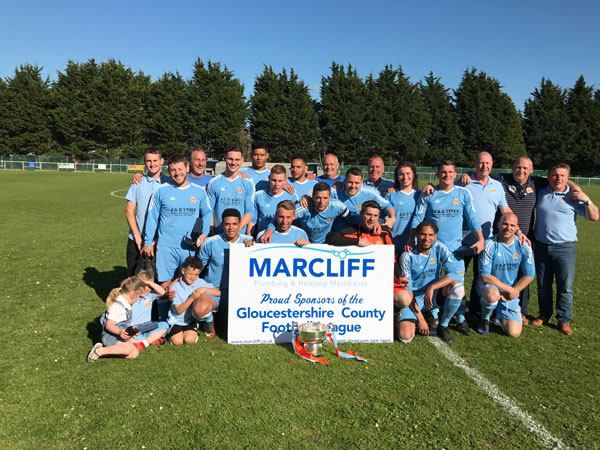 Bristol Telephones - Champions Marcliff Gloucestershire County Football League 2016/17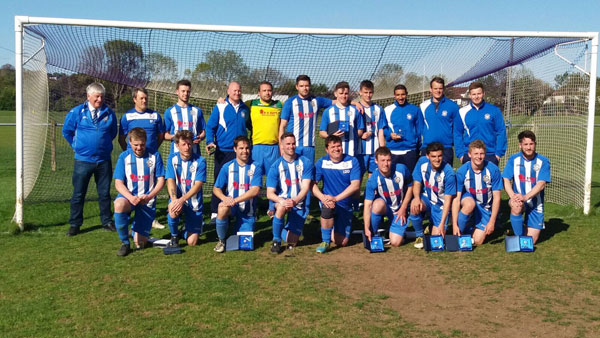 Frampton United - Runners-up Marcliff Gloucestershire County Football League 2016/17
11th September 2016 - Marcliff Plumbing Supplies Sponsorship
The signing of a new 2 Year sponsorship deal between Marcliff and the league took place at Little Stoke before the game.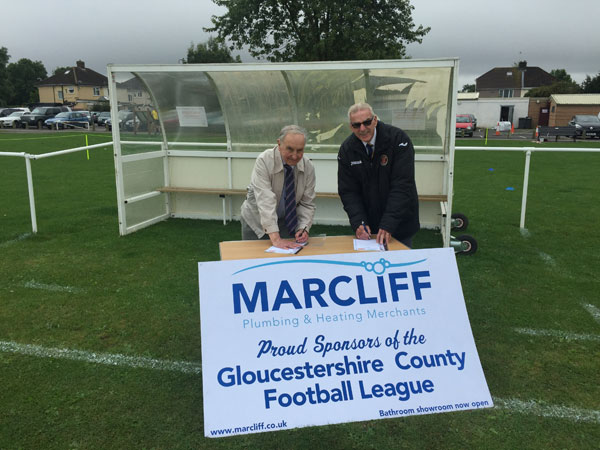 Cliff Orchard (Managing Director Marcliff) - Bob Stewart (Chairman League)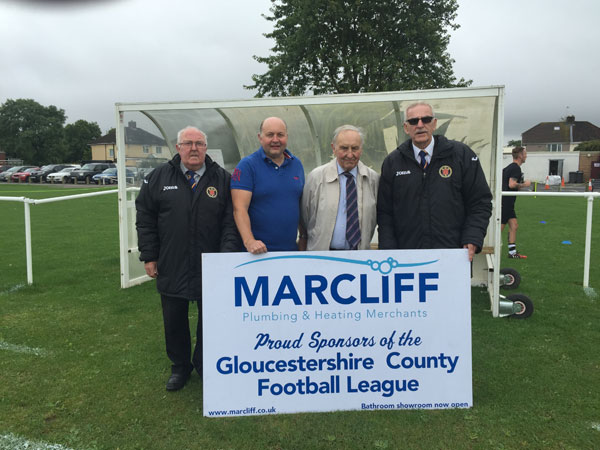 Ron Holpin General Secretary League – Rob Orchard (Director Marcliff) Cliff Orchard (Managing Director Marcliff) Bob Stewart (Chairman League)
Ron's Match Reports
17th February 2018 - Little Stoke get better of Lebeq
A minutes silence was observed at all games before the kick off today in memory of the leagues President Bob Stewart who sadly passed away this week.
Thornbury Town are now ten points clear at the top after their win at home to Wick and Little Stoke beating Lebeq United.
Lebeq United made several changes to their line up for today's visit to Little Stoke but a dogged performance from the home side brought them a win that they dearly needed. The first effort on goal fell to the home side on 8 minutes from a free kick pumped into the Lebeq box it was half cleared and two attempted sliced shots on goal from Stoke was eventually cleared by the Lebeq defence. The home side went ahead on 13 minutes from a great build up from the left back position that was eventually played out to Harry Goldspink on the right and he cut in fired his shot at goal and it took a wicked deflection off Omar Lindsay and finished up in the back of the visitor's net. A long ball into the box from Stokes Danny Cochram was well taken by the visitor's keeper Maciej Jesionowski as Tim O'Loughlin rose to head it goal-wards. Home keeper Amin Jones was untroubled for the first 41 minutes when he dived full length to push the ball out for a corner and just before the break Lebeq's keeper save well from Dean Patterson.
A second goal from Little Stoke on 62 minutes came from a free kick on the right that was well hit by Patterson but it came straight back and his second strike flew past the Jesionowski into the top right corner. Lebeq missed a great goal-scoring opportunity in the 63rd minute when Elan Plummer and Omar Lindsay played a brilliant one – two with Plummer's shot being well saved by Jones. Although the visitors made several changes during the second half they were still unable to break down a solid home defence who were elated when the final whistle went.
Thornbury Town have now gone well clear at the top after another three points gained with a 4-1 win at home to Wick. It was the visitors who scored first after 12 minutes from a long ball over the home defence that was met by keeper Tom Sheppard but his clearance struck Dan Payne and then fell nicely for him to slot the ball into an empty net. Town hit back on 20 minutes to level after Matt Davis's cross to the far post was acrobatically turned in by Craig Lancastle. Joe Guest then cleared of the line for the home side before they took the lead 3 minutes before the break when a good break out of defence allowed Brandon Benjamin to slot the ball through to Lancastle who took the ball in his stride and fired the ball past Tyler Edmonds. An early goal 3 minutes into the second half from Town to make it 3-1 came from a great run by Brandon Benjamin who pulled the ball back across goal for Matt Davis to finish off. Davis got his second on 62 minutes and this time it was Luke Franklin who made the break and then pulled it back across the face of the goal to the far post for Davis to slide home. Wick almost got a second on 75 minutes from a Dan Payne free kick that Sheppard did well to push around the post.
The local derby in the north of the county between Frampton United and Hardwicke ended with the home side taking the spoils by three goals to one. Stuart Maule hit the post for Frampton on 12 minutes and the first effort from Hardwicke came on 20 minutes Craig Harris shooting just wide. Kris Bulley's found himself clear on goal for the home side but his shot was well saved by the keeper. From the resulting corner the home side took the lead a brilliant curling shot from Manola Marquez Espada from 25 yards hit the back of the Hardwicke net. Another corner on 34 minutes brought a second for the home side as the ball from the corner found Stuart Maule to volley home. Frampton went 3-0 up in the 50th minute as Lewis Wilton broke into the box he was brought down and Matt Cook netted the resulting penalty. Rick Mansell then struck the top of the bar on 65 minutes for the visitors and on 78 minutes they pulled a goal back when Rob Hine headed home from a corner. They almost grabbed a second 2 minutes later but Paul Carters free kick went just the wrong side of the post.
A much better performance from Patchway Town who travelled to the Forest of Dean to take on Broadwell Amateurs. Although the home side got off to a great start scoring after just 5 minutes when Kristin Burnard's low cross into the box was turned in by Harry Williams. Patchway's Dan Reece went close on the half hour and Broadwell's Jori Sheen saw his header skim across goal and just out side the post. On 42 minutes Broadwell grabbed a second from a cross into the Patchway box where Liam Thomas was waiting to volley home. The visitors lift their game in the second half and Dan Reece hit the upright on 60 minutes, then 5 minutes later they pulled a goal back when Rob Foster out jumped the home defence to head home. With a much improved performance from Patchway they will probably be disappointed they did not manage to snatch a point from the game.
After their previous weeks performance at Rockleaze Rangers Gala Wilton must have fancied their chances against today's visitors bottom Club Hanham Athletic. It was the visitors who had a goal disallowed on 26 minutes after the referee spotted a push on a Gala defender and the first 45 minutes failed to produce a goal from either side. Hanham's keeper Max Heaven lost all control on 63 minutes when he rushed out of the penalty area and handled the ball and was immediately sent off by the referee. The home side were now facing 10 men and a stand in goal keeper but had to wait until the 80th minute to break the deadlock as Peter Boyle raced through the visitors defence to place the ball past the stand in keeper. It looked as though that might be the final result until the very last minute of the game when Jack Fry volleyed home for the visitors to send them home elated that they had salvaged a point.
Henbury managed a 2-0 win over today's visitors Kingswood but it should have been over before half time according to the report. Although Henbury lead 1-0 at the break with a goal from Craig Davis after he picked up the ball just inside his own half outstripped the Kingswood defence and fire past Fox in the visitors goal. Henbury were guilty of missing numerous chances in that first 45 minutes - credit also has to go to the Kingswood keeper Chris Fox for pulling off numerous great saves. Henbury sealed the points in the 85th minute with a goal from Tyler Parsons.
The game of the day must be the fixture between hosts Southmead CS Athletic and tenants Rockleaze Rangers with the latter taking the 3 points with a narrow 3-2 victory. Rangers took the lead on 10 minutes when Southmead's keeper O'Keefe brought off a great save only to see the ball spin across to Ali Boyer to squeeze the ball home. Just before the break the home side levelled the score after a scramble around the box the ball fell to Toby Werrett who nipped into space around 12 yards out and fired the ball home. Rangers retook the lead on 55 minutes from a corner that found Dan Webb completely unmarked to head home. A big day for Southmead's Rob Sivers who came on as a substitute for the first time this season having been sidelined with a very bad injury picked up in pre- season. Rangers made it 3-1 on 70 minutes from a free kick that was headed home by Joey Martin-Tulloch. In the very last minute of the game the home side got a second from a corner headed home by Gary Booth.
In a very uninspiring game at Ruardean Hill Rangers Stonehouse Town keep up their challenge for the title with a slender 1-0 win. The goal came in the 28th minute and volleyed in by Michael Ashenhurst from the edge of the box.