Tables Data loading when Cookies Accepted ....
Results Data loading when Cookies Accepted ...
The league advises that you check with individual clubs for postponement of a match before travelling especially if the weather is poor. We will update Full-Time as soon as possible on match days, however this is dependant on availability of league officers.
Fixtures Data loading when Cookies Accepted ....
26th March 2015 - Respect Awards
Fourth Respect awards of the season go to Rockleaze Rangers, Hanham Athletic and AEK Boco for the best marks from the referees in the fourth 5 games.
Rockleaze Rangers also win a football for having the best behaved technical area in the same period.
Details on the respect pages
9th December 2014 - #footballremembers
19th September 2014 - Ron meets the sponsors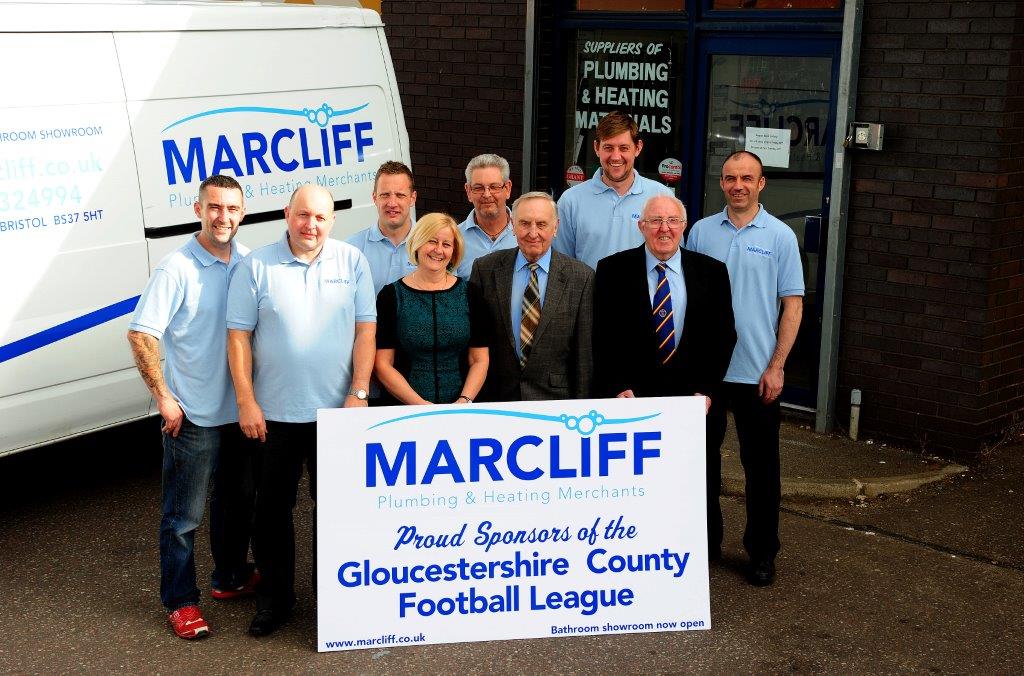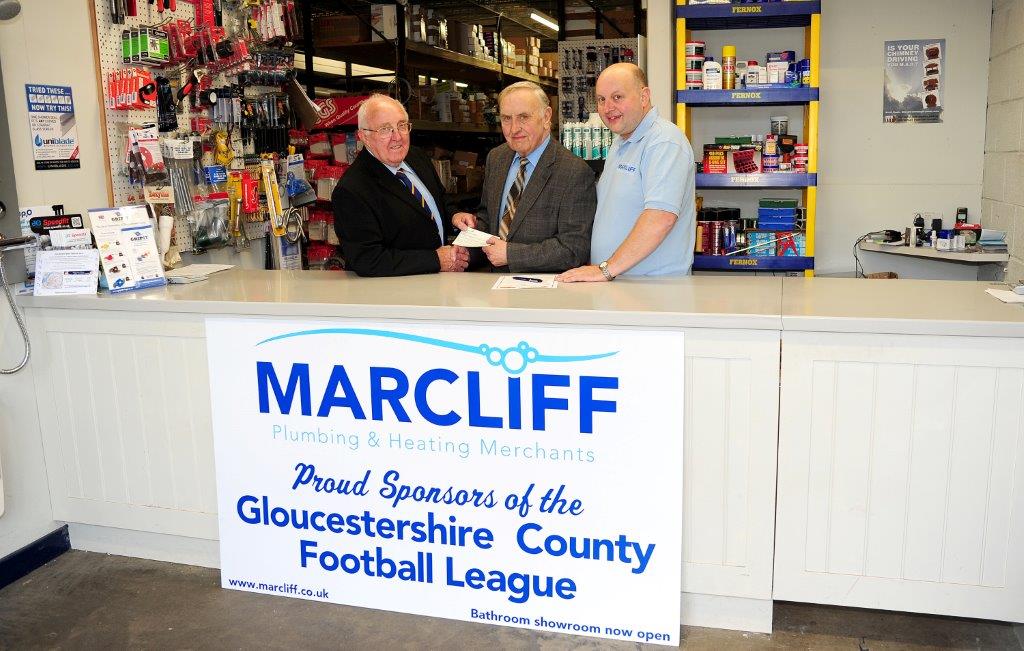 Ron's Match Reports
21stMarch 2015 - THornbury too strong for Bishops Cleeve
Cheltenham Civil Service are just one point clear after they drew at Kings Stanley. Chipping Sodbury Town were out of action today. AEK Boco closed the gap to one point after their home win over Berkeley Town.
Bishops Cleeve Reserves and Berkeley both lost but Ellwood won at home to Southmead CS Athletic.
We took a short trip to Thornbury Town who were hosting Bishops Cleeve Reserves. Thornbury Town won the game 3-1 but dominated the play throughout. The home side were much more forceful than their opponents. Craig Lancastle saw his free kick after 3 minutes just clear the bar and a couple of minutes later Danny Thompson wasted a good chance. The home side almost took the lead after 10 minutes from an in-swinging corner from the left that whipped across goal and struck the Cleeve defender stood on the line before being cleared. Cleeves first attempt on goal was a shot from Giles Elliott after 23 minutes that went wide of the post. The home side took the lead on 33 minutes and it came from another in-swinging corner from the left into a crowded goalmouth and was finally touched home by Nathan Sage. Scott McCleod missed a really good chance on 37 minutes the ball going the wrong side of the post. Right on half time a Danny Haines free kick from the right was headed over by Danny Thompson.
9 Minutes into the second half a high ball sent into the Cleeve box was punched clear by keeper Adam Clark straight to Mark Viner whose cheeky chip over the keepers head dropped onto the top of the net. Thornbury went further ahead on 57 minutes with a goal from Toby Bennett who's shot from just inside the box found the corner of the net. Craig Lancastles 25 yard drive was well saved by Clark on 65 minutes. Cleeve mustered their second shot at the target on 67 minute when Brad Barnard's shot went just past the post. The visitor's had a great chance in the 75th minute when Giles Elliott hit the upright. It was Elliott again after 80 minutes that brought a good save from Lippiatt the keeper saving the ball with his feet. Thornbury's third goal on 82 minutes came from a great run down the right flank by Danny Thompson and a low cross into the six yard box where substitute Josh Pirie cheekily back heeled the ball into the net. Thornbury were caught out two minutes later when Elliott at last got the ball into the net for the visitors the shot striking the inside of the post on its way in. The home side lost their concentration and Lippiatt had to be at his best to prevent a second goal for the visitors near the end diving full length to push the ball out for a corner.
The game at Kings Stanley ended all square but the visitors Cheltenham Civil Service snatched a point late in the game to preserve their drive towards the title. Stanley got of to a great start in the 16th minute when Tom Pass hit a free kick from 45 yards that completely deceived the visitor's keeper and sailed into the net. Jake Davies missed a great chance to put the home side two up before the break. Cheltenham levelled the score in the 78th minute when the home side failed to pick up Stuart Mitchinson on the far post. With just 5 minutes left Matt Green was clear on goal for Stanley but then shot wide. In the last minute another free kick from Tom Pass also went just wide of the post.
Patchway Town eased their relegation worries with a 1-0 win at Kingswood. The visitors had the best chances in the first 45 minutes with Matt Davies chipping the home keeper but the ball struck the crossbar and Phil Vice hit the upright. Kingswood were reduced to 10 men on 65 minutes when Ben Vale was dismissed for a second yellow card and 2 minutes later Patchway took the lead when Rafael Waugh chested down a cross into the box before driving the ball home. Patchway were also down to 10 men on 85 minutes when Phil Vice was dismissed for a bad tackle.
Gala Wilton came away from Hanham Athletic with 3 points and a 5-2 win despite playing 46 minutes without their keeper who was sent off a minute before the break. Adam Grinter gave the home side the lead after 5 minutes with a simple tap in. Just 3 minutes later Gala drew level with a goal from Shaun Bennett. Ryan Phillips put the home side back in front on 15 minutes then came the sending off on 44 minutes, but within a minute Gala levelled when Dave Wilkinson scrambled the ball home. Lee Allen broke through the home defence to put Gala 3-2 up on the hour and then 5 minutes later Dave Wilkinson got a second to put the visitors 4-2 in the lead. A second Lee Allen goal on 75 minutes made the final score 5-2 to Gala.
Frampton United took the points in a 3-1 win at home to Henbury. Chris Fower went close early on for the home side and eventually opened the scoring in the 41st minute when Nathan Dennis fired home from the edge of the box. Henbury levelled a minute before the break from the penalty spot after Adam Cox was adjudged to have handled it was left to Jack Mills to find the back of the Frampton net. 2 minutes into the second half Joe Wilton turned in Kris Bulley's cross to put the home side 2-1 up. The final goal in the 89th minute came from a Kris Bully 40 yard punt at goal that caught the visitor's keeper of his line and back pedalling to try and prevent it going in.
A win for Ellwood at last. After suffering 10 straight defeats today's 3-0 win was a welcomed relief after dropping down the table over the weeks. Two goals from Darryl Addis on 29 and 31 minutes gave the home side a great start. Southmead CS Athletic then had their keeper sent off on 75 minutes and the home side capitalised with a third goal in the 85th minute from Ryan Pendry.
AEK Boco find themselves with an outside chance of the title after picking up another 3 points at home to basement Club Berkeley Town. A set piece after 10 minutes led to a corner for Berkeley which was duly headed in by Rich Reece for the visitors. The equaliser came from a corner on 30 minutes with Danny Brister heading home. 10 minutes later Darren Werrett was bought down by Ricky Sealey who received a red card for the foul. Jordan Scott then dispatched the ensuing penalty to give the home side the win.
Yate Town Reserves and Rockleaze Rangers share a point apiece but neither side could find the back of the net, so for the second week running Rangers have been involved in a goalless scoreline.
18thMarch 2015 - Gloucestershire County League 7 Somerset County League 1
Report Courtesy Simon Parkinson
CLINICAL Craig Lancastle and his Gloucestershire County League comrades were in explosive form as they comprehensively swept aside Somerset County League 7-1 in Wednesday night's enjoyable representative spectacle in Almondsbury.
The match was staged in front of a good-sized crowd on the 3G pitch at the Gloucestershire FA's revamped football centre and was utilised as valuable match practise for both teams ahead of next month's preliminary round fixtures in this year's national FA Inter-League Cup tournament for Step 7 clubs.
Gloucestershire have been drawn at home to Dorset League on Saturday, April 11 at the home of Tytherington Rocks (3pm), while Somerset travel to take on Devon and Exeter League on Saturday, April 25 (3pm) at Elmore FC's Tiverton-based HQ.
The midweek outcome was hardly the ideal spur for Wrington Redhill supremo Smith and his Somerset charges, although he stressed: "We did have three or four senior players absent so it was a predominantly young team playing together for the first time, and the scoreline really didn't reflect the game.
"Yes, we were naïve at times defensively, but we played with pace and certainly created as many chances as they did; it was just that Gloucestershire were that much more clinical in front of goal."
And that they were, despite an evenly-contested first half in the main, as Somerset were suddenly hit by a three-goal flurry from their sure-shot opponents around the midway point of the period through two unerring Gary Simmons' strikes and the impressive Dhani Golding's clever back-heel into the net, both of whom were afforded far too much room and time to get their finishes away.
Far from outplayed in the opening period, Somerset had their moments too and the busy Charlie Wilson teed up two chances, one leading to Bishops Lydeard team-mate Jack Adams scampering down the left to drive a dangerous ball flat across goal, which evaded everyone inside the box, and another for Watchet Town's Zac Ryder, whose powerful attempt was well beaten away by Joe Pople.
Gloucestershire had begun the brighter and Danny Coombes fastened on to some more wobbly defending as a long punt forward found its way to him bearing down on goal, but his effort flew into the side netting, while the dangerous Dhani Golding at the back stick was a whisker away from connecting with Simmons' deep delivery.
Even after inexplicably finding themselves three-adrift, Smith's men kept trying and Shirehampton's Ciaran Greening was dismayed to see his dipping effort headed away from underneath the crossbar by an alert defender.
Somerset were given a lifeline at the start of the second half when substitute Matt Connick was unceremoniously upended by Jack Baber inside the box before finishing with some aplomb from the penalty spot.
But they were soon facing an uphill struggle once more as Gloucestershire, managed by Chipping Sodbury Town's ambitious boss Karl Reese, netted twice more by the 58th-minute mark to lead 5-1, both through Thornbury Town's exciting forward Lancastle.
The substitute flew out of the blocks as the ball fell loose to him a little inside Somerset territory, before weaving his way in and out of dazzled defenders with a thrilling solo run and then drilling it low past the visitors' second-half keeper Gary Clarke.
Seven minutes later Lancastle, left in acres of space, was perfectly placed to guide home from close in Kieron Golding's lofted ball in from the right.
Once more Somerset did their best to respond. Adams' curling free-kick was tame and comfortable for the hosts' second-half custodian Tim Griffiths, while Connick's rasping angled volley was brilliantly turned away by the same leaping Cheltenham Civil Service shot-stopper.
But the Gloucestershire juggernaut continued to roll on relentlessly and they wrapped up an emphatic win with a rising edge-of-the-box rocket by Dhani Golding into the far corner of the net from Lancastle's astute lay-off, before the lethal Lancastle added a seventh with a simple header into an empty net for his hat-trick goal from Simon Clarke's right-sided cross.
Their encouraged manager Reese said of the performance: "I was really pleased. We were slow to start with but we grew stronger as we went along and were quite dominant in the end.
"We're building up nicely to that Dorset game on April 11 and we'll go into it confident. The individual performances on the night have certainly given me a selection headache."
Gloucestershire County League: Joe Pople (AEK Boco), Kieron Golding (Bristol Telephones), Jack Baber (Hanham Ath), Teejay Bick (C, Cheltenham CS), Mike Beacham (Chipping Sodbury), Charlie Stevens (AEK Boco), Sam Jenkins (Chipping Sodbury), Simon Clarke (Kingswood), Danny Coombes (Chipping Sodbury), Dhani Golding (Bristol Telephones), Gary Simmons (Kingswood), Aaron Day (Rockleaze Rangers), Tim Griffiths (Cheltenham CS), Phil Vice (Patchway Town), Andrew Roberts (Kings Stanley), Craig Lancastle (Thornbury Town).
Somerset County League: Josh Hayward (Bridgwater Res), Gary Clarke (Wrington Redhill), Sam Krug (Clutton), Jack Adams (Bishops Lydeard), Ciaran Greening (Shirehampton), Callum Laird (Bridgwater Res), Charlie Wilson (Bishops Lydeard), James Springett (Nailsea Utd), Dan Spicer (Shirehampton), Jack Taylor (Berrow), Zac Ryder (Watchet Town), Adam Bell (Nailsea Utd), Matt Connick (Bridgwater Res), Connor O'Neil (Bridgwater Res), Harry Horton (Bridgwater Res), Josh Gibbs (Yatton), Matt Long (Nailsea Utd).
Referee: Mike Rogers