The league advises that you check with individual clubs for postponement of a match before travelling especially if the weather is poor. We will update Full-Time as soon as possible on match days, however this is dependant on availability of league officers.
9th May 2019 - Thornbury Town seek new manager
After a very successful season at the highest level that they have ever played, Thornbury Town are sad to announce that first team manager Andy Davies has decided to take a rest from management next season. He has however confirmed that he intends to stay with the club in some capacity.
Thorns now begin their search for a new manager and with the first team now established in Hellenic Div 1 and with the possibility of competing in the FA Vase and FA Cup next season it potentially gives the right person (possibly with his own coaching team) an exciting challenge. Applications are invited from anyone interested in the position, who ideally has recent experience of coaching or managing at Hellenic, Western or County League level, or has the ambition to do so, and who would be motivated by the prospect of working with the club as they look to build on their recent successes.
Interested potential candidates should contact Club Secretary Mike Pengelly at pengelly.mike@gmail.com or on 07934 504648 by the 20th May.
2nd May 2019 - Programmes for Sale
2018-19 Match-day programmes for sale.
A pack of 16 programmes (includes rep game) will cost £5.50 including Packaging & Postage.
Please make Cheques payable to Gloucestershire County Football League
Or Direct Bank Transfer
National Westminster Bank
Sort Code - 60-01-29
Account Number - 50003666
Please send to:
Ron Holpin
27, Brockley Close
Little Stoke
Bristol.
BS34 6HA.
MAKE SURE THAT YOU INCLUDE YOUR NAME AND ADDRESS
If you wish to contact me by email: sec.gloscountyleague@btinternet.com
Tel: 01454 612842 or 07816 947169
25th April 2019 - Southmead waiting on relegation decision
Simon Parkinson
SOUTHMEAD CS Athletic are licking their wounds after hitting bottom spot in the dying embers of an enthralling Marcliff Gloucestershire County League programme.
In what had effectively become a straight race between them and Gala Wilton to stay up, it was the jubilant Gloucester-based outfit who handed themselves the best possible chance of survival as they came away from Les James League Cup finalists Little Stoke with a surprise 2-0 win, to lift themselves off the floor and push their Southmead rivals down into hot relegation danger in the act.
Kingswood effectively became one of two potential clubs to go down this season when they withdrew from the league.
That ultimately left Gala and Southmead scrapping it out in a last-ditch bid to stay off the foot of the table and despite the Bristol side themselves winning their final game in defeating fellow strugglers Hanham Athletic 1-0 at home, Gala's better six-goal difference proved decisive as both teams concluded their campaigns with 13 points.
Whether Southmead, who are well used to successful rescue acts after years of occupying the bottom two places, are granted yet another stay of execution, or returned to the lower levels for the first time since 2012 when they rose to the County League for the first time as Bristol and Suburban League champions, only time will tell.
It has certainly been a struggle this term with a raft of club officials and management exiting Jarratts Road to leave a threadbare committee fighting to keep heads above water.
Long-serving secretary Neil Graham did consider his own position, although he revealed: "I've had a chat with the club and I'm going to stay now, irrespective of which league we play in next season.
"I'm also hopeful John Henson and his assistant Rob Cumberbatch will stay too along with the core of our players.
"We're in the hands of the FA but if we do go down, it could be a blessing in disguise from a financial aspect. We'd then look to regroup and build back up again.
"Obviously it's been disappointing to finish up bottom, especially after beating Hanham in our final game.
"Really, though, we should have had enough points in the bag earlier in the season to ensure we weren't in this position."
Graham watched on a forlorn figure as relegation rivals Gala overcame Little Stoke with that 2-0 weekend win.
"I was there keeping fingers, toes and everything else crossed!" he smiled ruefully.
"Gala were very quick out of the blocks, scoring with a penalty in the first minute and a second five minutes later.
"Every time Gala went forward they looked as though they'd score although Little Stoke were the better side in the second half."
While Southmead are sweating over their immediate future, the County League programme continues over the next few days with all other key issues decided, including Lebeq United's title triumph which they hope will take them into the Toolstation Western League. The season ends with the Les James League Cup final at Wick's Oldbury Lane facility on Sunday, April 28 (2.30pm).
20th April 2019 - Lebeq United Champions 2018/1919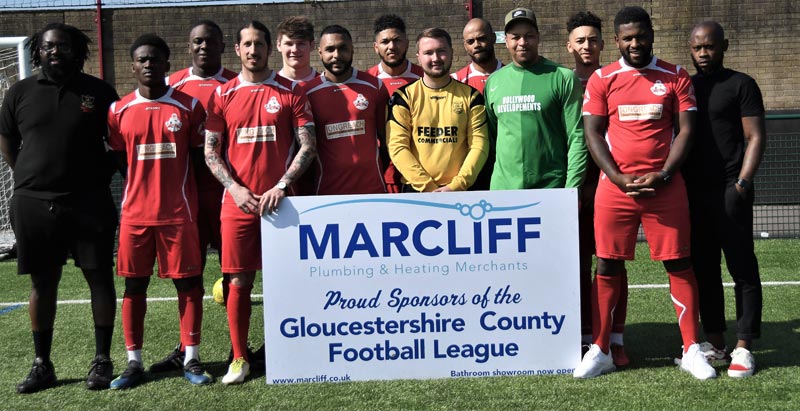 Lebeq United - League Champions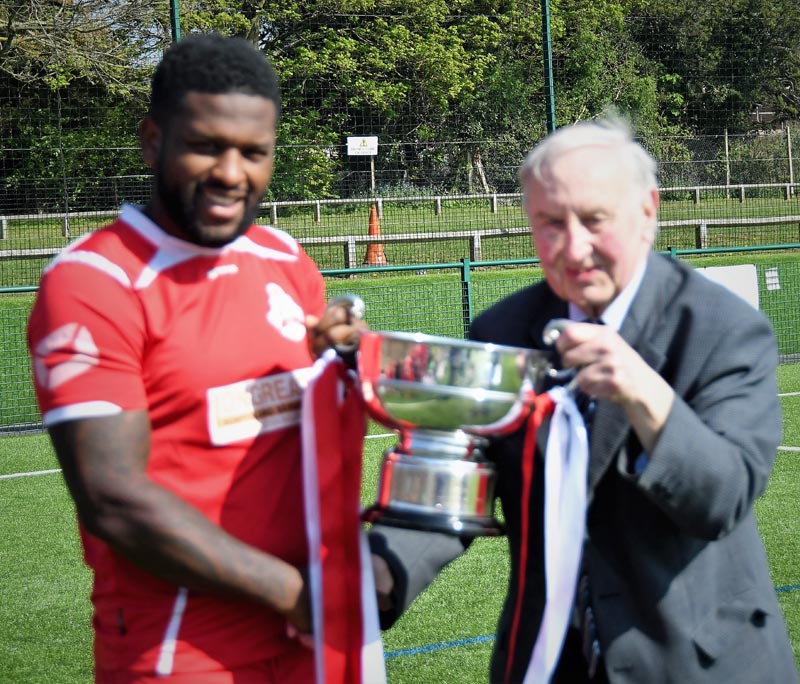 Cliff Orchard (Managing Director Marcliff) presents the Trophy to Twaine Plummer the Lebeq United Captain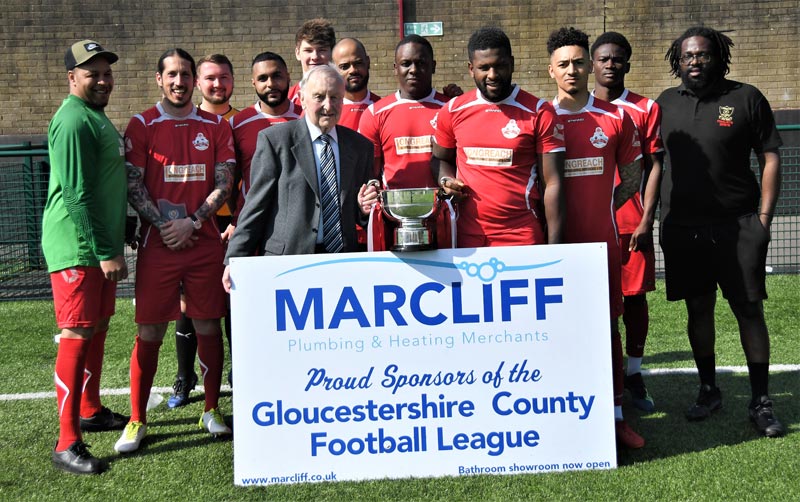 Cliff Orchard (Managing Director Marcliff) with Champions Lebeq United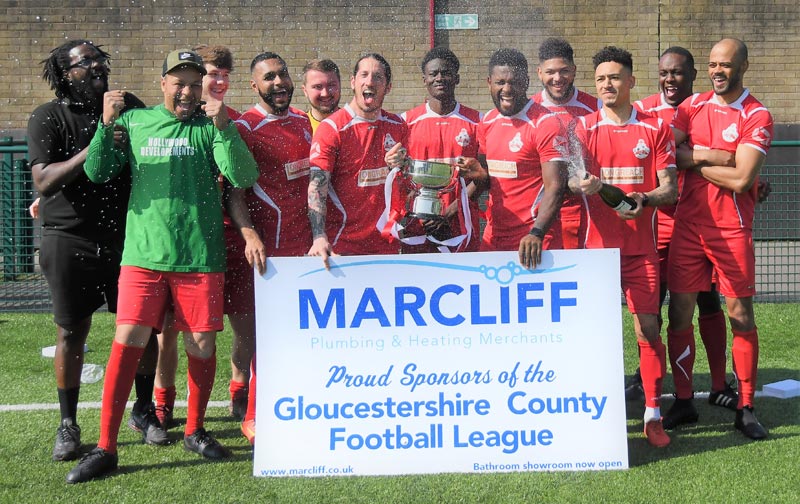 Lebeq United - League Champions
Image Gallery available Here in higher quality
18th April 2019 - Departing Broadwell boss rues frustrating final season at the helm
Harry Madge
Broadwell manager Lee Williams insisted that whilst his final season in charge didn't go as planned, there is a bright future for both the club and himself moving forward.
Williams, who has been affiliated with Broadwell for 24 years, will leave the club in the summer having guided Broadwell to a tenth placed finish this season. However, after finishing sixth in 2018, Williams acknowledged that this season was something of a disappointment for his side.
He said: "This season was really frustrating to be honest. We went into our first four or five games of the season with a bit of a scratch side and we ended up losing those opening games. We did rebuild the squad and we ended up being quite comfortable in the league.
"Last year we were there or thereabouts but we've not quite been at it this season and we've not really been able to play the football that I've wanted to play."
Safran Landing Systems engineer Williams alludes to a lack of ruthlessness in front of goal and a certain onus on another Williams.
Broadwell's Harry Williams has scored 38 goals in his last two seasons in the Gloucestershire County League, and Lee admits his side can be over reliant on their talisman.
"The problem is when he [Harry] doesn't score, we don't tend to score. We miss so many chances.
"Last season we had the second best defensive record in the league, but we didn't create much. This season, I decided to be a little bit more open in order to create chances but we've just leaked goals.
"It's getting that balance right and we just haven't been able to take our chances. We're not clinical enough."
Broadwell's final day 1-0 defeat at the hands of Patchway Town followed a familiar pattern for Williams' side.
Recounting the fixture, an exasperated Williams said: "Against Patchway we missed so many chances it was unbelievable. You can't get away with that in the County League. Honestly, how we lost that game I'll never know."
Although Williams is stepping away, the Broadwell man believes the club has a bright future and holds the potential to be a real force in the Gloucestershire County League.
"The club and the committee are highly ambitious with the pitch and the facilities", he said.
"Hopefully the club will continue to move forward with the facilities. With regards to the football, it would be nice if they could be a top four or five side in the County League consistently and that's where I think they should be.
"I really hope they do well because I'm Broadwell through and through, but secretly I hope they don't do too well so they can give me a job in a couple of years!" Williams joked.
As well as the future of Broadwell, Williams vows that his own future in football is also a bright one.
The UEFA B License coach said: "My overall aim is to have a season off and then, whether it's with Broadwell or another club, is to have a go at another challenge.
"I've not fallen out with the club or anything like that. It's two things really; I thought the club probably needed freshening up but also it's the fact that it is hard work and it does wear you down – I just need to time to recharge the batteries.
"I'll stay within football. One thing I'm interested in is doing a sort of coach development scheme with the FA. I see a lot of coaches around the Forest and they could do with a bit of support. It's an area where I can put something back into the community."
However, whilst Williams promises to step a back from management he concedes the competitiveness of the dressing room will drag him back in the near future.
"I think the changing room will probably pull me back into it sooner rather than later though!" Williams exclaims.
"As a manager it is hard work during the week but when Saturday comes and you're in the changing room in a place where you can really affect the game, that's when it's great. The only better feeling is when you're playing so I know I'm going to miss it."
In the meantime though, Williams' presence will be felt more from the stands than from the dugouts, as he states:
"When I'm not doing anything I'll be supporting them for sure, it's my club and I'll offer support where I can."
2 nd February 2019 - Promotion Applicants
To step 6
The following clubs have applied for promotion to step 6.
Lebeq United
Stonehouse Town
To be considered for promotion by the FA the club must meet the required ground grading and finish in the top 5, only one club can be promoted from each league.. The FA will decide who is promoted at the end of the season
To the Gloucestershire County League
Applications have been received from the following clubs.
Gloucestershire Northern Senior League

Chalford
Charlton Rovers
Quedgeley Wanderers
Sharpness

Bristol Premier Combination

Olveston United

Bristol and Suburban League

Avonmouth
Bromley Heath United
Filton Athletic
Two clubs will be promoted subject to passing a ground grading and finishing in the top three of their league.
Relegation and other movements
The bottom two clubs will be relegated. For the purpose of this rule Kingswood who withdrew earlier in the season are counted as the bottom club. The number of relegations will be reduced if less than two clubs are promoted from the feeder leagues
It may be necesary to accept teams from the Hellenic League, Western League or other step 6/7 leagues if the FA place teams in this league.
Any vacancies in the league will be filled after promotion, relegation and lateral movements are resolved. The constitution will be subject to FA approval
2nd February 2019 - Respect Table 2018/19
Dissent
Reported
Start 100
Pos
Team
Played
Yellow
2 Yellows
Red
Technical Area
After Match
Points
1
Frampton United
22
0
0
0
0
0
100
2
Rockleaze Rangers
20
0
0
0
0
0
100
3
Ruardean Hill Rangers
18
1
0
0
0
0
95
4
Hanham Athletic
19
3
0
0
0
0
85
5
Stonehouse Town
18
7
0
0
0
0
65
6
Hardwicke
20
9
0
0
0
0
55
7
Wick
19
6
1
0
0
0
55
8
Patchway Town
21
9
0
0
0
0
55
9
Broadwell Amateurs
21
2
1
0
1
0
50
10
AEK Boco
20
5
0
1
1
0
35
11
Gala Wilton
21
11
1
0
0
0
25
12
Lebeq United
22
11
0
1
0
0
25
13
Henbury
18
10
0
0
0
1
25
14
Little Stoke
19
4
0
0
1
2
15
15
Southmead CS Athletic
18
10
1
0
1
1
-10
Totals
88
4
2
5
3
2nd February 2019 - Other Cards Table 2018/19
Pos
Team
Played
Yellow
Red
Points
1
Rockleaze Rangers
20
11
0
11
2
Frampton United
22
13
1
18
3
Gala Wilton
21
18
1
23
4
Hanham Athletic
19
17
2
27
5
Little Stoke
19
20
2
30
6
Patchway Town
21
16
3
31
7
Henbury
18
22
2
32
8
Wick
19
20
3
35
9
Hardwicke
20
21
3
36
10
Stonehouse Town
18
26
2
36
11
Ruardean Hill Rangers
18
24
3
39
12
Broadwell Amateurs
21
24
4
44
13
AEK Boco
20
27
4
47
14
Lebeq United
22
32
3
47
15
Southmead CS Athletic
18
37
6
67
Totals
328
39
Yellow - 1 point
Red - 5 points
17th January 2019 - 50th Anniversary Dinner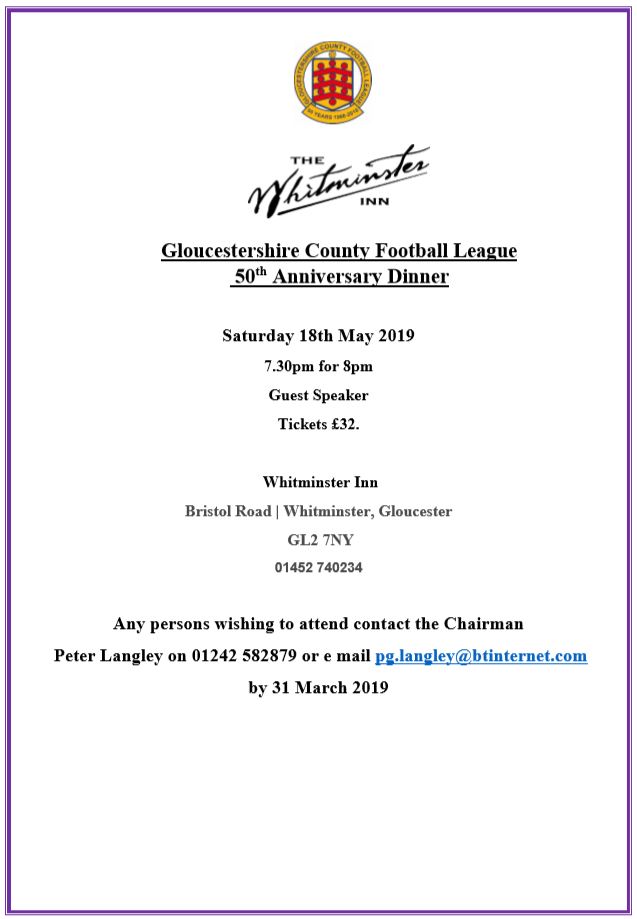 11th September 2016 - Marcliff Plumbing Supplies Sponsorship
The signing of a new 2 Year sponsorship deal between Marcliff and the league took place at Little Stoke before the game.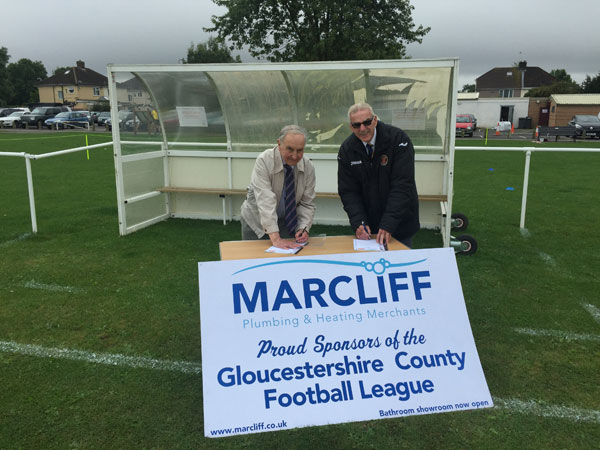 Cliff Orchard (Managing Director Marcliff) - Bob Stewart (Chairman League)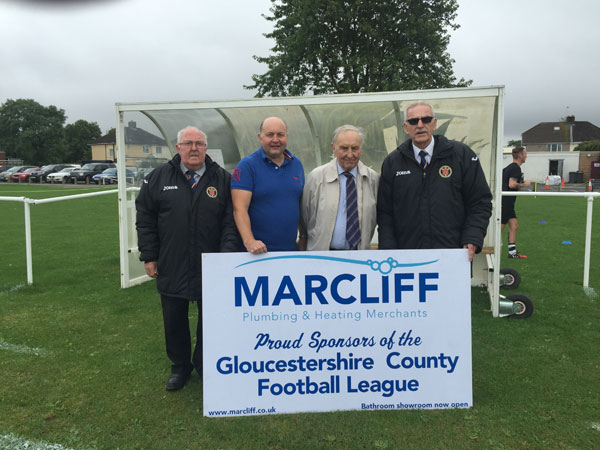 Ron Holpin General Secretary League – Rob Orchard (Director Marcliff) Cliff Orchard (Managing Director Marcliff) Bob Stewart (Chairman League)
Match Reports
4th May 2019 - 50th Anniversary Match - Marcliff Gloucestershire County League 1 Toolstation Western League 4
Harry Madge
In a fixture staged to commemorate the 50th anniversary of the Gloucestershire County League, a side comprising of players from across the league were defeated by a strong Toolstation Western League representative team.
The Western League side dominated the initial exchanges but did fall behind to a spectacular Nathan Hall free kick. Nick Beaverstock's side responded immediately through Adam Wright who then doubled his and his side's tally before the break.
The second half was a fairly tight affair but as the game entered its final minutes, the Western League side added a third and then a fourth through Tom Knighton and Douglas Cammilo to seal a deserved win.
Wick FC's Mike Strawford led the Glos County League side for the second time this season, and he selected players from nine of the league's 15 clubs for the game at the home of Stonehouse Town.
Nick Beaverstock of Welton Rovers managed the Western League side, which included five representatives from Toolstation Western League Division 1 champions Keynsham Town.
After a scrappy opening five minutes, the first chance of the game fell to the Toolstation side. Toby Cole met Harley Purnell's driven corner at the front post, but his glancing header flashed wide.
Moments later, Cole went close again, this time dragging his volley just wide after he had raced clear of the Glos County side's back four.
The Toolstation side maintained their pressure, and with 18 minutes played they again went close to an opener. Another Purnell corner was driven out to Adam Wright whose fierce volley failed to test Steve Sparrow in goal.
Despite having to withstand heavy pressure, it was actually Strawford's Glos County side that took the lead with 25 minutes on the clock. After Danny Webb was hauled down 25-yards from goal, Nathan Hall took ownership of the resulting free-kick and fired it over the wall and past Adam Clatworthy.
The lead was short-lived however and just five minutes later the Toolstation outfit leveled the scores. Purnell, who continued to pull the strings from centre midfield, sprayed a precise ball over the top for Wright who this time made no mistake, drilling the ball into the bottom corner.
Now looking to take full control of the fixture, Keynsham Town's Purnell then almost turned scorer but his strike from a narrow angle cannoned back off the post.
With half-time fast approaching, the Glos County side had a golden opportunity to reclaim an unlikely lead. Strawford's side's relentless pressing saw Edward Bamfo win possession in the final third, but his whipped cross into the box was just too high for the unmarked Webb.
That missed chance would prove costly though, and with only two minutes of the half remaining the impressive Wright added his and his side's second. The front man sped onto Jack Miluk's cross and curled an unstoppable shot past the sprawling Sparrow to give the Toolstation side a 2-1 lead at the break.
The start of the second half maintained a similar pattern to the first but despite Wright, Miluk and Tom Knighton fashioning half chances, the Toolstation side could not add to their one goal lead.
The Gloucester County rep side did still carry a threat on the break, though. Some last ditch defending by substitute Luke Ingram was the only thing that stood in the way of Hall adding a routine second. From the resulting corner, Alex Kibble's corner struck the bar but dropped just short of an onrushing Webb.
A slightly low-key period ensued but in the 75th minute the game exploded back into life as the Western League representatives extended their lead. Substitute Knighton latched onto a Douglas Camillo through ball, rounded Sparrow and coolly slotted into an empty net.
Minutes later Camillo scored his side's fourth to seal a comprehensive victory. The Western League outfit was awarded a free-kick just outside the box when Purnell was hacked down on his way into the box. Camillo then stepped up and nonchalantly placed the ball into the bottom corner despite the best efforts of Sparrow in the Glos County League goal.
With victory already sealed, Wright had the opportunity to seal his hattrick with mere minutes left but with only Sparrow to beat the striker surprisingly blazed his shot over the bar.
The final minutes of the celebratory fixture played out without incident as the Western League side ran out 4-1 winners despite the valiant efforts of the representative side from the Gloucestershire County League.
Attendance : 90
Image Gallery available Here in higher quality
28th April 2019 - Little Stoke lift Les James Cup sponsored by Boca Teamwear - AEK Boco 0 Little Stoke 0 (1-4 on pens)
Jon Palmer
LITTLE Stoke lifted the Les James Gloucestershire County League Cup after a 4-1 penalty shoot-out triumph over AEK Boco on Sunday afternoon.
An ill-tempered final finished goalless after 90 minutes in front of a competition record attendance of 420 gathered at Wick FC's Oldbury Lane ground.
Goalkeeper Ollie Jones was the hero for Little Stoke, saving two penalties to ensure his team finished the season with some silverware.
They also exacted revenge for their 1-0 league defeat by Boco a week earlier.
Jones kept out efforts from Scott Robson and Jack Mills after Casey Woodman had scored Boco's opening penalty.
Russ Church, former Bristol Rovers and Bath City man Lewis Hogg and Khalil Lamir were all successful for Little Stoke, leaving it to winger Jordan Yeo to convert the decisive spot kick and spark joyous celebrations.
Ash Cole's Little Stoke, who finished eighth in the County League, looked the more likely winners on the day against 2012 Les James Cup winners AEK Boco, who ended the season in 12th place.
There were several altercations and pushing and shoving, with no seemingly no love lost between the two Bristol-based sides.
Little Stoke's best efforts during the first half came from midfielder Kieran Williams, who fired one attempt over the bar, had one well blocked in the box and sent another just wide after a ball in from Yeo on the right was cleared to him.
Boco had a rare sight of goal in the 67th minute when substitute Saunders raced through, but he lost his footing before he could get a shot away.
Jack Burgess' shot cleared the bar at the other end a minute later.
The highest quality piece of action in open play came when teenage goalkeeper Liam Jacques made a superb diving save to his left, turning Church's shot around the post in the 82nd minute.
AEK Boco: L Jacques, S Hippisley, J Mills, L Powell, C Woodman, A Shopland, H Sealey, L Nash, S Robson, C Vinall, F Taylor. Subs: J Reeves, J Brown, F Taylor-Fox, J Saunders, J Beardwell.
Little Stoke: O Jones, D Matthews, A Hill, M Price, J Burgess, T O'Loughlin, L Hogg, K Williams, L Meacham, J Yeo, R Church. Subs: R Hedges, H Goldspink, L Spearing, K Lamir, J Bright.
Referee: Sam Fudge.
Attendance: 420.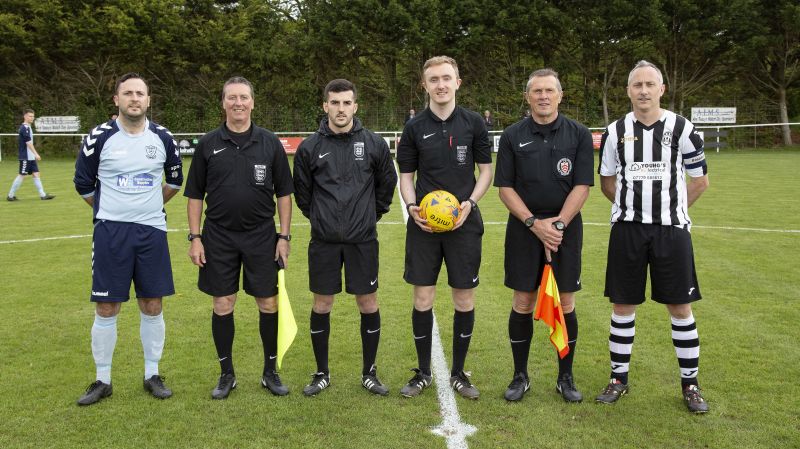 Captains and Match Officials - Image Courtesy of Hilary Isaac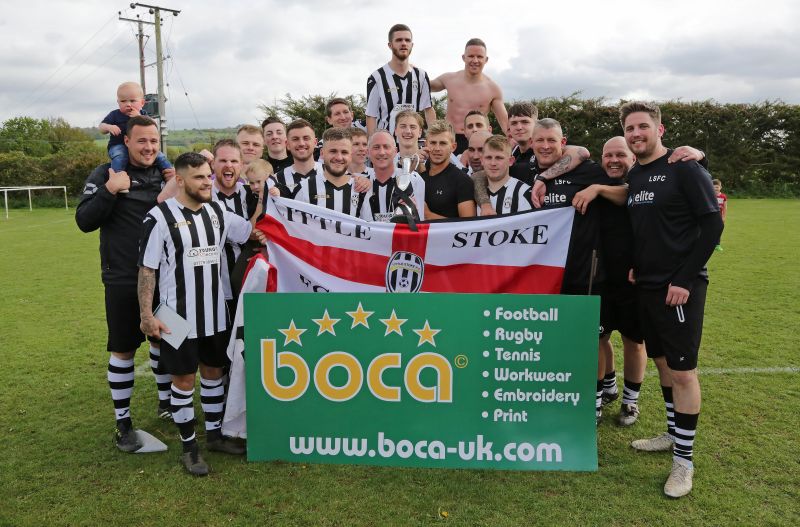 Little Stoke Les James Cup Winners 2018/19 - Image Courtesy of Hilary Isaac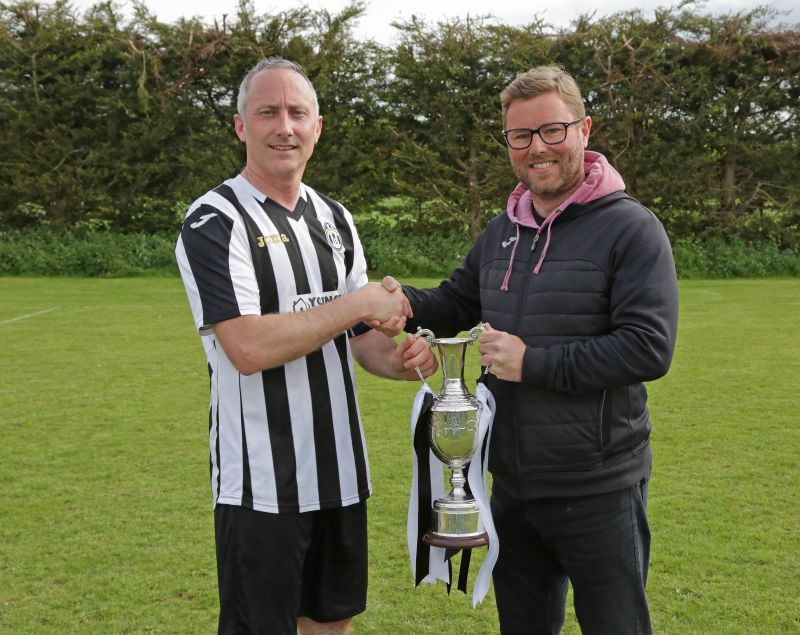 Rob Boyd (Managing Director - Boca Teamwear) presents the cup to Little Stoke Captain Matt Price - Image Courtesy of Hilary Isaac
Image Gallery available Here in higher quality