The league advises that you check with individual clubs for postponement of a match before travelling especially if the weather is poor. We will update Full-Time as soon as possible on match days, however this is dependant on availability of league officers.
5th June 2018 - Final Respect Table 2017/18
Dissent
Reported
Start 100
Pos
Team
Played
Yellow
2 Yellows
Red
Technical Area
After Match
Points
1=
Broadwell Amateurs
32
0
0
0
0
0
100
1=
Frampton United
32
0
0
0
0
0
100
3=
Rockleaze Rangers
32
4
0
0
0
0
80
3=
Wick
32
4
0
0
0
0
80
5
Stonehouse Town
32
5
0
0
0
0
75
6=
AEK Boco
32
6
0
0
0
0
70
6=
Thornbury Town
32
9
0
0
0
0
70
8=
Southmead CS Athletic
32
9
0
0
0
0
55
8=
Ruardean Hill Rangers
32
9
0
0
0
0
55
8=
Little Stoke
32
9
0
0
0
0
55
11
Hardwicke
32
10
0
0
0
0
50
12=
Kingswood
32
7
0
1
0
0
45
12=
Patchway Town
32
11
0
0
0
0
45
14
Henbury
32
5
1
1
0
0
40
15
Gala Wilton
32
13
0
0
0
0
35
16
Hanham Athletic
32
10
0
1
0
1
5
17
Lebeq United
32
12
0
1
1
0
40
Totals
120
4
1
1
1
22nd May 2018 - 2017-18 Match-day programmes for sale
A pack of 17 programmes will cost £5.50 including Packaging & Postage.
Please make Cheques payable to Gloucestershire County Football League

Please send to:

Ron Holpin
27, Brockley Close
Little Stoke
Bristol.
BS34 6HA.

MAKE SURE THAT YOU INCLUDE YOUR NAME AND ADDRESS

If you wish to contact me by email: "sec.gloscountyleague@btinternet.com
Tel: 01454 612842
6th May 2018 - Thornbury Town Champions 2017/18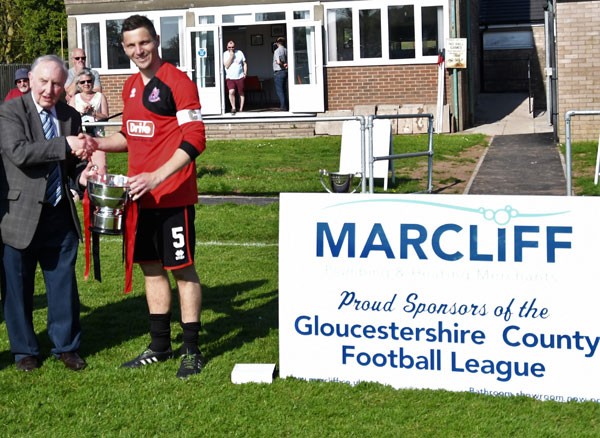 Cliff Orchard Managing Director Marcliff presenting the Trophy to Pete Fowler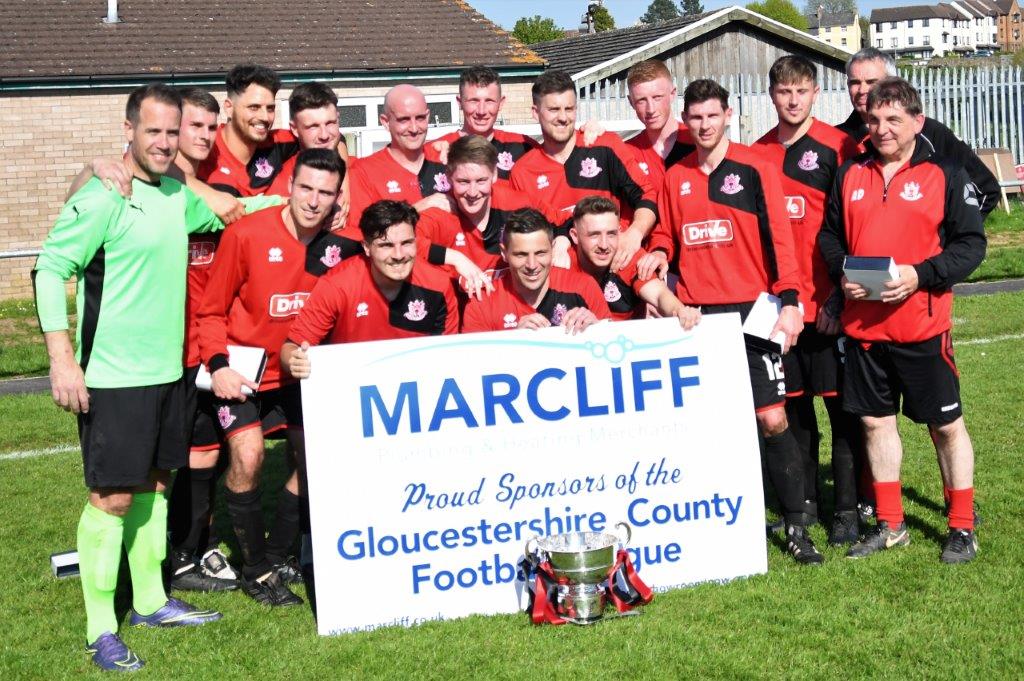 Thornbury Town - Champions Marcliff Gloucestershire County Football League 2017/18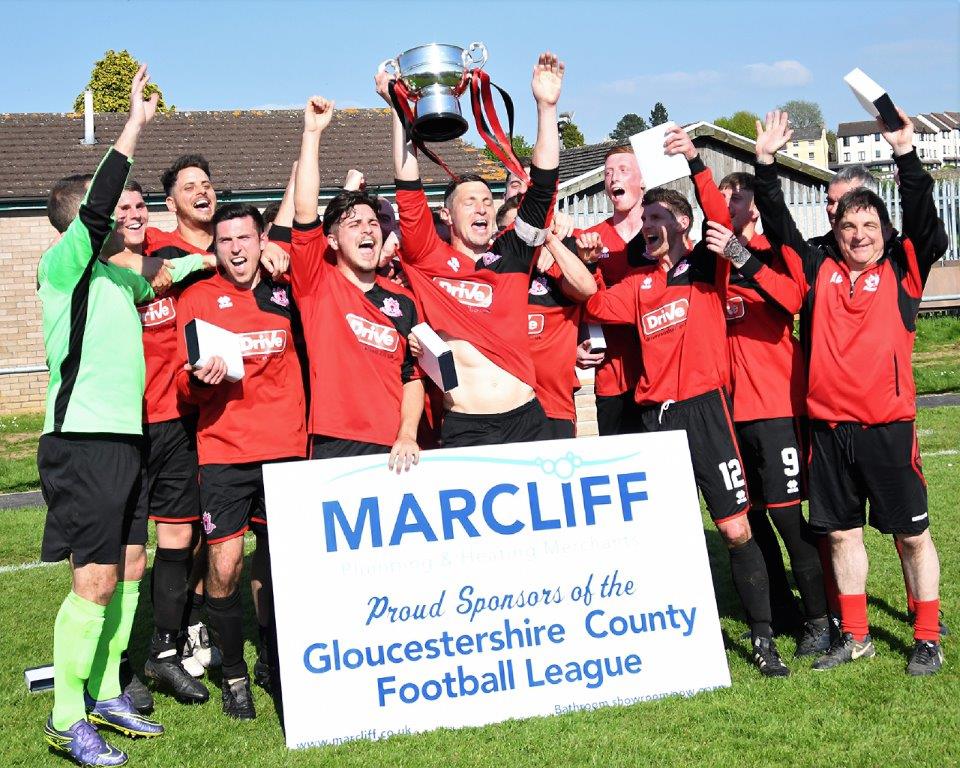 Thornbury Town - Champions Marcliff Gloucestershire County Football League 2017/18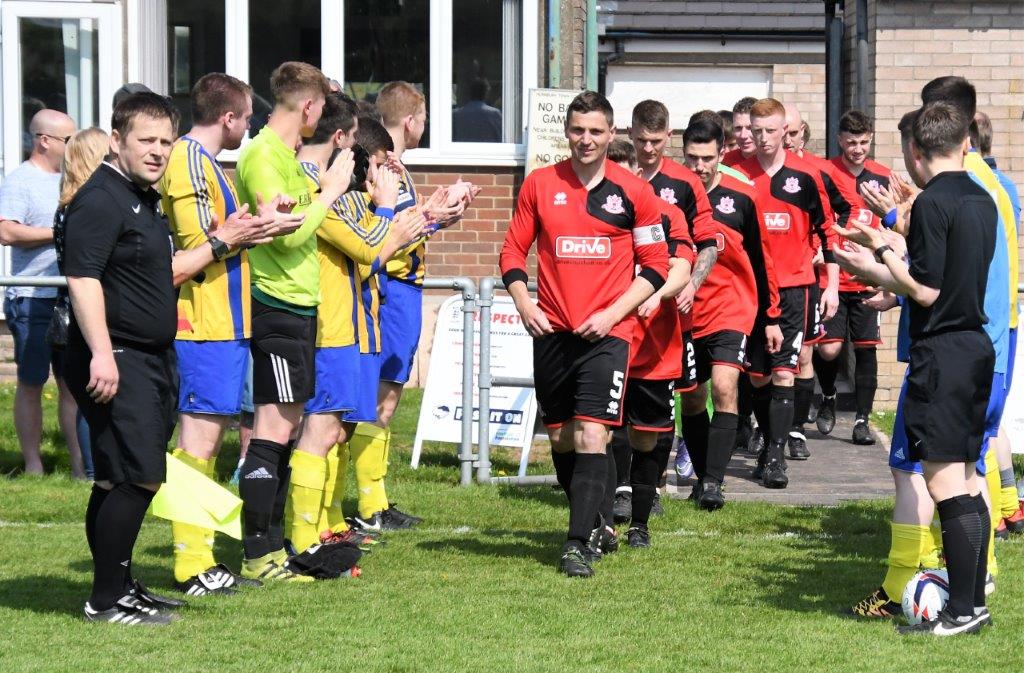 Thornbury Town - Champions Marcliff Gloucestershire County Football League 2017/18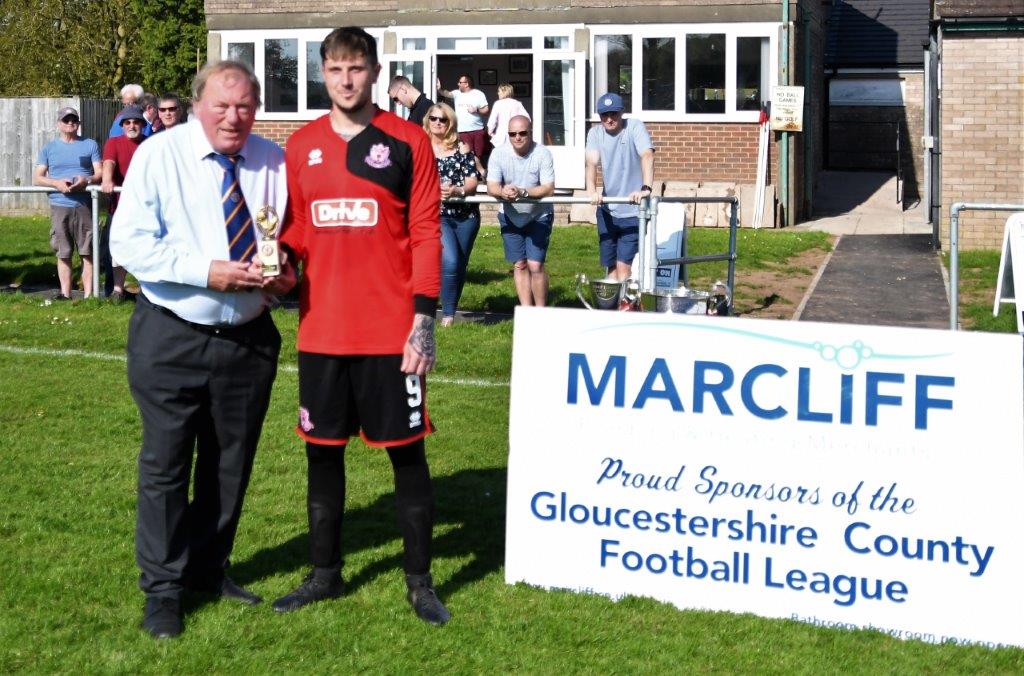 Craig Lancastle Leading Goalscorer 2017/18
18th March 2018 - Respect Table 2017/18
11th October 2017 - FA Discipline Handbook
The FA Discipline Handbook 2017-2018 can be found on the following link - FA Discipline Handbook clubs please share with managers and players.
2nd July 2017 - Respect 2017/18
Increase Respect in the League.
The aim is to decrease dissent and improve match participation.
All clubs will start with 100 points. Clubs must not fall below 65 points.
The criteria for losing points: -
Yellow card for Dissent

5 points

deducted.
2 Yellow Cards for Dissent (Sent off)

15 points

deducted.
Red card shown for Language

20 points

deducted.
Technical Area
Any person reported in the Technical Area for Language or Dissent

20 points

deducted.
Any Club Official, Player reported after the Match

25 points

deducted.
Prize Money for clubs remaining above the target of 65 points will be shared on a sliding scale.
11th September 2016 - Marcliff Plumbing Supplies Sponsorship
The signing of a new 2 Year sponsorship deal between Marcliff and the league took place at Little Stoke before the game.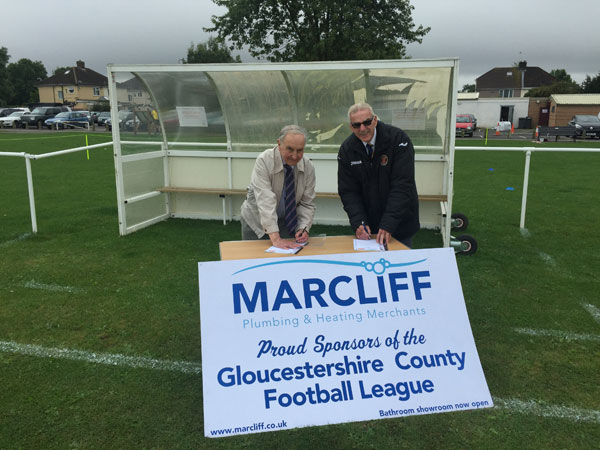 Cliff Orchard (Managing Director Marcliff) - Bob Stewart (Chairman League)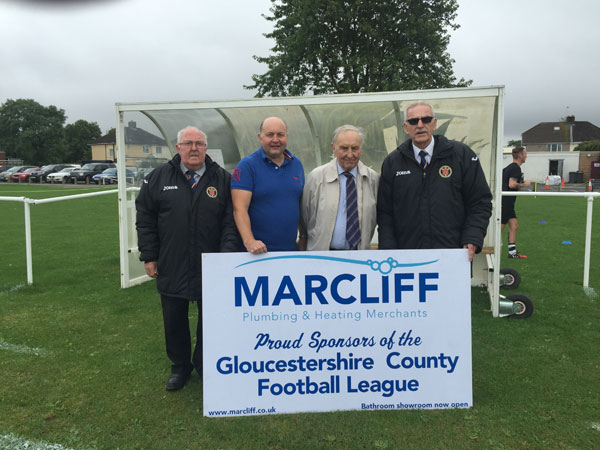 Ron Holpin General Secretary League – Rob Orchard (Director Marcliff) Cliff Orchard (Managing Director Marcliff) Bob Stewart (Chairman League)
Ron's Match Reports
12th May 2018 - Thornbury clain Les James Cup - sponsored by Boca Teamwear
Report courtesy Jon Palmer
A STUNNING volley from Nathan Sage was enough to secure a league and cup double for Thornbury Town.
Sage struck from 25 yards after a cross into the box was cleared to him in the 57th minute as the Gloucestershire County League champions added the Les James League Cup to their trophy cabinet.
It was a goal fitting for any final and 2015 winners Thornbury were deserving victors against a battling Frampton United side who were without several first team regulars through injury.
There were very few chances during a goalless first half, with Frampton managing to keep dangerman Craig Lancastle, who has scored 41 goals this term, relatively quiet.
Sage's goal lit up the match, which was watched by a healthy crowd at Stonehouse Town's Oldends Lane.
Frampton did have the ball in the net in the 66th minute, but substitute Jonathan Lewis was in an offside position and his effort was chalked off.
Scott McLeod crashed a low shot against the right post for Thornbury in the 76th minute.
Player/manager Steve Jackson went on from the bench for Frampton in a bid to rally his team three minutes later, but they could not find a way through and Tom Sheppard was rarely troubled in the Thornbury goal.
Frampton United: J Marklove, J Bartman, A Barrett, A Cox, D Brown, S Maule (J Lewis 64), L O'Neill, M Cook (A Lowe 85), A Price, R Vincent, M Espada (S Jackson 79).
Thornbury Town: T Sheppard, J Guest, T Webb, N Sage, P Fowler, M Viner, B Benjamin, T Bennett (D Jones 78), C Lancastle, M Warmwell (A Budder 90), S McLeod (N Irwin 90). Subs not used: A Clarke, J Brock.
Referee: Jack Clench.
Attendance 314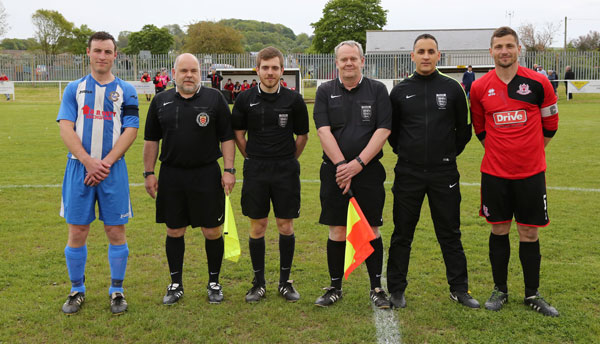 Team captains and Match Officials
Image courtesy Hilary Isaac - HJImages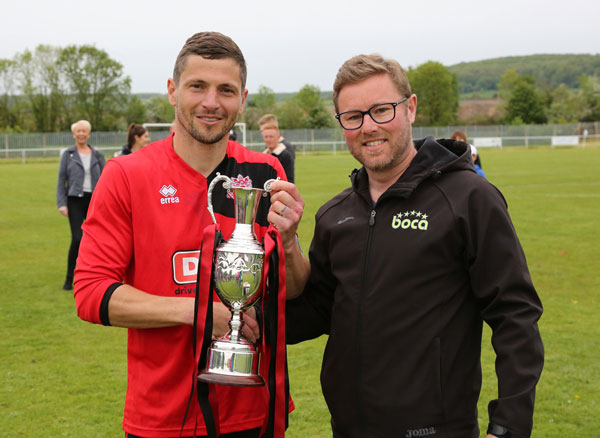 Thornbury Town Captain Pete Fowler recieves the cup from Rob Boyd Managing Director of Boca Teamwear
Image courtesy Hilary Isaac - HJImages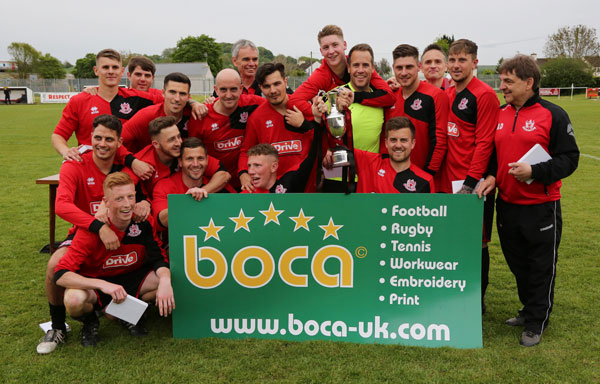 Thornbury Town - Les James Cup Winners 2017/18
Image courtesy Hilary Isaac - HJImages
12th May 2018 - Broadwell and Henbury share the spoils
Broadwell Amateurs completed their season with a 2-2 draw at home to Henbury. The first 45 minutes saw the sides fairly evenly balanced in play with Jordi Sheen just wide with a header for the homes side and Henbury's Jacob Hicks brushed the top of the crossbar with a free kick. The game came alive in the second period with the visitors taking the lead on 55 minutes when Hicks picked up the ball beat three defenders before bursting into the box to plant the ball into the top corner. The home side levelled the score on 70 minutes when Harry Williams latching on to a Sheen pass to slot the ball past the advancing keeper Luke Cox. 10 minutes later the home side were in front when provider for the first goal Jordi Sheen headed in a Guy Jones cross. Home keeper Jamie Merry then save well before a mix up in the home defence saw a loose ball headed in by Andrew Dickinson to gain a well earned point for Henbury.
An early deflected shot resulted in Kingswood first corner of the game which resulted in a half clearance and a long range effort from Tom Devine. On 10 minutes Ruardean took the lead through Luke Johnson after being allowed to run clear with no challenge and though keeper Fox got a hand to the ball it crept in. Both side continued to attack each other with Ruardean enjoying the majority although both teams cancelled each other out in the final third. Ruardean were reduced to 10 men when Bobby Walding received his second yellow for a late lunge only 5 minutes after the first for deliberate hand ball. A half chance for the Rangers on 40 minutes from corner was knocked down but cleared away from danger. Early exchanges from both side failed to result in a real threat. A shot from Croot after making a run from deep in his own half saw his effort sail over. A free kick in the 60th minute saw Fox save well at the near post, also claiming the rebound. A free kick from Rangers saw Matt Barnard direct his header wide. Immediately after a good run past 3 defenders by Levi Morris who failed to find a finishing touch. Kingswood began to make more of an attacking threat as the half grew on but without any real end product. A good interchange between Jones and Morris sent Read clear but his cross across the face of goal was missed by all. A minute later a free kick into the Ruardean box saw the ball drop loose but nobody was able to get it in the net. 80th minute and cross saw Barnard guide his headed effort well wide. Ruardean doubled their lead in the 85th minute as Luke Brown broke clear to round keeper Fox and slot the ball home. Controversy in the 90th minute as Ruardean's Barnard received his second yellow card for picking the ball up after it hadn't apparently gone out of play whilst trying to sheppard it out in the corner.