The league advises that you check with individual clubs for postponement of a match before travelling especially if the weather is poor. We will update Full-Time as soon as possible on match days, however this is dependant on availability of league officers.
3rd December 2018 - Wick looking to build on Trophy performance
By Simon Parkinson
WICK supremo Mike Strawford is steeling his men for a challenging spell as he strives to send them into the Christmas sabbatical fit and flying.
The Oldbury Lane outfit are enjoying a splendid second season in the Marcliff Gloucestershire County League and appear on course to better their eighth-place 2017-18 exploits if the first half of the campaign is anything to go by.
Wick approach tomorrow's stern away test with Stonehouse Town (2pm) fifth on the ladder with an impressive six wins and four draws to their name from 12 fixtures thus far.
And whilst they head to Oldends Lane to lock horns with their third-placed hosts without a win from four league and cup outings in the lead-up, Strawford feels they can enter the contest brimming with belief.
Wick, by their leader's own insistence, "should have" beaten title challengers Frampton United in their last league appearance, which they followed up with an encouraging first-half showing in a GFA Challenge Trophy third round tussle against Cadbury Heath on the Toolstation Premier Division side's own imposing Springfield patch.
"We started off really well in that one and played some lovely football for the first half-hour or so," the Wick boss acknowledged.
"Shaun Morris put us one-up from the penalty spot after Sam Thomas had his heels clipped inside the box, before Cadbury Heath came back to lead 2-1 at half-time and score twice more in the second half as we tired.
"It was always going to be a good gauge, to see where we stood against the bigger boys, and 4-1 in my view flattered Heath although we didn't look after the ball or get it forward quickly enough as we had been doing at the start.
"Against Frampton we were the better side without a doubt, although they were the ones leading 1-0 when our central midfielder Charlie Stevens was sent off for a second bookable offence which we felt was a bit harsh.
"We pushed our keeper Joe Pople up their end to try and rescue the situation and it worked as he was pulled down for a penalty and Shaun Morris stuck it away again.
"You'll always take a draw in those circumstances but because we'd dominated the game it was still a bit frustrating we didn't get more from it."
Strawford surveyed what's to come and stressed: "Stonehouse are a good and organised footballing side who play on a nice big pitch, so it should be a good game.
"The following Saturday we go to Hanham Athletic and that should be a good competitive match too as a lot of my old players have gone there, whilst their manager John Barker was my assistant here last year."
First things first and Wick travel to Stonehouse with no suspended Stevens to call upon. Jordan Scott will be assessed for a knock, while fellow forward Jay Hubbard is set to return from a lengthy lay-off with a persistent back condition.
The visitors also have winger Liam Henderson in their ranks again and his pleased manager explained: "Liam joined us in the summer but opted to move to Shirehampton to start with.
"But he's back with us now and he did really well in the Cadbury Heath game on his first appearance which bodes well."
10th November 2018 - Respect Table 2018/19
Dissent
Reported
Start 100
Pos
Team
Played
Yellow
2 Yellows
Red
Technical Area
After Match
Points
1
Frampton United
11
0
0
0
0
0
100
2
Ruardean Hill Rangers
9
0
0
0
0
0
100
3
Rockleaze Rangers
9
0
0
0
0
0
100
4
Hanham Athletic
10
1
0
0
0
0
95
5
Hardwicke
11
2
0
0
0
0
90
6
Patchway Town
10
3
0
0
0
0
85
7
Wick
11
3
0
0
0
0
85
8
Broadwell Amateurs
10
1
1
0
0
0
80
9
Little Stoke
9
0
0
0
1
0
80
10
Gala Wilton
11
4
0
0
0
0
80
11
Stonehouse Town
11
5
0
0
0
0
75
12
Lebeq United
12
6
0
1
0
0
50
13
AEK Boco
11
4
0
1
1
0
40
14
Henbury
10
9
0
0
0
1
30
15
Southmead CS Athletic
9
6
1
0
1
1
10
Totals
44
2
2
3
2
10th November 2018 - Other Cards Table 2018/19
Pos
Team
Played
Yellow
Red
Points
1
Rockleaze Rangers
9
5
0
5
2
Frampton United
11
2
1
7
3
Little Stoke
9
8
0
8
4
Gala Wilton
11
7
1
12
5
Hardwicke
11
10
1
15
6
Broadwell Amateurs
10
11
1
16
7
Wick
11
13
1
18
8
Hanham Athletic
10
9
2
19
9
Stonehouse Town
11
15
1
20
10
Henbury
10
11
2
21
11
Patchway Town
10
6
3
21
12
Ruardean Hill Rangers
9
14
2
24
13
AEK Boco
11
14
3
29
14
Lebeq United
12
21
2
31
15
Southmead CS Athletic
9
21
3
36
Totals
167
23
Yellow - 1 point
Red - 5 points
6th May 2018 - Thornbury Town Champions 2017/18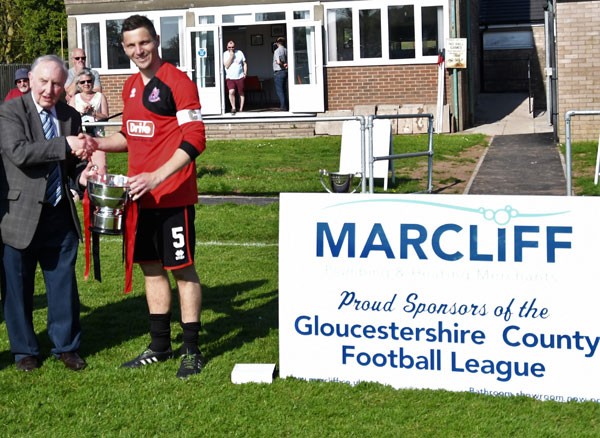 Cliff Orchard Managing Director Marcliff presenting the Trophy to Pete Fowler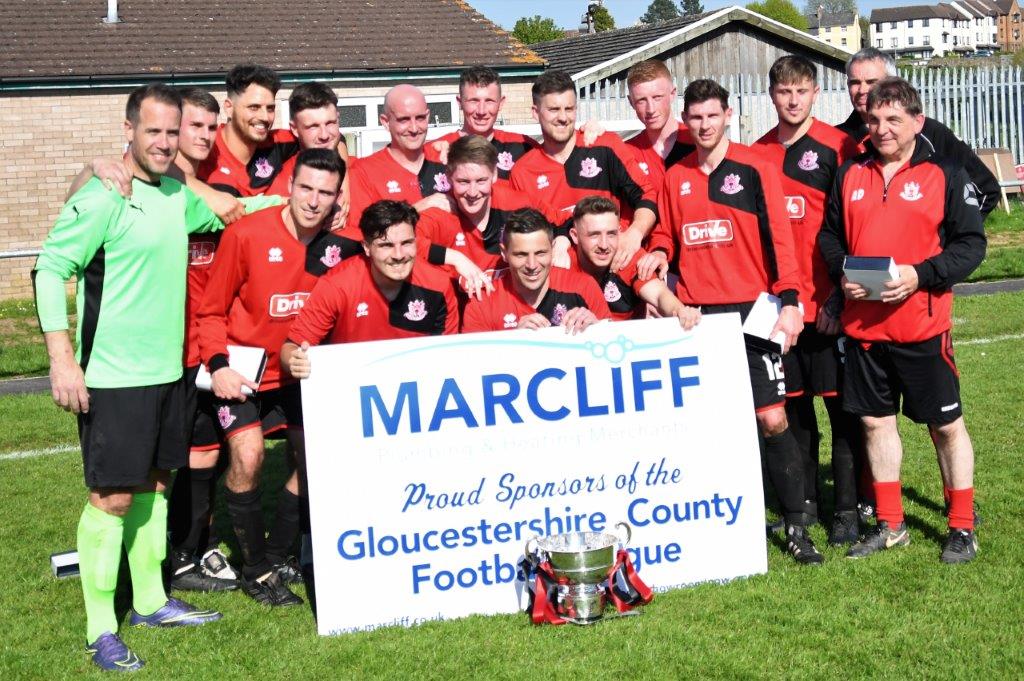 Thornbury Town - Champions Marcliff Gloucestershire County Football League 2017/18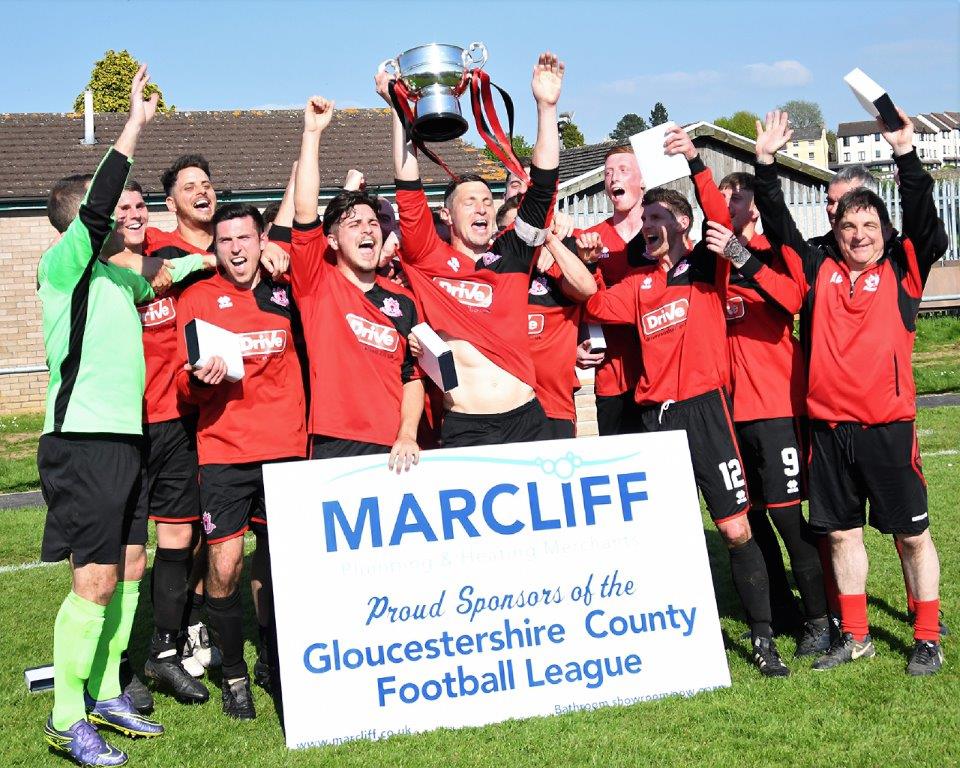 Thornbury Town - Champions Marcliff Gloucestershire County Football League 2017/18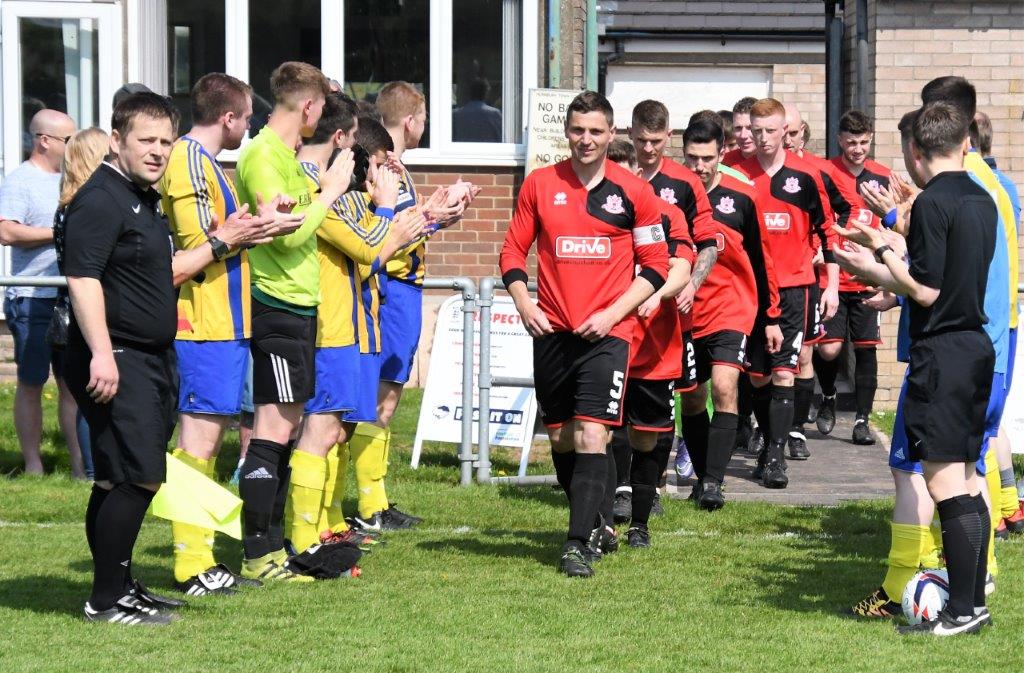 Thornbury Town - Champions Marcliff Gloucestershire County Football League 2017/18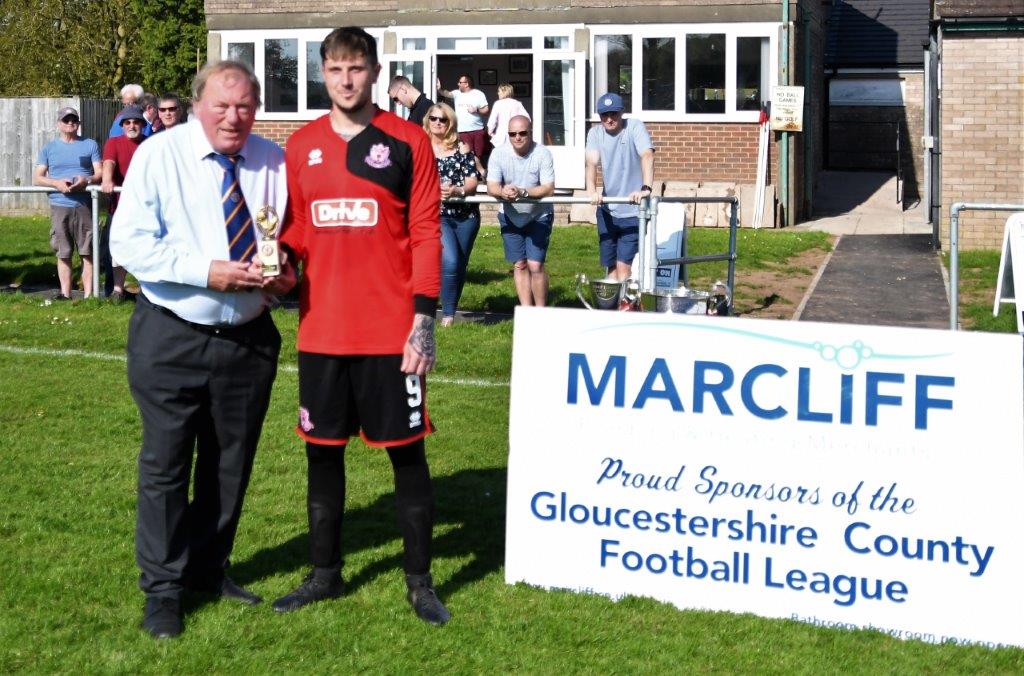 Craig Lancastle Leading Goalscorer 2017/18
11th September 2016 - Marcliff Plumbing Supplies Sponsorship
The signing of a new 2 Year sponsorship deal between Marcliff and the league took place at Little Stoke before the game.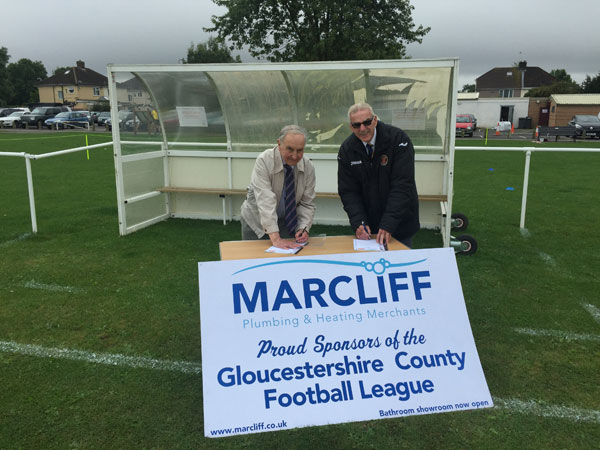 Cliff Orchard (Managing Director Marcliff) - Bob Stewart (Chairman League)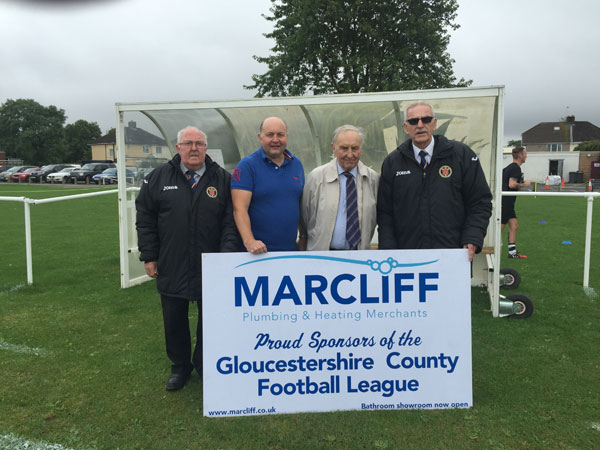 Ron Holpin General Secretary League – Rob Orchard (Director Marcliff) Cliff Orchard (Managing Director Marcliff) Bob Stewart (Chairman League)
Ron's Match Reports
8th December 2018 - Fast starting Lebeq win at Henbury
By Ron Holpin
A game of two halves at Arnell Drive where Henbury entertained league leaders Lebeq United. Right from the off Lebeq attacked the home goal and went ahead after just 26 seconds when keeper Cameron Tarr saved well from Plummer's shot but the rebound was struck home by Christian Dacosta. The home side might have levelled on 4 minutes from a free kick taken by Luke Cox that was blocked the ball eventually falling to George Loud but Lebeq keeper Amin Jones saved well. Another good save from Jones keeping out Louds point blank effort on 17 minutes saw the striker receive an injury and had to go off later after trying to run it off. Lebeq should have scored a second on 31 minutes from a break down the left by Christian Dacosta whose low cross into the six-yard box found Elan Plummer right in front of goal but his contact with the ball was poor and it went straight up into the air for Tarr to collect. The visitors made it 2-0 on 41 minutes from a good cross into the box from the right by Sheldon Sawyer that found Elan Plummer to fire past the keeper who just managed to get his hands to it but it finished up in the back of the net.
The second half belonged to the home side with the first chance falling to Joe Cox on 57 minutes as he broke clear of the visitor's defence but his poor shot was gathered by Jones. A couple of minutes later Harvey Moran cut in from the left flank slipped the ball to the unmarked Joe Cox whose 20-yard shot was brilliantly saved by keeper Amin Jones. On 63 minutes a cross from the left gave Jensen Manning a great opportunity to score but he missed the ball completely. The home side kept pushing and Adam Rosser was unlucky in the 80th minute with a 30-yard drive that went just past the post. Another chance went begging on 83 minutes when Substitute Sam Fitzpatrick was clear on goal but his shot failed to beat Jones. Henbury may have lost this game but they created enough chances to have won it.
Frampton United sitting in second place travelled to Ruardean Hill Rangers lying in fourth position in the table and came away with the three points with a 4-1 success. Outfield player Nathan Dennis was between the stick for Frampton today and saved well from Rangers Luke Brown early on. Another chance for Brown on 20 minutes after a good build up resulted in the ball flying over the bar. Dennis was in action again on 43 minutes turning Luke Browns shot over the bar. Then right-on half-time Luke Johnson was put clear by Kane Fellows but his shot went past the post. There was a strong wind blowing straight down the pitch and although the home side had been the better side in the first 45 minutes, they had nothing to show for it. Frampton's Ryan Vincent then opened the scoring when he latched onto a long ball to fire past Underwood for the first of his four goals of the afternoon. It was Vincent again making use of the long ball and the wind to score number two and then made it 3-0 when he was put clear on goal. Steve Coombs pulled a goal back for the home side late on but Vincent completed the scoring on 80 minutes to make it 4-1 to Frampton all the goals arriving in the second half.
Rockleaze Rangers results on their new ground has been one win and two lost and they went down 2-1 at home to Stonehouse Town today. Rangers almost opened the scoring on 7 minutes but town keeper Will Pedrick brought off a great save to deny Marcus Williams. The visitors went ahead on 28 minutes when Alex Kibble fired the ball into the top corner giving home keeper Lewis Brodie no chance. Rangers levelled the score in the 60th minute when Mark Ridgeway gave keeper Will Pedrick no chance from 18 yards. Stonehouse almost got a second on 72 minutes but for a Freddie Short block on the line. Town netted the winner in the 80th minute when Liam Gales shot took a wicked deflection over Lewis Brodie into the Rangers net.
What a come back from AEK Boco trailing 3-0 at Southmead CS Athletic to gain a point in a 3-3 draw. The home side went ahead on 15 minutes when Aysa Corrick volleyed home from 30 yards. The scoreline increased to 2-0 on 30 minutes when a free kick from Otis Francis was spilled by the Boco keeper and Adom Heron was on hand to knock it in. A 35-yard shot from Otis Francis 3 minutes into the second half made it 3-0 and the cards were on the table, but Boco hit back on 50 minutes with a break down the flank by Jacob Saunders who cut in to fire the ball home. Boco struck again on 58 minutes when Southmead's John Henson handled on the line and was dismissed. The referee awarded a penalty and Saunders stepped up to make it 3-2. In the 80th minute Boco were awarded a free kick on the edge of the box and Cash Vinall sent the ball whistling into the bottom corner.
Broadwell Amateurs visit to Hardwicke was very successful coming away with a 4-2 win. At one stage in the game they were leading 4-0. Broadwell took the lead on 15 minutes when Liam Jacques squeezed his shot just inside the post from 30 yards. The home side were unlucky on 28 minutes when Jed Johnson's shot went just over the crossbar. Then a few minutes later Will Higgins saw his shot pushed over the bar by keeper Sadler. Broadwell went two up on 53 minutes from a great through ball from Gary Lewis to Harry Williams to run clear and score. Just 2 minutes later it was three nil Greg Lewis heading home from a corner. Broadwell made it 4-0 on 66 minutes this time it was Danny Latham netting from a corner. Hardwicke eventually found the back of the net on 83 minutes from a James Ratcliffe corner that was headed clear but Will Higgins lifted the ball back over Sadler. The home side got a second two minutes from the end when Pat Vernall headed home a James Ratcliffe corner.
A real local derby between Patchway Town and Little Stoke with just a mile between the Clubs. Little Stoke almost scored after 8 minutes as Ash Wells cleared off the line for Patchway. On 14 minutes the visitors had another chance to open the scoring but Luke Meacham fired over. The home side had a great chance in the 25th minute when Dan Rees was clear on goal but his effort was smothered by the Stoke keeper. Stoke went ahead on 30 minutes when a cross into the box found Tim O'Loughlin to fire past Sam Burgess in the home goal. The home side levelled the score up on 40 minutes when Dan Rees scored. Burgess then saved Luke Meacham's effort from point blank range on 50 minutes, but a minute later Ethan Tucker put Stoke ahead again. Dan Rees netted his second of the afternoon on 73 minutes to level the score again the goal coming when Stoke's Matt Price and the keeper got into a muddle with Price heading the ball over his own keeper to allow Rees the simple task of running the ball into an empty net. The winner came on 80 minutes when Joe Dalby set up Luke Garbacz to make it 3-2.
98 spectators turned up for the game at Hanham Athletic where today's visitors were Wick. The game ended all square with the first chance falling to Wicks Sam Thomas after 25 minutes his shot hitting the post from a 20-yard free kick. The home sides first real chance on 40 minutes was a great shot from Joe Treasure that was really well saved by keeper Joe Pople. The home side took the lead on 60 minutes from a Jack Camm free kick that was headed back across goal by Sam Brown and Luke Clapp tapped the ball in from 5 yards. The home side might have made it 2-0 but George Cryer missed the chance. It looked as though the home side had done enough to earn all three points until the 90th minute when Keiron Hutson popped up to score from a corner.