The league advises that you check with individual clubs for postponement of a match before travelling especially if the weather is poor. We will update Full-Time as soon as possible on match days, however this is dependant on availability of league officers.
15th October 2018 - Respect Table 2018/19
Dissent
Reported
Start 100
Pos
Team
Played
Yellow
2 Yellows
Red
Technical Area
After Match
Points
1
Frampton United
9
0
0
0
0
0
100
2
Ruardean Hill Rangers
6
0
0
0
0
0
100
3
Hanham Athletic
7
0
0
0
0
0
100
4
Rockleaze Rangers
6
0
0
0
0
0
100
5
Hardwicke
8
2
0
0
0
0
90
6
Stonehouse Town
8
2
0
0
0
0
90
7
Patchway Town
7
2
0
0
0
0
90
8
Wick
7
3
0
0
0
0
85
9
Lebeq United
8
3
0
0
0
0
85
10
Broadwell Amateurs
8
1
1
0
0
0
80
11
Little Stoke
6
0
0
0
1
0
80
12
Gala Wilton
8
4
0
0
0
0
80
13
Southmead CS Athletic
6
2
1
0
0
0
75
14
Henbury
7
5
0
0
0
0
75
15
AEK Boco
9
2
0
1
1
0
50
Totals
26
2
1
2
0
15th October 2018 - Other Cards Table 2018/19
Pos
Team
Played
Yellow
Red
Points
1
Little Stoke
6
3
0
3
2
Rockleaze Rangers
6
7
0
7
3
Frampton United
9
2
1
7
4
Henbury
7
8
0
8
5
Gala Wilton
8
5
1
10
6
Wick
7
7
1
12
7
Hanham Athletic
7
4
2
14
8
Hardwicke
8
10
1
15
9
Broadwell Amateurs
8
10
1
15
10
Stonehouse Town
8
11
1
16
11
Ruardean Hill Rangers
6
9
2
19
12
Patchway Town
7
5
3
20
13
Lebeq United
8
15
1
20
14
AEK Boco
9
12
3
25
15
Southmead CS Athletic
6
17
2
27
Totals
125
19
Yellow - 1 point
Red - 5 points
1st October 2018 - Kingswood FC
Kingswood FC have withdrawn from the league with immediate effect. Their record will be expunged.
6th May 2018 - Thornbury Town Champions 2017/18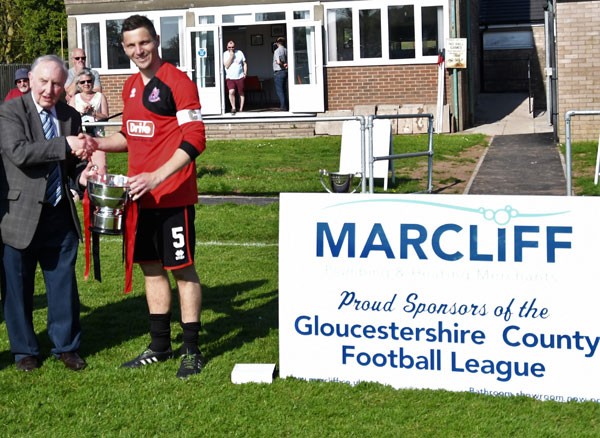 Cliff Orchard Managing Director Marcliff presenting the Trophy to Pete Fowler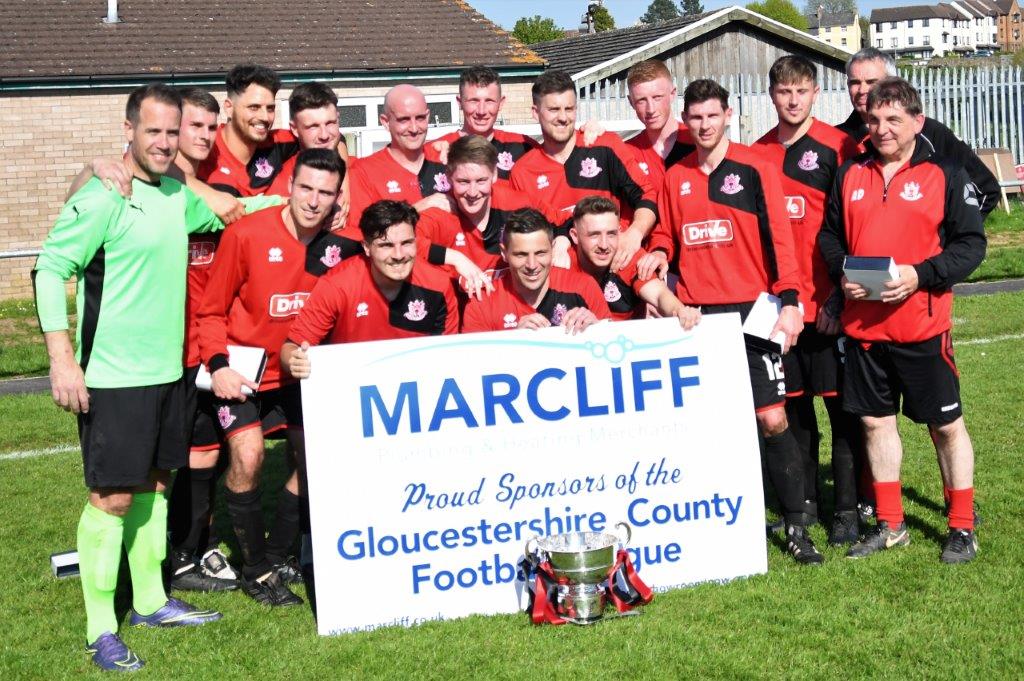 Thornbury Town - Champions Marcliff Gloucestershire County Football League 2017/18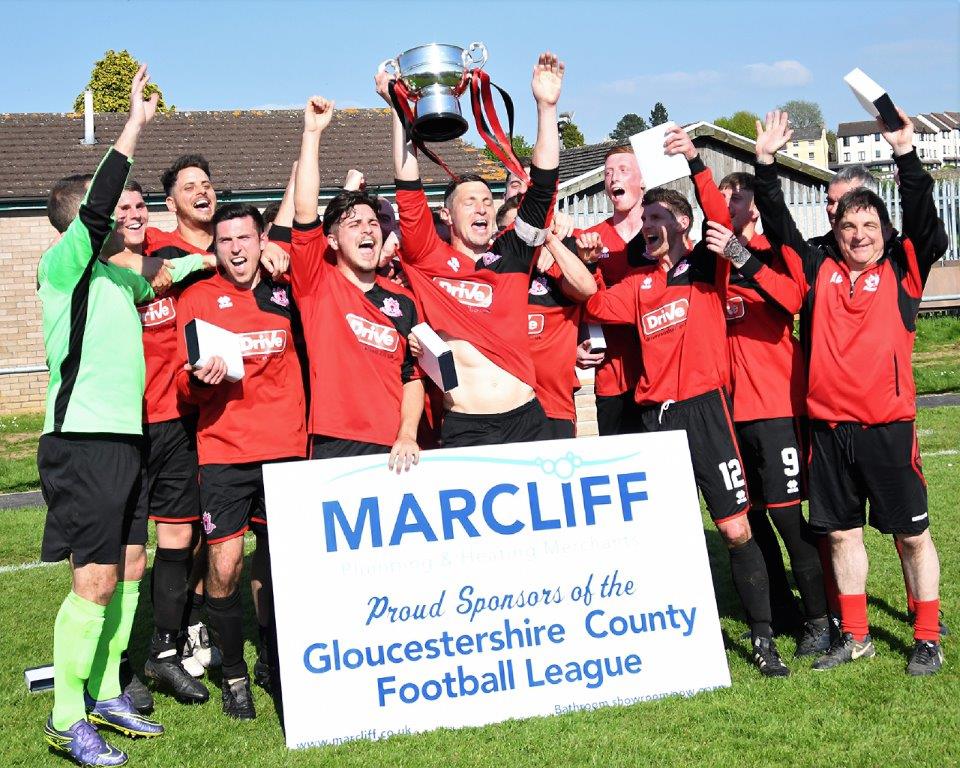 Thornbury Town - Champions Marcliff Gloucestershire County Football League 2017/18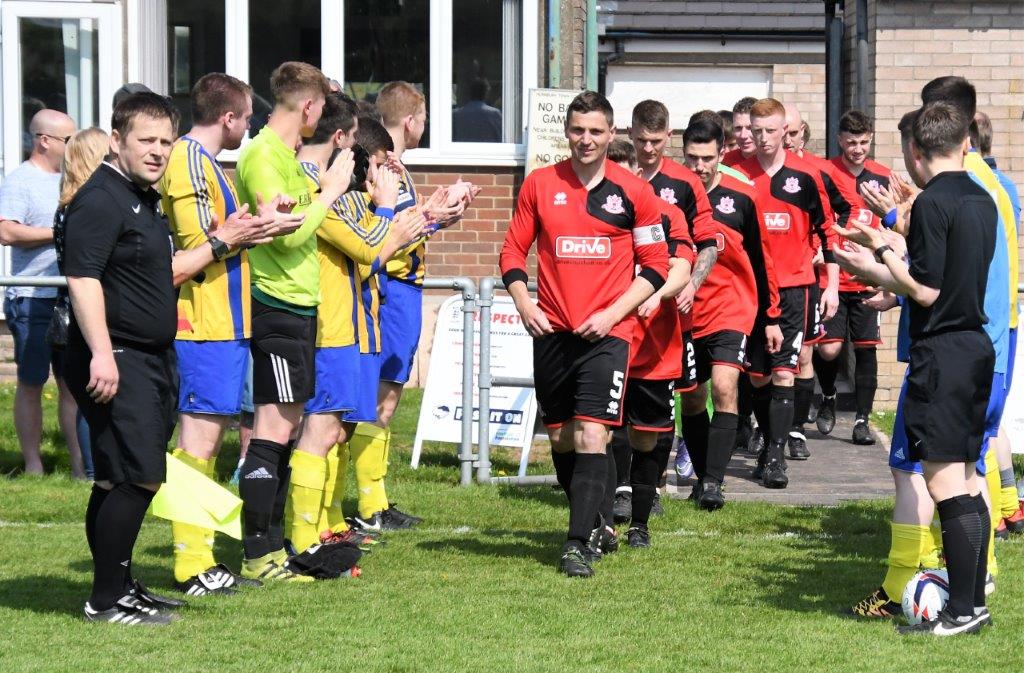 Thornbury Town - Champions Marcliff Gloucestershire County Football League 2017/18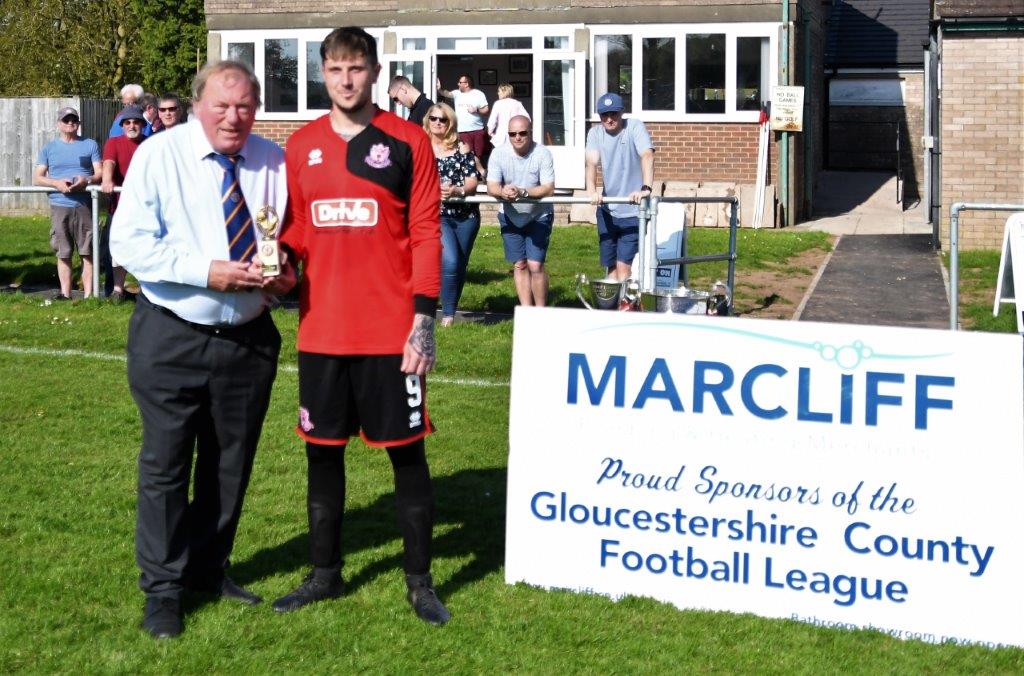 Craig Lancastle Leading Goalscorer 2017/18
11th September 2016 - Marcliff Plumbing Supplies Sponsorship
The signing of a new 2 Year sponsorship deal between Marcliff and the league took place at Little Stoke before the game.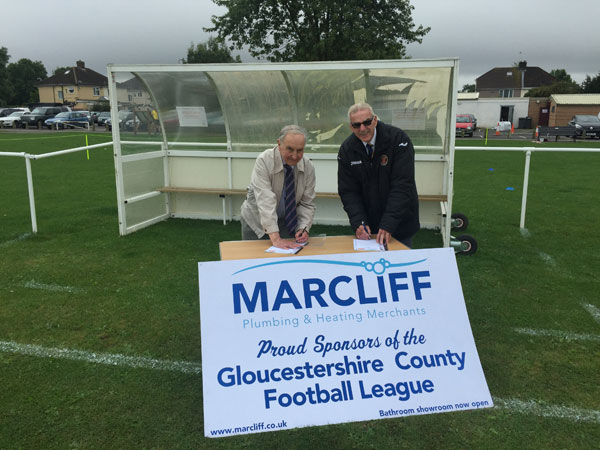 Cliff Orchard (Managing Director Marcliff) - Bob Stewart (Chairman League)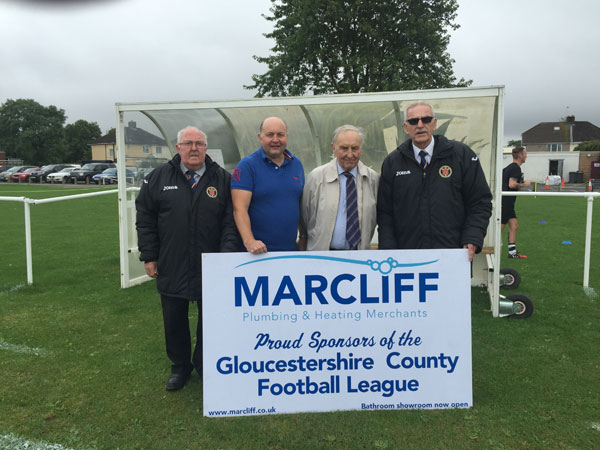 Ron Holpin General Secretary League – Rob Orchard (Director Marcliff) Cliff Orchard (Managing Director Marcliff) Bob Stewart (Chairman League)
Ron's Match Reports
20th October 2018 - Ruardean win to end Rockleaze winning streak
Rockleaze Rangers four match winning streak came to an end today when they were beaten 2-0 by today's visitors Ruardean Hill Rangers. The Forest team attacked right from the off and home keeper Lewis Brodie Pulled of a good save to deny Kane Fellows. For the next few minutes both sides failed with their passing just giving the ball away to each other. The visitors took the lead on 11 minutes with a great strike from Luke Brown. At the other end Dan Webb tried his luck with a shot from 25 yards but it went well over the bar. A second goal on 21 minutes for Ruardean came from a long ball up the right side where Luke Brown took in his stride and raced on to slot the ball past Brodie. On 26 minutes Rockleaze came close to scoring when a low shot from the edge of the box from Joe Weare saw the Ruardean keeper Aaron Underwood diving low to save. The visitors almost got a third just before the break with some really good football in the build-up which allowed Luke Brown to fire just past the post.
The home side started well in the second half and a break down the flank by left full-back Nick Jones had Underwood diving full length to push the shot around the post for a corner. A couple of minutes later a through ball to Weare was really well read by the keeper as he rushed out and prevented an almost certain goal. Ruardean hit back and home keeper Brodie could only parry a Kane Fellows shot over the bar. Jones was causing the visitors defence some real trouble and another good break down the left saw his cross pushed away for a corner. The best chance of the game for Rockleaze came in the 75th minute from a cross that came in from the right was met by Joe Weare but he steered his header wide. The last chance of the game fell to Rockleaze Rangers Ali Boyer but with a clear header on goal he sent the ball over the bar.
Little Stoke's last venture out ended in a heavy defeat but they made up for that today with a 2-1 win over struggling side AEK Boco. Boco surprised the home side in the 10th minute when a shot from the edge of the box by Joe Beardwell flew into the Stoke net. Boco could well have been 2-0 up on 24 minutes but for an outstanding save by home keeper Jones from a point blank Beardwell shot. Stoke were back in the game on 27 minutes when Luke Henderson broke in to the box and was upended and the referee pointed straight to the spot. Henderson hauled himself up and planted the ball into the Boco net to level the score. With 2 minutes being added to the first 45 minutes Stoke took the lead when Henderson's powerful shot rebounded of the post straight to Tim O'Loughlin drive the rebound into the Boco net. There were few chances in the second half until around five minutes from the end when Stokes Keiron Williams saw his goal bound shot turned around the post.
Hanham Athletic continue to climb the table steadily and recorded another 2-1 win against todays visitor's Southmead CS Athletic. The home side took a very early lead after 3 minutes when Tom Welling turned in a corner from Sam Brown. Hanham then missed several good opportunities to increase the lead with new signing Jack Camm – George Cryer and Max Barker being the culprits. On 63 minutes Southmead levelled the score from the penalty spot neatly tucked away by Remi Ferguson. Hanham grabbed the winner on 77 minutes with a superb effort from George Cryer.
League leaders Lebeq United came away with a slender 1-0 win at strugglers Gala Wilton. The home side had made up their minds that they would try and frustrate a united side by defending deeply and hoping for the odd break. They managed to do this until the 30th minute when the visitors took the lead from a cross into the box where Sheldon Sawyers avoided his marker and headed the ball home. The game continued in the same vein in the second half with the home side frustrating the united side by defending very deep. Then in the 56th minute Gala had their first attempt on goal a shot from Danny Knight that went just the wrong side of the post. On 75 minutes a shot from Tom Dunsford crashed against the crossbar and United turned the rebound into attack and almost got a second goal but for a fantastic save from keeper Dan Brabham. Gala almost got a point out of the game in the 88th minute from a corner that was punched clear by United keeper Amin Jones but the ball was pumped back into the box and Peter Boyles header went just wide.
What a difference a week makes. Last Saturday Broadwell Amateurs face the same opposition in Patchway Town in the GFA Challenge Trophy Cup and lost 4-0. This week they returned for a league match and went away with the three point and a slender 1-0 win. The home side had a lot of possession in this game but failed to turn it into goals. They should have scored after 4 minutes when Dan Bendall was through on goal but was thwarted by a fine save from keeper Jamie Merry. At the other end Kristian Burnard went close with a header that just cleared the bar. The only goal of the game on 10 minutes came from across into the box by Ben Fishwick that found Harry Williams whose shot saw keeper Sam Burgess get his hand to the ball but could not stop it going in. Although the home side had a lot of the play in the second half they failed to break through a well organised defence.
Stonehouse Town were held to a 1-1 draw by todays visitors Henbury. They gave the visitors a head start on 13 minutes when Ben Carmen's poor back pass was picked up by Harvey Moran whose first shot was saved by keeper Will Pedrick but slotted home the rebound. Trailing 1-0 at the break the home side started well in the second half and Dan Martin had his effort well saved by the Henbury keeper. Stonehouse levelled the score on 51 minutes when Alex Kibble lifted the ball over the Henbury defence for Dan Martin to run clear and lob the ball over the advancing keeper. Home keeper Will Pedrick then brought of a fantastic save to deny Henbury taking the lead from a Nathan Hewitt shot and Tom Palmer scrambled the ball away from a corner. With just 5 minutes left on the watch Chris Earle sent the ball through to Luke Soule but unfortunately, he failed to control the ball and the chance was gone.
A 2-2 draw at Oldbury Lane between Wick and Hardwicke. Hardwicke started the better and several early chances went begging opened the scoring on 15 minutes when Kieran Bryce-Ingles scored. Wick's Dan Wingfield, Shaun Morris and Joe Thomas all had several chances to level but some indifferent finishing and good goal keeping kept them out. On 43 minutes home keeper Joe Pople fouled Will Matthews in the box and from the resulting penalty Will Higgins made it 2-0 to the visitors at the break. Wick continued to press and on 53 minutes Shaun Morris's set up Joe Thomas but his shot struck the post. The constant pressure paid off and in the 70th minute from a corner that came into the box there was an almighty scramble with Jordan Scott getting the final touch to make it 2-1. A couple of minutes later Dan Wingfield saw his shot cleared off the line and then Dan Sheldon struck the crossbar. The equalising eventually came 2 minutes into added time from great work by Joe Thomas and finished off by Harry Madge.