The league advises that you check with individual clubs for postponement of a match before travelling especially if the weather is poor. We will update Full-Time as soon as possible on match days, however this is dependant on availability of league officers.
5th June 2018 - Final Respect Table 2017/18
Dissent
Reported
Start 100
Pos
Team
Played
Yellow
2 Yellows
Red
Technical Area
After Match
Points
1=
Broadwell Amateurs
32
0
0
0
0
0
100
1=
Frampton United
32
0
0
0
0
0
100
3=
Rockleaze Rangers
32
4
0
0
0
0
80
3=
Wick
32
4
0
0
0
0
80
5
Stonehouse Town
32
5
0
0
0
0
75
6=
AEK Boco
32
6
0
0
0
0
70
6=
Thornbury Town
32
9
0
0
0
0
70
8=
Southmead CS Athletic
32
9
0
0
0
0
55
8=
Ruardean Hill Rangers
32
9
0
0
0
0
55
8=
Little Stoke
32
9
0
0
0
0
55
11
Hardwicke
32
10
0
0
0
0
50
12=
Kingswood
32
7
0
1
0
0
45
12=
Patchway Town
32
11
0
0
0
0
45
14
Henbury
32
5
1
1
0
0
40
15
Gala Wilton
32
13
0
0
0
0
35
16
Hanham Athletic
32
10
0
1
0
1
5
17
Lebeq United
32
12
0
1
1
0
40
Totals
120
4
1
1
1
6th May 2018 - Thornbury Town Champions 2017/18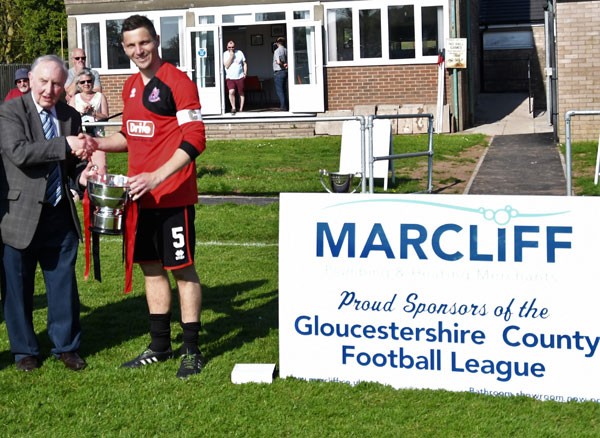 Cliff Orchard Managing Director Marcliff presenting the Trophy to Pete Fowler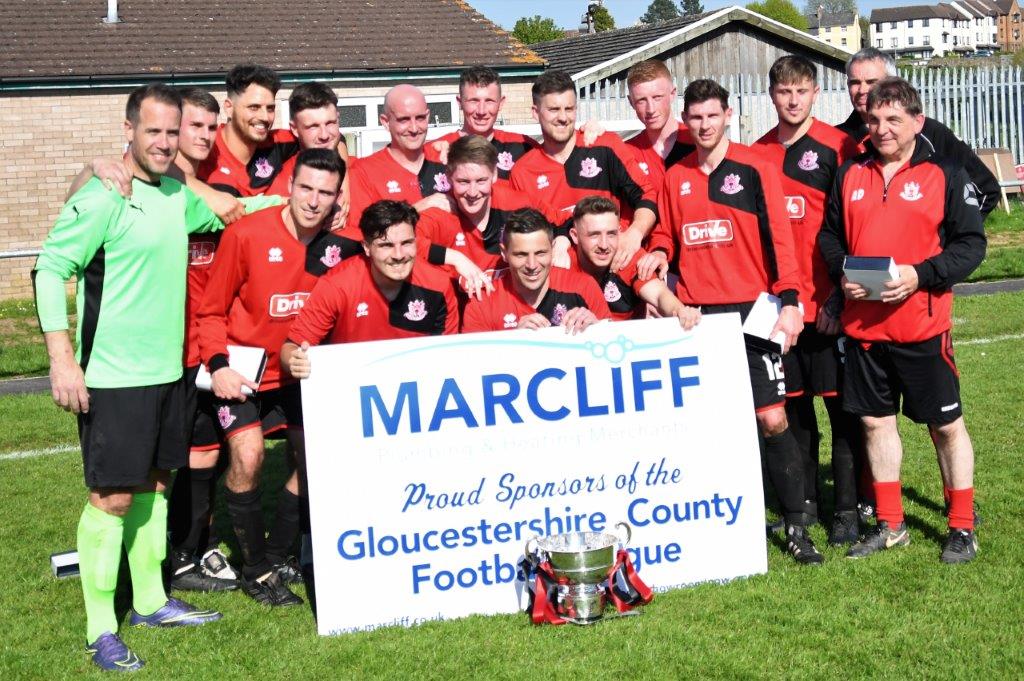 Thornbury Town - Champions Marcliff Gloucestershire County Football League 2017/18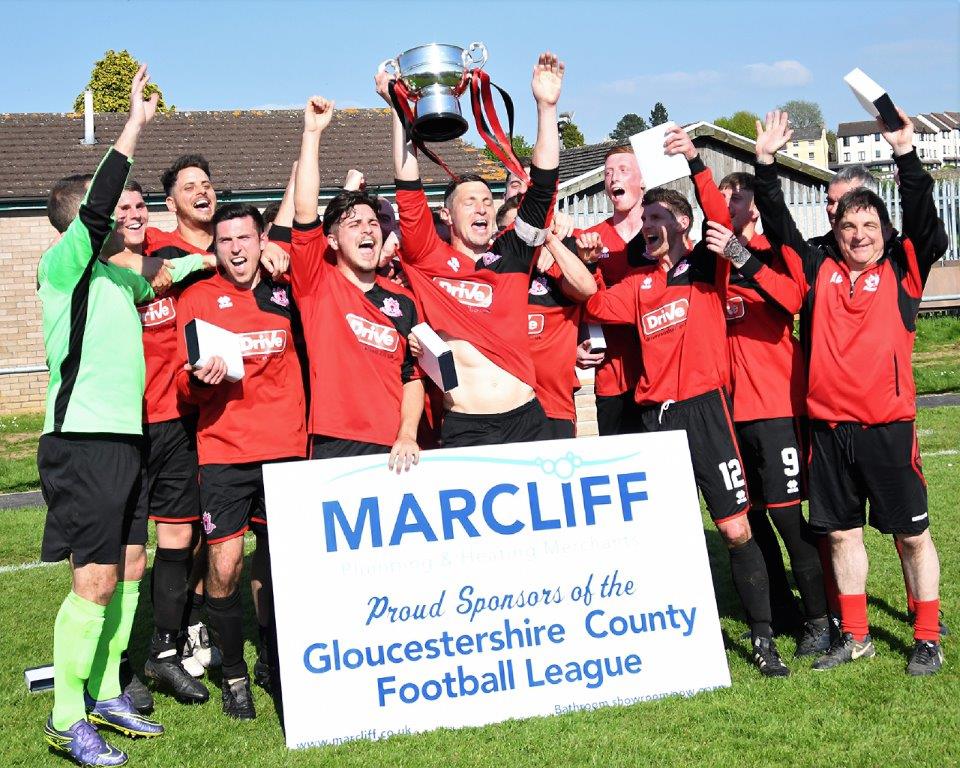 Thornbury Town - Champions Marcliff Gloucestershire County Football League 2017/18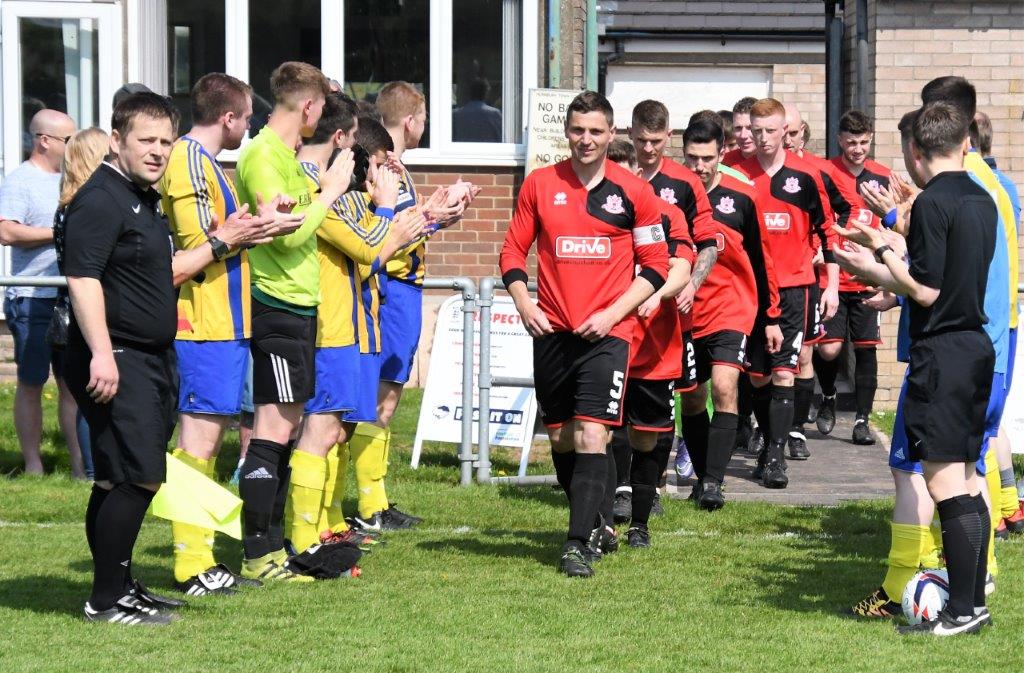 Thornbury Town - Champions Marcliff Gloucestershire County Football League 2017/18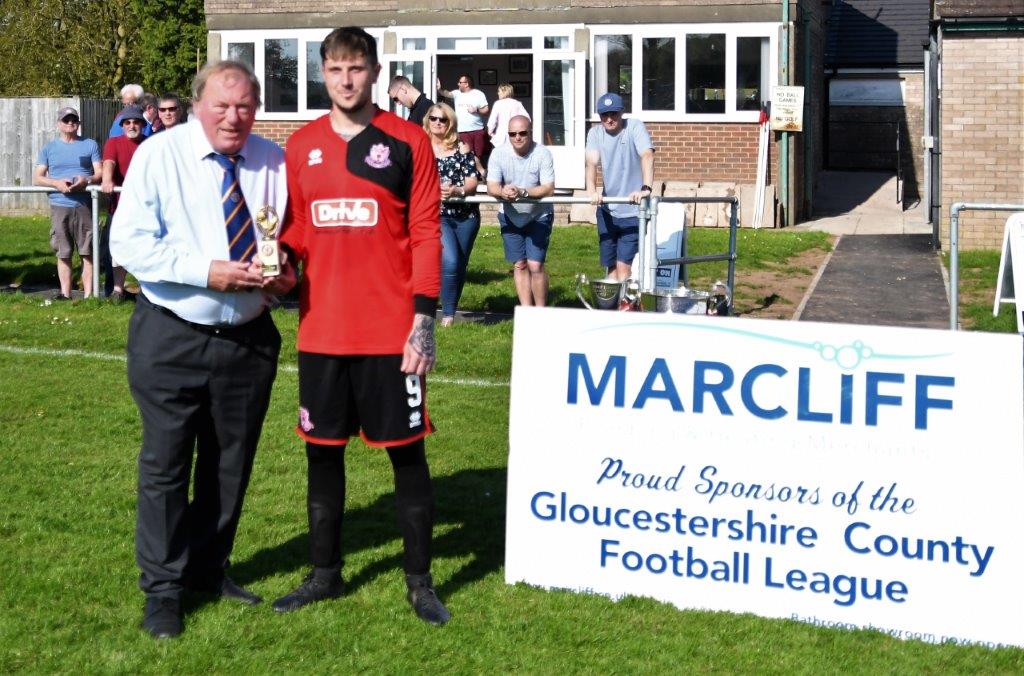 Craig Lancastle Leading Goalscorer 2017/18
11th September 2016 - Marcliff Plumbing Supplies Sponsorship
The signing of a new 2 Year sponsorship deal between Marcliff and the league took place at Little Stoke before the game.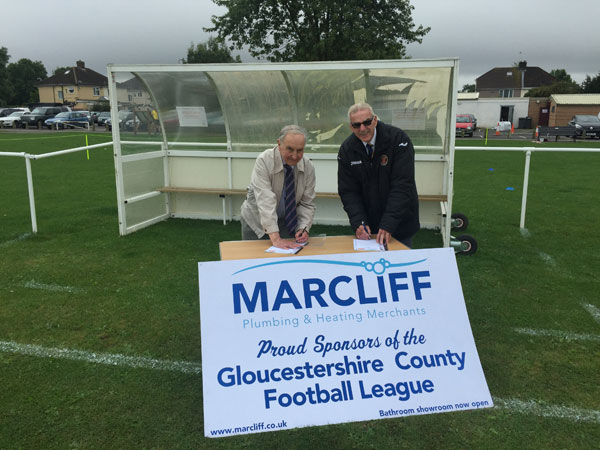 Cliff Orchard (Managing Director Marcliff) - Bob Stewart (Chairman League)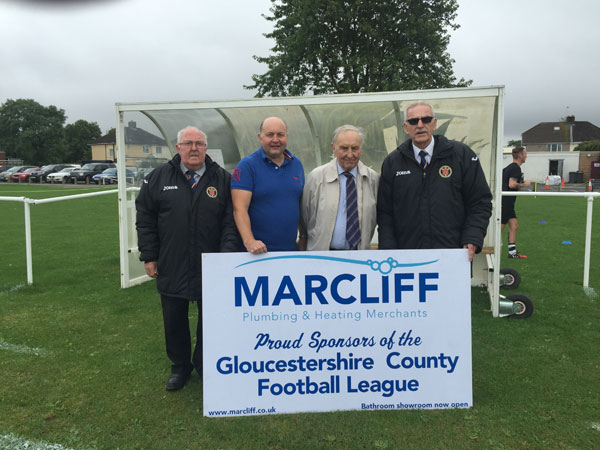 Ron Holpin General Secretary League – Rob Orchard (Director Marcliff) Cliff Orchard (Managing Director Marcliff) Bob Stewart (Chairman League)
Ron's Match Reports
15th September 2018 - Stonehouse hold on to beat Gala Wilton
Stonehouse Town kept up their challenge for the title with a 2-1 win at home to Gala Wilton, but they did not have it all their own way as the visitors looked dangerous on occasions but failed with their finishing. It took until the 19th minute to open the scoring and it went to the home side. Town were awarded a free kick on the left side of the halfway line wich was taken by Tom Palmer who swept the ball to the far side of the Gala 18 yard box where Dan Martin picked it up and drove a cracking low shot across Gala keeper Lewis Skyers into the far corner. A long ball up to Gala's Dorian Colling saw the striker hit a good shot on goal but it went straight to Adam Clark in the home goal. Then Clark pushed away a Danny Knight header on target and a few minutes later a good through ball from Colling for Jay Dare to run onto almost brought a goal but Clark snatched the ball from his toe.
Gala had a good chance on 51 minutes when a well worked ball across goal found Danny Knight but he shot wide. On 55 minutes Stonehouse increased their lead when Callum Hooke worked his way down the left sent the ball into the box and Luke Soule turned and knocked the ball past Skyers. Home keeper Clark then had to push away a goal bound shot and a minute later after a good move by the visitors Dorian Colling fired over the bar. It was the visitors who were putting the pressure on and saw their next attempt on goal cleared off the line. The visitors almost got a freak goal as Skyers long punt up field cleared everyone and with Clark back pedalling almost let the ball over his head but it just cleared the bar. Luke Soule had a great chance to make it three for the home side on 80 minutes but with a clear shot on goal saw his shot well saved by the Gala keeper. In the 86th minute Alex Pritchard's long cross to the far post was met by Kyle Bakewell but he headed wide. At the other end Luke Barstow was unlucky when his header from a corner struck the upright. In the 88th minute Gala were awarded a penalty when Ben Langworth brought down Peter Boyle in the box. Charlie Webb took the kick but Clark brought off a great save. For all their effort Gala managed to scored a late goal when a break down the left saw a good shot on goal from Mark Edwards deflected off Tom Palmer leaving Clark in the home goal no chance.
Goals galore at Ruardean Hill Rangers where today's visitors were league leaders Lebeq United. Rangers took a very early lead when Shaun Tingle latched onto a poor back pass but within minutes Lebeq were level from a Fabian McCarthy strike. The visitors then took the lead on 15 minutes when James Hall's free kick thundered into the Rangers net. Rangers pulled it back all square on the half hour when Luke Johnsons shot rebounded to Stuart Cornwell-Boote to hammer home. The visitors were a little lucky to retake the lead when Steve Coombes deflected the ball past his own keeper. A quick one two saw Cameron Brown increase the score to 4-2 to the visitors and then Tom Collett made it 5-2. Luke Johnson then chipped the keeper to pull a goal back for Rangers and a brilliant overhead kick from Stuart Cornwell-Boote made it 5-4. The visitors managed to see out the rest of the game to go home with the three points and remain the only team unbeaten this season.
Wick lost their unbeaten start going down 2-0 to today's visitor's Patchway Town. The home side started well and Luke Withey's 25 yard shot tested the Patchway keeper. Home keeper Joe Pople saved well from Patchway's Dan Bendall on 30 minutes and was in action again shortly afterwards. Wick's Jordan Scoot had his goal-bound shot from just inside the box well blocked by the Patchway defence. Bendall was causing some problems for the home side and Pople again had to make a save to deny the striker. At the other end Jordan Scott's header went just wide of the upright. The opening goal came courtesy of a bad mistake in the home defence in the second half allowed Bendall to break free and square the ball for Brandon Benjamin to slide home. The Patchway keeper then saved well from a Sam Thomas effort to deny the home side getting onto level terms. The home side were then reduced to ten men when Dan Sheldon received a red card for an off the ball incident. Patchway sealed the points in the 85th minute when Dan Bendall nipped past two Wick defenders to fire the ball past Pople.
Broadwell Amateurs are struggling to get their season started and they failed again today going down 2-0 at home to Frampton United. Both goals came in the first 45 minutes with the visitors showing their intentions right from the off. Home keeper Jamie merry was called into action in the second minute having to push the ball clear. Frampton went ahead after 13 minutes from a corner sent over from the left that found the unmarked Sean Lawson to head past Merry. it was 2-0 after 25 minutes when an inch perfect pass from Manolo Espada found Ryan Vincent to hit the ball over Merry. The home side did fair a little better in the second half and Liam Thomas went close with a shot that just cleared the bar. The home side tried their best but were unable to break down a very stubborn Frampton defence.
GFA Challenge Trophy Rd 1
The league had five Clubs involved into today's games with two games ending in draws and going to penalties to decide the winners.
AEK Boco did not need penalties to decide the outcome as they entertained Cam Bulldogs from the Gloucestershire Northern Senior League. The home side practically controlled the game from start to finish and took the lead n 17 minutes when Joe Reeves headed home at the far post from a Cash Vinall free kick. It was 2-0 on 25 minutes Owen McCallum volleying home at the far post from Josh Browns right wing cross. Joe Reeves netted his second on 51 minutes rifling home from the edge of the box. A shot from the edge of the box on 70 minutes was saved by the Cam keeper but the rebound was picked up by Josh Brown to make it 4-0. Late in the game Liam Jacques brought of a great save to deny cam a late goal.
Henbury go through after winning 4-1 on penalties after a thrilling 3-3 draw at home to Rockleaze Rangers. George Loud missed a chance for the home side in the 1tst minute and 9 minutes later Rockleaze opened the scoring after a mix up in the home defence Jay Moore lobbed keeper Cameron Tarr. Gary Phillips then missed a good chance for Rangers and Henbury's Adam Rosser struck the crossbar from 35 yards. Henbury levelled on 27 minutes when Andy Dickinson sent Luke Cox clear to fire past keeper Lewis Brodie. Henbury went in front on 35 minutes from a long ball out of defence by Ross Johnson that was picked up by Andy Dickinson to slip the ball past the keeper. 3 minutes later the home side had a 3-1 lead as Dickinson broke into the box he was brought down by Nick Jones and Ross Johnson scored from the spot. First minute of the second half Henbury's Ed Wright cleared off the line from Rory Langdon's shot. On 51 minutes Rangers Gary Phillips broke clear to make it 3-2. Then on 55 minutes Langdon headed home from a corner to level the score. Both sides had further chances but it remained 3-3 after 90 minutes.
Hardwicke were winning 3-1 at one stage but Little Stoke hit back to make it 3-3 after 90 minutes but the home side went through winning 4-3 on penalties.