The league advises that you check with individual clubs for postponement of a match before travelling especially if the weather is poor. We will update Full-Time as soon as possible on match days, however this is dependant on availability of league officers.
10th November 2018 - Respect Table 2018/19
Dissent
Reported
Start 100
Pos
Team
Played
Yellow
2 Yellows
Red
Technical Area
After Match
Points
1
Frampton United
11
0
0
0
0
0
100
2
Ruardean Hill Rangers
9
0
0
0
0
0
100
3
Rockleaze Rangers
9
0
0
0
0
0
100
4
Hanham Athletic
10
1
0
0
0
0
95
5
Hardwicke
11
2
0
0
0
0
90
6
Patchway Town
10
3
0
0
0
0
85
7
Wick
11
3
0
0
0
0
85
8
Broadwell Amateurs
10
1
1
0
0
0
80
9
Little Stoke
9
0
0
0
1
0
80
10
Gala Wilton
11
4
0
0
0
0
80
11
Stonehouse Town
11
5
0
0
0
0
75
12
Lebeq United
12
6
0
1
0
0
50
13
AEK Boco
11
4
0
1
1
0
40
14
Henbury
10
9
0
0
0
1
30
15
Southmead CS Athletic
9
6
1
0
1
1
10
Totals
44
2
2
3
2
10th Novemberber 2018 - Other Cards Table 2018/19
Pos
Team
Played
Yellow
Red
Points
1
Rockleaze Rangers
9
5
0
5
2
Frampton United
11
2
1
7
3
Little Stoke
9
8
0
8
4
Gala Wilton
11
7
1
12
5
Hardwicke
11
10
1
15
6
Broadwell Amateurs
10
11
1
16
7
Wick
11
13
1
18
8
Hanham Athletic
10
9
2
19
9
Stonehouse Town
11
15
1
20
10
Henbury
10
11
2
21
11
Patchway Town
10
6
3
21
12
Ruardean Hill Rangers
9
14
2
24
13
AEK Boco
11
14
3
29
14
Lebeq United
12
21
2
31
15
Southmead CS Athletic
9
21
3
36
Totals
167
23
Yellow - 1 point
Red - 5 points
20th November 2018 - Patchway looking to the future
By Simon Parkinson
PLAYER-BOSS Phil Vice says he is relishing his opportunity to try and steer Patchway Town to safer shores – and is even eyeing a future title success.
The Scott Park outfit have looked much more the part in this season's Marcliff Gloucestershire County League competition following the turbulence that not only led to a grim 2017-18 relegation fight but the prospect of crashing out of existence altogether.
Patchway's experienced and versatile campaigner Vice was amongst the hardy few to stick their heads above the parapet over the final six games and guide the first team to a third-bottom conclusion.
No one went down as it transpired, but the feat at least raised spirits heading into a much-needed summer sabbatical.
Town tomorrow confront third-placed visitors Ruardean Hill Rangers (2pm) from a far more comfortable mid-table berth.
And although their 33-year-old leader isn't completely enamoured by all he's seen from his side of late, he nevertheless accepts things have come a long way since those dark days of last season.
"I'm not quite sure how we managed to stay out of the bottom two in the end but we did it," he said. "We'd been rock bottom when I took over.
"I'm normally a central midfielder but I played four of our last six games in goal back then and this season I've played at left-back, centre-half and upfront; so to call me a utility player wouldn't be far off the mark!
"Being player-manager obviously has its difficulties and going from being one of the lads to gaffer is a transition which takes some getting used to.
"I still play regularly so I select the sides, oversee the warm-ups and deliver the chats, and then I hand the reins over to Tom Vaughan (assistant) on the sidelines."
Vice noted: "We started the season well and as a result our aspirations grew. Now we've taken a slight dip our lads are scratching their heads not quite sure how good a team we are.
"That said the club was on the brink of folding at Christmas so the progression has been greater and faster than any of us could have envisaged.
"We have a new reserves manager in Gareth Strange and we're hoping for good things from them too after a difficult start in the District League Senior Division.
"The mood has definitely lifted about the club and there are far more bodies in the clubhouse after games. Certainly I'm planning to be here for the long term."
Patchway have won the County League crown three times in their history, the last in 2003, and their ambitious boss stressed: "Although we can't progress to the next level at this time as our facilities would need to be upgraded, to be County League winners again in the near future would be nice.
"First and foremost it's a case of bringing back the glory days and striving to win trophies."
1st October 2018 - Kingswood FC
Kingswood FC have withdrawn from the league with immediate effect. Their record will be expunged.
6th May 2018 - Thornbury Town Champions 2017/18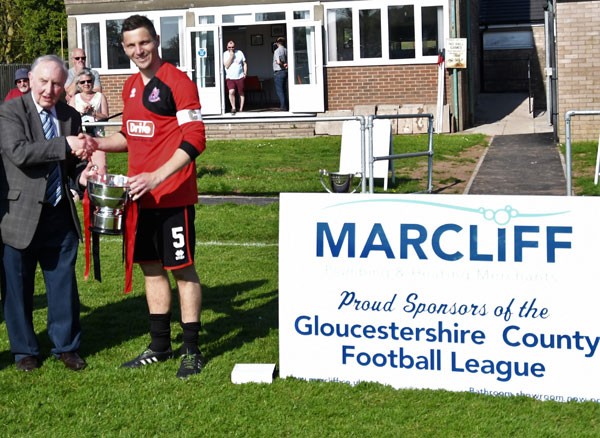 Cliff Orchard Managing Director Marcliff presenting the Trophy to Pete Fowler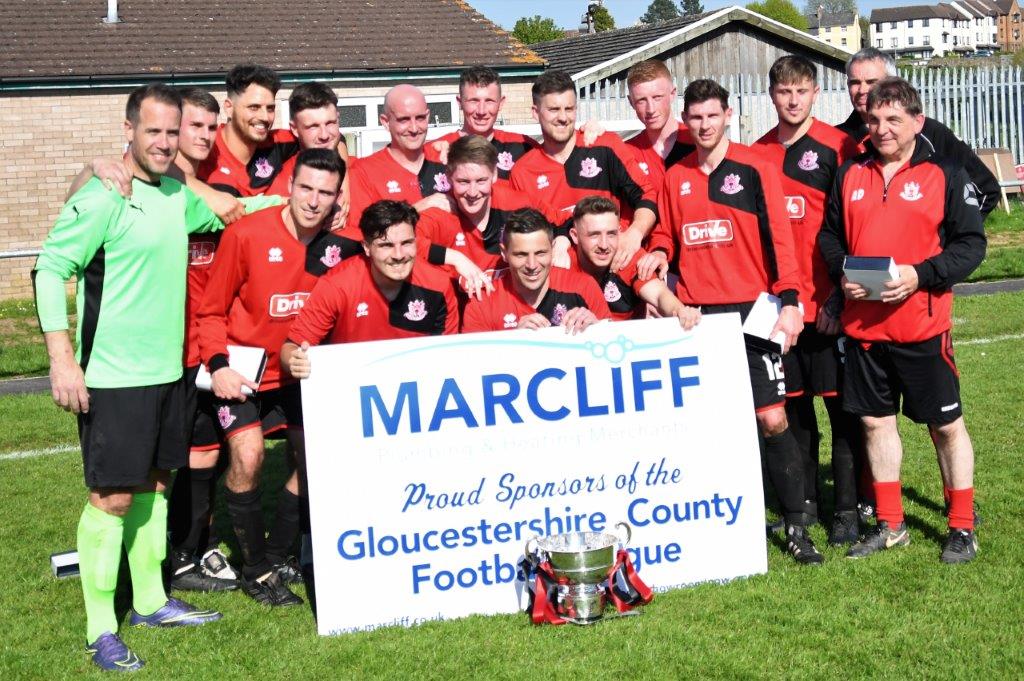 Thornbury Town - Champions Marcliff Gloucestershire County Football League 2017/18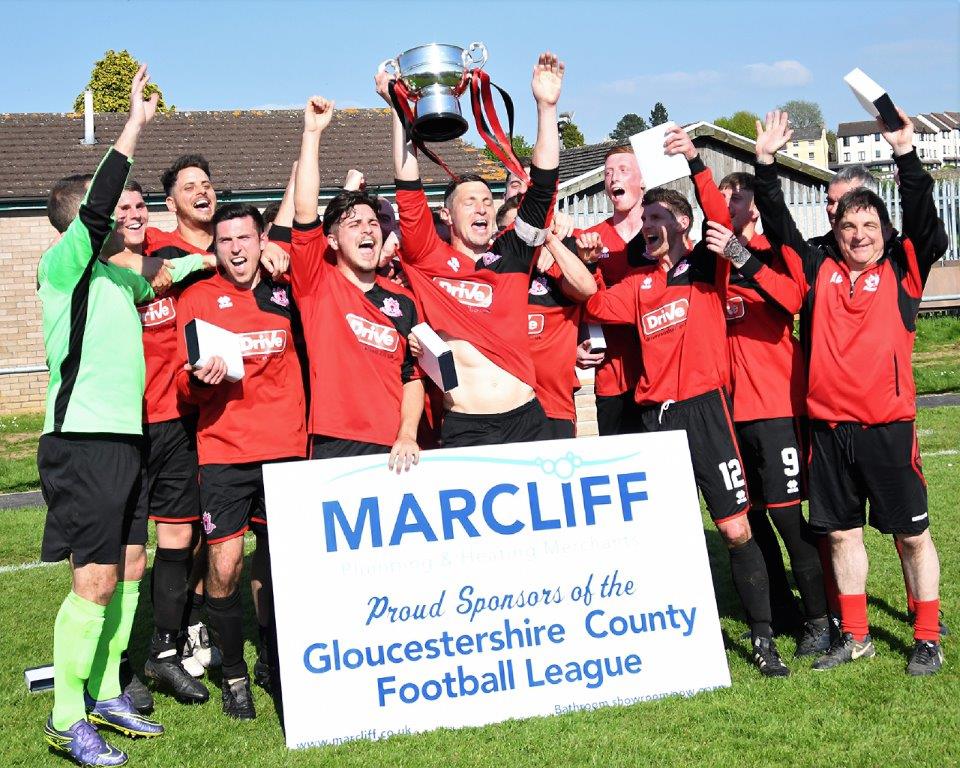 Thornbury Town - Champions Marcliff Gloucestershire County Football League 2017/18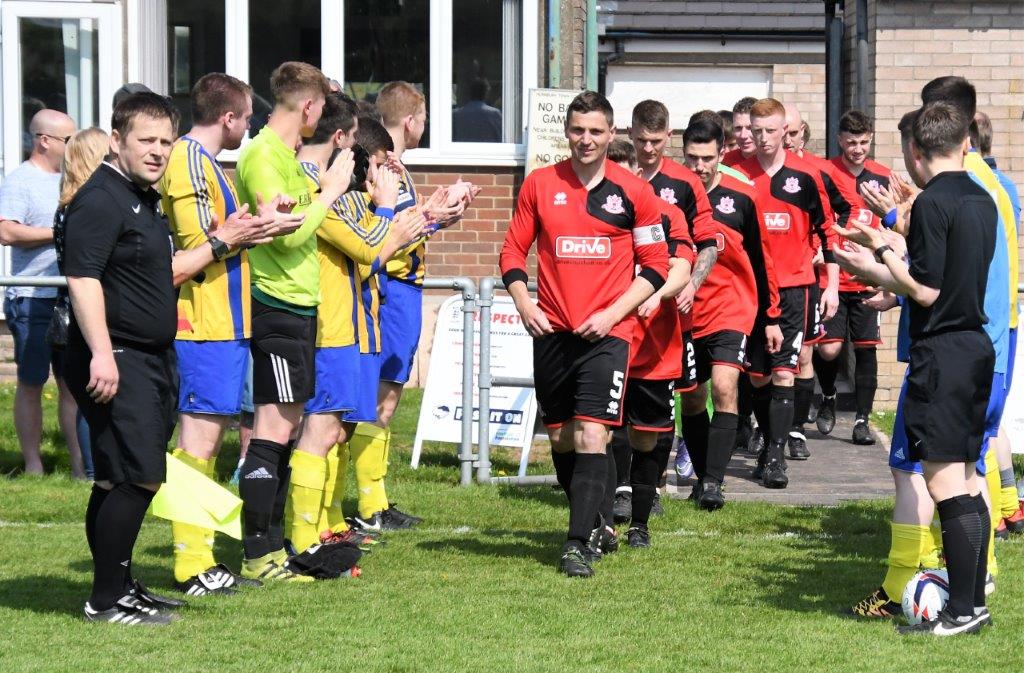 Thornbury Town - Champions Marcliff Gloucestershire County Football League 2017/18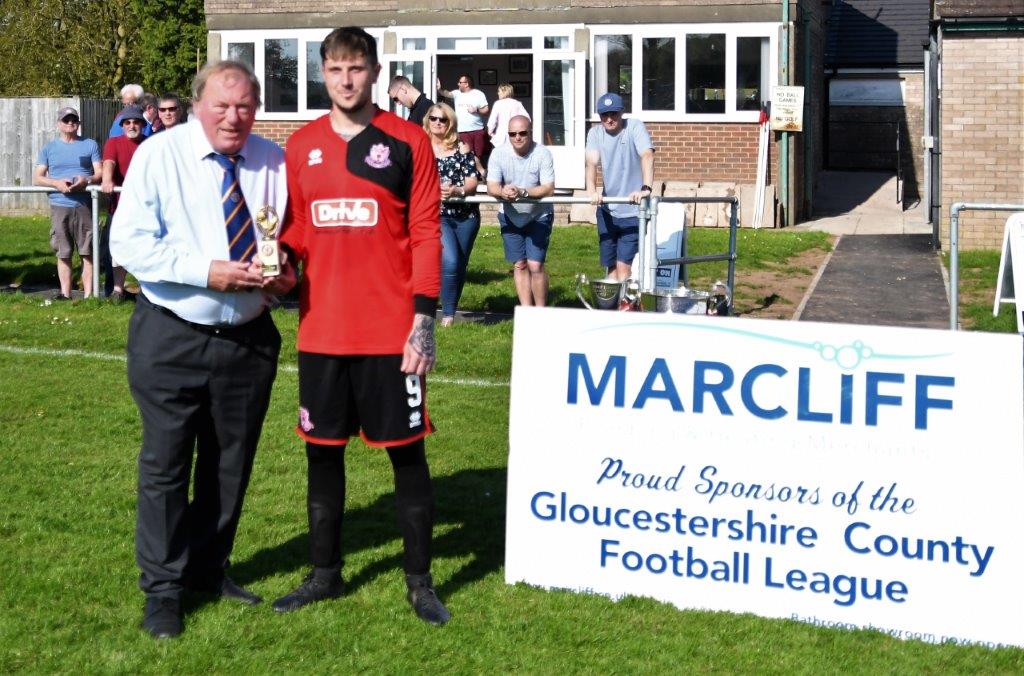 Craig Lancastle Leading Goalscorer 2017/18
11th September 2016 - Marcliff Plumbing Supplies Sponsorship
The signing of a new 2 Year sponsorship deal between Marcliff and the league took place at Little Stoke before the game.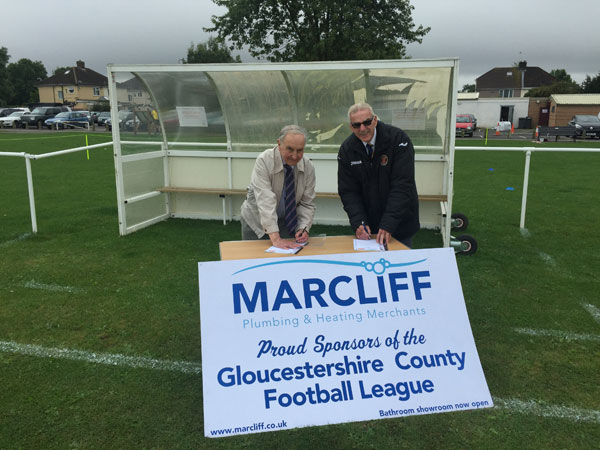 Cliff Orchard (Managing Director Marcliff) - Bob Stewart (Chairman League)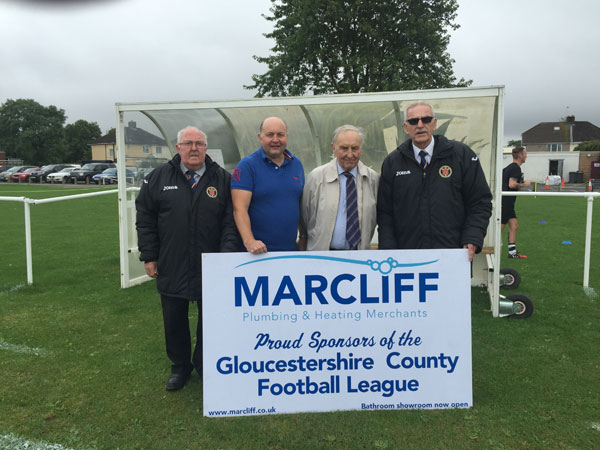 Ron Holpin General Secretary League – Rob Orchard (Director Marcliff) Cliff Orchard (Managing Director Marcliff) Bob Stewart (Chairman League)
Ron's Match Reports
17th November 2018 - Broadwell comeback stuns Rockleaze
Rockleaze Rangers were hoping for a win as they moved into their new ground at Hillside Gardens Hambrook but after taking a two goal lead Broadwell Amateurs hit back to take the points with a 3-2 win.
In the early stages of the game Rangers adapted to the 3G surface much better than Broadwell. Marcus Williams had a great chance to score for Rangers after only 50 seconds but put through clear on goal shot straight into keeper Jamie Merry's arms. Then on 4 minutes Merry was in action again when he turned away Dan Webb's shot for a corner. At the other end Harry Williams shot at the goal was deflected well wide. A minute later Webb broke down the left sent over a cross that was tipped onto the bar by Merry and out for a corner. Then Rory Langdon tried his luck from the left but shot high and wide. Broadwell's second attempt on goal came from Jacob English who shot well over the top. On 24 minutes Broadwell's Harry Williams sent in a low cross from the left that was scrambled away by Rangers. Broadwell's Liam Thomas missed the best chance of the first half when he was put through on goal with a clear shot in front of him but he hit it wide. Both sides had one more chance each to open the scoring but both went wide of the target.
The visitors started the second half a little better but Rangers broke the deadlock on 50 minutes when Dan Webb got the ball just inside the visitors half made a break down the right and sent a low cross into the six-yard box where Rory Langdon finished it off. Broadwell's reply was a great shot from Harry Williams that flew past the far post. A minute later Williams tried a little chip over the keeper but it went wide. Then he headed wide from a great cross from the right. But it was the home side who went 2-0 up in the 55th minute as the ball was hit low into the box Dan Webb and Marcus Williams went for the same ball it spun away to Rory Langdon and he made no mistake. Rangers had a great chance to make it 3-0 and sew the game up just 3 minutes later as Jay Moore rounded the keeper and with an open goal begging he hit his shot across the goal and out for a goal kick. Harry Williams then struck the post with a curling shot from the left for Broadwell and at the other end Merry managed to get a hand to Mark Ridgeways shot as it went loose and was cleared. Broadwell made it 2-1 on 68 minutes from a break down the right and a good cross into the box that found Harry Williams to make some space and drive the ball home from 14 yards. Broadwell's keeper Merry almost gave away a goal to Rangers when his kick out found Rory Langdon whose powerful shot was on target but Merry made amends and saved well. The visitor's drew level on 82 minutes from a break down the left and the ball was slotted back to Ben Fishwick 25 yards out and he hit a brilliant shot that flew past Brodie into the top corner. Broadwell grabbed the winner in the 84th minute from a free kick which was fumbled by Rangers keeper Brodie and Williams was on it like flash to drive the ball into the roof of the net.
A second defeat of the season for the leaders Lebeq United going down 1-0 at Hanham Athletic. In a game that saw very few chances according to the report Hanham's George Cryer scored the only goal of the game after 2 minutes. Lebeq's James Hall saw his shot thunder back off the crossbar on 25 minutes and the only other chance to speak about was George Cryer's header in the second half that was well saved by the Lebeq keeper.
Gala Wilton recorded their second victory of the season with a 2-1 win at home to Southmead CS Athletic. Gala's Jason Littleton had the ball in the Southmead net early on but it was ruled out for offside. It was the home side pressing early on and Dan Creed had two great efforts saved by the visitor's keeper. Against the run of play Southmead took the lead in the 21th minute a free kick from Remi Ferguson that saw home keeper Skyers slip as he tried to save. Gala levelled on 34 minutes as Steve Smith chased down the ball with the visitor's keeper, they both got there at the same time but the ball ricocheted off the keeper and into the net. The second half both sides created chances but Gala just edged it on chances but could not get the ball past the Southmead keeper until the very last minute of the game when Dan Creed sent Jason Littleton through on goal and he chipped the ball over the keeper to make it 2-1.
Stonehouse Town keep up their challenge with a 3-0 win over today's visitors AEK Boco. The home side opened the scoring on 17 minutes when Tim Williams decided to go on a mazy run down the right cut inside and thundered the ball into the Boco net. Boco had a fair amount of the possession and forced several corners but failed to break down the home defence. Liam Gale almost made it 2-0 just before the break as he weaved his way into a shooting position but Boco Keeper Liam Jacques saved well from the shot. Right-on half-time Stonehouse scored a second, a free kick from Tom Palmer was chested down by Jamie Spring and then volleyed past Jacques. Boco's Cash Vinall had his shot well saved by the home keeper at the start of the second half but very little happened until the 85th minute when Liam Gale picked the ball up wide on the right in his own half saw Jacques well off his line hit a long shot that caught the keeper back pedalling but could not stop the ball going in.
Wick and Frampton United had to settle for a point each in this encounter but most of the first half was mostly Wicks as firstly Sam Thomas's shot was well saved by the Frampton keeper and then Joe Thomas's shot was blocked on the line with the keeper beaten. Sam Thomas had another great chance saved then right-on half-time Frampton saw their first attempt on goal cut out by home keeper Joe Pople. Wick's Alex Whale was no far of the mark as his 25-yard free kick went just over the bar early in the second half. Frampton grabbed the lead on 75 minutes when a superb pass out to Shaun Lawson saw his cross headed home by Ryan Vincent. Wick threw everything at the Frampton defence Joe Thomas had his shot blocked on the line on 85 minutes but with time running out it looked as though the visitors had snatched the points until the very last minute when Shaun Morris levelled from the penalty spot.
Ruardean Hill Rangers have moved into third place in the table with a slender 1-0 win at Patchway Town. Sam Finn had his shot well saved by the visitor's keeper on 20 minutes and 10 minutes later Josh Morris was on target only to see his shot well saved. Rangers Stuart Cornwall-Boote was clear on goal on 31 minutes but failed to hit the target from a tight angle. Luke Brown should have scored for Rangers on 41 minutes but for a great save by keeper Sam Burgess. Patchway had a great chance to open the scoring in the 68th minute when Phil Vice sent over a pin point cross but Josh Morris just failed to make contact with the goal at his mercy. On 74 minutes Rangers Luke Johnson missed a good chance but 4 minutes later came the only goal came when a cross from the right was headed back across goal and Shaun Tingle pounced to drive it home. Right on 90 minutes Luke Garbacz saw his effort on goal turned over the bar by the keeper.
What a come back for Little Stoke who were trailing 2-0 at the half time interval and won the game 3-2 at home to Henbury. Henbury took the lead on 19 minutes with their first attempt on goal a half volley from the edge of the box by Joe Cox. Then a minute before the break they made it 2-0 when Harvey Moran turned in a low cross from the right. The second half was a different story as the home side hit back on 65 minutes when Luke Meacham tapped in at the far post following a Jordan Yeo cross. Meacham then levelled the score when he picked up a long pass up the middle and fired past the advancing keeper. The winner came just two minutes from the end when the Henbury keeper's attempt to punch clear was hooked into the net with a splendid overhead kick from Ethan Tucker.