The league advises that you check with individual clubs for postponement of a match before travelling especially if the weather is poor. We will update Full-Time as soon as possible on match days, however this is dependant on availability of league officers.
14th February 2019 - Own Goal settles representative match
Harry Madge
An unfortunate own goal was enough for the MARCLIFF Gloucestershire County League representative side to run out 1-0 winners against the Gwent County Football League side.
An unfortunate second-half own goal scored by Gwent County's Gareth Wysome was the only goal scored in what was a fiercely contested tie.
For this year's county representative fixture, Wick FC manager Mike Strawford was selected to assemble a 16-man squad comprised of some of the MARCLIFF Gloucestershire County League's most impressive players.
Strawford's matchday squad: Steve Sparrow (Frampton United), Edward Bamfo (Lebeq United), Nick Jones (Rockleaze Rangers), Nathan Dennis (Frampton United), John Henson (Southmead CS Athletic), Charlie Stevens (Wick), Jordan Yeo (Little Stoke), Nathan Hall (Lebeq United), Danny Payne (Lebeq United), Ryan Vincent (Frampton United), Dan Bendall (Patchway Town), Ruben Nuevo-Draper (Little Stoke), Grant Hewitt (Wick), Shaun Morris (Wick), Jay Hubbard (Wick), Otis Francis (Southmead CS Athletic).
On a crisp evening at the home of Tytherington Rocks Football Club, the MGCL side started the brighter out of the two. Bamfo had the game's first effort on goal after three minutes but his strike from range was comfortable for the Gwent County keeper.
After a lull in goalmouth action, two chances in quick succession for Henson and then Payne after 25 minutes almost put Strawford's side ahead. Henson's goal-bound shot was deflected wide, before Payne's volley from the subsequent corner flew over the Gwent County upright.
The Gwent County side then established a foothold in the fixture, having seemingly weathered an early storm.
On 34 minutes, Sparrow was called into action for the first time in the Glos County goal as he spread himself to save from an onrushing Gwent County attacker. The resulting corner was then cleared off the line. A series of defensive interventions from the impressive Dennis and Henson foiled further Gwent County attacks.
With half-time fast approaching the Glos County side almost opened the scoring. Vincent found himself one-on-one with the Gwent County keeper, but the usually prolific striker's shot was well saved. From the rebound, Payne's looping header was blocked on the line and the two sides went in at the break level.
Six minutes after the restart, the Glos County side took the lead. The tricky Bendall evaded two challenges and with Vincent running in behind, the Patchway Town man tried an intricate through-ball only for Gwent County's Wysome to divert the ball past his own keeper when attempting to clear the danger. Moments later, Payne almost added a second, but with the goal gaping the Lebeq youngster was only able to find the gloves of the Gwent County keeper. Payne's strike-partner Vincent also came close to doubling the lead on the hour mark, but his close-range effort from an inch-perfect Yeo cross dropped harmlessly wide.
As time ticked-by, the Gwent County side pressed in search of an equaliser but in their way every time was the resolute Glos County defensive unit.
In the final 15 minutes, Sparrow was forced into a smart stop to ensure a well-struck free kick didn't find the net, before another Gwent County free-kick was headed narrowly over the bar.
Despite the best efforts of the Gwent County side, the Welshmen were unable to penetrate the Glos County defence and Strawford's side closed out the final few minutes to seal the victory.
11th February 2019 - Wick boss wants consistency
Simon Parkinson
WICK manager Mike Strawford has his hands full attempting to drive his men further up the Marcliff Gloucestershire County League ladder – whilst compiling an entirely different outfit for an intriguing mission next week!
The busy Oldbury Lane supremo admits Wick's season has not shaped up the way he'd wished for at the start.
That's because they approach tomorrow's home match with unpredictable Henbury (2pm) occupying a mid-table berth with no chance of securing a dream promotion to the Toolstation Western League this time around.
Strawford, in the meantime, just wants to establish better levels of consistency over his side's remaining nine fixtures, starting, he hopes, with a ninth win of a helter-skelter campaign at the expense of fourth-bottom Henbury.
The Wick boss has been busy too crafting a side capable of overcoming Gwent County League counterparts.
Strawford explained: "I've been chosen to manage the Gloucestershire County League representative team to take on Gwent at Tytherington Rocks' ground this Tuesday (7.30pm).
"It's an honour and a privilege to have been asked to do it and I'm enjoying the challenge of trying to get the best possible team together.
"I just wish I'd taken more notice of all the opposition players I've come up against whilst leading Wick this season!
"When I first got the call from the league looking to speak with me my first thought was, 'What have we done now'! But of course I jumped at the chance."
Of the business of attempting to haul to new heights Wick, who finished up a laudable eighth in the County League standings last term fresh off the back of their Bristol Premier Combination promotion the previous year, Strawford admitted: "Our hopes at the start of the season were to be in contention to win the league by this stage.
"Injuries and suspensions have not helped and I feel we've had the rough end of some harsh decision-making by match officials.
"We've not been consistent either; there haven't been enough full-on performances over 90 minutes. The lads have been putting the work in at training so I've no concerns there.
"We produced our best performance against Lebeq, the leaders, back in October when we won 2-1 there. It was as though we raised our game that night with a proper team performance but didn't push on from it."
Strawford's football commitments extend even to the girls' game where he oversees the fortunes of Hanham Abbotonians Under-12s and 14s, for whom his daughters Elyse, a goalkeeper, and Isabelle, a central defender, perform on Sunday mornings and afternoons respectively.
He confessed of the ultimate Wick objective: "The club isn't geared up for promotion just yet.
"That said, had we been up challenging around the top at Christmas as we'd hoped then we'd have had a good hard look at it to see what we wanted to do.
"One thing's for sure, we won't be looking to put the club under any sort of financial strain when we're not in contention.
"Still, I and the rest of our management team – James Pocock, Shaun Morris and Nigel White – are already planning on strengthening the side ahead of next season with a view to having that crack at going up. I for one never like standing still."
Wick head into the Henbury contest without suspended keeper and forward Joe Pople and Jordan Scott. The Thomas brothers, Sam and Joe, are unavailable too along with injured winger Harry Madge (ankle).
Former Bishop Sutton forward Josh Dakwa could be reintroduced after making one appearance so far and his manager enthused: "Josh is a fun-loving lad who is brilliant on the ball and knows where the back of the net is."
Midfielder Alex Whale also comes into contention following a foot-injury absence.
8th February 2019 - Mansell enjoying 'learning-curve' as player-manager at Hardwicke
By Harry Madge
Hardwicke player-manager Richard Mansell admits his debut season in the role has been "frustrating" but he does believe his side can build some momentum ahead of the 2019-2020 season.
After a winless December, Hardwicke have won two of their last three matches, including a resounding 4-1 victory over Ruardean Hill Rangers last time out.
Recounting the win, Mansell said: "It was probably the best result of our season in terms of the overall performance and the result we got.
"We played them at the beginning of January at their place and lost 5-3. It was a game where we had a lot of chances in the first half that we weren't able to take, and in the second half their captain absolutely tore us to shreds.
"The game at our place was probably ruined a little bit by the weather. I think we were just able to adapt ourselves to the situation better on the day. We acclimatized ourselves a bit better, took our chances and stopped their captain playing."
Next up for Hardwicke and Mansell is the short trip to local rivals Gala Wilton on Saturday (2pm KO).
The former Gala player insisted: "It'll be a tough game, they're fighting for their lives down at the bottom and they're desperately trying to pick up as many points between now and the end of the season.
"In this league, nobody just deserves to turn up and win any game. It doesn't matter whether you're a Lebeq side flying at the top or you're Gala down at the bottom. They all want to play and they all want to get three points. Anyone can beat anybody on the day."
Former Gloucester City player Mansell was installed as player-manager at Hardwicke last summer, and he concedes that his new role at the club has taken a little bit of getting used to.
"It's been frustrating," states Mansell humbly. "It is enjoyable doing the player-manager side of it but then there are times where I think I'd like to just concentrate on playing or managing.
"I would probably have liked to have played more but it's hard when you're trying to concentrate on your own performance but then you're also thinking 'right it's approaching half-time now, what am I going to say to the lads.'
"The lads are all patient with me though, they know I'm not going to get it 100 percent correct every week and I'm willing to accept that, but what I will give is my all.
"Whenever I'm addressing the lads, it's always a case of' 'we' and not 'you' because we are all in it together."
Saturday's local derby is the first of Hardwicke's eight remaining fixtures as they look to finish as high in the MARCLIFF Gloucestershire County League as possible
"We're always thinking about going forward, but there's no point looking too far ahead" Mansell adds.
"I just want the lads to continue showing the same work rate that they have since the start of the season. Then we'll just take every game as it comes and try and take some momentum into next season and then just go again really.
"We've got 8 games and you never know what sort of momentum that'll bring."
2 nd February 2019 - Promotion Applicants
To step 6
The following clubs have applied for promotion to step 6.
Lebeq United
Stonehouse Town
To be considered for promotion by the FA the club must meet the required ground grading and finish in the top 5, only one club can be promoted from each league.. The FA will decide who is promoted at the end of the season
To the Gloucestershire County League
Applications have been received from the following clubs.
Gloucestershire Northern Senior League

Chalford
Charlton Rovers
Quedgeley Wanderers
Sharpness

Bristol Premier Combination

Olveston United

Bristol and Suburban League

Avonmouth
Bromley Heath United
Filton Athletic
Two clubs will be promoted subject to passing a ground grading and finishing in the top three of their league.
Relegation and other movements
The bottom two clubs will be relegated. For the purpose of this rule Kingswood who withdrew earlier in the season are counted as the bottom club. The number of relegations will be reduced if less than two clubs are promoted from the feeder leagues
It may be necesary to accept teams from the Hellenic League, Western League or other step 6/7 leagues if the FA place teams in this league.
Any vacancies in the league will be filled after promotion, relegation and lateral movements are resolved. The constitution will be subject to FA approval
2nd February 2019 - Respect Table 2018/19
Dissent
Reported
Start 100
Pos
Team
Played
Yellow
2 Yellows
Red
Technical Area
After Match
Points
1
Frampton United
22
0
0
0
0
0
100
2
Rockleaze Rangers
20
0
0
0
0
0
100
3
Ruardean Hill Rangers
18
1
0
0
0
0
95
4
Hanham Athletic
19
3
0
0
0
0
85
5
Stonehouse Town
18
7
0
0
0
0
65
6
Hardwicke
20
9
0
0
0
0
55
7
Wick
19
6
1
0
0
0
55
8
Patchway Town
21
9
0
0
0
0
55
9
Broadwell Amateurs
21
2
1
0
1
0
50
10
AEK Boco
20
5
0
1
1
0
35
11
Gala Wilton
21
11
1
0
0
0
25
12
Lebeq United
22
11
0
1
0
0
25
13
Henbury
18
10
0
0
0
1
25
14
Little Stoke
19
4
0
0
1
2
15
15
Southmead CS Athletic
18
10
1
0
1
1
-10
Totals
88
4
2
5
3
2nd February 2019 - Other Cards Table 2018/19
Pos
Team
Played
Yellow
Red
Points
1
Rockleaze Rangers
20
11
0
11
2
Frampton United
22
13
1
18
3
Gala Wilton
21
18
1
23
4
Hanham Athletic
19
17
2
27
5
Little Stoke
19
20
2
30
6
Patchway Town
21
16
3
31
7
Henbury
18
22
2
32
8
Wick
19
20
3
35
9
Hardwicke
20
21
3
36
10
Stonehouse Town
18
26
2
36
11
Ruardean Hill Rangers
18
24
3
39
12
Broadwell Amateurs
21
24
4
44
13
AEK Boco
20
27
4
47
14
Lebeq United
22
32
3
47
15
Southmead CS Athletic
18
37
6
67
Totals
328
39
Yellow - 1 point
Red - 5 points
17th January 2019 - 50th Anniversary Dinner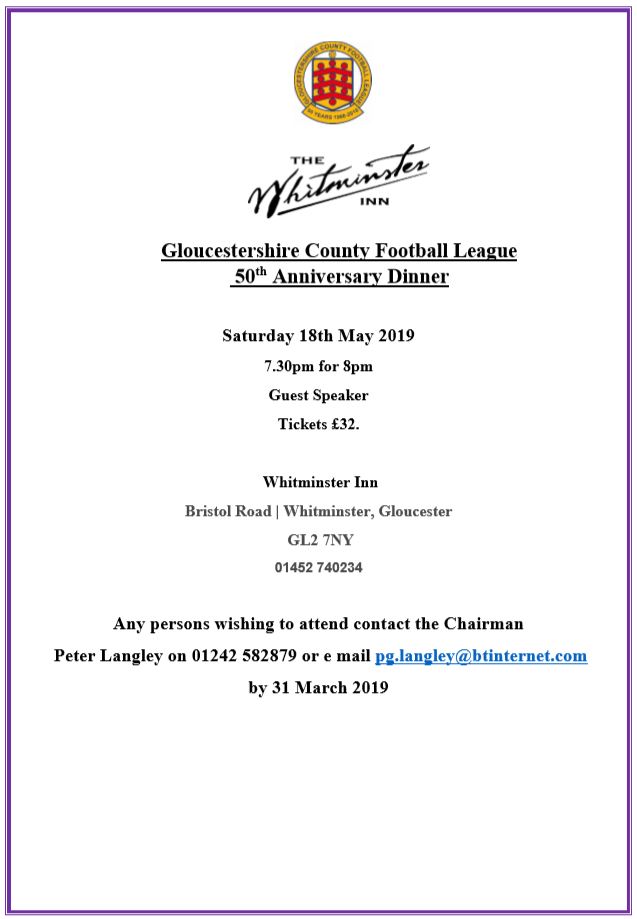 14th January 2019 - Representative Game
There will be a representative match on 12th February 2019 at Tytherington Rocks FC against the Gwent County League, Kick off 7:30 PM.
Squad to follow when Team Manager Mike Strawford has made his selection
6th May 2018 - Thornbury Town Champions 2017/18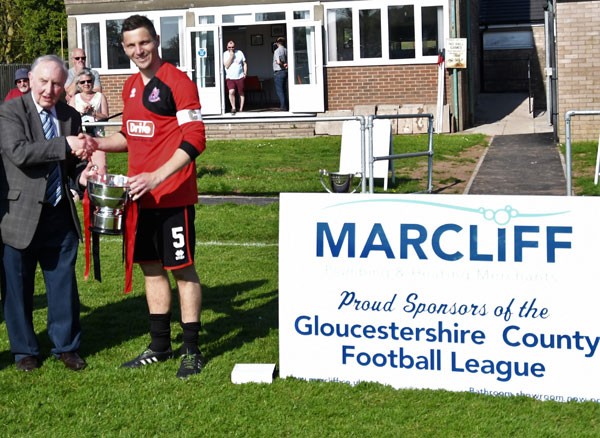 Cliff Orchard Managing Director Marcliff presenting the Trophy to Pete Fowler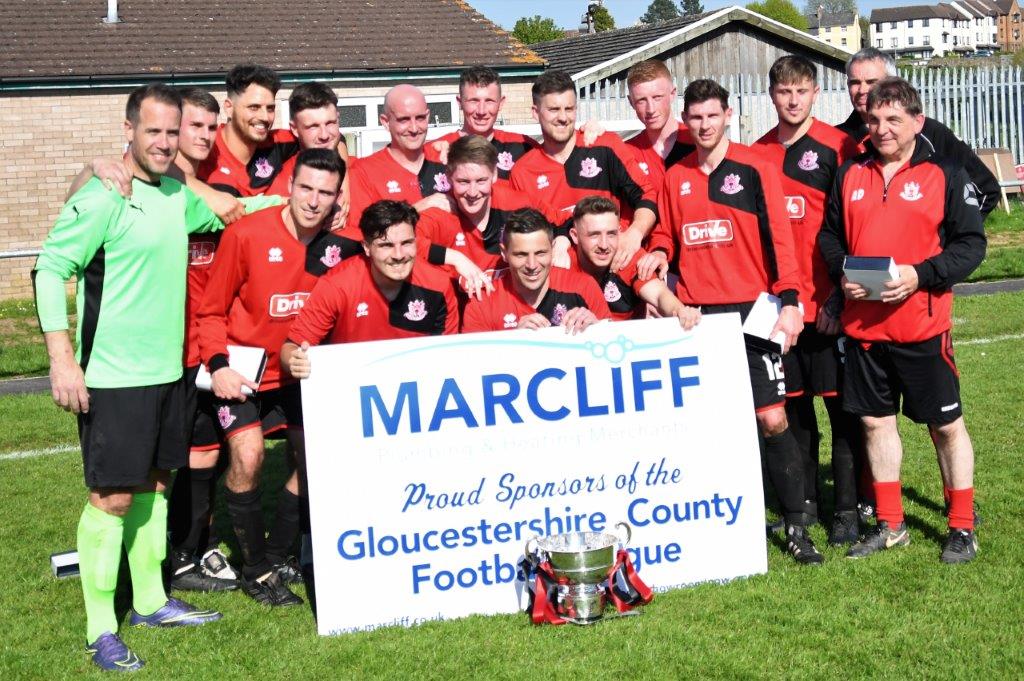 Thornbury Town - Champions Marcliff Gloucestershire County Football League 2017/18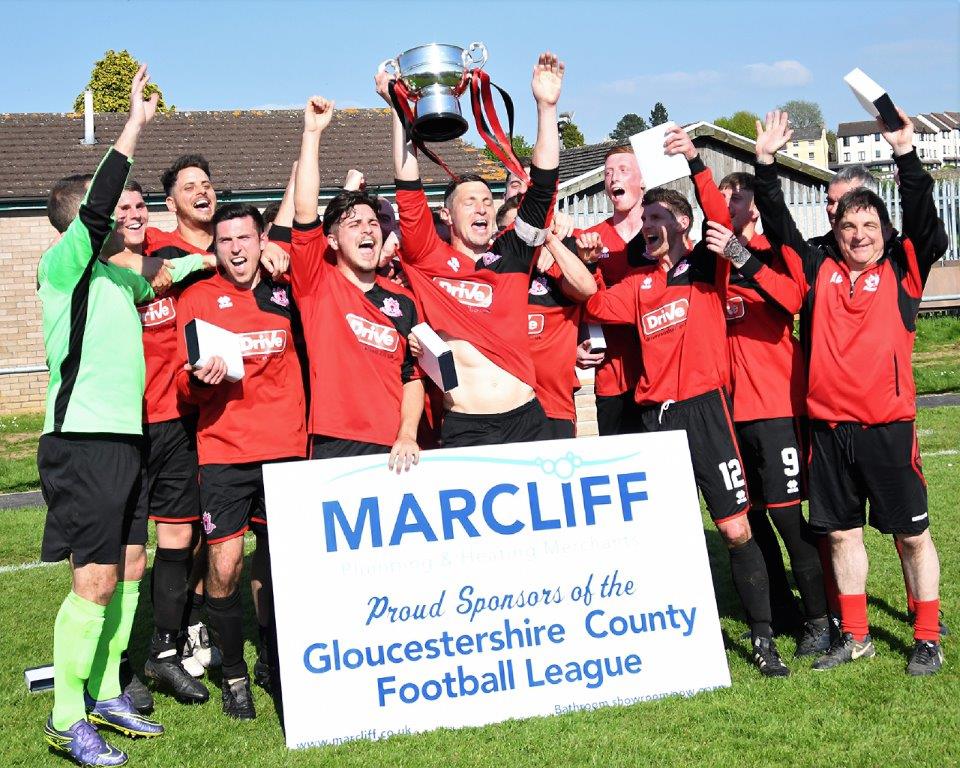 Thornbury Town - Champions Marcliff Gloucestershire County Football League 2017/18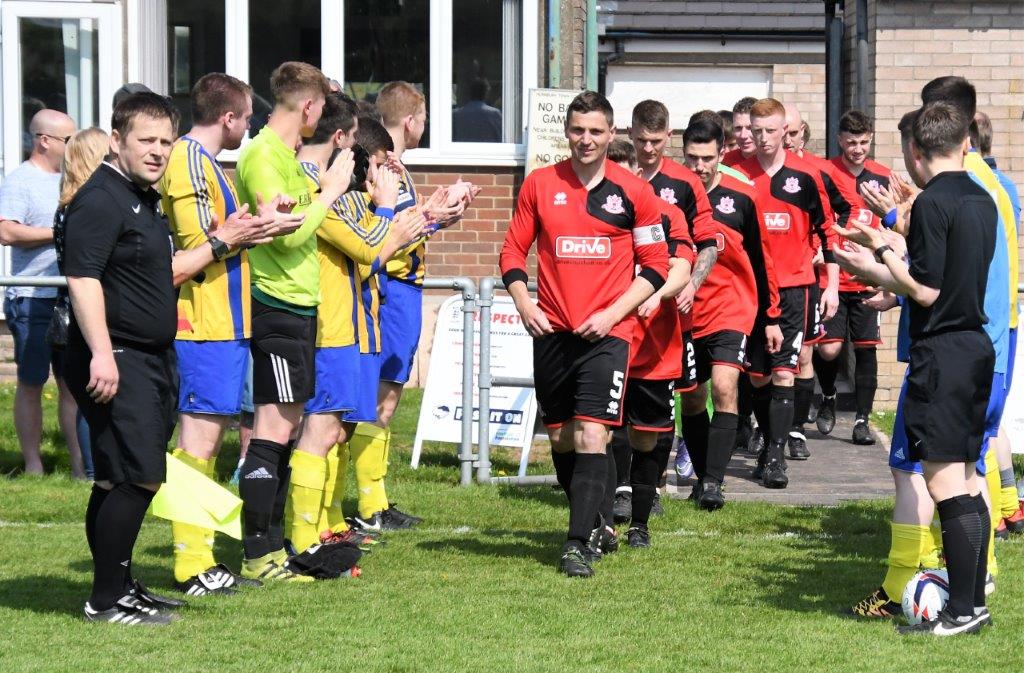 Thornbury Town - Champions Marcliff Gloucestershire County Football League 2017/18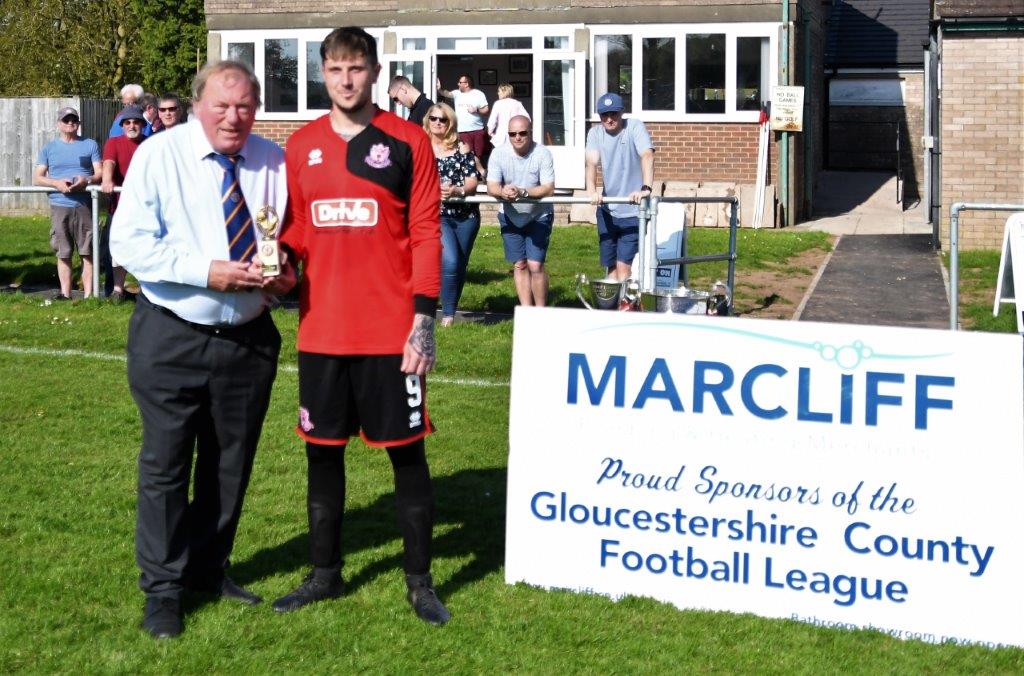 Craig Lancastle Leading Goalscorer 2017/18
11th September 2016 - Marcliff Plumbing Supplies Sponsorship
The signing of a new 2 Year sponsorship deal between Marcliff and the league took place at Little Stoke before the game.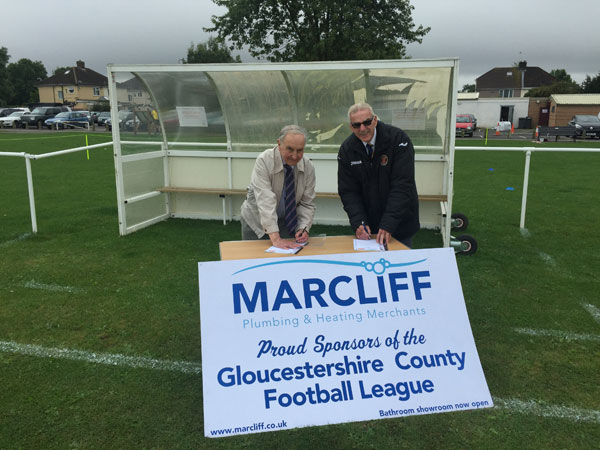 Cliff Orchard (Managing Director Marcliff) - Bob Stewart (Chairman League)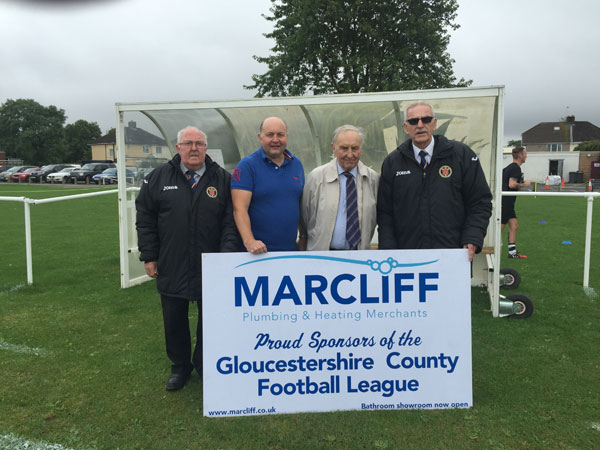 Ron Holpin General Secretary League – Rob Orchard (Director Marcliff) Cliff Orchard (Managing Director Marcliff) Bob Stewart (Chairman League)
Match Reports
16th February 2019 - Five star AEK Boco triumph in local derby
Harry Madge
A crowd of 214 amassed at AEK Boco's Greenbank playing fields to watch the home side fire five past local rivals Hanham Athletic.
Jacob Saunders scored either side of a Harvey Sealey strike to give Boco a 3-0 lead at the break. In the second period Boco added another two through Franck Taylor-Fox and Harrison Kyte.
At the start of play, both AEK Boco and Hanaham Athletic found themselves in the bottom six, with only two points separating the two Bristol clubs.
It was Boco though who struck the first blow in this much-anticipated fixture. In only the second minute, Saunders latched on to Boco keeper Scott Lovell's long-kick before slotting calmly past the onrushing Hanham keeper Max Heaven.
Ten minutes later, Saunders should have doubled his and Boco's goal tally for the afternoon. After some impressive wing-play, Sealey was able to deliver a ball into the Hanham box where an unmarked Saunders could only head over.
The home side didn't have to wait long for their second though and in the 20th minute Sealey doubled Boco's lead. Sealey found himself through on goal having been played in by Luke Nash and the lively winger made no mistake, finding the bottom corner from just inside the box.
With less than 25 minutes played, Boco made it 3-0. Once again, Hanham were unable to deal with Saunders' pace as the Boco man raced onto Austen Shopland's pass and rolled the ball under Heaven for his second and Boco's third.
Hanham almost found a route back into the fixture moments later. George Cryer was left unopposed inside the six-yard box, but his header from a Sam Brown cross was straight at Lovell.
Just after the half-hour mark, Saunders went close to completing a first-half hattrick. On this occasion, Hanham had Heaven to thank who tipped Saunders' rasping effort round the post.
Notwithstanding a lull in goalmouth action, the tie remained hotly contested up until half time with a number of robust challenges on show for the large crowd.
After the break, the pace of Boco's attacking unit continued to cause Hanham problems. A swift counter-attack led by Kyte and Franck Taylor-Fox gave Saunders a second opportunity to claim the matchball, but his shot flew harmlessly wide with only Heaven to beat.
With 57 minutes on the clock, Franck Taylor-Fox gave Boco an unassailable four-goal lead with a sensational goal. Boco keeper Lovell picked up his second assist of the afternoon, spraying the ball out to Taylor-Fox who brought the ball down, looked up and guided a 25-yard strike into the top corner with the outside of his foot.
Despite the score-line, Hanham continued to endeavor and try to find a way back into the fixture but their attacking stance naturally left gaps in their defence. With Saunders replaced by Fred Taylor-Fox, Kyte assumed the role as Boco's main threat as he looked to take advantage of those opportunities.
In the first of two chances in quick-succession, Kyte managed to get the better of Hanham's Tom Welling in the box before his fiercely struck shot was saved by Heaven at his near post. Mere minutes later, Kyte glided past two defenders before dragging his low shot narrowly past the upright.
Casey Woodman was next to go close but the centre-half's towering header crashed off the Hanham post.
With only 12 minutes left to play, Kyte finally got his goal and Boco's fifth. Franck Taylor-Fox was instrumental again, cutely playing Kyte through who cut inside and drilled the ball past Heaven.
The rest of the fixture passed without incident as AEK Boco ran out deserved 5-0 winners against Hanham Athletic. The result means Boco leapfrog Hanham in the MARCLIFF Gloucestershire County League standings.
16th February 2019 - Rockleaze take points at Frampton
Ron Holpin
A setback for Frampton United in their quest to grab the title losing 3-0 at home to a very good Rockleaze Rangers side.
United created their first chance on 10 minutes when Sean Lawson sent a good pass into Joe Wilton who turned on the edge of the box but fired his shot straight to Lewis Brodie in the Rangers goal. It was Minolo Espadas turn a minute later but he too shot straight to the keeper. On 23 minutes Sean Lawson also saw his effort on goal fielded by Brodie. In fact, until the 35th minute the visitors had failed to muster a shot of any kind on target when Dan Webb shot straight at Steve Sparrow in the home goal. The break through came in the 40th minute and it was Rangers who took the lead from a ball crossed over from the right to the far post where Dan Webb was waiting to head home. Right-on half-time Rangers Jay Moore pumped the ball into the box from a free kick wide on the left Sparrow failed to take it cleanly and Ali Boyer was on hand to make it 2-0.
Rangers made it even harder for the home side in the 1st minute of the restart when Rory Langdon got clear of the home defence and fired the ball past Sparrow from the edge of the box. The home side were looking for the offside flag to be raised but it was not forthcoming. The home side continued to press and a great cross from Nathan Dennis into the Rangers box came out to Stuart Maule but his rasping drive just cleared the bar. At the other end Sparrow brought off a great save to deny Dan Webb. The home side were unable to break through the Rangers defence and were limited to taking shots from distance which was easily dealt with by Brodie. One last chance for Rangers in time added when left full back Nick Jones was through on goal but Sparrows quick thinking saw him make a great save.
Henbury picked up three points at home with a 4-0 over Gala Wilton after going weeks without a win in the league. The visitors gave the home side a scare after just 2 minutes when Danny Knight chipped the keeper but it dropped over the bar. The first effort from the home side came from Jensen Manning a shot that went just past the post on 9 minutes. A couple of minutes later Kane Manning went close to opening the scoring for Henbury. Ross Jones then put Simon Lashley clear but he missed the opportunity to open the scoring. Gala's keeper Aaron Charman then kept out a great free kick from Aaron Rosser. Henbury took the lead on 22 minutes when Harvey Moran broke through the visitor's defence and drove the ball past Charman. Gala were a little unlucky in the 40th minute when Danny Knights shot took a wicked deflection but fortunately home keeper Cameron Tarr was just in the right place to save the shot. A minute before half time Gala's Jon Clay was also very unlucky when he lobbed the ball over Tarr but the ball went just over the bar. However, a minute later the home side scored again and this time it was Simon Lashley who broke through the visitor's defence. Kane Manning grabbed a third on 76 minutes and on 82 minutes Harvey Moran was put clear by Jensen Manning to make it 4-0. There were outstanding performances from Henbury's Johnson and Rosser according to the report.
A second successive defeat for Ruardean Hill Ranger this week going down 1-0 at home today's visitors Wick. Luke Johnson missed an early chance for Rangers when he hit the crossbar. Then at the other end keeper Arron Underwood saved well from Ben Daniels. In the 30th minute there was a scramble in the Rangers box with Steve Coombs blocking Ben Daniels goal bound shot. Five minutes later Ricky Tingle cleared of the line. On 60 minutes Mark White in the Wick goal brought off two great saves to deny firstly Johnson's shot then immediately saved again from Luke Brown. The winning goal came in the 75th minute from a great ball into the box headed in by Dan Stevens. White then turned Cornwell-Boote's header over the bar with 5 minutes to go and in the very last minute he denied Luke Brown.
A 1-1 score line at Hardwicke where today's visitors were Patchway Town. The opening 30 minutes of this game produce very little then in the 32nd minute Patchway's Dan Bendall broke down the flank cut into the box but then hit his shot over the bar. Five minutes later Town took the lead with a Free Kick just outside the box and really well Struck by Luke Garbacz who found a gap in the wall to nestle the ball into the bottom corner. The home side levelled on 57 minutes after Kieran Bryce-Ingles sent over a cross to Tobie Webb who was then impeded in the box and Will Higgins netted from the penalty spot. Patchway's Dan Cockram had a great chance to give Patchway the win but through on goal he pulled his effort across goal.
Stonehouse Town's visit to Southmead CS Athletic saw the title challengers go away with the three points with a resounding 7-1 result. Joshua Patel gave town a 20th minute lead, five minutes later Liam Gale scored to make it 2-0. In the 28th minute Alex Kibble scored from close range and then right-on half-time Patel scored his second for a 4-0 lead at the break. On 70 minutes Gale netted from the penalty spot to make it 5-0 Southmead pulled a goal back through Otis Francis on 78 minutes, then a double from Adam Philp on 80 and 88 minutes made the final score 7-1.