The league advises that you check with individual clubs for postponement of a match before travelling especially if the weather is poor. We will update Full-Time as soon as possible on match days, however this is dependant on availability of league officers.
25th March 2019 - Southmead Secretary reflects on turbulent season
Simon Parkinson
SOUTHMEAD CS Athletic's long-serving secretary Neil Graham reflected on more turbulent times at a club bordering crisis point but declared: "We'll keep battling on."
The Jarratts Road strugglers entertain the team immediately beneath them on the Marcliff Gloucestershire County League ladder tomorrow (3pm), bottom-placed Gala Wilton, for a crucial basement bout knowing three points could make all the difference in their fight for survival.
It is a scenario Southmead are well used to – they've occupied the last two places for the past three seasons yet managed to survive as a Step 7 operation.
Graham, who has served the club as player and administrator for more than 25 years, admits they will accept their fate with good grace if they are to go down.
Yet he remains hopeful new manager John Henson and his assistant Rob Cumberbatch can at least inspire a positive conclusion to send them into the summer on a high note, irrespective of their status.
Graham, 47, explained: "John is a defender of ours who had played and captained us for virtually all our games this season when he took over as manager late last month.
"Things came to a head after we lost 7-1 at home to Stonehouse (February 16) when four key members left us: manager Simeon Hopkins, who'd taken over from Chazz Gomm at the back end of the 2017-18 season; our chairman Phil Lindo; vice-chairman Bob Bryant and coach Paul Morris.
"It was disappointing as training numbers had improved on previous years and we have had fuller benches for games.
"In fact things were looking up to such an extent that we were even talking about starting up a reserve team.
"Admittedly I considered my own position. I was so fed up with the way things were going and had I left we really would have been in crisis. I've been with the club for over 25 years and it's in my DNA. You don't get paid and it can be a thankless task. But it's also a way of life.
"In the end I was persuaded to stay by our physio/coach Steve Roe and with John stepping up to take charge alongside (coach) Rob Cumberbatch, and our central midfielder Otis Francis taking on the captain's armband from John, we have pressed on unabated.
"We went on to lose 4-2 at Wick and 2-0 at Henbury in our next games but we then gained a very encouraging point from a 1-1 draw at Patchway."
Southmead do approach the Gala cruncher on the back of a 3-0 home reverse by high-flying Frampton United, although Graham insisted: "If we keep playing like we have been then hopefully we'll go into the summer looking at a brighter picture.
"When we played Gala at their place they won (2-1) with a last-minute goal so it would be nice to reverse that. But we have been perennial strugglers and poor pitch discipline has helped nothing this year.
"It's a shame because the club had done so well to come through all the divisions from the Suburban League to reach the County League (in 2012) and enjoying two promising years to start with. The downturn came from the moment we lost our best players to higher-level clubs.
"If we do end up in the bottom two again then we'll just have to accept our fate if the powers-that-be see fit to relegate us."
Southmead have been boosted by the return of talisman striker Rob Sivers to the club, although new-boss Henson is suspended now following his red card in Saturday's Frampton defeat.
22nd March 2019 - Gala Wilton boss confident of County League survival
Harry Madge
Ahead of his side's relegation six-pointer against Southmead SC Athletic on Saturday, Gala Wilton boss Ian Merrick insists his side can still beat the drop.
Gala, who are bottom, travel to second from bottom Southmead, trailing the Bristol side by three points as the Gloucestershire County League season moves hastily towards its conclusion.
But despite Southmead having a game in hand over Gala, as well as a three-point cushion, Merrick feels a win on Saturday will set them up perfectly for their two remaining games against Lebeq United and Little Stoke.
The former Lydney Town man said: "The game on Saturday is massive. A win would be a massive boost. Obviously they [Southmead] have a game in hand but it would allow us to take some much-needed momentum into the Lebeq game.
"We're still fighting and hopefully we can pull a couple of results out of the hat in our last three fixtures. Lebeq is a really tough one but we've got Little Stoke last game of the season who have a cup final to look forward to, so their minds might be a little pre-occupied.
"It'll be tough to bounce back if we go down into the Gloucestershire Northern Senior League, but we'll be doing our very best to stay in the County league."
The Gloucestershire side haven't won since a 5-1 victory against Hanham Athletic on December 22.
Merrick, who has been at the helm for three years at Gala, reflects on his side's struggles this season: "Last season we had Ryan Dobbins who scored 20 goals for us, but he went to play for Tuffley Rovers so we've missed his goals.
"If you look at our results, a lot of our games have been quite close and we've just lacked a killer instinct in front of goal.
"We've not taken many beatings where we've been absolutely battered, but when you're down at the bottom everything seems to go against you.
"We're all disappointed about where we are this season, but we're the only ones who can dig us out of this hole."
To make matters worse for Merrick, Gala are expected to be without four key players for the relegation clash. Lewis Skyers, Joel Skyers, Alex Pritchard and Peter Boyle are all set to miss out through suspension.
Regardless of team selection, Merrick admits he's expecting a tightly fought encounter. He added: "Southmead are a tough team. They're physical and they've usually got a lot of players with pace and power.
"It won't be a game for the purists I doubt, it's going to be a real scrap and a battle for the whole 90 minutes."
Defeat at the hands of Southmead would all-but consign Gala to a bottom placed finish as both sides seek to retain their Gloucestershire County League status ahead of the 2019/2020 season.
21st March 2019 - Anniversary Representative Game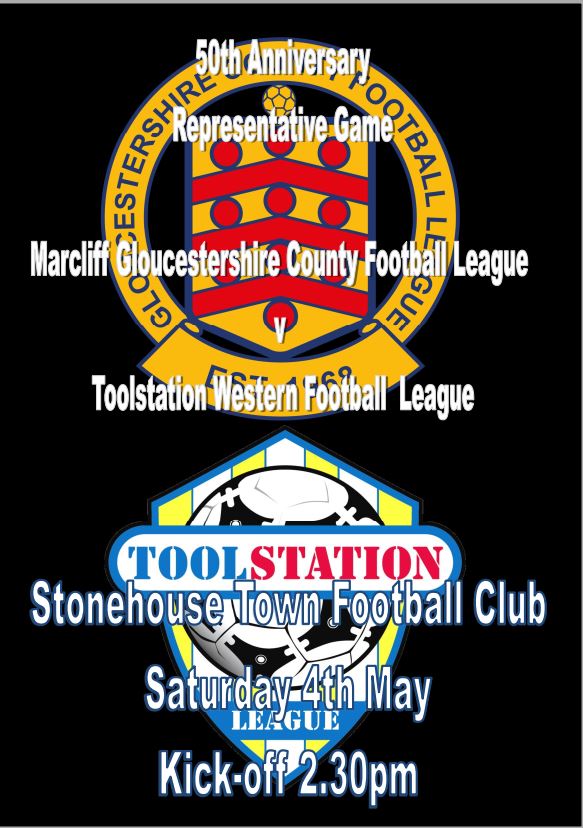 10th March 2019 - Les James Cup Final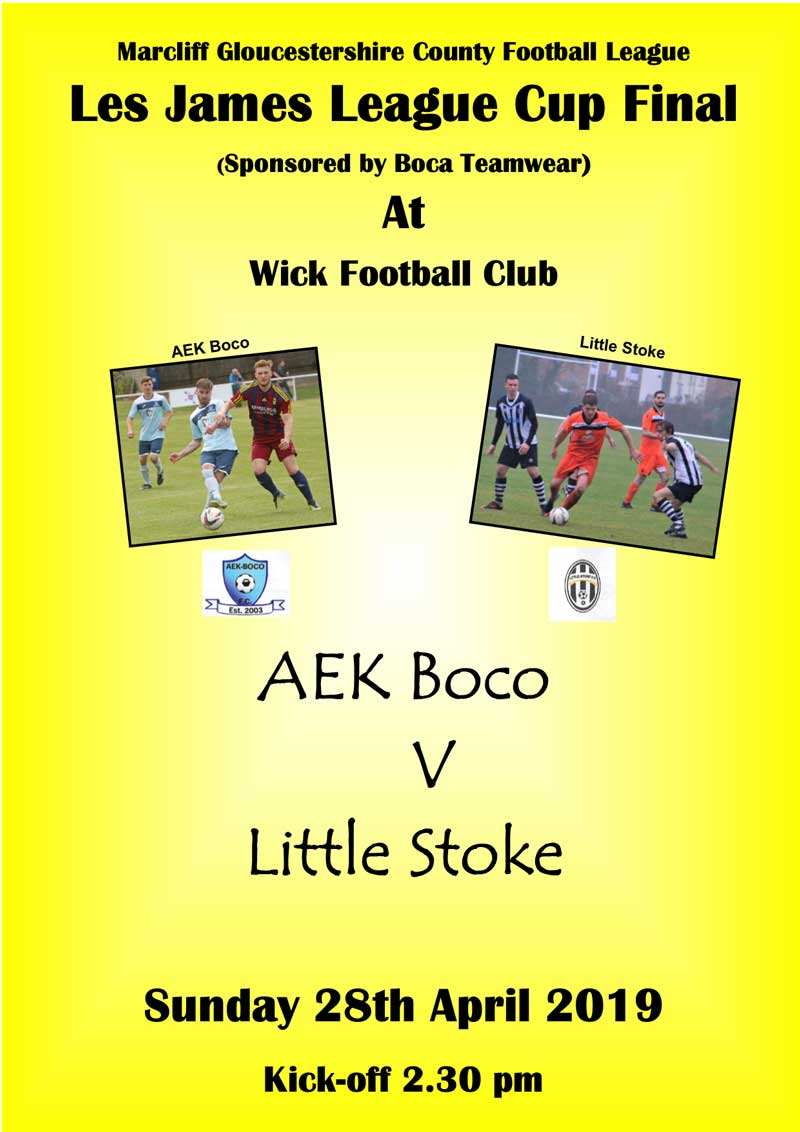 2 nd February 2019 - Promotion Applicants
To step 6
The following clubs have applied for promotion to step 6.
Lebeq United
Stonehouse Town
To be considered for promotion by the FA the club must meet the required ground grading and finish in the top 5, only one club can be promoted from each league.. The FA will decide who is promoted at the end of the season
To the Gloucestershire County League
Applications have been received from the following clubs.
Gloucestershire Northern Senior League

Chalford
Charlton Rovers
Quedgeley Wanderers
Sharpness

Bristol Premier Combination

Olveston United

Bristol and Suburban League

Avonmouth
Bromley Heath United
Filton Athletic
Two clubs will be promoted subject to passing a ground grading and finishing in the top three of their league.
Relegation and other movements
The bottom two clubs will be relegated. For the purpose of this rule Kingswood who withdrew earlier in the season are counted as the bottom club. The number of relegations will be reduced if less than two clubs are promoted from the feeder leagues
It may be necesary to accept teams from the Hellenic League, Western League or other step 6/7 leagues if the FA place teams in this league.
Any vacancies in the league will be filled after promotion, relegation and lateral movements are resolved. The constitution will be subject to FA approval
2nd February 2019 - Respect Table 2018/19
Dissent
Reported
Start 100
Pos
Team
Played
Yellow
2 Yellows
Red
Technical Area
After Match
Points
1
Frampton United
22
0
0
0
0
0
100
2
Rockleaze Rangers
20
0
0
0
0
0
100
3
Ruardean Hill Rangers
18
1
0
0
0
0
95
4
Hanham Athletic
19
3
0
0
0
0
85
5
Stonehouse Town
18
7
0
0
0
0
65
6
Hardwicke
20
9
0
0
0
0
55
7
Wick
19
6
1
0
0
0
55
8
Patchway Town
21
9
0
0
0
0
55
9
Broadwell Amateurs
21
2
1
0
1
0
50
10
AEK Boco
20
5
0
1
1
0
35
11
Gala Wilton
21
11
1
0
0
0
25
12
Lebeq United
22
11
0
1
0
0
25
13
Henbury
18
10
0
0
0
1
25
14
Little Stoke
19
4
0
0
1
2
15
15
Southmead CS Athletic
18
10
1
0
1
1
-10
Totals
88
4
2
5
3
2nd February 2019 - Other Cards Table 2018/19
Pos
Team
Played
Yellow
Red
Points
1
Rockleaze Rangers
20
11
0
11
2
Frampton United
22
13
1
18
3
Gala Wilton
21
18
1
23
4
Hanham Athletic
19
17
2
27
5
Little Stoke
19
20
2
30
6
Patchway Town
21
16
3
31
7
Henbury
18
22
2
32
8
Wick
19
20
3
35
9
Hardwicke
20
21
3
36
10
Stonehouse Town
18
26
2
36
11
Ruardean Hill Rangers
18
24
3
39
12
Broadwell Amateurs
21
24
4
44
13
AEK Boco
20
27
4
47
14
Lebeq United
22
32
3
47
15
Southmead CS Athletic
18
37
6
67
Totals
328
39
Yellow - 1 point
Red - 5 points
17th January 2019 - 50th Anniversary Dinner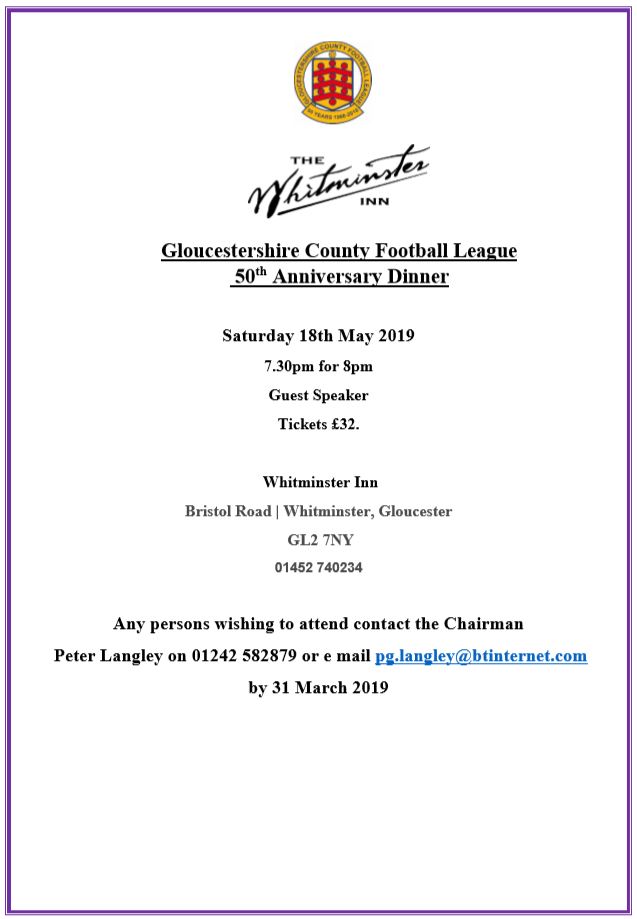 6th May 2018 - Thornbury Town Champions 2017/18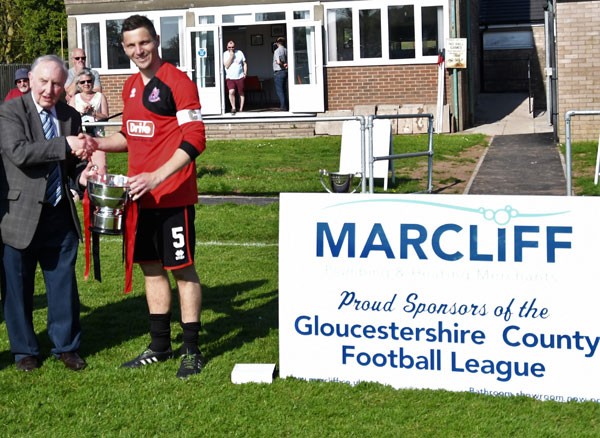 Cliff Orchard Managing Director Marcliff presenting the Trophy to Pete Fowler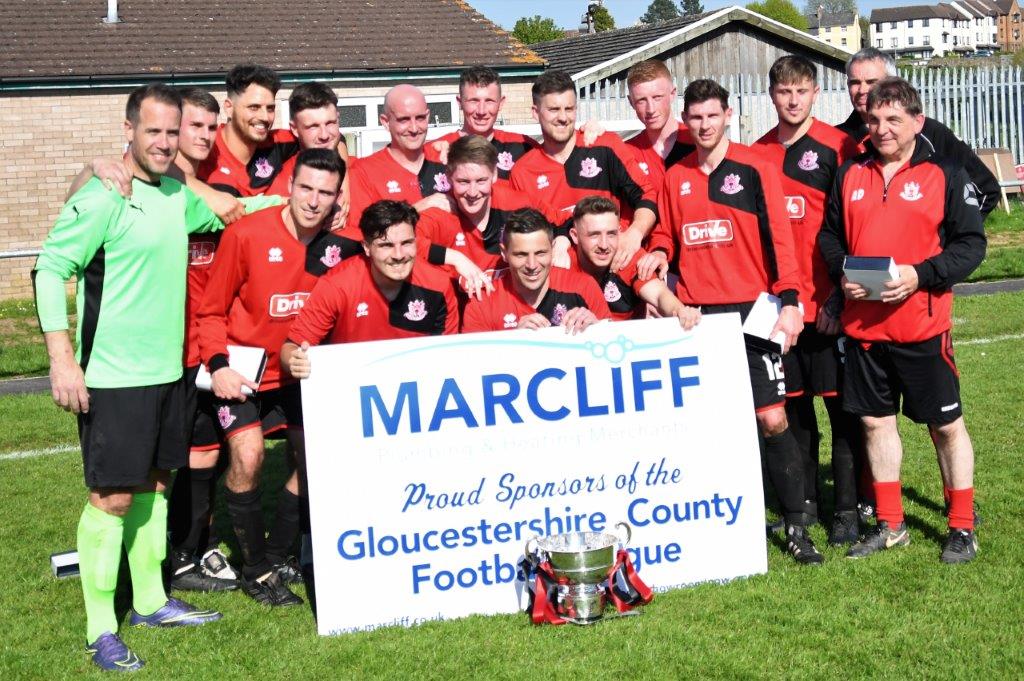 Thornbury Town - Champions Marcliff Gloucestershire County Football League 2017/18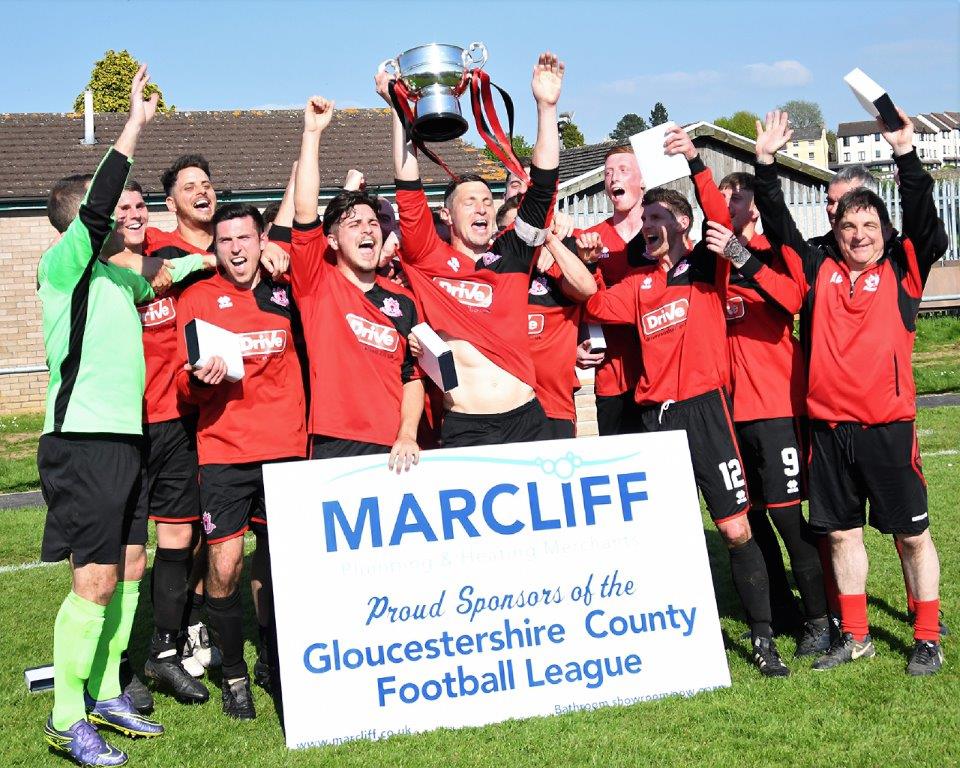 Thornbury Town - Champions Marcliff Gloucestershire County Football League 2017/18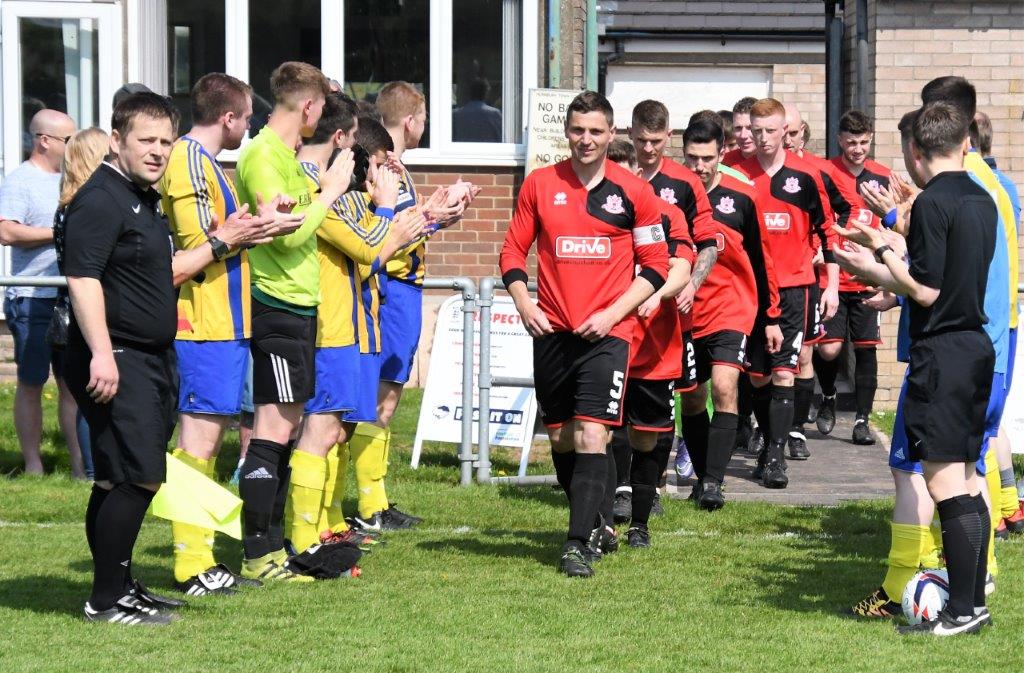 Thornbury Town - Champions Marcliff Gloucestershire County Football League 2017/18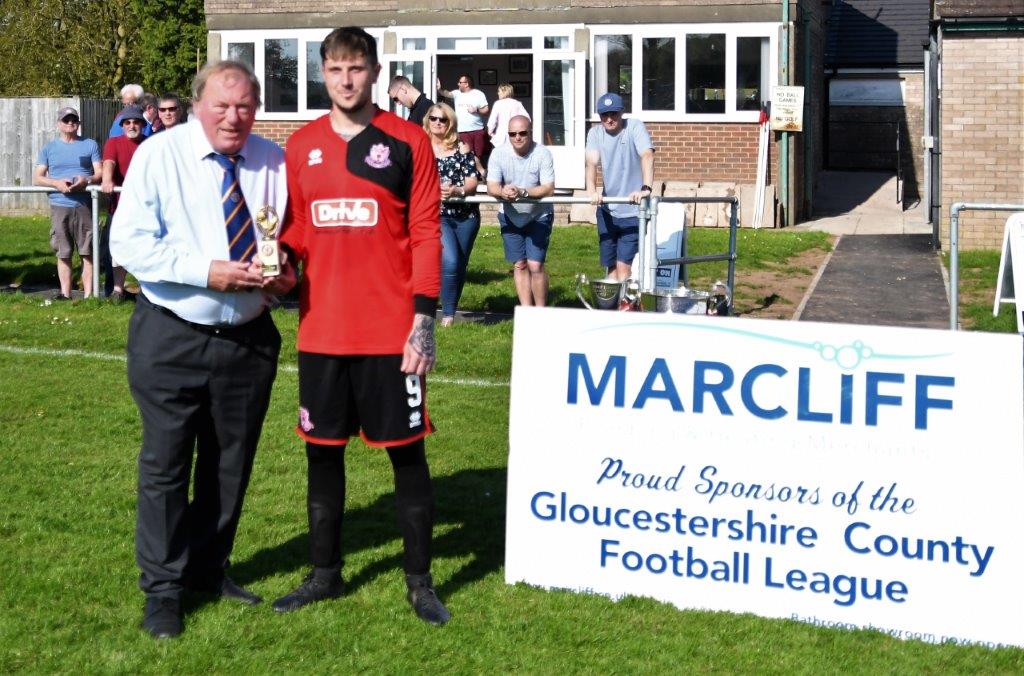 Craig Lancastle Leading Goalscorer 2017/18
11th September 2016 - Marcliff Plumbing Supplies Sponsorship
The signing of a new 2 Year sponsorship deal between Marcliff and the league took place at Little Stoke before the game.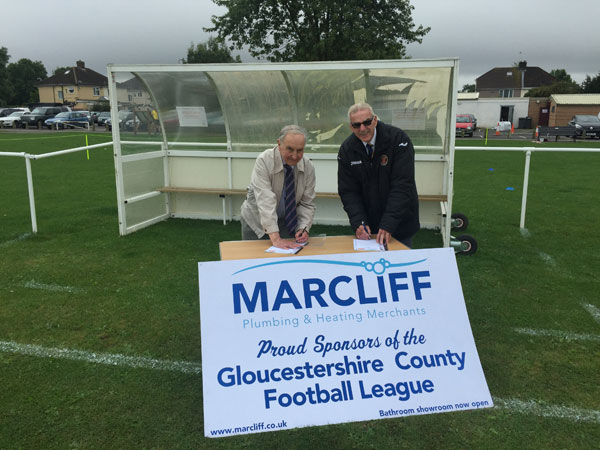 Cliff Orchard (Managing Director Marcliff) - Bob Stewart (Chairman League)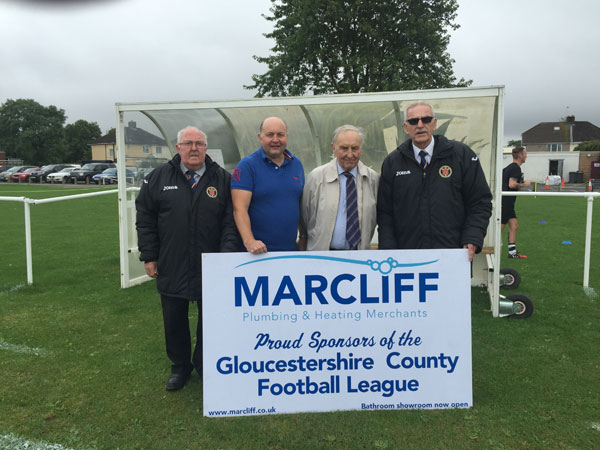 Ron Holpin General Secretary League – Rob Orchard (Director Marcliff) Cliff Orchard (Managing Director Marcliff) Bob Stewart (Chairman League)
Match Reports
23rd March 2019 - Gala Wilton take vital points at Southmead
Ron Holpin
The bottom two teams Southmead CS Athletic & Gala Wilton met at Southmead both knowing that a win was essential to try and prevent finishing in a relegation position. With both Clubs having just 2 fixtures to play following this game. It was an early shock for the home side when they went 1-0 down after 2 minutes from a free kick after Ryan Dobbins had been fouled 35 yards out on the left side of the penalty area. Jay Dare lifted the ball high towards the home goal and keeper Alvin Quaye came a yard too far off his line and the ball just clipped his finger tips on its way into the net. Southmead's first chance after 8 minutes came from a long ball into the Gala area where Leon Clayton-Clark got up well but his header cleared the bar. Gala went 2-0 up on 18 minutes from a looping ball into the Southmead box that was well taken by Ryan Dobbins who controlled it and fired across Quaye into the far corner. The home side went close again on 29 minutes when a low shot from wide on the left from Mohamed Rabia just skimmed past the far post.
In the 53rd minute Gala were awarded a penalty for pushing and Ryan Dobbins made no mistake from the spot. Gala keeper Dan Brabham tried a cheeky free kick from just inside his half which bounced just in front of Quaye but over the bar. The home side pushed hard and Brabham in the Gala goal was in action on numerous occasions but always managed to keep the ball out of his net. It is going to be tough for both sides but Southmead have two home games left whilst Gala have to travel for their two.
Stonehouse Town pulled off a convincing 4-0 win at Broadwell Amateurs to keep their hopes alive. The game got off to a hectic start with home keeper Mack Sadler being called into action on several occasions. Then in the 21st minute Town took the lead as Chris Earle cut in from the left and curled a perfect low shot past Sadler. A brilliant five man move on 28 minutes brought the second goal with Adam Philp sending in a low cross for Luke Soule to tuck away. Into the second half and on 52 minutes the home side lost the ball in midfield Alex Kibble pounced on the loose ball and neatly chipped the ball over Sadler for the third. Just 4 minutes later the home side lost the ball again in the middle of the park with Kibble picking it up again striving forward and striking a low shat past Sadler.
A last-minute goal was the down fall of Henbury in their home fixture with Rockleaze Rangers. Henbury were appealing for a penalty in the 15th minute when Jensen Manning went down in the box but the match official waved play on. Rangers Rory Langdon should have scored in the 20th minute but headed past the post. Henbury went close on 35 minutes when Jack Dempsey fired his free kick just past the upright. George Loud then had his shot well saved by the Rangers keeper Lewis Brodie. The home side almost handed Rangers a gift just before the break when Dan Webb latched onto a bad back pass but his chipped ball over the keeper was headed away by Aaron Rosser. In the second half A Jack Dempsey shot was deflected by Ross Jones towards the goal but it flew over the bar. The killer blow came right at the end when home keeper Cameron Tarr got his hand to a Rory Langdon shot but it snuck into the net.
A 2-0 win for Little Stoke at Hanham Athletic with a double from Luke Meacham. The first on 39 minutes came from Jordan Yeo corner where he rose high above everyone to head in off the bar. A great bit of defending by Stokes Reece Hedges denied a certain equaliser for George Cryer, but in the 72nd minute Meacham rounded the keeper to net his second.
AEK Boco v Wick with just a few miles between the Club it attracted 117 spectators to watch the game. Wick were the better side in the first 45 minutes and home keeper Liam Jacques kept them at bay on numerous occasions. The second half produced very little in the way of chances until the 75th minute when Wicks Sam Thomas produced a bit of magic on the edge of the Boco box before laying the ball back for Joe Thomas whose cracking shot was on target but was deflected past Jacques into the top corner.
Eight goals in the late Kick off at Almondsbury where Lebeq United won the game 5-3 against today's visitors Hardwicke. Lebeq went ahead from a long ball out of defence that found Tom Collett whose first shot was saved but he followed up to put the rebound away. Hardwicke levelled when James Ratcliffe cut in from the left and fired into the bottom corner. Hardwicke then went ahead with Tobie Webb firing home from just outside the box but the home side hit back with a second from Tom Collett a half volley just inside the box. Just before the break Lebeq went 3-2 up when Kristian Miller broke down the right flank sent in a powerful cross that was fumbled by the Hardwicke keeper and finished up in the back of the net for an own goal. Dan Payne increased the lead to 4-2 and then a bullet header from Kevin Camargo following a corner gave the home side a 5-2 lead. Hardwicke got a third against the run of play and an appeal by the home side for offside that never came and Tobie Webb netted his second.