13th August 2022 - Gala Wilton win opener against Cribbs Reserves
Mark Simpson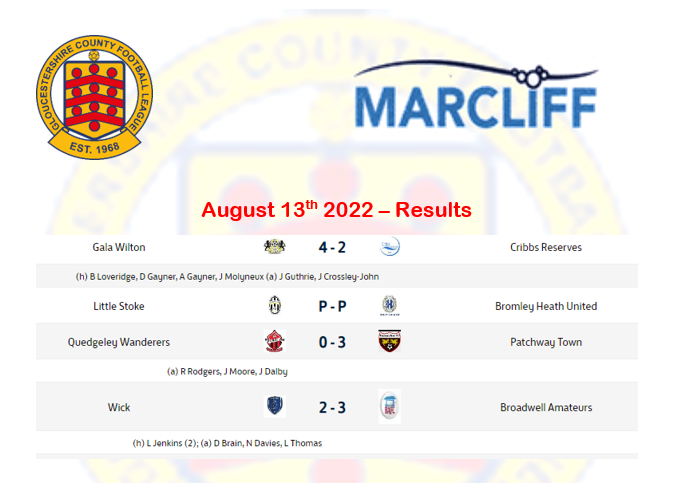 A rather shortened first week in the League with a probably more appropriate sport for the high temperatures cricket taking priority. Little Stokes' match with Bromley Heath United also falling victim with an unplayable pitch.
However three games went ahead with Gala Wilton against Cribbs Reserves leading the way with a scorching spectacle of County League Football. Gala dominated the early spells and almost scored inside a minute with keeper Harry Bridgeman tipping round the post. Early dominance paid off after 9 minutes when Brad Loveridge curled a free kick into the top corner. Gala's second came on 16 minutes when Dan Gayner smashed the ball past a helpless keeper. Cribbs edged their way back into the game and pulled one back on 27 minutes when Liam Clayton beat his man and crossed for Jim Guthrie to give Gala keeper Brad Newman no chance.
The second half started with Gala taking control again and they were rewarded in the fiftieth minute when Ben Sluman found himself out wide, danced around his defender drove the ball low and hard across the goal which was met by Molyneux for 3-1. On 62 minutes it was 4-1, a deep free kick found Dan NcNally whose cushioned header was latched upon by Alex Gayner who skipped around three players before smashing home. Cribbs kept going and got a deserved second when James Crossley-John's cross shot found its way into the net to give a final score of 4-2 to Gala.
Wick v Broadwell was a test for a completely new Wick side on a straw coloured pitch. Wick had a couple of early chances with Mikey Golding's shot deflected over and a header failed to trouble Ben Reed in the Broadwell goal. Broadwell's pacey attack earned a somewhat disputed penalty which was converted after Wick's Billy Fletcher was sin binned for disputing the decision. Despite being a man short Wick pushed on and equalized on 40 minutes Liam Jenkins finishing a fine move by slotting his shot under the diving Broadwell keeper. Broadwell took the lead when the ball was bundled past Ashton Trott and the lead was extended when a long clearance from a Wick free kick was latched upon by the pacey forwards for 3-1. With minutes remaining Wick were awarded a penalty which was scored by Liam Jenkins past an unfortunate Ben Reed, but it was not enough to prevent the home side going down 2-3.
Quedgeley Wanderers v Patchway Town saw an early chance for Quedgeley's Ollie Curtis which disappeared past the post. Patchway made their way into the game and chances for Olly Bacon and Gassama Ismafoot were both saved by Nathan Charnock in the home goal. Patchway eventually took the lead when Ryan Rodgers well struck shot nestled in the back of the net. A chance for the home sides Cameron Smith was saved by Sam Davies in the away goal. Towns Joe Weare had a shot brilliantly saved by Nathan Charnock but he was unable to stop a second goal for the away side when Jay Moore slotted home. Joe Fisher, Olly Curtis and Ryan Hunt could not take chances for the home side before it was left to Joe Dalby to show them how it was done making it a final score of Quedgeley Wanderers 0 Patchway Town 3