The league advises that you check with individual clubs for postponement of a match before travelling especially if the weather is poor. We will update Full-Time as soon as possible on match days, however this is dependant on availability of league officers.
5th June 2018 - Final Respect Table 2017/18
Dissent
Reported
Start 100
Pos
Team
Played
Yellow
2 Yellows
Red
Technical Area
After Match
Points
1=
Broadwell Amateurs
32
0
0
0
0
0
100
1=
Frampton United
32
0
0
0
0
0
100
3=
Rockleaze Rangers
32
4
0
0
0
0
80
3=
Wick
32
4
0
0
0
0
80
5
Stonehouse Town
32
5
0
0
0
0
75
6=
AEK Boco
32
6
0
0
0
0
70
6=
Thornbury Town
32
9
0
0
0
0
70
8=
Southmead CS Athletic
32
9
0
0
0
0
55
8=
Ruardean Hill Rangers
32
9
0
0
0
0
55
8=
Little Stoke
32
9
0
0
0
0
55
11
Hardwicke
32
10
0
0
0
0
50
12=
Kingswood
32
7
0
1
0
0
45
12=
Patchway Town
32
11
0
0
0
0
45
14
Henbury
32
5
1
1
0
0
40
15
Gala Wilton
32
13
0
0
0
0
35
16
Hanham Athletic
32
10
0
1
0
1
5
17
Lebeq United
32
12
0
1
1
0
40
Totals
120
4
1
1
1
22nd May 2018 - 2017-18 Match-day programmes for sale
A pack of 17 programmes will cost £5.50 including Packaging & Postage.
Please make Cheques payable to Gloucestershire County Football League

Please send to:

Ron Holpin
27, Brockley Close
Little Stoke
Bristol.
BS34 6HA.

MAKE SURE THAT YOU INCLUDE YOUR NAME AND ADDRESS

If you wish to contact me by email: "sec.gloscountyleague@btinternet.com
Tel: 01454 612842
6th May 2018 - Thornbury Town Champions 2017/18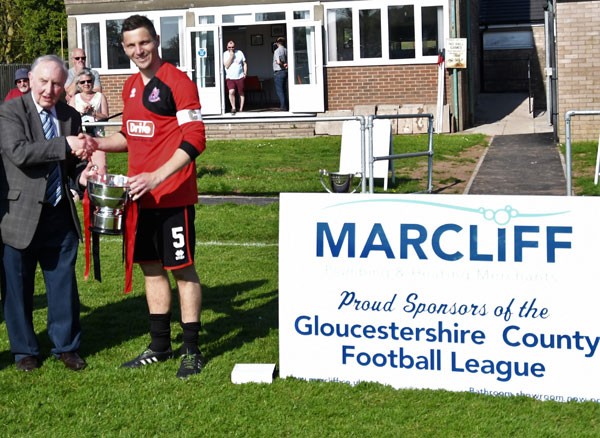 Cliff Orchard Managing Director Marcliff presenting the Trophy to Pete Fowler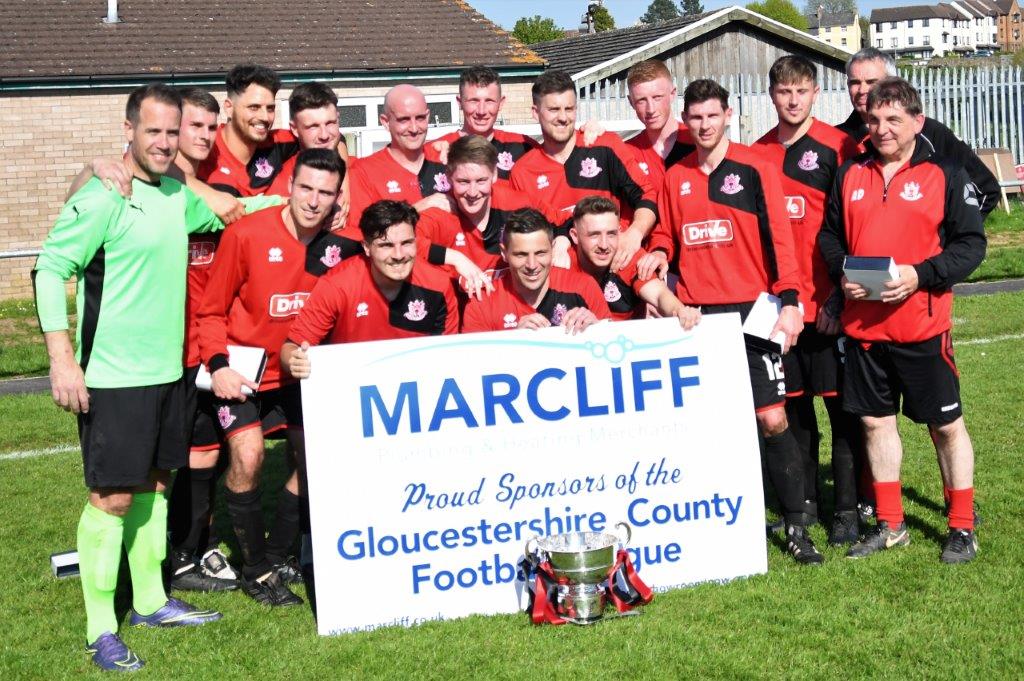 Thornbury Town - Champions Marcliff Gloucestershire County Football League 2017/18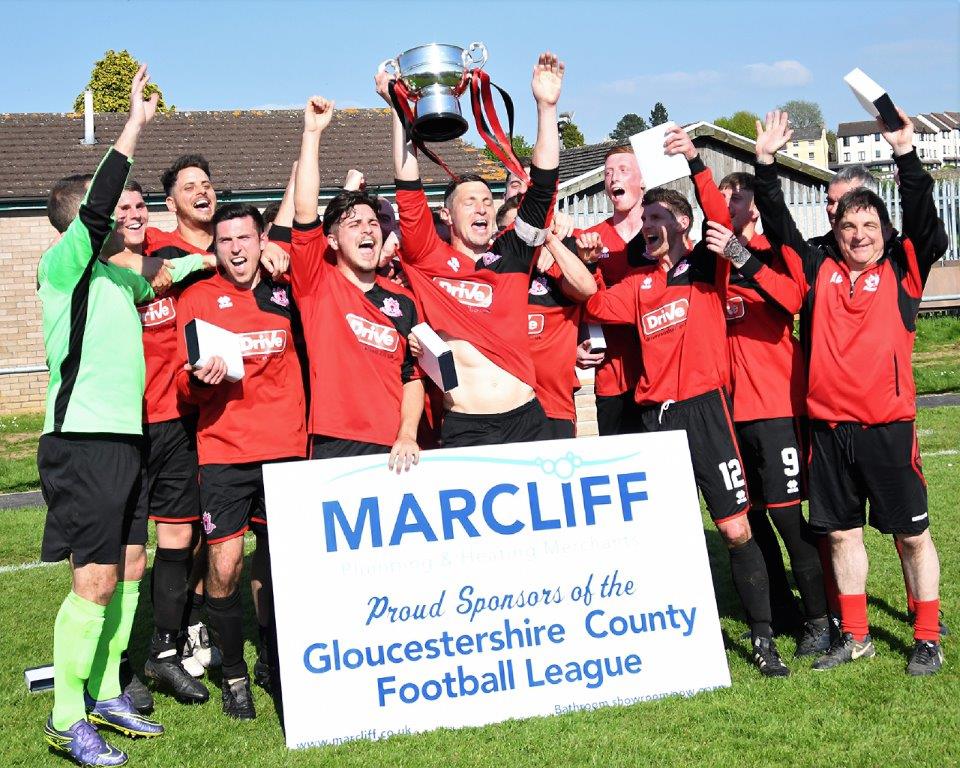 Thornbury Town - Champions Marcliff Gloucestershire County Football League 2017/18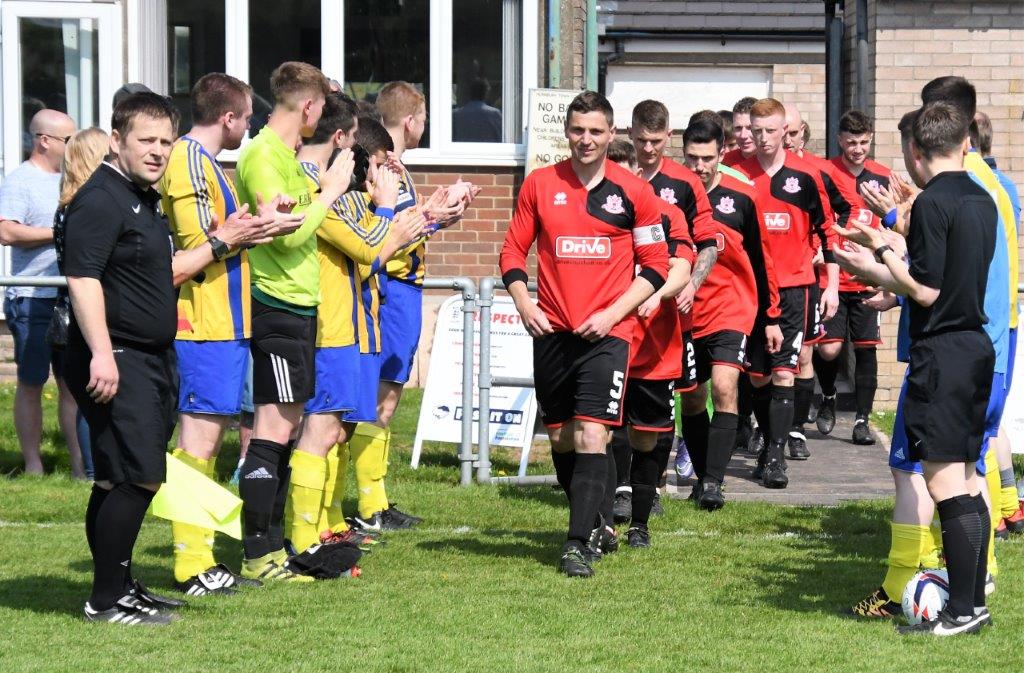 Thornbury Town - Champions Marcliff Gloucestershire County Football League 2017/18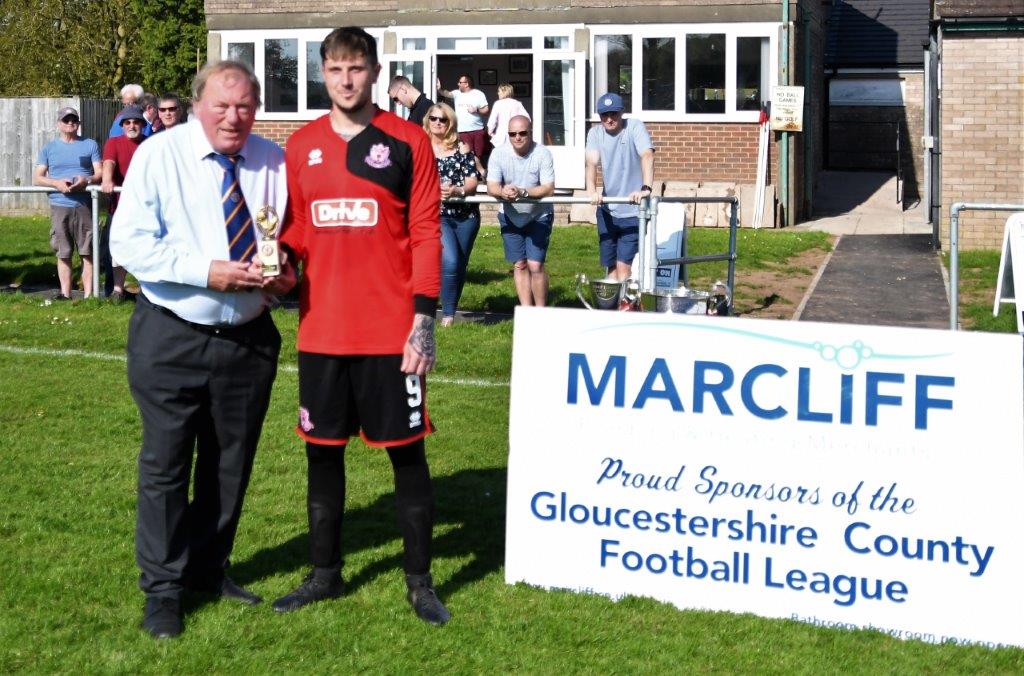 Craig Lancastle Leading Goalscorer 2017/18
11th September 2016 - Marcliff Plumbing Supplies Sponsorship
The signing of a new 2 Year sponsorship deal between Marcliff and the league took place at Little Stoke before the game.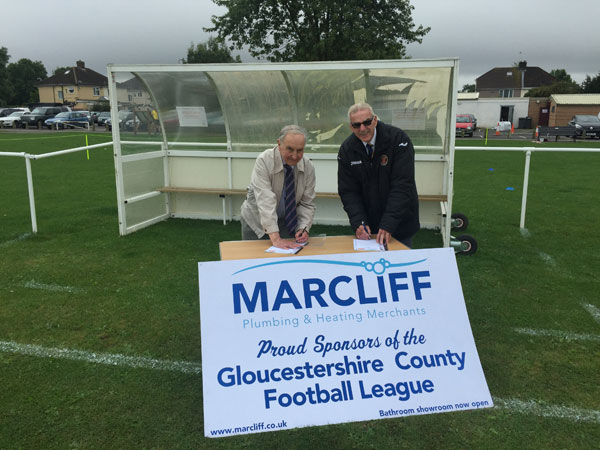 Cliff Orchard (Managing Director Marcliff) - Bob Stewart (Chairman League)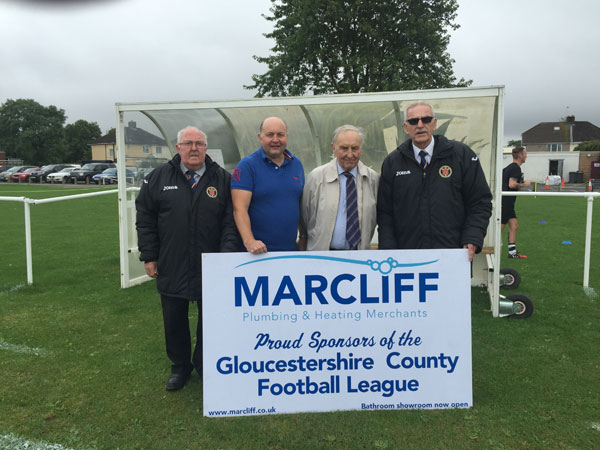 Ron Holpin General Secretary League – Rob Orchard (Director Marcliff) Cliff Orchard (Managing Director Marcliff) Bob Stewart (Chairman League)
Ron's Match Reports
11th August 2018 - Thomas grabs four as Wick beat Hanham
Wick hosted close neighbours Hanham Athletic in their second home game of the season and were very impressive winning the game 6-1 with Sam Thomas helping himself to four of the goals.
The home side opened the scoring after 10 minutes from a Shaun Morris free kick wide on the left that just flew past everyone in the box and into the far corner of the net. A couple of minutes later Ben Daniels blasted over from a corner sent in from the left. Wick were awarded a free kick just outside the box a minute later and Sam Thomas curled his shot around the wall and into the bottom corner. Hanham's first attempt on goal came on 17 minutes from a free kick about 10 yards out from the goal line on the left which was really well struck by Sam Brown but equally well fisted away by home keeper Joe Pople. 2 minutes on and Tom Welling sent a low cross into the Wick box that was met by Adam Grinter who turned and struck the ball well but it went straight to Pople. At the other end Dan Sheldon should have scored but blasted over. The visitors had a great chance to pull a goal back on 27 minutes when Ellis Kow sent a great cross into Grinter in the box but he was brought down which led to a penalty. Sam Brown took the kick but Pople guessed right and brought of a great save pushing the ball away for a corner. On 35 minutes Pople again saved well palming Joel Athey's goal bound shot away. At the other end Ben Daniels had a shot well saved by keeper Ross Britton and Jordan Scott struck the crossbar with a header. On 41 minutes Wick scored again this time a long ball up to Sam Thomas and the striker made no mistake.
Right from the off of the second half Wick piled on the pressure and a good interchange on the right between Jordan Scott and Shaun Morris led to their fourth goal Thomas placing the ball past Britton from Morris's pass. Number five came on 58 minutes from a free kick into the box it ran loose to Morris who turned neatly and slid the ball across to Thomas to tap in. Wick made it six in the 68th minute and this time it was Jordan Scott who cut in from the left found some space and slotted the ball past Britton from the edge of the box. Hanham did eventually find the back of the net in the 73rd minute when Substitute Luke Simmons headed past Pople from a long free kick. Wick still kept pushing forward and only several good saves from Britton kept the score-line down as he saved well from Antonio Nurse and Giovanni Fisher near the end.
Frampton United gain a second win of the season this time over today's visitors Ruardean Hill Rangers. They took a very early lead on 3 minutes when Matt Cook set up Max Harper-Emerson whose shot was saved by the keeper but fell nicely for Ryan Vincent to drive home. Vincent made it 2-0 on 24 minutes with a powerful shot from the edge of the box that was spilled by Underwood and the ball ran over the line. Kane Fellows might have pulled a goal back for Rangers but his header went just over the bar. Just before the break Frampton managed to keep a clean sheet when they cleared off the line. Vincent had a good chance to complete his hat-trick in the second half but Vincent's shot from Max Harper-Emerson's cross was well saved by Underwood.
Stonehouse Town recovered from last weeks defeat to win by a slender margin in their home game against Rockleaze Rangers. Alex Kibble saw his 30 yard free kick strike the Rangers post after 3 minutes and at the other end Clarke had to be at his best to deny Rangers from a corner. On 26 minutes Dan Webb had a chance for Rangers but shot over the bar, then a minute later Clarke saved well form Freddie Short free kick. Stonehouse were fortunate to take the lead on 30 minutes when a cross into the box was headed goalwards but took a deflection of Rangers full-back Freddie Short and into the net. Another free kick for the home side saw Alex Kibble strike the upright for a second time and then Chris Earle saw his shot tipped over the bar by Rangers keeper Lewis Brodie. Stonehouse's Dan Martin then struck the crossbar on 48 minutes. Williams then went on a mazy run but the final shot was again saved by Brodie. Rangers Dan Webb tested home keeper Clarke with a stinging shot but the visitors were unable to break through.
Broadwell Amateurs v Hardwicke swung both ways with two late goals in time added at the end saw the final score finish 2-2. Even though there was an outstanding performance by Hardwicke's Richard Mansell and numerous free kicks given away by Broadwell the home side took the lead against the run of play in the first half with a 40 yard punt up to Burnard who crossed into the box for Harry Williams to fire his shot under the keeper. Hardwicke levelled the score on 70 minutes with a cross from the left that was met by Will Matthews to head past keeper Jamie Merry. Then came the two late goals Hardwicke must have thought they had won the game when Tobie Webb gave them the lead on 92 minutes but Broadwell snatched the victory away 2 minutes later when Alex Brown's long ball found Sam Keetch to score the equalising goal.
Gala Wilton entertained Kingswood who were playing their first game of the season with the game ending all square in a 1-1 result. The first 15 minutes was fairly even until Kingswood's Fabian Pereira-Fasanella broke clear but with just the keeper to beat he shot over the bar. With both sides not creating much the deadlock was broken in the 44th minute when Fabian Pereira-Fasanella raced through to put Kingswood 1-0 up. Gala were more determined in the second half but failed to make the break through that is until 3 minutes in to time added when Craig Howell rose above the Kingswood defence to head home a good cross from the right.
Lebeq United and Henbury played out a 0-0 draw at Oakland's Park.
Little Stoke v Patchway Town was postponed due to the pitch being unfit.