25th February 2023 - Hardwicke pick up vital points
Mark Simpson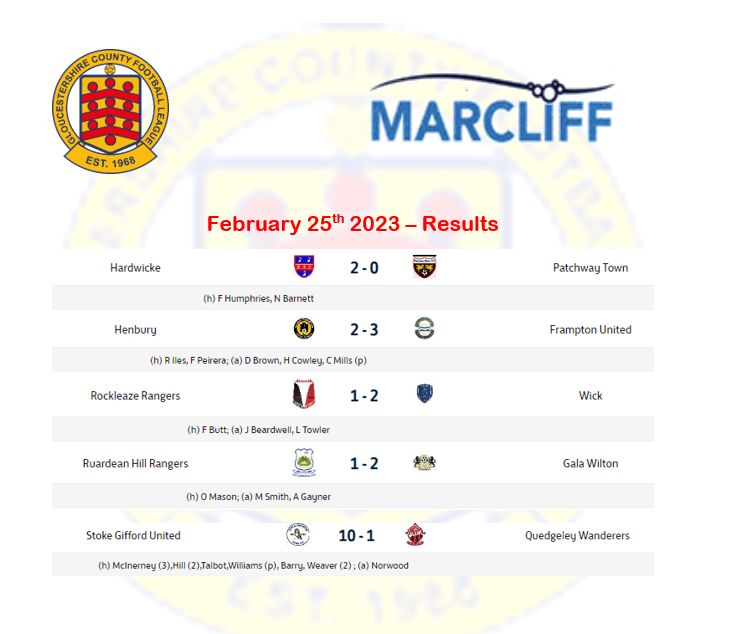 A day off for the leaders and of the challengers playing only Gala Wilton took the opportunity to make any gains. At the bottom Hardwicke and Patchway Town fought a six pointer and the bottom three are starting to come adrift. It was also Les James league Cup semi-finals with Sharpness and Broadwell Amateurs making it through to the final.
At Green Lane it was an important game for both Hardwicke and Patchway Town and it was the hosts who took the points. Both teams battled away seeking an early chance to take the lead. The first chance fell to Hardwicke after quarter of an hour when James Humphries raced down the wing and crossed for Paul Carter whose over-head kick flew wide. Five minutes on and James Humphries teased Patchway again and crossed for Ben King to volley against the bar. Hardwicke took the lead on twenty minutes when Fred Humphries slotted home from the penalty spot. Patchway responded immediately with Brendan Detain finding the back of the net only to be ruled out for offside. The second half began at a frantic pace but an opportunity to score didn't come until the 65th minute when Patchway's Cam Adams free kick from 25 yards was parried away by Hall. Five minutes later Patchway were down to ten when Matt Baker was dismissed. A cross from the resultant free kick from Ryan Webb was met by a powerful header from Nathan Barnett who made the final score 2-0 to Hardwicke.
Two promotion candidates met at a very cold Hillside Gardens where Wick took three points off Rockleaze Rangers. Rockleaze were in charge for most of the first half with the first chance falling to Elgahmi on 13 minutes but his back post header was turned away by Ashton Trott. Mike Perham should have opened Rockleaze's account from the resulting corner but he only managed to squeeze the ball against the post with the goal gaping. On 41 minutes Fraser Butt rattled Wick's crossbar from distance but wasn't to be denied four minutes later when a quite marvellous free kick from 25 yards beat Trott at the bottom right hand corner for 1-0. Wick came out of the blocks in the second half and never allowed Rockleaze to get going again. A minute in and the prolific Joe Beardwell rose at the back post to nod home Millard's cross. Just 8 minutes later Liam Towler turned well in the box and struck the ball past Jordan Dunning for a second and at this point it was all one-way traffic. Rockleaze did have a one-on-one chance with a quarter of an hour left but inexplicably Hall squared the ball rather than shooting from 8 yards. Wick remained the most likely to score and Osbourne had a goal bound free kick well saved by Dunning and Jack Creaney should have done better when open in the box he scuffed his shot which fell nicely into Dunning's hands. The game petered out and Wick deservedly took the match 2-1 on the basis of their second half performance.
Towards the top again and Gala Wilton needed the points to sustain their challenge and came away with an excellent victory against the notoriously difficult Ruardean Hill Rangers. It was only 4 minutes in when Martin Smith put Gala ahead with a first time shot after Hill lost possession. A few minutes later Fin Jones 25 hit yarder for Ruardean straight down Todd Holder's throat. Hill did equalise on thirteen minutes after a beautiful 1-2 between Kane Samson and Ollie Mason saw Mason through to slip the ball under Holder. The game became a bit niggly for the remainder of the half. Gala retook the lead five minutes into the second half when Alex Gayner hit the rebound home from an Aaron Underwood save from Marcus Foxwell's free kick. On 53 minutes Mason forced a good save from Holder. On sixty six minutes Alex Stephens thought he had a penalty but was play was waved on. With quarter of an hour left Charley Mason's free kick was headed against the post and appeared to some to have crossed the line, but where's goal line technology? A few minutes later Charley Mason hit a 30 yard free kick, saved by Holder. Two minutes from the end Gayner should have made sure of the points for Gala but was wide of the mark. Another controversy right at the end - did Holder take out Charley Mason, who knows! But a fine 2-1 victory for Gala Wilton.
Stoke Gifford United's turn for two games this week the first a Tuesday night victory over Broadwell Amateurs but boy didn't they leave it late. A good crowd of 75 boosted by ground hoppers from far and wide saw Broadwell edge the first 10 and Lewis Jefferies dealt easily with a 35 yarder. Gifford began to establish some control with Paul Cronin and Devanti McInerney getting behind Broadwell's full backs. On the half hour an excellent run by Devanti with the ball falling for Cronin 10 yards out but his fierce shot was superbly blocked. A flurry of set pieces and corners for Gifford were resolutely defended by the visitors. Gifford dominated proceeding in the second half but struggled to find a clear way to goal. McInerney found himself clear on goal a couple of times but failed to find the net. Another sweeping move by McInerney saw his driven cross missed by Kray Foster despite his best efforts. The winner did come in time added on when Tauren Williams through on goal an had his initial effort saved but managed to poke the ball home. Spike Weaver nearly added a second but was denied by the offside flag. A good 1-0 win for Gifford.
Now to Saturdays affair against struggling Quedgeley Wanderers and Stoke Gifford United made no mistake. They flew out of the traps and were ahead inside 5 minutes, Devanti McInerney firing into the bottom corner. It was 2-0 after 15 minutes, the lively Mike Barry was too hot to handle and was taken out allowing Tauren Williams to dispatch the resultant penalty. Gifford were relentless in attack with Rudi Hill adding his name to the scoresheet after good work by McInerney. The fourth came from a clever short corner from Scott Taylor finding Marcus Thatcher who whipped in a cross for Dave Talbot to nod home. Gifford were five up before half time when the menacing McInerney broke free again and fired into the bottom corner from 12 yards. He completed his hat-trick just after the break beating the full back and cooly slotting home. Mike Barry topped his fine display with a goal Spike Weaver finding him to finish emphatically. A little bit of respite for the visitors came when a delightful cross was nodded in by Stephen Norwood. The lively Weaver then turned goal scorer picking up a brace in quick time to cap a good performance. Hill finished the scoring when after a brilliant save by the substitute goalkeeper the ball fell into his path and he stooped to nod home for 10-1. Back to the drawing board for Quedgeley Wanderers.
Another of the strugglers, Henbury fared a little better than Quedgeley but the outcome was just the same, "nil points" following a 3-2 victory for Frampton United at Arnall Drive. Frampton had the opportunity to take the lead on twelve minutes when awarded a penalty but it was well saved by Damian Chlopecki in the Henbury goal. On 25 minutes Frampton opened their account with Dom Brown's header. Two minutes into the second half the lead was doubled by Harvey Cowley's header. Henbury's Sam Allen prevented a third with a goal line clearance. The hosts hauled themselves back into the game in the 65th minute with an impressive 20 yard strike by substitute Rhys Iles. Ten minutes later Frampton had a second penalty this time converted by Craig Mills. With two minutes left the home side pulled another goal back when Fabian Pereira headed in from Iles assist but it wasn't quite enough Frampton holding on for 3-2.
Les James Cup Sponsored by Boca Teamwear - Sharpness and Broadwell Amateurs reach the Final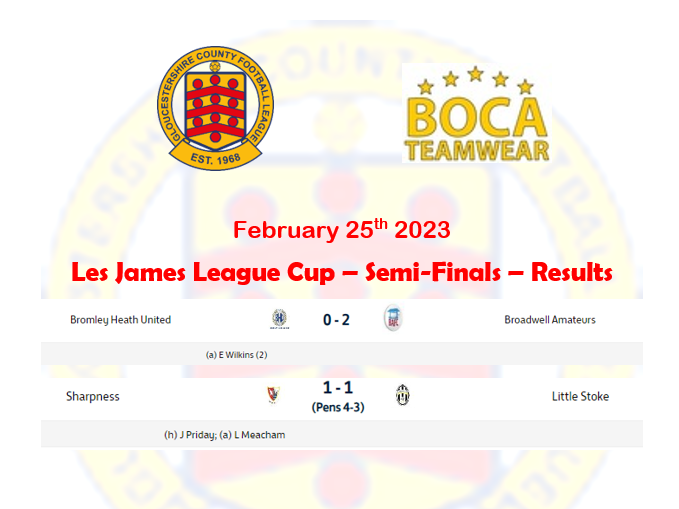 It's Les James League Cup semi final time, and a crowd of 128 saw Sharpness defeat Little Stoke who had in fact won the last two competitions. Sharpness started brightly and thought they were in front when Tom Frankham's corner was headed back across goal by Rouse to Thurston who thought he had scored but there was the matter of a defender in the way to clear. Alex Higgs then had a shot comfortably dealt with by Jarrett. After the initial 15 minutes Little Stoke grew into the game and had the better of the first half. Mike Hardiman had a chance to score but pulled his effort wide. Jordan Yeo had a chance to test Truan Taylor but his free kick effort was straight into the Sharks wall. Taylor had to be at his best on the half hour tipping Luke Meacham's effort over the bar. Little Stoke kept pushing but Sharpness dug in the keep the scores level at the break. The second half was much the same with Little Stoke dominating and they got their reward in the 54th minute when a ball in behind James Priday found Jordan Yeo who beat his man and superbly crossed for Meacham to head home. The visitors piled on the pressure but couldn't find that elusive second. In the end they were made to pay when a Will Tainton corner was headed home by Priday with seconds remaining, for what was The Sharks only real effort in the second half. So near to a third consecutive final for Little Stoke was now to be down to penalties. Sharpness won the shoot out 4-3 with Taylor saving the visitors fifth penalty.
The second semi-final at Pomphrey Hill saw Broadwell Amateurs through to the final dispensing with hosts Bromley Heath United. Another decent crowd of 75 saw a very tight even first quarter with no clear-cut chances. The first one fell to Bromley captain Jack Withey who from a corner had his acrobatic volley well saved by Jack Watkins. The hosts started to look threatening from a series of corners but failed to find the net. It wasn't until the end of the half that the deadlock was broken, Dan Brain cleverly beating his man and delivered an excellent cross for Ethan Wilkins to score with a well-placed looping header. The second half was equally as tight and again chances were very limited. Broadwell went further in front on the hour, Ethan wilkins finding himself free just inside the box, after an uncharacteristic Bromley defensive mix-up, his shot hard and low finding the net despite Will Ferguson's effort to stop it. There was no way back for Bromley and although they tried hard to get a consolation Broadwell held on to deservedly reach the final 2-0.