29th October 2023 - Avonmouth and Rockleaze Rangers hit eight
Nigel Meaney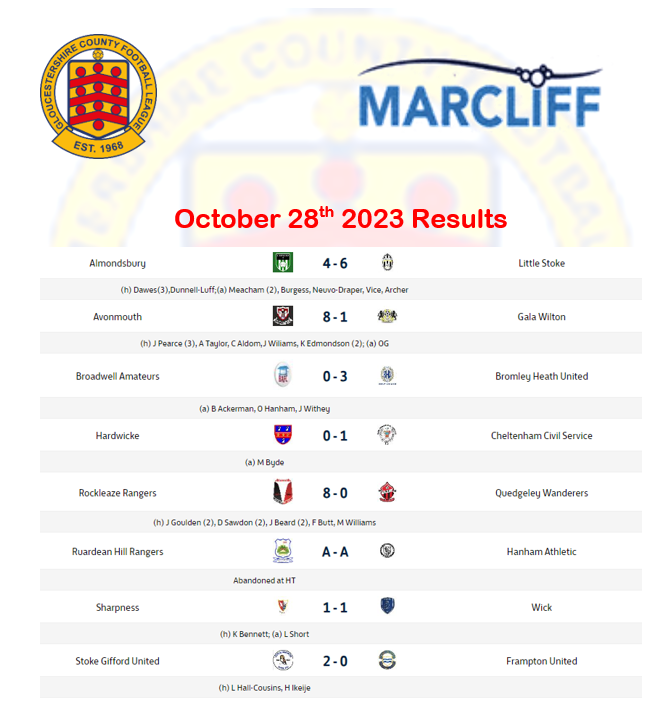 A day where the weather provided some heavy rain from kick off and a deluge of goals in 3 of the games. As Avonmouth bounced back from losing their 48-game unbeaten run with a big win over Gala Wilton. Stoke Gifford United remain the leagues only unbeaten side as they ran out winners over Frampton United.
We'll start at Avonmouth where their visitors after first relinquishing their unbeaten start to their County League life at Frampton were Gala Wilton. In the first minute of the game a good chance went to Avonmouth with Josh Pearce firing at Gala keeper's Gareth Eakers near post, but he pushed the ball behind for a corner. Pearce wasn't to be denied and he put Avonmouth ahead on 2 minutes. After 5 minutes Gala made their first attack of the game followed by a series of corners that Avonmouth defended well and began to take control.
Just two minutes later Avonmouth's lead was doubled when Dillan Kerr won a corner and Matty Groves whipped the ball in for Charlie Aldom to head it into the Gala net. Gala's Antonio Pirelli's freekick goes under the wall but keeper Tom Bradley makes a sharp save low down to push the ball out for a corner. On 20 minutes a counter attack by Avonmouth led to Pearce feeding the ball to Matt Groves and his deflected shot falls to Pearce at the back post but keeper Eakers reacted well to push the ball away. On the half hour Dillan Kerr reacted well to muscle the Gala keeper off the ball and found Alfie Taylor who found the gap through several defenders to finish well to make the score 3-0.
Avonmouth were now on top, and Pearce went down the right-hand side beating three Gala players but keeper Eakers managed to get a hand to the ball as Pearce tried to take it around him. A minute later Kyle O'Donovan headed goalwards from a corner, but the ball was cleared off the line. Five minutes before half time Avonmouth keeper Bradley let a back pass go under his boot into the net offering a lifeline to Gala. It needed a great save by the Avonmouth keeper who redeemed himself by keeping out a long shot just before the break.
Gala continued their good spell into the second half, and it needed Aldom to clear a header off the Avonmouth goal line. This sparked Avonmouth back into life and set Pearce on fire when he met a Groves corner and his near post header thundered into the Gala net. Avonmouth again took control and O'Donovan hit a freekick into the box which Kofi Martin skilfully knocked to the far post where Jack Williams smashed the ball home to make it 5-1. Avonmouth attacked down the left wing and Kain Edmondson's shot was blocked but Pearce was on hand to hit the ball home to secure his hat-trick. Avonmouth goals were now flowing and Edmunson smashed the ball into the net from the right-hand side to finish off a great move and he also scored the eighth Avonmouth goal.
At Hillside Gardens a beautiful autumnal morning was interrupted by a deluge of rain at 3pm on the dot until the end of this match, however the rain didn't spoil Rockleaze Rangers day as they produced possibly their best football of the season against Quedgeley Wanderers.
Rockleaze came out of the blocks in fifth gear and could have been 4-0 in 11 minutes after three good chances were spurned by Dan Webb and one by James Goulden, two of which were good saves from the Quedgeley keeper Charnock. On 22 minutes Goulden had another great chance but once again it was blocked and went out for a corner, Goulden wasn't to be stopped however when he drove the ball in from close range from the resulting corner taken by Marcus Williams. Just two minutes later Drew Sawdon made it 2-0 after he fired in from 20 yards with Charnock this time rooted to the spot. Charnock made another great save on 32 minutes when he tipped over a dipping long-range effort from Ireland, he could however, do nothing about Fraser Butt's drive just 6 minutes later when after a corner went long, Butt picked it up, selected his spot and struck the ball home superbly from 15 yards out to make it 3-0. Rockleaze seemed happy with 3-0 at half time however a very late corner by Williams was headed home by Sawdon to take a more than comfortable 4-0 lead into the break.
Rockleaze were in no mood to sit back in the 2nd half and once again came out flying, on 50 minutes Goulden got his second of the match after he tapped home from 2 yards after Nick Jones drove at the defence and whipped in a super cross. on 53 minutes Webb had another good chance saved and Williams crashed the rebound against the cross bar from fully 25 yards out. On 67 minutes fullback Williams found the ball at his feet again and smashed the ball into the top corner from 30 yards out with Charnock looking on in disbelief. On 80 minutes Quedgeley captain Lawson saw red after a second bookable offence leaving Quedgeley down to 10 men for the last few minutes. Rockleaze made good use of this with substitute Beard scoring twice in this time firstly on 83 minutes when he nipped in between keeper and defender to roll the ball into an unguarded net from 18 yards out and then on 86 minutes with a bullet header from another Williams corner to make the score 8-0 and another good day at Hillside Gardens for the home side.
Just down the road Stoke Gifford United played host to Frampton United in a top 5 game that was played in differing conditions: sun, rain, wind it had it all. Despite it all Gifford dominated and deservedly took the points. Gifford began on the front foot with the lively Mikey Barry causing havoc for the Frampton back line. The first big chance was made when Shepherd and Barry linked for Weaver to fire just wide. The lead was taken on 20 minutes when Luke Hall-Cousins fired home from a whipped Marcus Thatcher delivery. Frampton struggled to get going at all and bar a few long shots Eyles goal wasn't threatened. Gifford doubled their lead after excellent play from Barry and Weaver found the lively Henry Ikeije who fired home. The game drifted with Frampton pushing but getting nowhere and it always looked like Gifford going further clear. Firstly Hall-Cousins headed wide but then the lively Karakus should've rubber stamped the win but was denied by the impressive Kaye in the Frampton goal.
Broadwell Amateurs welcomed Bromley Heath United to The Hawthorns for a crucial game for both teams, Broadwell started off lively with a shot on 5 mins from Fishwicke going wide of the post. On 9 mins a free kick by Bromley's Bessell from 5 yards outside the box sailed wide of the right-hand post, on 28 mins a scramble saw Ackermans shot nestle in the Broadwell goal. In what continued to be a scrappy game with neither side producing any real chances took us to Half Time Broadwell 0 – 1 Bromley Heath United.
The second half began under a downpour and a strengthening wind contributed to another passage of scrappy play in the Broadwell area saw Ollie Hanham put away his only chance of the game on 61 mins 0 – 2 Bromley Heath. With the continuing rain the pitch was greasy, and footings became tricky, but on the 71-minute Withey popped up to put his head on a cross from the right into the goal. 0 – 3 Bromley Heath. Scrappy play due to the weather ensued with no further chances going to either side, Bromley Heath finishing the game 0 – 3 winners.
So to Hardwicke who welcomed Cheltenham Civil Service to Green Lane in what turned out to be a close encounter. It was an open start to the game; however, the first half of the game went without any clear-cut chances for either team. The second half was more eventful which saw a half chance for Hardwicke's Ed Rimmer in the 60th minute. Much of the second half was contest in the middle of the park without any action in the box for either team but it was the substitute Matt Byde who put the visitors 0-1 up in the 82nd minute. Green's shot was saved well by Prosser in Hardwicke's goal but the save fell to the feet of Byde for an easy finish. Hardwicke searched for an equalizer with a half chance falling to Harry Furniss but after a heavy first touch the ball fell into the keepers' hands. In the 90th minute Civil Service defended well to keep the ball out of the net, one chance was cleared off the line with suspicions it may have gone over the line, but the referee didn't agree. In the dying minutes onelast chance fell to George Ganley on his favoured left foot and he blazed this over the bar.
A goal fest at the Field as hosts Almondsbury go down 4-6 to neighbours Little Stoke despite a late rally with Oakley Dawes claiming a hat trick. It started badly for Almondsbury when keeper Hoptroff miskicked straight to a Little Stoke player who fired then into the lead. On 15 minutes Tyler Dunnell-Luff taps in to make it 1-1. On 23 minutes a ball for Little Stoke from the right eludes the keeper and is headed home. On 43 minutes a shot from the edge of the box goes under Hoptroff to make it 1-3 and it becomes 1-4 in added time as a corner is headed home unchallenged. In the second half Oakley Dawes pulled a goal back in a 52nd minute scramble. Little Stoke extended their lead after Almondsbury failed to clear a corner and made it 2-6 on 87 minutes when a move down their left was crossed into the edge box and finished. Almondsbury scored two consolation goals in added time from Oakley Dawes the first a penalty following a handball, the second a curled shot off the crossbar. Little Stoke scorers Luke Meacham (2), Sam Archer. Jack Burgess, Phil Vice, Reuben Nuevo-Draper.
At Hamfields Sharpness' seven match winning streak came to an end as they hosted Wick Both teams started slowly, feeling each other out with no chances being created. On 15 mins the home side broke the deadlock when Kieran Bennett latched onto a defensive area and raced through one on one with Trott finishing with aplomb. Wick were soon back on level terms though when Sharpness failed to clear their lines and Ridler managed to poke the ball through for Short who smashed his effort past Russell in the home goal. Neither side managed to test the goalkeepers further in the first period, but Sharpness' Dummelow may have felt he should of done better with his near post header from a corner when well placed.
The 2nd period started very much like the first but Wick were starting to dominate large parts of possession as the rain started to fall. Midway through the half some lovely build up play down Wick's right ended with Short flashing a wicked cross along the 6 yard box of Sharpness but no one was on hand as the ball went straight through. Both sides had good opportunities from set pieces to create something, but neither could find that finishing touch. The closest Sharpness came was when a freekick was came off the head of a Wick player and went narrowly wide of the back post. Wick had a freekick 5 mins from time, but Johnson smashed his effort into the Sharpness wall. Neither keeper was really called upon in the 2nd half and a draw was probably a fair result.
The game between Ruardean Hill Rangers and Hanham Athletic was abandoned at Half-Time, due to an injury.