14th June 2016 - Constitution 2016/17
AEK Boco
Bishops Cleeve Reserves
Bristol Telephones
Broadwell Amateurs
Cheltenham Civil Service
Ellwood
Frampton United
Gala Wilton
Hanham Athletic
Hardwicke
Henbury
Kingswood
Lebeq United
Patchway Town
Rockleaze Rangers
Southmead CS Athletic
Stonehouse Town
Thornbury Town
12th June 2016 - Respect Tables
Final Respect Tables up on the respect pages, congratulations to Rockleaze Rangers who win the overall award and AEK Boco who win a match ball for their good behaviour in the technical area. The following clubs will be getting some prize money, others need to try harder next season.
Rockleaze Rangers
AEK Boco
Frampton United
Bishops Cleeve (Res)
Hardwicke
Patchway Town
Kingswood
16th May 2016 - Programme Sale
2015-16 Match-day programmes for sale.
A pack of 17 programmes will cost £5.50 including Packaging & Postage.
Please make Cheques payable to Gloucestershire County Football League
Please send to:
Ron Holpin
27, Brockley Close
Little Stoke
Bristol.
BS34 6HA.

MAKE SURE THAT YOU INCLUDE YOUR NAME AND ADDRESS

If you wish to contact me by email: sec.gloscountyleague@btinternet.com

Tel: 01454 612842
AEK Boco Champions 2015-16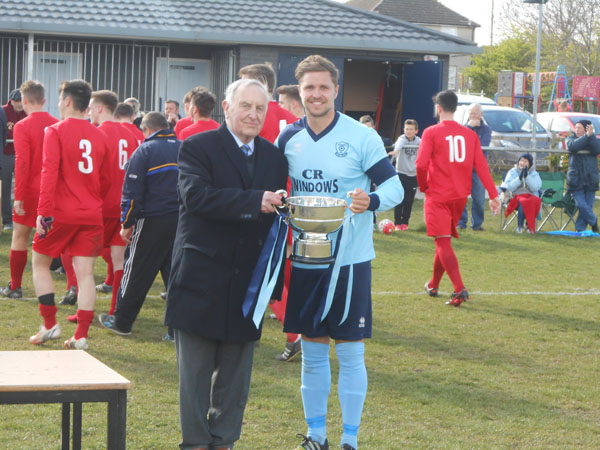 AEK Boco Captain Austen Shopland recieves the Trophy from Marcliff Managing Director Cliff Orchard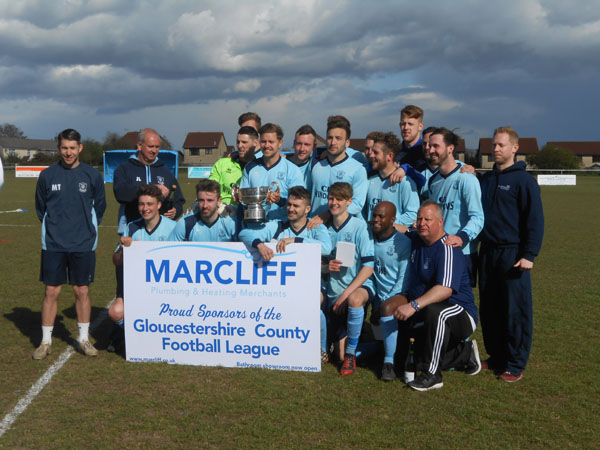 AEK Boco Champions 2015-16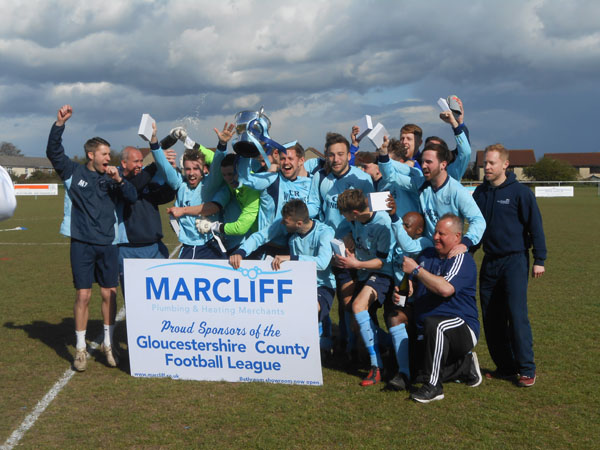 AEK Boco Champions 2015-16
3rd January 2016 - Promotion Applicants
With the deadlines for promotion applications passing on the 31st December the following applications have been made
Promotion to step 6
AEK Boco - Application Withdrawn
Bristol Telephones
Patchway Town - Application Withdrawn
Thornbury Town - Application Withdrawn
Only one club will be promoted and must meet the ground grading criteria specified by the FA for promotion to step 6. The highest placed club that meets the criteria will be promoted. For this season only the FA has stipulated that the team does not have to finish in th top five to be considered.
Promotion to the Marcliffe Gloucestershire County League
Bristol Premier Combination League
Highridge United
Mendip Broadwalk
Bristol Suburban League
Lebeq United
Little Stoke
Mangotsfield Sports
Gloucestershire Northern Senior League
Newent Town
Stonehouse Town
A maximum of two teams may be promoted into the County League and must finish in the top two of their respective league. To be considered for promotion the club must meet the ground grading criteria specified by the 30th April 2016.
The number of relegated clubs will be identical to the number of clubs promoted from the feeder leagues. For the purposes of this rule Kings Stanley will be considered the first relegated club.
Any vacancies after promotion and relegation has been resolved will be filled at the AGM
25th August 2015 - Kings Stanley
The league have recieved notice today that Kings Stanley Football Club have taken the decision to resign from the league with immediate effect, due to lack of players able to commit to county league football for the season. Their record for this season will be expunged.
Their reserve side will continue as the First team in the Stroud League.
The League wishes Kings Stanley and in particular their long serving officers all the best for the future.
12th July 2015 - Awards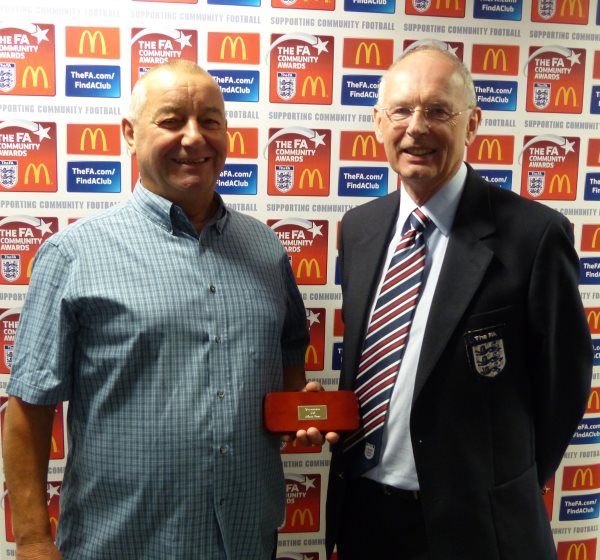 Martin Beazer of Kingswood FC receives the Best Groundsman award from GFA Chairman, Roger Burden. Martin now goes forward for the national award.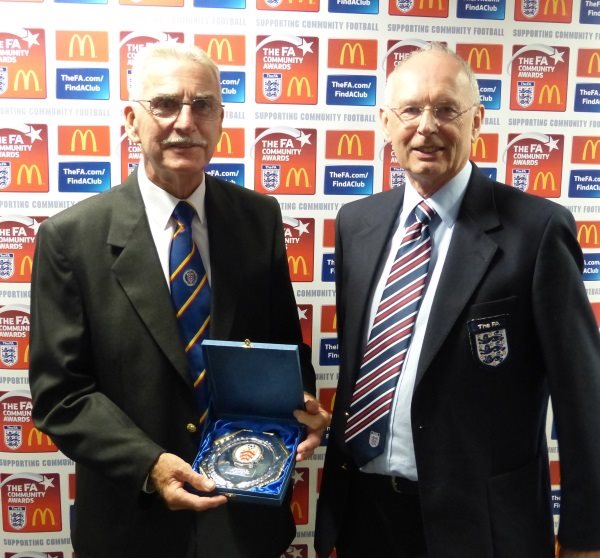 League Chairman Robin Stewart receives the runners up award for the Best Charter Standard League from GFA Chairman, Roger Burden
18th April 2015 - Cheltenham Civil Service Champions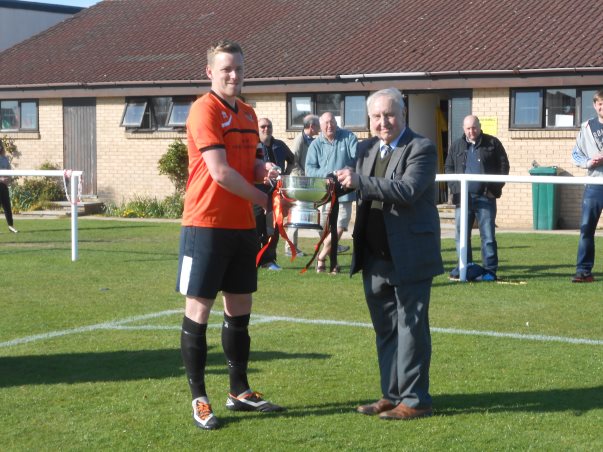 Cliff Orchard, Managing Director of Marcliff presents the trophy to Teejay Bick, Captain of Cheltenham Civil Service
Cliff Orchard, Managing Director of Marcliff With Cheltenham Civil Service
9th December 2014 - #footballremembers
19th September 2014 - Ron meets the sponsors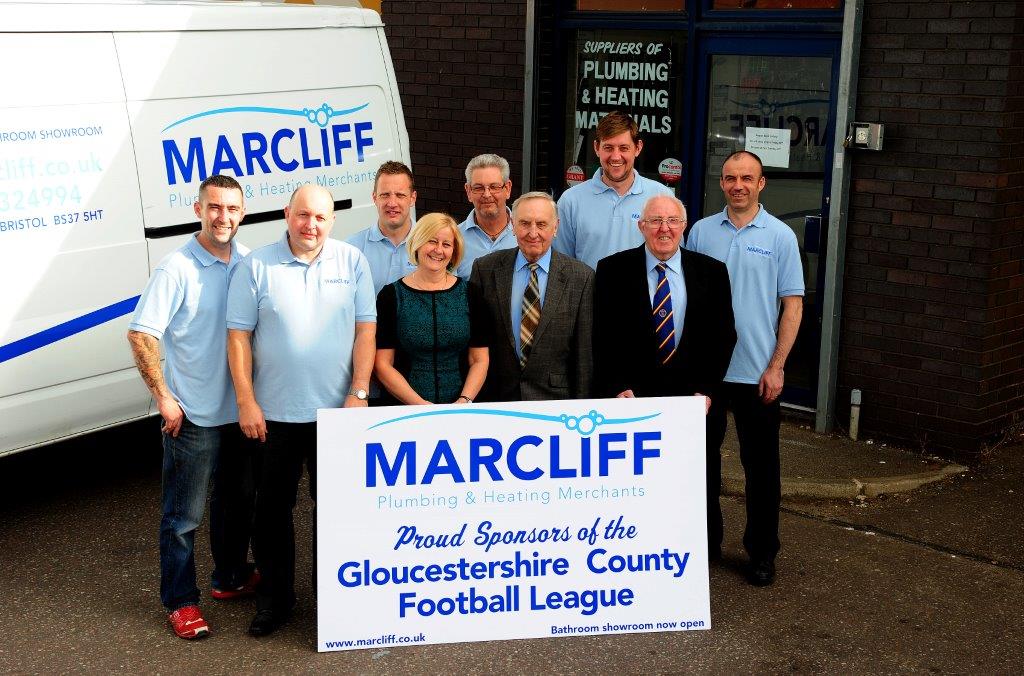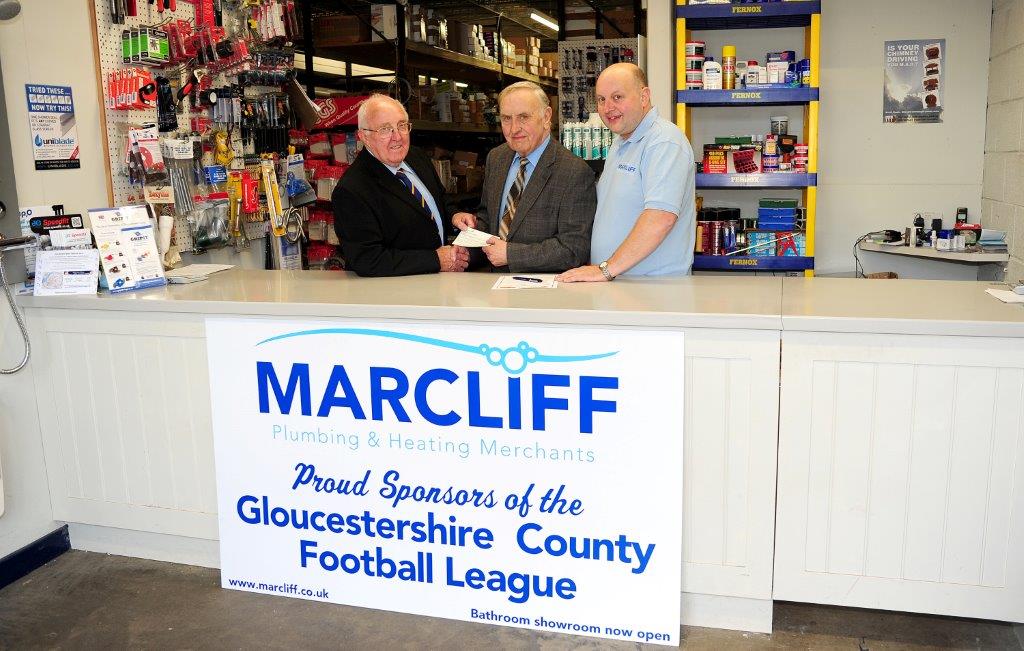 6th June 2014
Myland confident Tyers can produce momentum to take Rockleaze forward
ROCKLEAZE Rangers chairman Andy Myland insists the appointment of new boss Alan Tyers fills him with confidence that better days are in store for the Coombe Dingle club, writes Simon Parkinson.
Gloucestershire FA News revealed a few days ago that the University of Bristol's first team coach, and recent assistant manager at Bristol Academy, had been given the nod to replace Dave Johnson in the Rangers hot seat.
Rockleaze, who have played under several names since their formation as Sunday side Nat West Court in 1976, have become an established Gloucestershire County League club since their promotion from the Suburban League six years ago under Carlo Micciche's stewardship.
Last season they finished ninth in the table and Myland, who has managed the first team himself down the years, feels they have a man at the helm capable of turning them into a genuine force at the level, although the absence of floodlights means a crack at promotion is not on the agenda for the foreseeable future.
Myland said: "Alan is a very knowledgeable coach with a UEFA B licence to his name and he's a lecturer in sports science at Filton Academy.
"We as a club enjoy strong links with University of Bristol in that we share facilities with them at Coombe Dingle and something like ten to 12 of their lads play for one of our four teams.
"Some of those 18 to 21-year-olds made it through to our first team last year, Iggy Garcia and Josh Adejokun among them."
Asked how quickly Tyers' appointment had come about following Johnson's recent departure, Myland said: "Alan put his name in the hat before we even advertised. We had three or four responses when we did advertise but from the moment we met him we felt he was the right man for the job.
"He likes to see players getting the ball down and playing it and he wants to develop younger players.
"We're delighted to have him aboard and we're looking forward to meeting up with him shortly to discuss player targets, with a view to establishing ourselves in the top eight of the table initially next season.
"Ultimately we'd like to go even further, possibly Western League, in years to come but we don't have the necessary facilities right now, not least floodlights and there are no plans for that in the immediate future."
Tyers has played for various clubs down the years, including Ossett Albion in the Northern Premier League and Gloucestershire County Leaguers Patchway Town.
4thJune 2014 - League Constitution 2014/15
AEK Boco
Berkeley Town
Bishops Cleeve Reserves
Bristol Telephones
Cheltenham Civil Service
Chipping Sodbury Town
Ellwood
Frampton United
Gala Wilton
Hanham Athletic
Henbury
Kings Stanley
Kingswood
Patchway Town
Rockleaze Rangers
Southmead CS Athletic
Thornbury Town
Yate Town Reserves
Longlevens promoted to the Hellenic League. Bristol Academy have resigned from the league. AEK Boco (Bristol Premier Combination) and Cheltenham Civil Service (Gloucestershire Northern Senior League) promoted to the league.