9th May 2012 - Dave Herbert Sportsmanship Cup
Congratulations to Taverners for winning this - the final table for the sportsmanship cup for this season is on the Respect pages here
24th April 2012 - FA Gold Award for the best Respect League (step 5-7) in the country 2011-12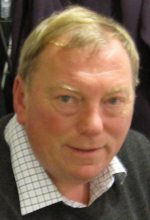 The David Wilson Homes Gloucestershire County Football League is proud to announce that is has been awarded the FA Gold Award for the best Respect League at steps 5-7 of the National League System. The press release from the FA is available here and repeated below.
The David Wilson Homes Gloucestershire County Football League won the Regional Silver Award and went forward to be judged by a separate panel for the Gold Award.
Vice-Chairman of the League Peter Langley (pictured) is the driving force behind this League's Respect Program and has overseen it since it was introduced 3 years ago.
The winning of this award is a fantastic achievement and one that the league is very proud of.
There is a film crew attending the Les James League Cup Final on Sunday 29th April at Kingswood AFC (North)
They will be interviewing Peter Langley, Players, Managers and the Referee concerning the Respect Program, and this will be shown prior to the Cup Final on 5th May at Wembley Stadium.
24th April 2012 - FA Press Release
Wembley, London; The FA today [Tuesday 24 April] announced the winners of its annual Respect Awards. The Awards were introduced in 2010 to help promote Respect at all levels of the game and to recognise the army of volunteers that spend hours each week ensuring that participants have an enjoyable experience of playing the game.
Respect Leagues have also been able to benefit from a Rewards scheme which offers help with affiliation fees and equipment. The regional winners have been offered the pick of some unique football prizes which include match hospitality at an England game, the appearance of The FA Cup at a League's own cup final, a celebrity speaker for a League function or the chance to stage a game at The FA's new national football centre – St George's Park.
The winners of the national awards are guests at The FA Cup Final, which this year is taking place on Saturday 5 May.
This year's national Respect winners include The Isthmian Football League which have this season reduced dissent cautions and significantly improved technical area behaviour.
The David Wilson Homes Gloucestershire County League caught the eye with an innovative club marking and Fair Play awards scheme.
The relationship between the Leicestershire and District Sunday League, its CFA and professional club have led to three Championship Respect fixtures being staged at Leicester City who have also been recognised for their commitment and willingness to work with the local football community.
Another Leicestershire club Harborough Town took the Award for steps 5-7 of the National League system - a genuine community club with 36 teams which promotes Respect at its registration day, introduced the use of pitch side marshals for all age groups and established a Respect subcommittee to educate parents and players and deal with poor behaviour.
The Amateur Football Combination convinced the judges with its promotion of the 'Spirit of Football' and Yeovil Town Ladies incorporated their commitment to playing the game with Respect into their 'Bills of Rights for spectators.
AFC Fylde achieved their award through a determined approach by the management of the club to ensure that all coaches and players share a code of conduct. This has resulted in an outstanding disciplinary record.
Manchester's Abraham Moss Warriors Football Club has maintained high standards of behaviour in a club which draws its players from 44 different nationalities.
The East Manchester Junior Football League also impressed by its commitment to proving a positive environment for young players to learn the game. The Bobby Moore individual award went to Phil Bradley who has dedicated himself to improving the environment of the game in the Northern Premier League with impressive results.
The winners will collect their awards at a ceremony prior to the 2012 FA Cup Final between Chelsea and Liverpool. The winners of the Fair Play awards in the Premier League and Football League will be announced following the conclusion of the league fixture programmes.
Dermot Collins, The FA's Respect Manager, said: "The winners of these awards are an inspirational group of leagues, clubs and individuals. They have decided how they want the game to be played and then take on the responsibility of creating and maintaining Respect in the game. It's a privilege to be able to reward them at The FA's showpiece final and use their example to convince others along the same path".
7th April 2012 - Malcolm Carr Olympic Torch Bearer
The David Wilson Gloucestershire County Football League is proud to announce the involvement of a representative from a member Club in the preparations for London 2012 Olympic Games.
Malcolm Carr from Thornbury Town A.F.C. has been invited to participate as a Torchbearer when the celebration passes through the Bristol area.
Malcolm believes that this honour has been bestowed upon him for his long service to Thornbury Town A.F.C.
Moving to Thornbury from Luton in early 1980's, in order to further his Business Career, Malcolm decided to join Thornbury Town A.F.C. as opposed to any more Senior Club in the area.
As a cultured Central Defender from the Alan Hansen mould, Malcolm went on to represent his Club at all Senior levels in a career that lasted until Thornbury Town A.F.C. regained their place in this Competition as Champions of Bristol Premier Combination in season 2001-02. (He did however make a couple of rare - but legal - substitute appearances as "cameo roles" during his Club's first season back in this Competition)
During all of his playing career, Malcolm was - as now - a dedicated Committee Member & filled various executive positions from Treasurer to Team Manager. From his position as Vice - Chair, he was a member of the triumvirate including fomer Chairman Paul Wisbey & former Secretary/Treasurer Mike Wheatley, which helped to secure the continued existence of the Club during the struggles of 1990's.
Most of you will remember Malcolm as Physiotherapist to Competition Representative Squad which - managed by Dave Lippiatt & Carl Derosa - competed in N.L.S Cup Competition.
Malcolm is still active as Club Physiotherapist to Thornbury Town A.F.C., in this Competition, at this time.
On behalf of all Clubs in the Competition, the David Wilson Gloucestershire County Football League extends congratulations to Malcolm on this honour. It proves that "the good guys do win"!!!!
The Gazette has an interview with Malcolm Here
30th September 2011 - GFA Notice Offensive Behaviour
An issue was raised at GFA Council last week concerning the action a referee could take if a participant urinates in a public area during a football match.
The Football Association has advised that any participant who is seen by a match official to urinate in a public area, immediately before, during or after a match could be dismissed under Law 12 for "offensive, insulting or abusive language and/or gestures".
The Association will advise all GFA registered match officials of the action that can be taken.
26th January 2012 - Representative Match
The league are playing a Representative Match against the Gwent County League on Wednesday 15th February at Abergavenny Kick-off 7.45pm
David Wilson Homes Gloucestershire County Football League Squad
Chris Fox (Kingswood)
Matt Turner (Cribbs Friends Life)
Nathan Lumber (Cribbs Friends Life)
Ricki Lippiatt (Thornbury Town)
Richard James (Tuffley Rovers)
Marcus Foxwell (Tuffley Rovers)
Matt Shaughnessy (Cribbs Friends Life)
Ryan Pendry (Ellwood)
Warren Mann (Tuffley Rovers)
Jamie Addis (Ellwood)
Nathan Irwin (Thornbury Town)
Jordan Yeo (Patchway Town)
Alex Fox (Bristol Academy)
Matt Davis (Patchway Town)
Ben Newman (Kings Stanley)
Danny Thompson (Thornbury Town)
12th June 2011 - Constitution 2011/12
The constitution for season 2011/12 for the David Wilson Homes Gloucestershire County Football League is as follows, with amended team names
Berkeley Town
Bishops Cleeve Reserves
Bristol Academy
Chipping Sodbury Town
Cribbs Friends Life
D.R.G. Stapleton
Ellwood
Hanham Athletic
Henbury
Kingswood
Kings Stanley
Longlevens
Patchway Town
Rockleaze Rangers
Taverners
Thornbury Town
Tuffley Rovers
Yate Town Reserves
Brimscombe & Thrupp are promoted to the Hellenic League Division One (West).
There being no clubs eligible for promotion from the feeder leagues, Longlevens and Bristol Academy have been elected to fill vacancies.
Longlevens join from the Gloucester Northern Senior League.
Bristol Academy are a newly formed club who will play at the Filton College WISE campus.
Axa have changed their name to Cribbs Friends Life
16th May 2011 - League Sponsorship - David Wilson Homes
The Gloucestershire County League launched their new two year Sponsorship Deal with David Wilson Homes before the start of the League Cup Final between Henbury and Thornbury Town. David Wilson Homes Sales & Marketing Manager Clare Brimble pictured below shaking hands with Chairman of the League Bob Stewart after completing the signing of the contract. With Rikki Lippiatt captain of Thornbury Town and Eddie Howells captain of Henbury looking on.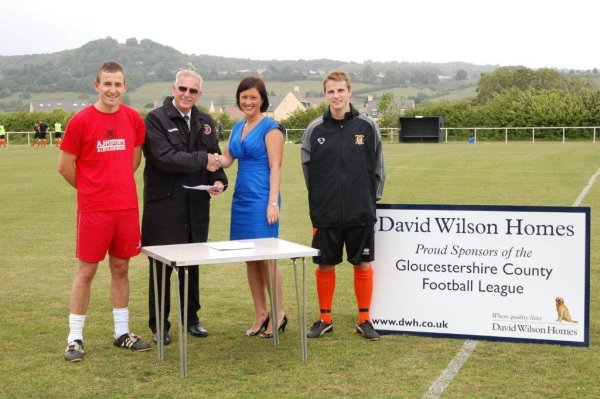 Image courtesy Peter Langley