28th May 2013 - Fair Play awards
The final fair play awards are now on the respect pages congratualations to Rockleaze who win the main Fair Play award with Thornbury Town and Bishops Cleeve reserves collecting the second and third place prizes.
Congratulations to Longlevens, Ellwood and Taverners on collecting the last two dissent awards for the season. Longlevens also win the overall best mark from the referees.
More details on the Respect pages Here
28th May 2013 - League Constitution 2013-14
Berkeley Town
Bishops Cleeve Reserves
Bristol Academy
Bristol Telephones
Chipping Sodbury Town
Ellwood
Frampton United
Gala Wilton
Hanham Athletic
Henbury
Kings Stanley
Kingswood
Longlevens
Patchway Town
Rockleaze Rangers
Southmead CS Athletic
Thornbury Town
Yate Town Reserves
Tuffley Rovers have been promoted to the Hellenic League
Gala Wilton are promoted to this league from the Gloucester Northern Senior League
Bristol Telephones are promoted to this league from the Bristol and Suburban League
D.R.G. Frenchay and Taverners are relegated.
25th April 2013 - Bristol Academy win GFA Challenge Trophy
Congratulations to Bristol Academy who beat Bristol Manor Farm in the GFA Challenge Trophy Final 4-3 on penalties after the final score finished 1-1 on 90 minutes
7th April 2013 - League achieves Charter Standard League Status.
The David Wilson Homes Gloucestershire County Football league is celebrating becoming the first adult male league in the county to achieve Charter Standard status. Launched in 2009, The FA Charter Standard League is a kite mark that sets an operational benchmark for FA sanctioned leagues.
Charter Standard League primarily offers leagues a process to raise standards within leagues and a practical means to deliver initiatives in line with the needs of member clubs. Over 70% of the clubs within the league are FA Charter Standard Clubs and the league is now working towards achieving 100% within 2 years.
Matthew Boucher, Gloucestershire FA Football Development Officer commented 'The league is very proactive and continually looking to raise standards. Achieving FA Charter Standard League status is testament to the hard work that the league management committee and clubs have put in to developing football within Gloucestershire over past couple of years'.
As part of the application process the league have formed a 3 year league development plan which includes clear actions that will make a practical difference to the league and look to support the clubs, team, players and volunteers involved with the league.
Ron Holpin League Secretary and Charter Standard League Co-ordinator commented that the Competition Management Committee are delighted that the efforts of its Member Clubs have resulted in the award of this impressive accolade. He was particularly pleased that David Wilson Homes Gloucestershire County Football League was first in County to achieve this award & he considered it to be a fitting tribute to the status of the Competition & its position in football within the County.
If you are looking to clarify your leagues purpose, raise standards in your league, use the huge influence of your league to affect change at grass roots level- then Charter Standard League is for you. For further information please contact Matthew Boucher, Gloucestershire FA Football Development Officer on 01454 615888
9th February - 3G Pitches Recommended footwear
The Standard Code of Rules for 2013/14 is likely to permit the use of 3G artificial surfaces in all grassroots football matches, with the proviso that clubs advise their opponents and the match officials of the permitted footwear when confirming details of the fixture.
The FA recently issued a guidance booklet for participants and administrators which can be found on the GFA website. Page 4 highlights the recommended footwear for players and referees.
1st March 2013 - Representative Match - FA Inter-Leagues Cup Competition Preliminary Round
Somerset County Football League
v
David Wilson Homes Gloucestershire County Football League
To be played on Tuesday 26th March 2013 at Clevedon Town Football Club – Kick-off 7.45pm. There is a coach running, with seats available if anyone wishes to travel to the game.
We are leaving GFA Headquarters at 6pm on Tuesday 25th March and anyone interested in travelling on the coach should contact Ron Holpin by Monday 24th March.
Squad
Ewan Prentice (Berkeley Town)
Chris Fox (Kingswood)
Marcus Foxwell (Tuffley Rovers)
Craig Martin (Longlevens)
Craig Beaton (Longlevens)
Pete Fowler (Thornbury Town)
Jamie Addis (Ellwood)
Ibrahima Diallo (Bristol Academy)
Warren Mann (Tuffley Rovers)
Nick Humphreys (Kings Stanley)
Rob Sivers (Southmead CS Athletic)
Justin Cattle (Chipping Sodbury Town)
Shaun O'Connor (Longlevens)
Ben Newman (Kings Stanley)
Jake Jackson (Bristol Academy)
Jack Tottle (Hanham Athletic)
26th January 2013 - Mike Rodman
Kingswood Reserve team Player / Manager Mike Rodman (37), collapsed ten minute into today's reserve team fixture with Charfield in the Stroud League. Paramedics tried for 50 minutes to revive him but eventually pronounced Mike dead.
Mike was a regular in the first team for three years after the Club gained promotion to the Gloucestershire County Football League and had been one of the stalwarts of the team for a number of years prior to that promotion.
The Management Committee of the Gloucestershire County Football League send their condolences to Mikes family and the Club.
12th November 2012 - Thornbury Town Manager
Thornbury Town FC are pleased to announce the appointment of Bill Bond as 1st team manager with immediate effect. Bond who was assistant to Roy Irwin until he recently stepped down from the role has a lot of contacts and knowledge of the local football scene and joined the club three seasons ago as their Gloucester County League U18's manager. Malcolm Carr will continue to assist Bill as Physiotherapist and they are both wished every success by the clubs, players, committee and supporters as they look to steer the team away from the lower end of the current league table.
12th July 2012 - Rockleaze Rangers appoint Senior Club Player/Coach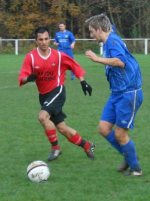 Rockleaze Rangers F.C. are very pleased to announce that current player Kerry Georgiou (pictured in red) has been appointed as Senior Coach for the club and will be responsible for coaching all 5 of the senior sides including the 1st team playing in the Gloucestershire County Football League.
In addition to this Kerry who holds FA Level 1 and 2 coaching badges and the UEFA B Licence will coach and manage the club's Under 18 side in the Bristol Under 18 Football Combination.
Kerry's responsibilities will include
Organise pre season training and weekly coaching sessions and play for one of the senior teams;
Prepare a season long coaching plan to ensure playing success throughout the senior teams;
Undertake the development of the senior club coaching structure working with the existing club coaches and managers to ensure successful integration between the junior and senior sections;
Assist in the development of other senior and junior coaches;
Chairman Andrew Myland commented, 'we are aware that Kerry is very ambitious in terms of his coaching and we hope this role will help him to further these ambitions whilst having an enjoyable time, we also hope Kerry continues to enjoy playing at Rockleaze'.
11th July 2012 - Charlie Barron recognised for work at Henbury
Henbury's Charlie Barron was among the football clubs, coaches, administrators and volunteers were honoured for their efforts and achievements during the 2011/12 season when Gloucestershire FA held its annual awards evening at Cheltenham Town FC on Monday, 26 June.
The FA Community Awards presented by McDonald's, build on McDonald's continued commitment to improving standards at grassroots level through the FA Charter Standard League programme, and recognise the efforts, improvements and achievements that the winners have made this season in grassroots football in Bristol and across Gloucestershire.
The evening was introduced by David Neale, Chief Executive and Scott Milne, Football Development Officer, who outlined the successes the county association has achieved this season and how this would not have been possible without the involvement and co-operation of the volunteer football workforce. These achievements included the increase in the numbers of youth, adult and disability teams and a rise in the number of active referees. The county's Football Futures programme currently has 170 young leaders in place and additional support for the workforce has been provided through the 100-plus coaching, referee and volunteer education courses that were run last season. Six local Leagues hold FA Charter Standard Status and 80% of youth football is played within a Charter Standard Club.
Before presenting the awards, Roger Burden, FA Vice Chairman and Gloucestershire FA Chairman, gave an overview of the grassroots game at national level and how Gloucestershire and other county associations are working to improve standards of football and the importance of people in local football to support this work.
There was a total of eight FA Community Awards handed out with each of the winners receiving a pair of tickets to The FA Community Shield courtesy of McDonald's, and an FA and McDonald's gift. Each winner is also eligible for a regional and national Community Award.
The Outstanding Contribution to Community Football Award was presented to Charlie Barron who has been running Henbury FC for 37 years. Three seasons ago the club was in danger of folding due to continued criminal damage to the club's facilities and other property. Since then, Charlie has been instrumental in reducing this activity by encouraging the 'vandals' to play for the club and see the benefit it provides to the community. By accessing funding, Charlie has financed the repair and improvement of the club's facilities and it now has a viable future.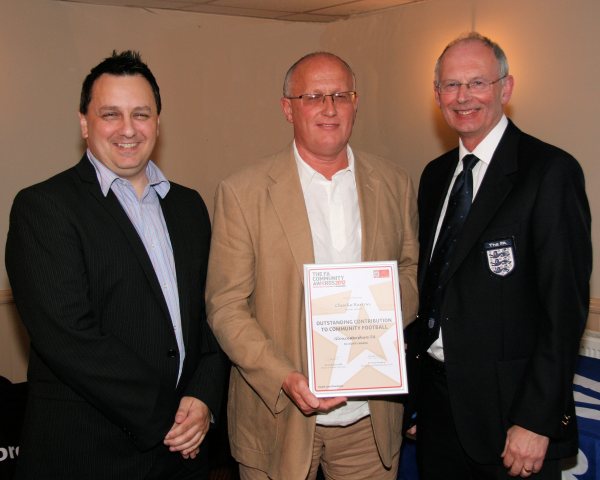 Charlie Barron, receives his Outstanding Contribution to Community Football Award from Mark Pickering of McDonalds (left) and FA vice-chairman Roger Burden (right)
The full story from can be found on the GFA site here
10th June 2012 - Football Stadia Improvement Fund
The FA has asked the league to communicate this news regarding regarding stadia funding for clubs, from Step 1 to Step 7, from the Football Stadia Improvement Fund.
Please see the attached Press Release and FSIF funding criteria table, which outline the changes in eligibility. The key points are:
Higher percentage grants (of total project cost) are now available to clubs.
There is also a wider range of projects now eligible for funding (e.g. hospitality areas, and press areas, are now eligible for FSIF funding).
Contact details are in the attachments.
Poster of whats available [PDF]
2nd June 2012 - Respect Award video
A short video filmed by TheMediaGroup for the FA to celebrate the Gold Respect Award.

Video courtesy of the FA and TheMediaGroup
29th May 2012 - League Constitution 2012-13
Berkeley Town
Bishops Cleeve Reserves
Bristol Academy
Chipping Sodbury Town
D. R. G. Stapleton
Ellwood
Frampton United
Hanham Athletic
Henbury
Kings Stanley
Kingswood
Longlevens
Patchway Town
Rockleaze Rangers
Southmead CS Athletic
Taverners
Thornbury Town
Tuffley Rovers
Yate Town Reserves
Cribbs Friends Life have been promoted to the Toolstation Western League
Frampton United are promoted to this league as runners-up in the Gloucester Northern Senior League
Southmead CS Athletic are promoted to this league as champions of the Bristol and Suburban League
23rd May 2012 - Match-day Programmes for sale